Mexico › San Cristóbal de las Casas
Updated: March 2, 2022
See Also
San Cristóbal de las Casas is one of the most atmospheric colonial cities in Mexico, and one of our absolute favorites to visit. San Cristóbal is best known for its unspoiled colonial architecture, handicrafts, and rich Maya culture.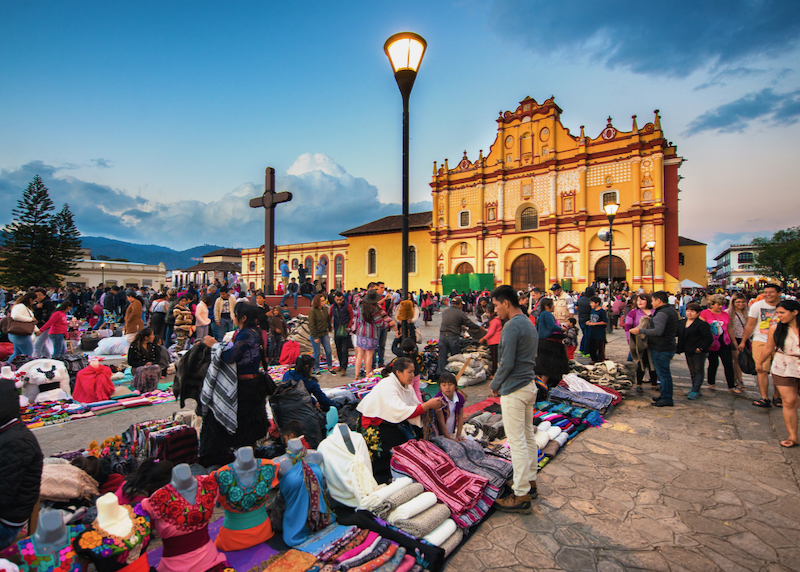 Frequently Asked Questions about San Cristóbal de las Casas
Where is San Cristóbal de las Casas?
San Cristóbal de las Casas is an historic city in the southeastern Mexican state of Chiapas, up in the central highlands (2,200 meters/7,200 feet above sea level).
San Cristóbal is about 60 km east of state capital Tuxtla Gutiérrez, 960 km east of Mexico City, and 140 km west of the Guatemala border.
Non-stop flights to Tuxtla Gutiérrez, the closest airport to San Cristóbal, take 1 hour 25 minutes hours from Mexico City, 1 hour 40 minutes from Cancún, and 4 hours 20 minutes from Tijuana.
How big is San Cristóbal de las Casas?
San Cristóbal de las Casas has a greater metro population of around 185,000. The historic center is packed into a high mountain valley surrounded by hills.
What is the history of San Cristóbal de las Casas?
San Cristóbal was formally established by the Spanish in 1528 after the local Tzotzil and Tzeltal Maya were brutally suppressed by conquistador Diego de Mazariegos. The famous indigenous rights campaigner Bartolomé de las Casas was appointed bishop here in 1544, though he was barely able to contain the exploitation of the local Maya (he refused absolution to Spanish landowners until all their slaves had been set free), and he left within two years.
In the colonial era, San Cristóbal was the capital of Chiapas though it was actually part of the Captaincy General of Guatemala – it joined an independent Mexico in 1824, and capital status was lost to Tuxtla Gutiérrez in 1892.
The city is best known in recent times for the activities of "Subcomandante Marcos" (aka school teacher Rafael Vicente) and the Zapatista Army of National Liberation (EZLN), which occupied parts of the city in 1994 and led to two years of unrest. Since then the Zapatistas have become more a social movement than insurgency, and the EZLN retains control of numerous rural communities, though not San Cristóbal itself.
How do I get to San Cristóbal de las Casas?
San Cristóbal lies some 75km northeast of the closest airport at Tuxtla Gutiérrez, which is connected to Mexico City and a handful of Mexican destinations by non-stop flights. Flights from the US, Canada, and Europe usually route through Mexico City, though visitors from Southern California can fly non-stop from Tijuana Airport. From Tuxtla airport buses run directly to San Cristóbal (around 8 daily; 1 hour, 15 minutes; around 280 pesos), which is not a bad option; taxis to San Cristóbal tend to be very expensive (over 1000 pesos), and if a taxi is taken into Tuxtla (at least 300 pesos, fixed-price, buy tickets in the terminal), there is still another hour to travel by bus from there.
San Cristóbal's main bus terminal lies on the Carretera Panamericana (Hwy-190) on the southern edge of town (a 50 peso taxi ride to the center). Buses to San Cristóbal from Mexico City (13–14 hours) depart every couple of hours, while buses from Tuxtla Gutiérrez (1 hour, 15 minutes) depart hourly.
Can I use Uber in San Cristóbal de las Casas?
Uber does not operate in San Cristóbal de las Casas.
Can I drive to San Cristóbal de las Casas?
It's possible but not recommended to drive to San Cristóbal de las Casas. The drive from Brownsville, Texas, is over 1000 miles (1609 km) and passes through states such as Tamaulipas, which have been affected by drug cartel violence. Roads within Chiapas itself are often poorly maintained and badly congested. Drivers also need a Mexican "Temporary Importation of Vehicle Permit".
Do I need a car in San Cristóbal de las Casas?
The historic center of San Cristóbal de las Casas is relatively small and best appreciated on foot – local taxis are cheap and easily available.
When is the best time to go to San Cristóbal de las Casas?
San Cristóbal de las Casas is at its best March through May, when the skies are generally clear and temperatures mild – because of its altitude, the city is rarely hot, though summers can be wet, and winters chilly. Avoid Easter, Christmas, and any Mexican public holiday to avoid crowds of domestic tourists and high hotel prices (July and August also tend to more expensive because of Mexican school holidays).
Where should I stay in San Cristóbal de las Casas?
Aim to stay in the atmospheric center of old San Cristóbal de las Casas, close to all the sights, best restaurants, and attractions.
One of our absolute favorite places to stay, Hotel Na Bolom (Vicente Guerrero 33), is a celebrated cultural center that also offers comfy rooms decorated with Maya textiles and artifacts. We also like the centrally located Casa Margarita (Real de Guadalupe 34), and the luxurious La Joya Hotel (Madero 43A). Our favorite budget option is Rossco Backpackers Hostel (Real de Mexicanos 16), with friendly English-speaking owners and immaculate dorms.
What are the best things to do in San Cristóbal de las Casas?
Soak up the charming atmosphere in the old town, and go craft shopping in San Cristóbal's vibrant markets. Central Plaza 31 de Marzo (aka "el parque") is the languid heart of the city, surrounded by cafés, colonial mansions, and the 16th-century cathedral. Slicing through the old town and the plaza is a pedestrianized thoroughfare known and "Andador Eclesiástico", lined with souvenir shops, cafés, and ice-cream sellers. The street ends at the city's most interesting church, the pink stucco Templo de Santo Domingo Guzmán. Nearby, the Mercado José Castillo Tielemans is San Cristóbal's main central market, crammed with all sorts of goods sold by local indigenous people. The best museum in town is at Casa Na-Bolom, the former home of Danish explorer and anthropologist Frans Blom, who died in 1963. It's now a great place to learn about the local Maya cultures, particularly the isolated Lacandón.
What are the best things to do around San Cristóbal de las Casas?
San Cristóbal de las Casas makes a good base to explore the surrounding area. Numerous outfits offer tours to the traditional Maya villages of San Juan Chamula and San Lorenzo de Zinacantán; the panoramic Cañón del Sumidero; and the Maya ruins at Palenque. Tours are not that expensive and are a lot easier than arranging solo visits. Recommended operators include Nichim Tours, Alex and Raul Tours, and Jalapeño Tours.
What are the restaurants in San Cristóbal de las Casas like?
The restaurants in San Cristóbal de las Casas are extremely varied and international, thanks to a large foreign backpacking contingent. San Cristóbal itself is celebrated for its Spanish-style cured hams and sausages, and the locally produced coffee is also excellent. Our favorites include the tasty and cheap vegetarian food at Te Quiero Verde (Niños Héroes 5), the happening Tierradentro Café at Real de Guadalupe 24, and the sensational tapas at La Viña de Bacco (Real de Guadalupe 7).
We also love El Horno Mágico (General Utrilla 7), a French-inspired bakery, and Teddy's (Belisario Domínguez 1), which sells superb coffee and knocks out authentic Korean food. Café Bar Revolución (Andador Eclesiástico, at 1 de Marzo), is a top choice for cocktails and live music.
Can I learn Spanish in San Cristóbal de las Casas?
San Cristóbal is a fun place to learn Spanish. Instituto Jovel (Madero 45) offers a wide range of languages and cultural courses.
What currency is used in San Cristóbal de las Casas?
The Mexican peso (often prefixed with a "$" sign) is the currency of Mexico and San Cristóbal de las Casas. Most major shops and restaurants in San Cristóbal de las Casas accept credit cards, but it is a good idea to have some peso cash on hand for museums and small purchases like bottled water and snacks. ATMs are easy to find around the main plaza in San Cristóbal.
Is San Cristóbal de las Casas expensive?
There are so many hotels in San Cristóbal that prices are competitive, and there are plenty of cheap places to eat, from local canteens to taco stalls. Taxis are cheap and museums rarely charge more than US$2–3 equivalent.
Is San Cristóbal de las Casas safe?
San Cristóbal de las Casas has generally avoided the drug violence that has affected other parts of Mexico. Take the usual precautions, especially at night, and keep valuables in room safes.
Read More