Mexico › Puerto Vallarta › Kid-Friendly Hotels
Updated: February 28, 2022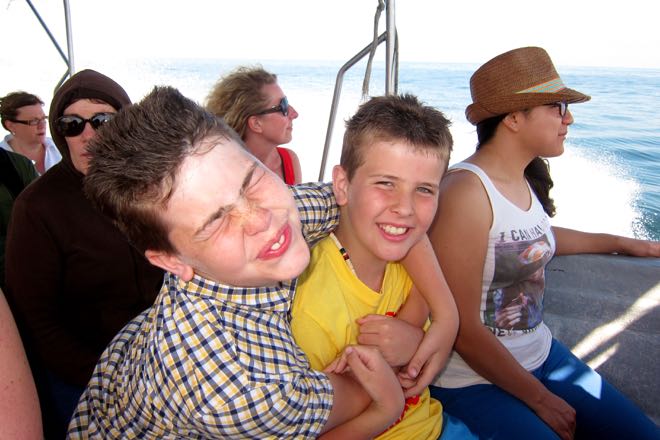 See Also
The 14 Best Kid-Friendly Hotels in Puerto Vallarta, Mexico
Stunning, boutique hacienda in Puerto Vallarta's old town area with true Mexican ambience, offering plush, whimsical suites (family of 5) with eclectic decor, gorgeous artwork, high ceilings, full kitchens, Victorian sunken tubs, marbled patios and fireplaces. Has many quirky stairways, so ask for room recommendations from the staff if stairs are an issue. Amenities include an outdoor rooftop pool, outdoor hot tub and an indoor lap pool. Great location beside the Cuale River/park close to the flea market and walking distance to many excellent restaurants, bars, the beach, and the Malecon (the lively walking path along the sea).
Hotel Phone: +52 1 322 205 6093
Hotel website • Check prices for Rivera Del Rio
Great central location with dozens of restaurants nearby. Suites are large and sleep a family of 4 – but there is not a separate bedroom. There's a small pool and you can also use the facilities at the sister hotel across the street (and on the beach) that has 3 connected pools and a fitness gym.
Hotel phone: +52 322-226-7100
Hotel website • Check prices for Los Arcos Suites
A great inexpensive hotel for families on a budget. 3 blocks from the beach, it has a small pool and is attached to a very kid friendly restaurant. The larger rooms need to be booked well in advance for high season.
Hotel phone: +52 322-222-0639
Hotel website • Check prices for Hotel Posada de Roger

Modern hotel offering sleek 2 storey townhouses (up to 4 people) and 3-bedroom suites (up to 6 people) with private terraces, fully equipped kitchens with blenders, washer/dryers etc. and a gas barbecue on the balcony. It has a spectacular infinity rooftop pool and a sky bar with a swim up area. Avoid the noisy streetside rooms and opt for ocean view rooms. While the building is located up a hill there's a free funicular ride available. Also offers a shopping service. Great location that's within walking distance of restaurants, bars, shops, and the beach. Caveats: Hotel is situated in a gay area, guests are required to wear wristbands and hotel enforces a strict no guest policy after 11 pm. The airport is 20 minutes away.
Hotel Phone: +52 322 222 3556
Hotel website • Check prices for Pinnacle Resort 220

Kid-friendly, all-inclusive, sprawling resort set right on the beach that offers bright family rooms (up to 6 people) with a double sofabed and ocean views (ask for rooms on the 4th floor or higher). Features contemporary Mexican architecture, a large pool, 11 different dining options (including 3 bars – a lounge bar, swim-up bar and a terrace bar) and a spa. Also offers a fiesta kids activities program, kids club and kids' playground. Beach has strong currents; swimming with kids is not recommended. Great location close to the airport with the Malecon and the Marina a short taxi ride away. Also has 2 malls within 5-10 minute walking distance.
Hotel Phone: +52 322 22621
Hotel website • Check prices for Fiesta Americana
The closest resort to downtown Puerto Vallarta and a 10 to 15 minute walk to the shops and restaurants along the malecon. The beach is rocky but the pool is great. This is not our favorite hotel in PV but great online deals often make it a good compromise especially given its location.
Hotel phone: 800 326 4600
Hotel website • Check prices for Sheraton Buganvilias Resort & Convention Center
Simple, clean, well-maintained older property with large double rooms (up to 4 people) featuring kitchenettes – excellent value for long-term stays. (The 4 story building has no elevator). Opt for rooms with balconies overlooking the pool. Also offers 3-bedroom villas with their own parking. Hotel is 1 block away from the beach and the boardwalk is a 15-minute walk away. There's a grocery store, shops & restaurants nearby. There's a pool, gym, a kids play area, and is located close to the airport.
Hotel Phone: 01 322 225 0827
Hotel website • Check prices for Plaza Santa Maria
Pretty, all-suite beach resort with Spanish colonial touches, offering colorful 2-bedroom suites (up to 6 people ) with kitchens and balconies sporting pool, garden or partial-ocean views. Also offers an optional all-inclusive plan. Has 3 swimming pools, a 12 person spa tub, kids' club, picnic area, volleyball and basketball courts. Lots of activities such as aqua aerobics, cooking classes, beach volleyball and evening enterntainment. Resort is close to downtown and within walking distance of numerous shops and restaurants.
Hotel Phone: +52 322 226 1400
Hotel website • Check prices for Villa Del Palmar Beach Resort & Spa
Old resort offering clean, basic, good value 2-bedroom family suites (up to 6 people) with kitchenettes. There are 2 dining options and 3 pools. Opt for rooms in towers with balconies/patios closer to the pool for better views. Offers nightly entertainment, activities like aqua aerobics, and beach volleyball. Kids can enjoy Spanish lessons, arts & crafts and games. There's a long, quiet beach in front and a grocery store a block away. By cab – Malecon (5 minutes), Puerto Vallarta International Airport (12 minutes).
Hotel Phone: +52 322 226 9654
Hotel website • Check prices for Costa Club Punta Arena

A great beach, super-friendly service, a kids club, and a fantastic pool make the Westin a top choice for families. 2 restaurants, beach bar, golf privileges at Marina Vallarta Golf Club, state-of-the-art health club, sauna, and steam room, lighted grass tennis courts. There's an all-inclusive option but personally I would not recommend it as half the fun of Puerto Vallarta is eating out.
Hotel phone: +52 322 226-1100
Hotel website • Check prices for Westin Resort & Spa
Comfortable large rooms sleep family of 6 with private terraces, hotel benefits from a great location right on the Marina waterfront. Has 1 restaurant, a pool, gym, spa and garden. Many good restaurants & shops nearby and downtown/old town is a short bus/taxi ride away. There's an interesting artisan-type market nearby (only on Thursdays).
Hotel Phone: +52 322 22 10880
Hotel website • Check prices for Flamingo Vallarta Hotel & Marina
12. Hyatt Ziva – South Vallarta
Beautiful, all-inclusive resort with a lovely private beach surrounded by mountains and a variety of suites (sleep family of 4) with private plunge pools and balconies with hot tubs. (Guests don't need wristbands). Choose rooms with balconies or swim-up suites. Plenty of entertainment and activities with beachfront shows, cooking demos, whalew-atching, parasailing, jungle/kayak tours, zip lines, ATV tours and free kayaking. Has 6 pools (multiple infinity pools, adult-only pool, kid-friendly pools), 6 restaurants, 5 bars & lounges, an infinity hot tub, and cabana day beds. Old town Puerto Vallarta is a short cab ride away.
Hotel Phone: +52 322 226 5000
Hotel website • Check prices for Hyatt Ziva

Gorgeous beachfront hotel on Los Muertos beach, that blends modern elements with old-style Vallarta. Luxurious, large 3-bedroom sky suites (up to 6 people) with private infinity pool and a complimentary private chef sleep families of 4 to 6. Also offers one 4-bedroom penthouse (up to 8 people), exclusive (6-bedroom) villas, and (4-bedroom) condo rentals. Has exquisite rooms in brick & honey-earth tones, with stunning panoramic ocean views, expansive arched windows, fully equipped kitchens, and outdoor jacuzzis. Easy walking distance to downtown, numerous beach clubs, nightlife options, watersports, and restaurants.
Hotel Phone: +52 322 222 3939
Hotel website • Check prices for Vallarta Shores Beach Hotel
Amazing boutique hotel offering 7 uniquely decorated oceanfront suites (up to 4 people) with old world charm and architectural flair with spectacular 360 degree views of the whole bay, private terraces overlooking the ocean, and full kitchens. Some suites have an open plan where the entire frontside is open to the ocean. Has excellent cooked-to-order breakfasts, classic furnishings, original art & antiques. (Also offers very spacious private villas with heated jacuzzis and pools at Casa Tres Vidas, that can be combined to accommodate up to 24 people). It is a 20 minute beach walk to the Old Town and its restaurants, bars, shops, and galleries. Caveats: Has no tv (which I consider a plus), pool is smallish, the beach in front is too rough for swimming and getting to the room involves walking up stairways.
Hotel Phone: +52 322 221 5317
Hotel website • Check prices for Quinta Maria Cortez
Family Hotels Near Puerto Vallarta
There are some wonderful towns north and south of Puerto Vallarta. Punta de Mita is home to several five star resorts. Bucerias is relaxed and family-friendly. Sayulita (my favorite) has a hippy vibe and good surf. Mismaloya is a small fishing village popular with Mexican tourists. Yelapa is accessible only by boat – secluded and beautiful but still plenty of restaurants and a few markets.
Awesome luxury hotel that is still very kid-friendly. One-bedroom suites are wonderful and perfect for families. There are also huge 4 and 5 bedroom villas that will sleep from 8 to 12 people. The hotel is located 45 minutes north of Puerto Vallarta. 3 restaurants; beachfront bar; horseback riding; children's programs; cooking classes, Spanish classes, dance classes; fitness center; yoga; Jacuzzi; oceanfront pool; lazy river kids' pool; spa; tennis center w/10 courts of various surfaces; various watersports.
Hotel phone: +52 329 291-6000
Hotel website • Check prices for Four Seasons
Great hotel in the laid-back town of Bucerias, 40 minutes north of Puerto Vallarta. All suites have kitchens – some are one-bedroom, some two-bedroom. Medium sized pool with lots of sun and a few deck chairs. No restaurant but 2 blocks to the beach and a short walk to many places to eat. Bucerias is a friendly town with a nice beach, highly recommended if you want a quiet stay away from the crowds of PV.
Hotel phone: 52 329 298-2797
Hotel website • Check prices for Aventura Pacifico
Great place with super friendly owners. 1 and 2 bedroom apartments with small kitchens. Steps from the lively and very fun town square. 2 blocks from a beautiful beach that is great for learning to surf (and take surf lesson). Sayulita is a wonderful town with dozens of great restaurants in a compact and walkable center. It's a place that once you arrive you spend the rest of your visit figuring out how to never leave.
Hotel phone: 329-29-13111
Hotel website • Check prices for Hotel Vogue
Highly recommended! Situated right on beautiful Yelapa beach this is an open-air style apartment (and probably my favorite hotel in the PV area). There are 2 and 3 bed layouts that sleep 4 to 6. Some bedrooms are walled-off from the rest of the apartment but not completely enclosed. The waves slamming on the beach can be loud at night but it's something I'm happy to contend with. Full kitchens are great for cooking.
Hotel phone: +52 322-209-5149
Hotel website • Check prices for Casas Garcia
More Kid-Friendly Hotels in Puerto Vallarta Area
If the above are fully booked (which often happens) here are a few more kid-friendly resorts that are good for families.
Read More