Mexico Travel Guide › Mexico Best Destinations
Updated: February 23, 2022
See Also
The 11 Best Places to Visit in Mexico
1. Mexico City

Mexico City is a world class destination, a vibrant metropolis teaming with humanity. There is a rich and varied cultural scene, with 185 museums, 9 archaeological sites and 4 UNESCO World Heritage sites, plus fabulous food from fine dining restaurants to abundant street food. There is something for absolutely every kind of traveler.

Guadalajara is Mexico's second biggest city, and the capital of the state of Jalisco. A less frenetic metropolis than Mexico City, it's full of tree-lined boulevards, and home to both the Mexican institutions of mariachi music and tequilla.

Located in Mexico's central highlands, San Miguel de Allende is known for its thriving arts scene and cultural festivals, gastronomy, and baroque architecture. Once known for catering mostly to backpackers and budget travelers, the city now features many luxury and boutique hotels and high-end shopping, with a plethora of quaint bougainvillea filled alleyways to explore.

Situated at the southern tip of the Baja Peninsula, Los Cabos is the coastal area encompassing the two popular resort destinations of Cabo San Lucas and San Jose del Cabo. The beautiful waters and beaches offer a variety of water sport adventures and marine life, and the surrounding dessert more natural wonders to explore. There's a pervasive party atmosphere spread out across endless bars and night clubs. Despite its natural beauty, the area is built up with look-alike resorts and all-inclusive hotels, large chain stores and restaurants.

Surrounded by lush mountains and stretching around the beautiful Bahía de Banderas, Puerto Vallarta is one of Mexico's most popular coastal destinations. The malecón promenade runs along the beach downtown, with loads of waterfront restaurants and bars, and a collection of iconic sculptures. Puerto Vallarta is also popular with families and LGBTQ travelers. There are a number of smaller resort towns both north (Punta de Mita, Sayulita, San Francisco) and south (Mismaloya, Boca de Tomatlan, Yelapa) of PV.
6. Zihuatanejo

Zihuatanejo is a small resort area on the coast of the state of Guerrero, north of Acapulco. The city is slow and quiet but becomes quite touristy when cruise ships are in town. There are narrow cobblestone streets with small restaurants, boutiques and artisan studios, and a romantic waterfront sidewalk. Nearby Ixtapa is also attractive but has larger resorts and less of a local vibe.

Oaxaca City is the gastronomic capitol of Mexico, also known for it's architecture and natural beauty. The city centre is a UNESCO World Heritage Site. Handicrafts, ceramics, and rugs are popular with visitors.

Merida is the quiet capital of the state of Yucatan, with a large Mayan population and robust cultural scene. There's lots to see in the city and plenty of pleasant day trips to ancient ruins and natural beauty in the surrounding area.

Tulum is a small city on Yucatan's Caribbean coast, known for its amazing beaches and well preserved Mayan ruins on a cliffside above the beach. A hip scene full of boutique shopping, small luxury hotels, and fusion cuisine blending modern techniques with traditional Mexican ingredients. Yoga, bike riding, and visits to cenotes in the surrounding jungle are popular activities, as are large electronic dance music festivals.
10. Isla Mujeres

Isla Mujeres is a small Mexican island in the Caribbean Sea off the Yucatan Coast near Cancun. It's known for beaches, resort hotels, snorkeling, and scuba diving on the surrounding coral reefs. Golf carts are the main form of transportation around the island – which gives a pretty good approximation of the relaxed vibe on the island.
11. Cancun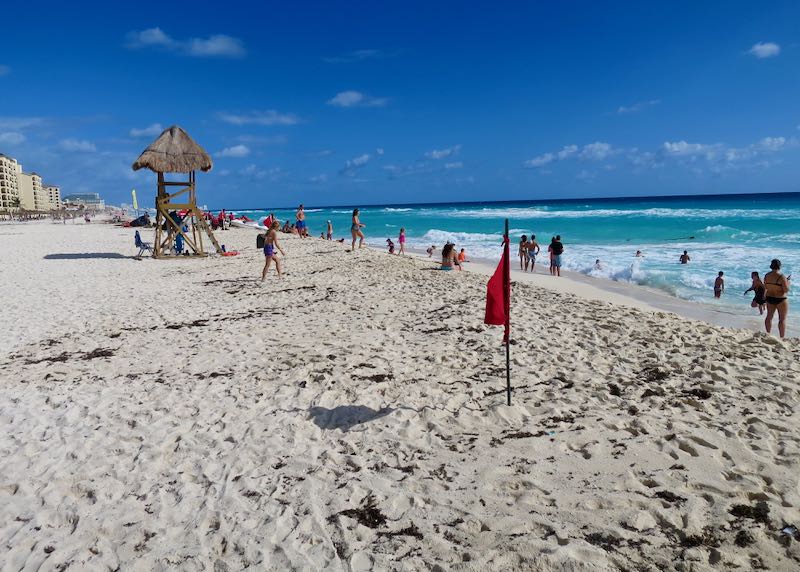 Cancun is known for its gorgeous powdery white sand beaches, large luxury resorts, and nightlife. A major tourist destination for decades, the city is divided into the Zona Hoteleria along the beach and Cancun Centro (the city) inland that has more local flavor and flare. Golf, shopping, and day trips to surrounding cenotes, water parks, and cultural sites are easily accomplished.
Read More