Mexico › Tulum › Best Hotels
Updated: February 8, 2023, 2022
See Also
Tulum Hotels – Tips & Info
Tulum is my favorite beach town in Mexico. Great beach, food, nightlife, local vibe, and wonderful nearby sights.
There are two main areas to stay in Tulum: The pueblo (the town center with a local vibe, great restaurants, boutique and budget hotels; located about a 15-minute bike ride to the start of the beaches). And the beach (a long strip of luxury boutique beach hotels, trendy restaurants, and a relaxed touristy vibe).
Booking.com – The best site (and best prices) for booking hotels in Tulum.
Best Hotels on Tulum Beach: La Valise (pictured above) • Mezzanine • Jashita • Casa Malca – all of these are absolutely wonderful places to stay.
Best Boutique Hotel in Tulum: pretty much all hotels in Tulum are boutiques (there aren't any large resorts) but if I had to pick one as the best it would be Mezzanine.
The best cheap hotel in the Tulum Beach area Las Palmas Maya, but it is located across the road from the water.
Tulum has the best beaches along the Yucatan coast. Great sand and swimmable surf.
December to April is the best time of the year to visit Tulum – but Tulum is a year-round destination and you can have a great visit any month of the year. September and October are the rainiest months but otherwise, I wouldn't let the time of year dictate if you should come.
Book very early for the best hotels on the Tulum beach. Six months in advance is good, nine months is better.
High season is January, February, July, August, and late December, when it's even more important to find hotels early.
Tulum does not have any mega-resorts or all-inclusives. The places listed below are small to medium-sized boutique-style hotels with lots of character.
My top tips for visiting Tulum are to eat some tacos al pastor, swim in a cenote, and rent a bike for geting around.
The food in and around Tulum is amazing and one of the highlights of the town. These are my favorite restaurants in Tulum.
Tulum is great for families. These are the best hotels for families in Tulum.
The 25 Best Hotels in Tulum
Most of these hotels are walking distance to several restaurants and biking distance to town.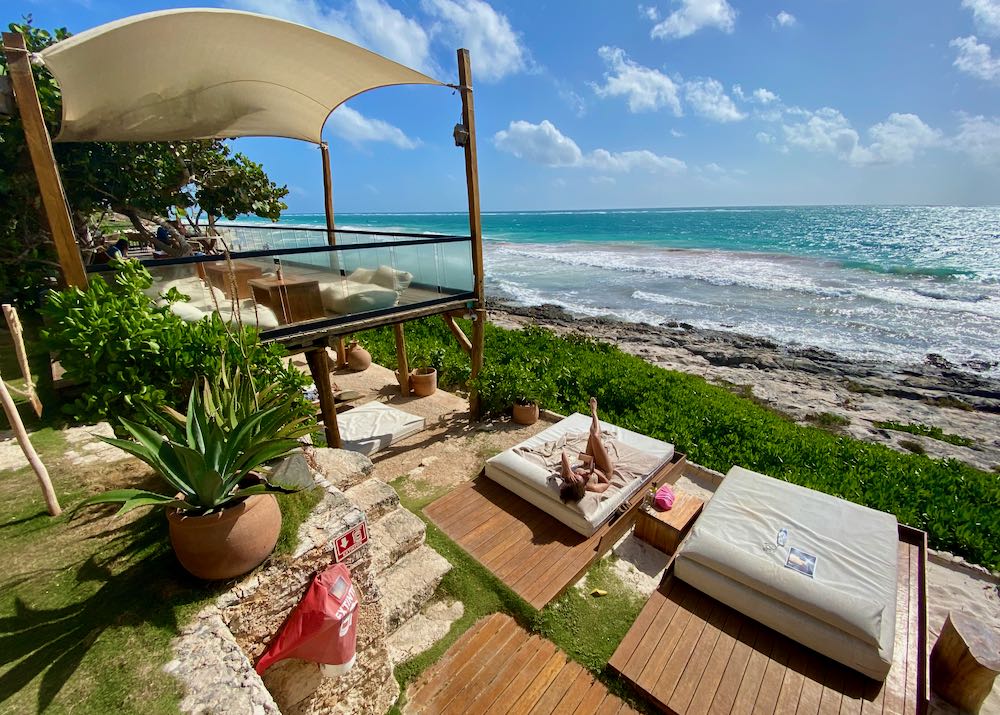 Superb, oceanfront, boutique hotel with refined, economical 'non-view' rooms, sea view rooms, and master suites, all with mini bars, yoga mats, and coffee/tea baskets (delivered daily). The 2 master suites add coffee makers, soaking tubs, bluetooth speakers, lounge areas and large private terraces overlooking the beach. Mezzanine has a pool, Thai restaurant, bar, lovely long beach (steps from the hotel), and is a short bike ride from the Tulum ruins.
Hotel phone: +52 1 984 131 1596
Review • Check prices for Mezzanine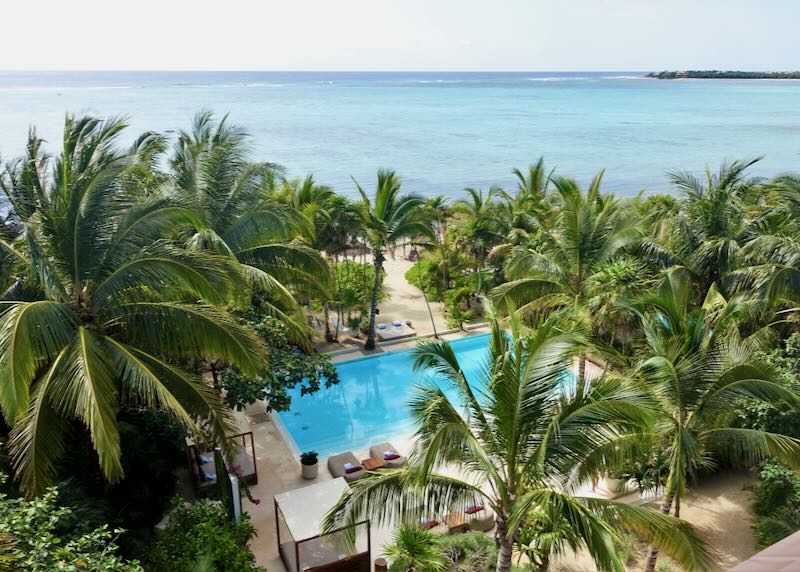 Family-friendly, luxury boutique hotel with 3 pools (kids', adults', and rooftop adults' pools), beachfront service, daily yoga, and a spa with shaman ceremonies. Their wide range of rooms and suites all include king-sized beds, welcome wine and chocolates, and private terraces; honeymoon suites and the penthouse suite add private pools. Their all-day restaurant Pandano offers a delicious Mexican-Italian menu with especially great lobster and handmade pasta along with creative and classic cocktails. Located on an absolutely stunning, semi-private beach in Soliman Bay near Casa Cenote and about 10 km north of the Tulum ruins.
Hotel phone: +52 1 984 875 4158
Review • Check prices for Jashita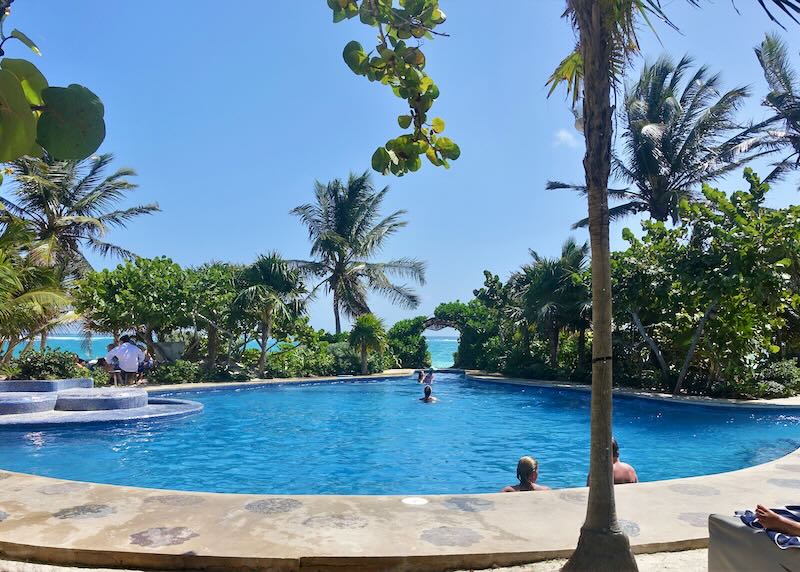 Stylish, art-focused hotel with 3 outstanding restaurants, a creative bar, a beach club, 2 pools (1 is underground), complimentary bicycles, and free sunset yoga on the rooftop terrace. Each design-forward suite features an eclectic mix of antique and contemporary décor and original artwork from owner Lio Malca's extensive private collection. The hotel is kid-friendly all year long, except for the weeks surrounding New Year's Eve when it becomes an adults-only spot during Tulum's EDM festivals. Located on a white, sandy beach within a 10-minute walk of Sian Ka'an biosphere reserve and several of Tulum's best restaurants and bars.
Hotel phone: +52 1 984 167 7154
Review • Check prices for Casa Malca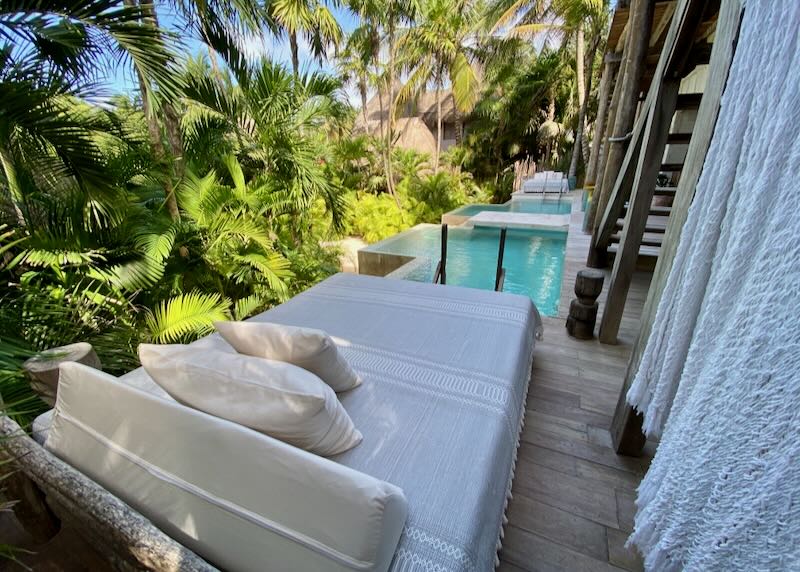 Luxurious, boutique hotel with spacious rooms and a suite, 24 hour air conditioning, 2 heated plunge pools, and a gorgeous stretch of beach. Service is impeccable and highly personalized. Their onsite restaurant serves breakfast and lunch indoors or on the beach, while their sister restaurant Nü serves creative Mexican fine dining under the stars. Located on the southern end of Tulum's hotel zone in a quiet beach stretch within walking distance of several fantastic restaurants.
Hotel phone: +1 305 999 1540
Review • Check prices for La Valise

Beach-chic, luxury hotel on a wide stretch of white, sandy beach with a long rooftop pool, playground, and free, weekly salsa dancing lessons. All family-friendly, open-plan suites are designed for up to 4 with a king-sized bed and a double twin trundle bed, a dual shower, and dual vanities; many suites include private plunge pools. Amazing food and drinks, a small spa, and friendly, attentive service round out the experience here.
Hotel phone: +52 1 984 115 4726
Review • Check prices for La Zebra
6. Ahau – luxury

Wellness-focused, pet-friendly, beachfront hotel with outstanding food, eclectic rooms, and an extensive program of yoga, meditation, and healing rituals. Their onsite restaurants use fresh, organic, local ingredients in partnership with Mayan farmers and offer top-notch menus for vegans and meat-eaters alike. The beach here is amazing: sandy and swimmable, well-organized with beach beds and hammocks, well-served by the beach bar and grill, and with their own kite surfing school. Ahau is in the heart of Tulum's beach zone, walking distance to amazing restaurants and nightlife.
Hotel phone: +52 984 147 5225
Review • Check prices for Ahau

Family-friendly, wellness-centered hotel with a gorgeous pool, free daily yoga, and a well-kept beach about a 10-minute walk from Sian Ka'an biosphere. Luxury tents, suites, and villas fuse boho style with modern perks, including air conditioning in all units (even the tents), private pools, and outdoor showers. Dining is fantastic at their vegan/vegetarian restaurant Macondo and at their super fresh seafood restaurant La Popular. What sets this hotel apart, though, is its focus on incorporating Mayan culture into all aspects of the hotel, including the menus, healing rituals, ceremonies, and ever-changing events program.
Hotel phone: +52 984 803 2243
Review • Check prices for Nômade

Rustic boutique hotel with spacious, family-friendly suites and a fantastic Mexican-Mediterranean fusion restaurant on a wide stretch of white sand beach. Spacious rooms offer up to 2 bedrooms and sleep 4 to 6 guests, while the villa features 4 bedrooms, 3 bathrooms, a full kitchen, and a private pool.
Hotel phone: +52 1 984 146 7737
Review • Check prices for Cabañas La Luna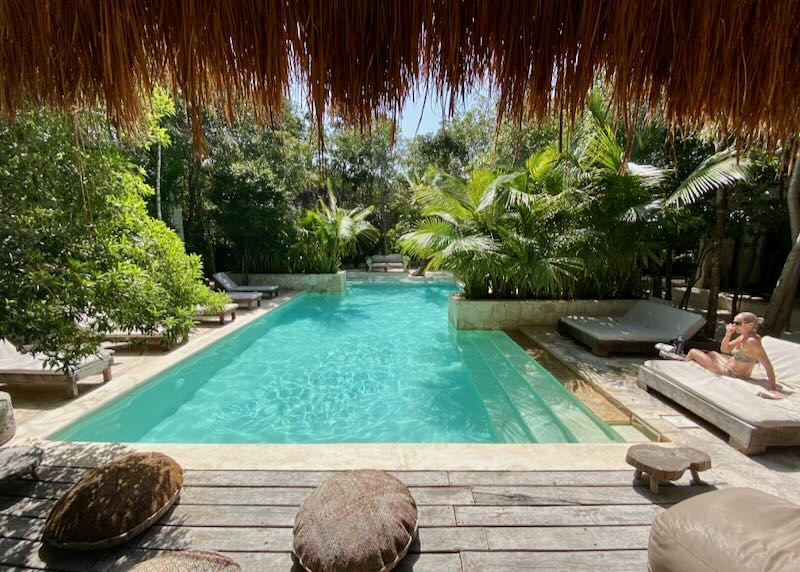 Family-friendly, luxury hotel in the Pueblo (downtown) offering studios and 1- to 3- bedroom suites sleeping up to 8, all with stocked kitchenettes and outdoor showers, some with outdoor bathtubs. Facilities and amenities include a gorgeous pool, in-room yoga and massage, free bicycles, and a cozy breakfast and lunch restaurant. Private dinners and tequila and mezcal tastings are available on request.
Hotel phone: +52 984 240 5231
Review • Check prices for Una Vida

Adults-only, luxury boutique hotel with an infinity pool, upscale restaurant and bar, and a cozy 2-room spa. Rooms and suites are designed with couples in mind, all with king-sized beds, 24-hour air conditioning, and private terraces; ground floor rooms feature private plunge pools. Mi Amor is located in the Tulum Ruins national park at the north end of the hotel zone, walking distance to the ruins, a beach club, and a handful of restaurants. The beach here is rocky, but it's just a 5 minute walk to sandy Playa Paraiso at their sister property Mezzanine.
Hotel phone: +52 1 984 188 4273
Review • Check prices for Mi Amor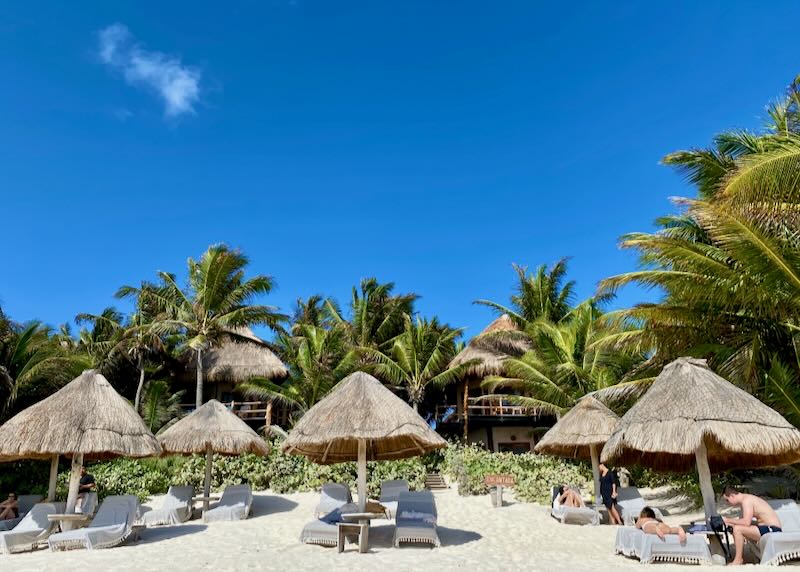 Romantic hotel with 8 spacious rooms, all with king-sized canopy beds and private terraces with hammocks. Dining is exceptional at their onsite restaurant and bar and at their sister restaurant Nü across the street (they share the restaurant with La Valise). Encantada is located on a wide stretch of white sandy beach at the quiet, south end of the hotel zone within walking distance of several amazing restaurants and bars.
Hotel phone: +1 650 212 6782
Review • Check prices for Encantada
12. Sueños – luxury

Chilled-out, beachfront, artsy eco-hotel with Mayan-themed, beautifully decorated suites featuring hand-painted tiles, outdoor sitting decks, hammocks, porthole windows, and solar powered electricity. The lone penthouse has sofa beds, a stone hydromassage jacuzzi, a terrace, and 360˚ views of the ocean, jungle and lagoon of the Sian Kaan Biosphere. Sueños Tulum also offers complimentary breakfast, a yoga studio, fire pit, pool, and restaurant.
Hotel phone: +52 984 119 3484
Review • Check prices for Sueños
13. Dune – luxury

Adults-only, boutique hotel with an amazing Mexican-Mediterranean fusion restaurant, beach club, a pampering spa, and daily yoga. Romantic rooms and suites include 24-hour air conditioning and private terraces, some with private plunge pools. The beach here is one of the best in Tulum: sandy, swimmable, and protected by a reef, which makes for gentle waves.
Hotel phone: +52 984 238 9529
Hotel website • Check prices for Dune

Super-stylish, beachfront, spa resort with 2 pools having a lineup of fantastic designer suites with cowhide rugs, leather chairs, and private balconies. Depending on the type, suites may have private plunge pools, indoor copper tubs, roof top solariums/terraces with pools, private gardens/pools, and small kitchens. Be Tulum also boasts two restaurants, a raw food bar, beach bar, yoga studio, meditation classes, and a spa.
Hotel phone: +521 984 132 6215
Review • Check prices for Be Tulum

Cozy cabanas, rooms/tower rooms with ocean/garden views in a laid-back, beachfront, eco-hotel. Has budget cabanas with shared bathrooms, high-end tower rooms with splendid views with terraces, and a lone suite with jacuzzi. Has a beach bar, temazcal, yoga classes, Mexican-Italian restaurant and many good restaurants within walking distance.
Hotel phone: +52 984 688 8592
Review • Check prices for Coco Tulum

Adults-only hotel with a river pool, jacuzzi, full-service spa, and 2 restaurants, including the well-loved Ziggy's Restaurant and Beach Club. Rooms are minimalistic yet elegant, and all include a private jacuzzi or plunge pool. Perks include 24-hour air conditioning, free bikes, free yoga, live music nightly, and tequila, mezcal, and wine tastings throughout the week. The beach here boasts powdery, soft, white sand, and there is a little cenote onsite, too.
Hotel phone: +52 984 157 9645
Review • Check prices for The Beach Tulum

Beachfront hotel offering a pool and a holistic spa. Its spacious rooms and suites feature up to 3 bedrooms; many include private jacuzzis. The sister property of The Beach Tulum, Cabañas Tulum shares the same fantastic swimming beach and Ziggy's Restaurant and Beach Club, along with its own restaurant and beach bar Frescoes. Minimum age for hotel guests is 14.
Hotel phone: +52 984 871 1132
Review • Check prices for Cabañas Tulum
18. Alaya – luxury

Beautiful, beachfront boutique hotel with airy, light-filled beach cabanas/apartments, villas and suites having wooden floors, floor-to-ceiling windows with bi-folding doors and terraces. Apartments add small kitchens. Has a Latin American restaurant, outdoor eco gym, yoga lessons, kitesurfing and paddle surfing. The beach is a hotspot for sea turtles/nesting sites (during the season).
Hotel phone: +52 984 159 1696
Review • Check prices for Alaya
19. Naay – luxury

Stylish boutique hotel in the brand new Aldea Zama neighborhood, halfway between the Pueblo and the beach. Family-friendly 1 and 2-bedroom suites sleep up to 6 guests. The main highlight is the hotel's rooftop, which boasts an infinity pool, kids' pool, infinity jacuzzi, and an outstanding bar and restaurant with sunset views over the jungle.
Hotel phone: +52 984 231 1241
Review • Check prices for Naay

Adults-only hideaway north of Tulum with only 12 rooms sharing 3 pools, rooftop yoga, and a wonderful restaurant overlooking the beach. All rooms include king-size beds, 24-hour air conditioning, private terraces, and swim outs or jetted plunge pools; half of the rooms add indoor soaking tubs. The beach here is rocky, but the hotel is just a 10-minute walk (or a 2-minute ride on one of their free bikes) to the gorgeous, sandy, swimmable beach at Soliman Bay and about a 20-minute walk (5-minute bike ride) to Casa Cenote, one of the best cenotes in the Tulum area.
Hotel phone: +52 984 231 1241
Review • Check prices for O' Tulum

Charming boutique hotel in the Pueblo with 2 pools, a jacuzzi, a small spa, and a wonderful all-day Mexican restaurant serving an especially great brunch. Rooms all include 24-hour air conditioning and king-sized beds; Casitas add jetted baths and private patios with hammocks. Guests here have access to free bikes and discounted entrance to the beach club at their sister property Coco Tulum.
Hotel phone: +52 884 688 8592
Review • Check prices for Coco Hacienda
22. Tago – luxury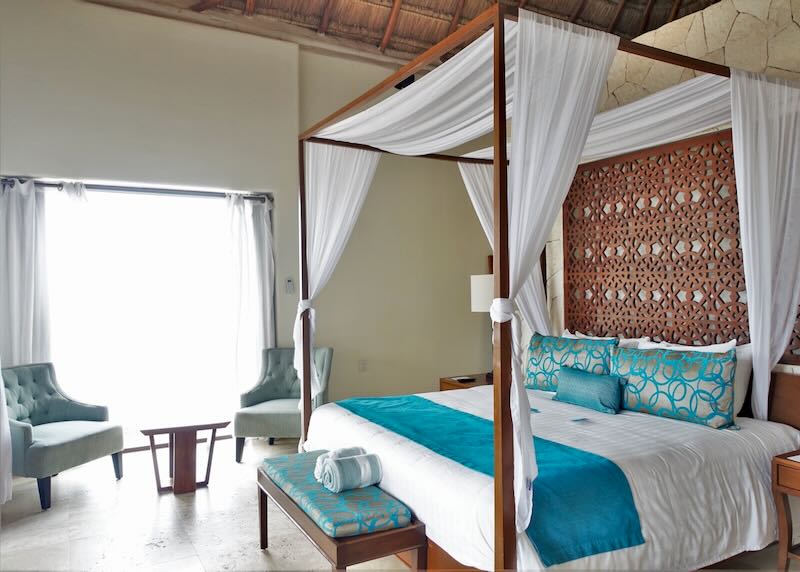 Stunning, beachfront luxury hotel. Rooms are huge with large glass sliding doors opening to their own private plunge pools. The onsite restaurant offers a Mexican-Mediterranean fusion menu with indoor or outdoor, beachfront dining. The beach is well-maintained with an abundance of sun chairs and fantastic beach service.
Hotel phone: +52 1 984 871 1310
Hotel website • Check prices for Tago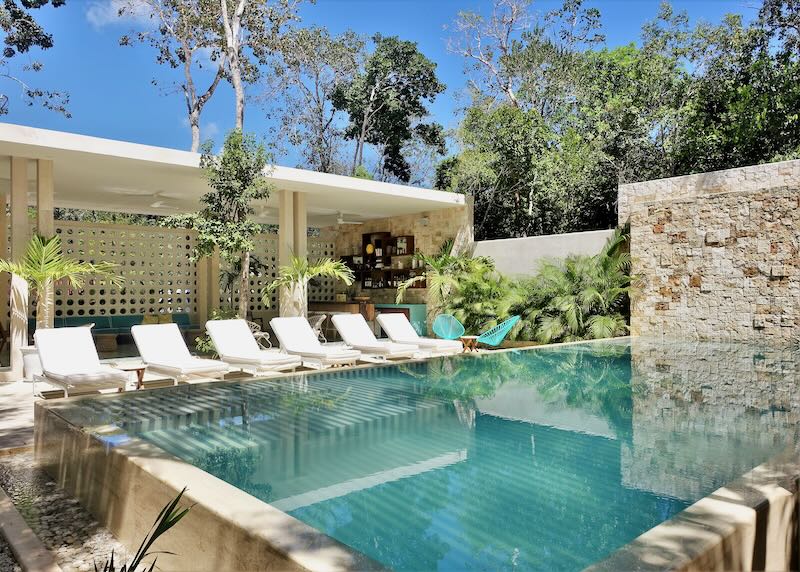 Trendy boutique hotel with a pool, bar, and in-room massage. Tiki Tiki is located in the Pueblo, walking distance to Tulum's vibrant restaurant and bar scene. A design-forward hotel, the decor blends Art Deco, retro '60s, and beach-chic styles in its 15 unique rooms. This hotel tends to attract a younger crowd, especially honeymooners, couples, and bachelorette parties.
Hotel phone: +52 884 688 5005
Review • Check prices for Hotel Tiki Tiki
24. El Pez – luxury

Family-friendly, luxury hotel with a pool, an excellent bar and restaurant, a shared kitchen area for guest use, and well-appointed rooms and suites on a small beach in a quiet bay. Most suites are 1-bedroom units that sleep up to 4 with a king-sized bed and a separate living area with a sofa bed and private pool. The beach itself is rocky, more popular for sunbathing and fishing than for swimming, but guests of El Pez have access to the beach at their sister property La Zebra.
Hotel phone: +52 1 984 116 3357
Review • Check prices for El Pez
25. Bardo – luxury

Elegant boutique hotel of contemporary luxury surrounded by lush greenery on the outskirts of the Tulum Pueblo. A large pool, excellent Milum restaurant and Kinky Room bar with lounge, temazcal and large yoga and meditation practice space. Villas are large and private, with semi-outdoor showers and splash pools.
Hotel phone: +52 984 807 1433
Review • Check prices for Bardo
Tulum Hotel Map

Hotels on Map: Jashita • O' Tulum • Bardo • Una Vida • Coco Hacienda • Hotel Tiki Tiki • Naay • Mezzanine • Mi Amor • El Pez • Tago • Coco Tulum • Dune • Cabañas La Luna • The Beach Tulum • Cabañas Tulum • Ahau • La Zebra • Alaya • Sueños • Encantada • La Valise • Be Tulum • Nômade • Casa Malca
Read More