Mexico › Tulum › Kid-Friendly Hotels
Updated: July 28, 2021
See Also
Tulum Family Hotels – Tips & Info
Tulum is a good year-round destination but the best months to visit are from December to April.
A note about Tulum hotels: Tulum's hotels are simple and laid back. Don't be expecting luxury amenities even if the price suggests that that's what you're getting. Service is on "Mexican Time" and might leave you disappointed if you're expecting the sharp service of Cancun's best resorts. That said, Tulum is my favorite beach spot along the coast (and has way better restaurants than Cancun or Playa del Carmen). Just be prepared for laid back, relaxed, and easy-going service and hotel staff.
The 14 Best Hotels for Families in Tulum, Mexico
Click the hotel name to check prices on Booking.com – my favorite website for booking hotels. Book 6 to 8 months in advance for the best rooms and rates.
Rustic boutique hotel with spacious, family-friendly suites and a fantastic Mexican-Mediterranean fusion restaurant on a wide stretch of white sand beach. Spacious rooms offer up to 2 bedrooms and sleep 4 to 6 guests, while the villa features 4 bedrooms, 3 bathrooms, a full kitchen, and a private pool.
Hotel phone: +52 1 984 146 7737
Hotel website • Check prices on Booking.com
Located near the far end of the beach road. It's quieter here but you can still walk to a few restaurants. Presidential suite is luxurious and perfect for family of 4. Small pool just back from the beach.
Hotel phone: +52 984 119 3484
Hotel website • Check prices on Booking.com
Boutique, luxury hotel with 3 pools, beachfront service, and an exceptional restaurant. Their 2-bedroom Jasmine Penthouse sleeps up to 4 with 2 king beds, 2 bathrooms, an outdoor jacuzzi, ocean view terrace, and exclusive access to the hotel's rooftop pool and bar. Located on an absolutely stunning, semi-private beach in Soliman Bay, about 10 km north of the Tulum ruins.
Hotel phone: +52 1 984 875 4158
Hotel website • Check prices on Booking.com
A beachfront hotel that is beautifully decorated and centrally located. Family villa has 2 bunkbeds and a queen bed (in separate rooms). Beach here is beautiful. Good restaurants nearby.
Hotel phone: +52 984 159 1696
Hotel website • Check prices on Booking.com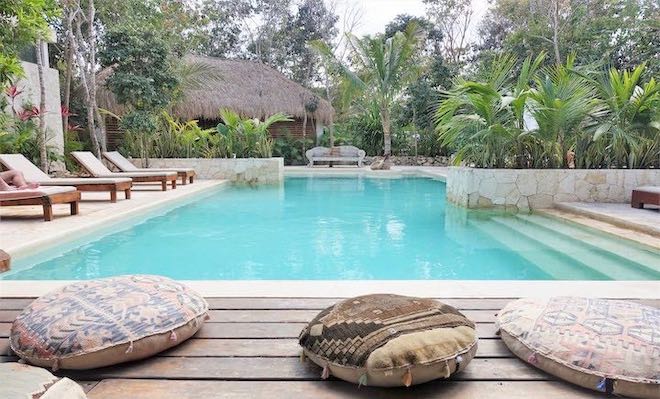 Luxury, all-villa hotel in the Pueblo offering 1 to 3-bedroom suites sleeping 4 to 8, all with stocked kitchenettes and outdoor showers, some with outdoor bathtubs. Facilities and amenities include a gorgeous pool, in-room yoga and massage, free bicycles, and a cozy breakfast and lunch restaurant. Private dinners and tequila and mezcal tastings are available on request.
Hotel phone: +52 984 240 5231
Hotel website • Check prices on Booking.com
Luxury hotel with a pool, an excellent bar and restaurant, a shared kitchen area for guest use, and great family suites on a small beach in a quiet bay. Most suites are 1-bedroom and sleep up to 4 with a king-sized bed, a sofa bed, and a private pool; 1 bedroom suites can connect to make 3-bedroom suites.The beach here is rocky, more popular for sunset viewing and fishing than for swimming, but guests of El Pez have access to the beach and playground at their sister property La Zebra.
Hotel phone: +52 1 984 116 3357
Hotel website • Check prices on Booking.com
The best budget hotel in the beach zone, offering air-conditioned, open-plan family suites with 2 king beds and 1 sofa bed or 1 king and 1 queen, sleeping up to 5 guests. Their tiny restaurant serves breakfast until 3:00 p.m., plus they have a large communal kitchen for guests' use. The hotel is on the jungle side of the road, a 30-second walk to the beach with free beach access at partner beach clubs.
Hotel phone: +52 1 984 214 8914
Hotel website • Check prices on Booking.com
Amazing, condo-style, boutique hotel with spacious 2 and 3-bedroom apartments, all with full kitchens and in-unit washers and dryers. There is a shared pool in the garden area, and guest have free access to the famous beach club at their sister property Coco Tulum. Located in the Pueblo (downtown), within walking or biking distance to several of Tulum's best restaurants.
Hotel phone: +55 4169 2072
Hotel website • Check prices on Booking.com
Beach-chic, luxury hotel on a wide stretch of white, sandy beach with a rooftop infinity pool, playground, and free, weekly salsa dancing lessons. All open-plan suites are designed for 4 with a king-sized bed and a double twin trundle bed, a dual shower, and dual vanities; many suites include private plunge pools. Amazing food and drinks, a small spa, and friendly, attentive service round out the experience here.
Hotel phone: +52 1 984 115 4726
Hotel website • Check prices on Booking.com
Affordable, upscale, pet-friendly studio, 1-bedroom, and 2-bedroom condos, most with full kitchens, some with outdoor soaking tubs. This gated hotel in the Pueblo offers a pool, garden, free bicycles, complimentary breakfasts, and discounts at nearby beach clubs. The hotel partners with a Mayan collective to arrange jungle retreats with Mayan healing rituals, cooking classes, tours of Sian Ka'an, and more.
Hotel phone: +52 1 984 115 4726
Hotel website • Check prices on Booking.com
Rooms and suites are large, great for families, and steps from the sea. Centrally located on the beach road and an easy walk to several restaurants.
Hotel phone: +52 984 879 0772
Hotel website • Check prices on Booking.com
Large bungalows sleep a family of 5. Great location (closer to town than most hotels) with restaurants and ice cream shop steps away. The beach here is not great but it's an easy bike ride to great sand.
Hotel phone: +52 984 145 2602
Hotel website • Check prices on Booking.com
Stylish boutique hotel in the brand new Aldea Zama neighborhood, halfway between the Pueblo and the beach. Spacious 1 and 2-bedroom suites sleep up to 6 guests. The main highlight is the hotel's rooftop, which boasts an infinity pool, kids' pool, infinity jacuzzi, and an outstanding bar and restaurant with jungle sunset views.
Hotel phone: +52 984 231 1241
Hotel website • Check prices on Booking.com
Affordable, all-suite hotel in the Pueblo with a pool, jacuzzi, massage room, and rooftop yoga. Suites range from studios up to 2-bedroom units, and all but 2 of these have a kitchenette or a full kitchen. Breakfast is included in the room rate, and though there is no restaurant onsite, the hotel can organize onsite lunches and dinners on request.
Hotel phone: +52 984 160 0096
Hotel website • Check prices on Booking.com
Read More