Mexico › Punta de Mita Hotels
Updated: January 10, 2023
Best Places to Stay in Punta de Mita
Punta de Mita is a small village on a little peninsula northwest of Puerto Vallarta. In general, however, Punta de Mita refers not only to the town, but the entire area northwest of Bucerías, including the towns La Cruz de Huanacaxtle and Higuera Blanca, Litibú Resort, and Punta Negra beach, but excluding Sayulita and San Pancho. Punta Mita, without the "de," is a gated resort and residential complex in the northern end of Punta de Mita village with several golf courses, luxury homes and hotels, and fine dining restaurants.
The best areas to stay for travelers are in Punta de Mita village (relaxed vibe, great local restaurants, surf shops, and beaches), the North End (Punta Negra, Higuera Blanca, Litibú: jungle seclusion with great surf near Sayulita), the South End (upscale hotels near La Cruz fishing village and close-ish to Puerto Vallarta attractions).
The best hotels in each area are St Regis (Punta Mita), La Quinta del Sol (in the village), W Punta de Mita (South End), and Imanta (North End).
There are buses to Punta de Mita from Downtown Puerto Vallarta, but they only run a couple of times a day. There is no direct bus from the airport to Punta de Mita. Travelers should opt to rent a car if they plan on exploring the area, but if most of the time will be spent on the beach at the resort, then taking a taxi is the best bet. Taxi rates are cheaper if hired at the airport versus having the resort arrange for a transfer, though the resort cars are usually more comfortable.
For driving, Puerto Vallarta's rules of the road are similar to the U.S. Highways are well-maintained, and streets are all well-mapped (if not well-marked) and easy to follow via GPS. Two things that are different are topes and left turns. Topes (pronounced TOH-pays) are speed bumps, but there are no regulations on their heights, steepness, or visibility; some are nearly impossible to see until it's too late! Drive slowly in downtown and keep an eye out for these. Standard left turns are usually OK in downtown but not on highways. To make a left, drivers will often need to use a retorno, which is a U-turn overpass. To use a retorno, drive past the road you want to make a left onto, get into the far right lane to take the retorno exit, make the left onto the overpass, and finally merge with traffic going the opposite direction. You can then make a right at the desired street or destination.
Pay in pesos whenever possible. Many hotels, restaurants, and tour operators accept payment in U.S. dollars. However, travelers will almost always overpay if using dollars, as the exchange rate for tourists favors the peso.
The 6 Best Luxury Hotels in Punta de Mita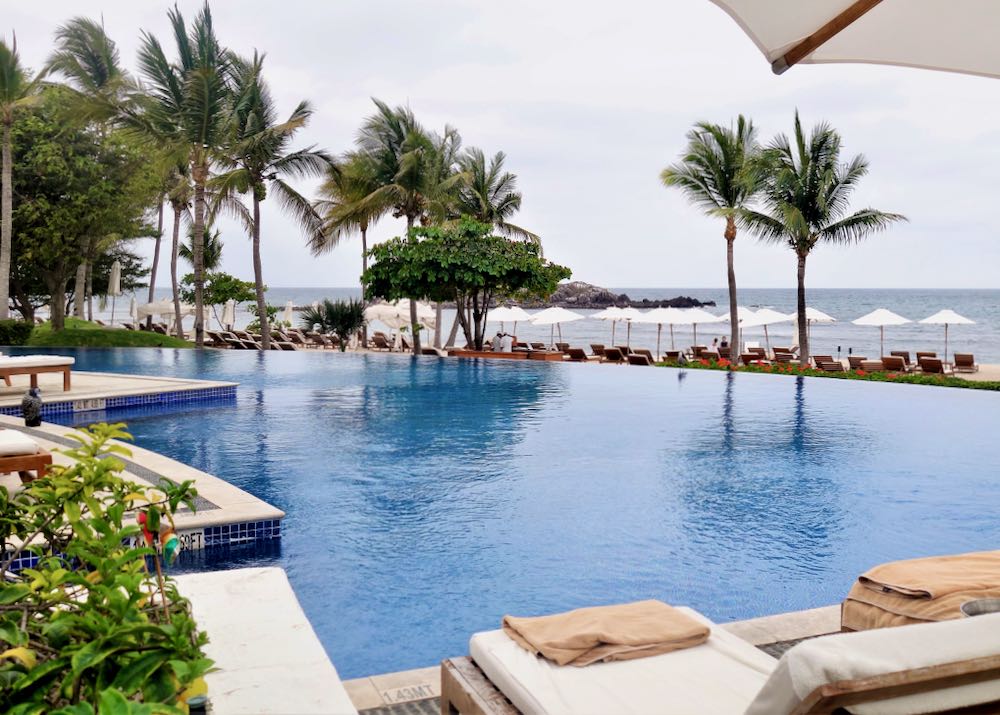 Impeccable, beachfront, luxury resort with gorgeous accommodations, gourmet dining, butler service for all, and thoughtful family amenities and services. Rooms, suites, and villas are all spacious and include indoor and outdoor showers, many with Jacuzzis. The largest villas are three-bedrooms and add full kitchens and private pools. Outstanding restaurants include five-diamond-winning Carolina and casual Mita Mary, housed in a little boat on the beach. Its Family Traditions program features an active kids club and child care, surf and SUP lessons for the whole family, and in-room amenities, such as child-sized robes and step stools. With plenty of romantic nooks and a blissful spa, this is also an excellent choice for a couples' getaway. In the Punta Mita complex, near golf courses and beach clubs.
Hotel phone: +52 329 291 5800
Hotel website • Check prices for St. Regis Resort
2.

Imanta Resorts – North End, Higuera Blanca

Tranquil resort in a secluded jungle locale with an outdoor spa, private beach, and eco-suites and casas. Accommodations are luxurious and enormous, with junior suites beginning at 177 sqm and three-bedroom casonas up to 929 sqm with private pools. Its ultra-private Tree House covers three stories with a waterfall pouring into three ponds for swimming (two are heated), plus its own beach. The outdoor spa features woven grass walls, the jungle canopy as a roof, the sounds of ocean waves, and traditional Aztec and Huichol-inspired treatments. The resort offers a variety of unique experiences for adults and kids, including jungle hikes, snorkel and kayak tours, temazcal (sweat lodge) rituals, and clifftop sunset dinners. Located in Higuera Blanca, just a ten-minute drive to the Litibú Golf Course or a 25-minute drive to Sayulita.
Hotel phone: +52 329 298 4200
Hotel website • Check prices for Imanta Resorts

Elegant beachfront resort with two pools and a lazy river. Its range of accommodations includes rooms, suites, and villas with up to five bedrooms, all with private terraces and soaking tubs, some with private plunge pools. Their active kids' club runs from 9 a.m. to 5 p.m. with plenty to do including craft, culture, and pool times; in the evening, kids' activities include pirate nights, piñata parties, and beach time. Activities for adults include cooking classes, tequila blending, Huichol beading, and more. Food here is superb, with eight top-notch restaurants and bars serving gorgeous cuisine, especially their local seafood, along with cold beer and craft cocktails. Plus, you'll find a gelato shack, popsicle stand, and a churro stall scattered around the property. Located in the Punta Mita complex near two golf courses (one on an island), luxury homes, and three beach clubs.
Hotel phone: +52 329 291 6000
Hotel website • Check prices for Four Seasons Resort
4.

W Punta de Mita – South End, La Cruz de Huanacaxtle

Stylish hotel with jungle and ocean suites, flavorful dining, and a sparkling pool. Rooms and common areas feature bold blend of Huichol, urban, and Mexican folk art in tropical colors. Spacious rooms feature private balconies or terraces and bespoke furnishings sourced locally. Haven Suites add a jetted bath, and Oasis Suites add a second bedroom, private pool, Jacuzzi, and foosball table. Their dazzling pool holds two infinity hot tubs inside it. The soothing spa offers a fantastic hydrotherapy circuit, while the on-site restaurants, especially the pan-Asian gem Spice Market, offer rich dining for even the pickiest palates. Fun little kids club here, plus a weekly pool party for all and nightly sunset drinks. The W sits on Destiladeras Beach, a year-round surf spot, just west of the fishing village of La Cruz de Huanacaxtle, with superb street food, a quaint market, and a small marina.
Hotel phone: +52 329 226 8333
Hotel website • Check prices for W Punta de Mita

Quaint, all-suite, boutique hotel in Punta de Mita, overlooking the beach and walking distance to the town's best restaurants and beaches. Each suite comes with a cozy but well-supplied kitchen. First floor suites are reserved for families, while second-floor suites are adults-only. The rooftop palapa has hammocks, a barbeque for guest use, and a wet bar. The hotel is just across the street from the beach at Stinky's Surf Break, a perfect spot for beginning surfers. There is a reserved area on the beach for guests, plus complimentary surfboards, paddleboards, umbrellas, and other beach gear. La Quinta del Sol is in Punta de Mita village, walking distance to the downtown strip of restaurants, surf shops, and the marina.
Hotel phone: +52 329 291 5315
Hotel website • Check prices for La Quinta del Sol

Family-friendly, luxury, all-inclusive hotel with three pools, fantastic kids' and teens' amenities, and a spa with complimentary hydrotherapy for all guests. Rooms and junior suites are available with connecting and club level options; all come with private balconies and sofabeds, some with soaking tubs. Their kids' club includes a pool and mini water park; the teen lounge has video games. Over 40 activities are offered daily, including a mini-disco for kids, nightly theater, bike tours, and archery. Thirteen bars and restaurants serve a wide range of excellent food, the stand-out being the Pacific Express, a French fine dining experience styled after an antique train. Located in on a long white beach with soft sand, surrounded by the Litibú Golf Course and only 20 minutes by car to Sayulita (car rental available onsite).
Hotel phone: +52 329 298 4280
Hotel website • Check prices for Iberostar Selection Playa Mita
Staying in Punta de Mita Village/Punta Mita

The village of Punta de Mita sits northwest of Puerto Vallarta on a peninsula in Banderas Bay. The town itself is small and walkable, with a strip of restaurants, surf shops, and a small marina on Anclote Beach. This little strip is usually pretty hopping most of the time, but the downtown area is still pretty sleepy with just a couple of churches, a community center, and a number of local restaurants scattered around. To the north of the village proper is Punta Mita, a swanky, gated resort and residential area. Five star resorts, posh mansions and homes, golf courses, and stellar restaurants are all located here.
Indigenous Cora and Huichol history and traditions are celebrated in this area, and you'll find lots of intricate, bright beadwork and art, especially in the Huichol style. Punta de Mita is the closest launching spot for boat tours bound for the protected Marietas Islands. Travelers will find ideal waters here for surfing, snorkeling, diving, and winter whale watching.
Punta de Mita/Punta Mita Hotels
Punta de Mita/Punta Mita Restaurants
Tuna Blanca • $$$$ • Refined, elegant dining on the beach. Seasonal menu with rich flavors, inspired preparations of local ingredients, and artistic presentations. Reservations recommended.
Naef Café • $$-$$$ • The best breakfast and lunch in Punta de Mita! Cute little garden café off the beaten path with fantastic food, great coffee, and homemade ice cream.
Norma's Tacos • $ • Cheap and cheerful family restaurant with outstanding tacos. Visit on a Saturday or Sunday for some knockout pozole! Cash only, limited seating.
Staying in North End

The North End of the Punta de Mita peninsula boasts long stretches of soft sandy beaches at pristine Punta Negra, emerald golf courses and golden beaches at the Litibú resort area, and unspoiled beaches, jungle hills, and the quaint downtown of Higuera Blanca village. The North End is an ideal spot for relaxation off the beaten track. But its central location between Punta Mita resort and Sayulita village allows easy reach for fine dining and boat excursions to the southwest and for all-day surf and far out vibes to the northeast.
North End Hotels
North End Restaurants
Restaurante El Oasis • $ • Authentic Mexican flavors in a rustic setting under a palapa with a dirt floor. Known for their carne asada and their molcajete-made salsas.
Kilometro 5 Surf Bar & Restaurant • $$-$$$ • Casual restaurant with great food, strong drinks, and sunset views. "Surf Bar" is a misnomer; it is nowhere near the beach!
Tropical Crown • $$-$$$ • Laid back restaurant with ocean and jungle views and a nightly bonfire. Local ingredients and a Mexican and international menu. Closed in the summer.
Staying in South End

The South End of the Punta de Mita peninsula includes the pueblo magico (magic town) of La Cruz de Huanacaxtle (usually shortened to La Cruz) and the strip of resorts to its west before reaching Punta de Mita village. La Cruz is home to several amazing restaurants, a Huichol Art Gallery, a sizeable marina, and family attractions at Playa la Manzanilla. La Cruz's location is at the start of the peninsula, only ten minutes' drive to another pueblo magico Bucerías and only half an hour to the Puerto Vallarta airport and the city's attractions. The long strip of beach and jungle to the west of La Cruz is largely untouched, save for a few newer resorts spread out along the oceanfront. This area is ideal for families or couples who want a more independent vacation, with lots of room to explore authentic Mexican pueblos, with occasional visits to the city, and quiet, starry nights.
South End Hotels
South End Restaurants
Tacos on the Street • $ • Outstanding, affordable restaurant serving killer carne asada and cold beer. Open Wednesdays through Sundays from 6-11pm.
Restaurant Black Forest • $$-$$$ • A hidden gem, this is an awesome little German restaurant serving authentic flavors and a wide selection of German beers.
La Cava de las Martínez • $$-$$$ • Casual Mexican restaurant with great margaritas and mariachi on Monday nights.
Read More