Mexico › Los Cabos
Updated: March 1, 2022
Los Cabos Articles
Los Cabos – or just "Cabo" – is a popular Mexican resort area at the tip of Baja California, and one of our favorite places to go in Mexico for sea and sun. With a coastline that takes in the Pacific Ocean and Sea of Cortez, Cabo is best known for its fine beaches, luxury hotels, beautiful desert scenery, surfing, and vibrant beach, dining, and nightclub scene.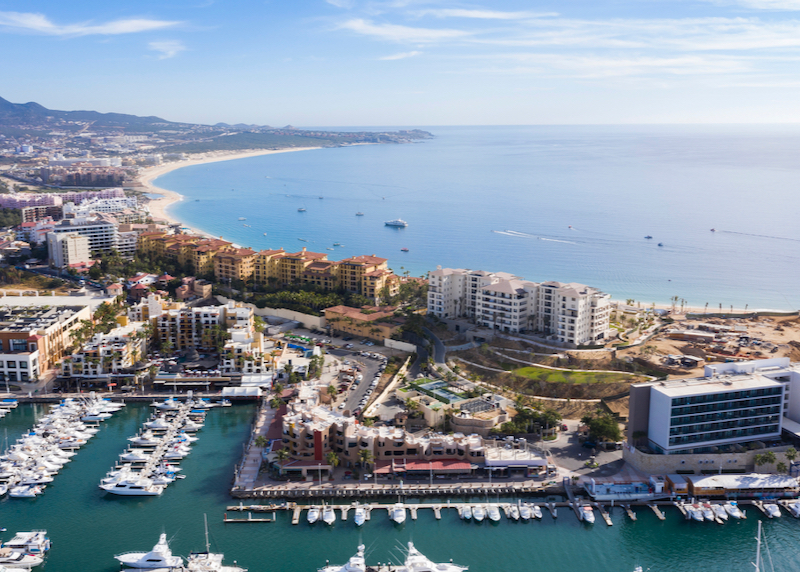 Frequently Asked Questions about Los Cabos
Where is Los Cabos?
Los Cabos is a municipality at the southern tip of the Mexican state of Baja California Sur. Bordering the Pacific Ocean to the west, and Sea of Cortez (or Gulf of California) to the east, it comprises the two resort towns of Cabo San Lucas and San José del Cabo, separated by the 32 km "Corridor" of resorts and posh condos.
Cabo San Lucas lies about 160 km south of La Paz, and 1625 km south of Tijuana and the US border. Non-stop flights to Los Cabos International Airport take just over 3 hours from San Francisco, 2 hours 35 minutes from Houston, 2 hours 15 minutes from Los Angeles, just over 2 hours from Mexico City and Tijuana, and 1.5 hours from Guadalajara.
How big is Los Cabos?
Los Cabos has a greater metro population of almost 288,000. Cabo San Lucas itself has a population of around 81,000, while San José del Cabo has around 93,000 inhabitants.
What is the history of Los Cabos?
Originally the home of the indigenous Pericú people, the first official Spanish attempt to colonize Los Cabos began in 1730. In that year San José del Cabo was founded as a Catholic mission by Jesuits, on the site of a Pericú village – it was destroyed in the Pericú Revolt four years later, and over the next hundred years, the location of the mission and settlement was re-located several times. Meantime, diseases virtually wiped out the Pericú.
In the 19th century, San José developed into a small port and agricultural center, while Cabo San Lucas remained a tiny village frequented by pirates and smugglers. In the 1940s writer, John Steinbeck sailed along the Baja coast, recording his journey in The Log from the Sea of Cortez – he called Cabo San Lucas a "sad little town". There was a tuna cannery here and little else, and the road connecting the two settlements wasn't finished until 1970. In the 1980s everything changed when the Mexican government began developing the region as a major international resort and cruise destination – today millions of North Americans vacation here annually.
How do I get to Los Cabos?
Los Cabos International Airport is connected to the US and Canada by numerous non-stop flights; flights take anywhere from 2 hours 15 minutes to 8 hours, depending on the destination. Most domestic flights link Cabo with Mexico City.
Because of its relatively remote location, getting here overland can be very time-consuming. First-class long-distance buses run down the Baja peninsula from Tijuana (at least 28 hours to Cabo San Lucas) via La Paz (2 hours 30 minutes), though these can be infrequent.
What are the options for Cabo airport transportation?
Los Cabos International Airport lies 19km north of downtown San José del Cabo and a further 32km from Cabo San Lucas. All the major car rental companies have desks here; otherwise, reserve a taxi or shared minibus in advance with Transportistas Josefinos, Cabo Transfers, or Los Cabos Airport Shuttle. Airport taxis are available on arrival, but are very expensive and will try and charge US dollars – local buses are a cheaper alternative, but not recommended with luggage.
Can I use Uber in Los Cabos?
Using Uber in Los Cabos is complicated. Uber cars are available (assuming phones have roaming, and the app works), but they are technically operating illegally, without government approval (as of August 2020). It's definitely not possible to catch an Uber at the airport. Local taxi cartels have aggressively fought to keep Uber out of Los Cabos – until the situation is stabilized, it's best to make other arrangements.
Can I drive to Los Cabos?
It's possible to drive to Los Cabos. Driving down from the US border is relatively straightforward, and plenty of Americans and Canadians take their own vehicles – the main highway is good, virtually empty outside the towns, and is fairly safe (though driving at night should be avoided). There are many Mexican army checkpoints along the way, but tourists are usually waved through without problems.
It's important to fill up whenever a gas station is seen and plan accordingly. The drive is over 1,625 km (1,010 miles) and takes around 24 hours non-stop – most folks break the journey into two or three days. Another plus: foreign vehicles do not need a Mexican "Temporary Importation of Vehicle Permit", as long as they stay on the Baja peninsula.
If renting a vehicle, it's much easier to do this once across the Mexican border, as taking US rental vehicles into Mexico comes with all sorts of restrictions.
Do I need to rent a car in Los Cabos?
It is not necessary to rent a car in Los Cabos. Though some beaches are hard to access without a vehicle, public buses do run up and down the coastal highway. To explore the region, renting a car, for at least some of the stay, can provide more flexibility. Car rental is relatively straightforward and cheap at the airport and in either of the resort towns – beyond the congested roads of the resorts, highways are generally empty and easy to navigate.
How do I get around Los Cabos without a vehicle?
Taxis or local buses are the easiest ways to get around Los Cabos without a car. Local buses run up and down the "Corridor" between Cabo and San José every 10 to 20 minutes for a handful of pesos – just flag them down. They will stop on the highway near most of the beaches on route if asked. Taxis are obviously more convenient and always available at ranks in both towns, but are very expensive by Mexican standards – they will try to charge US dollars, though paying in pesos is always cheaper because of inflated exchange rates. Always check the latest rates before getting in – there are no meters. Trips along the Corridor will be at least US$40 and between Cabo San Lucas and San José at least US$60.
When is the best time to go to Los Cabos?
The beaches of Los Cabos are at their best from November through May when there's great weather (and whale-watching Jan–Feb). Much of the peninsula shuts down during the broiling hot summers, though Los Cabos tends to be an all-year destination. Skip Christmas, Easter, and Spring Break (Feb/March), to avoid the crowds.
Where should I stay in Los Cabos?
The coast of Los Cabos can be broadly divided into three sections. Cabo San Lucas itself is where the main marina, nightlife, and entertainment is focused and has the widest range of accommodation and food options. The beaches tend to be the busiest, though even here it's possible to find empty sections of sand, especially on the Pacific side of town.
San José del Cabo is primarily a historic enclave, slightly inland, known for its art galleries, crafty stores, and charming restaurants – staying here in a boutique hotel is a much more tranquil experience than in Cabo, though it's a few kilometers from the nearest beach. This is dubbed San José's "Zona Hotelera". The wide beach here is lined with family-friendly resorts, though the nightlife is far tamer than in Cabo San Lucas.
In between the two towns, the "Corridor" features a series of quiet coves and sandy beaches, backed by mostly high-end luxury resorts. The beaches, however, are all open to the public. Staying here means relying primarily on in-resort dining and entertainment options, or requires renting a car to visit the two main towns.
What are the best beaches in Los Cabos?
Our favorites beaches in Los Cabos include family-friendly Playa el Chileno (15km northeast of Cabo San Lucas), which has well-maintained restrooms, and a shop that rents watersports equipment. It's excellent for swimming, diving, and snorkeling. Playa del Amor (Lovers' Beach) in Cabo San Lucas is incredibly picturesque, accessible only by boat from Cabo Marina or Playa El Médano. Bahía Santa María, (12km northeast of Cabo San Lucas) is an enchanting horseshoe cove that offers snorkeling over reefs (rays and turtles hang out here), while Playa Acapulquito (5km south of San José del Cabo) is a tiny but beautiful sandy beach that's ideal for beginner surfers (just around the headland lies the celebrated Zippers and La Roca surf breaks). Finally, Playa El Médano is Cabo's premier swimming and party beach – the main strip is heaving with beach bars, vendors, jet skis, and sunbathers.
Where to change money in Los Cabos?
Though the Mexican peso is the official currency in Los Cabos, US dollars are accepted almost everywhere. However, change will often be given in pesos, and US dollar prices invariably work out to be higher than peso prices because of inflated exchange rates. Try to use ATMs to withdraw peso cash in Los Cabos if possible (check with the bank before leaving to confirm a debit card can be used and how much they will charge – using credit cards can incur interest or fees). Credit cards are widely accepted everywhere, but cash is needed for buses, most taxis, and small purchases.
What are the best things to do in Los Cabos?
The best things to do in Los Cabos are connected with the water; swimming, surfing, relaxing on the beaches, and various watersports. Other pleasures include dining, drinking, and shopping – particularly the growing number of art galleries – in the centers of Cabo San Lucas and San José del Cabo.
In Cabo San Lucas, Cabo Adventures offers a range of packages involving interactions with dolphins, while numerous operators in the marina offer boat trips out to "El Arco", the huge rock arch at the very end of the Baja peninsular. Andromeda Divers runs highly recommended scuba diving trips. For on-land excursions by camel and zip-lining, Cabo Adventures is also a solid choice. Spine-tingling aerial tours by ultralight (powered hang-glider) are organized through Cabo Sky Tours.
All sorts of boat trips operate from Cabo marina, from faux pirate ships and family-friendly catamarans, to huge party boats.
In San José del Cabo it's worth visiting the old church, La Misión de San José del Cabo Añuití, built in 1932 on the site of the original Jesuit mission, or attending the Art Walk (usually every Thursday 5–9 pm, November to June only), when all the local art galleries open late.
It's also worth taking a day-trip to the pretty colonial town of Todos Santos, or the provincial capital of La Paz.
What are the restaurants like in Los Cabos?
The restaurants of Los Cabos are incredibly varied. In Cabo, we love Bar Esquina located at Bahia Hotel and Beach House, with its Moorish-inspired dining room and fusion of Mexican and Mediterranean flavors, Mama's Royal Café for its excellent breakfasts, and legendary taco joint Taquería El Paisa (Lazaro Vicario, at Alikan).
In San José del Cabo our favorites include Baja Brewing, the local microbrewery, and chef Loïc Tenoux's French-influenced Mexican cuisine at Mi Cocina.
Is Los Cabos expensive?
Los Cabos is known for its luxury hotels, exclusive beach clubs, designer shops, and pricey bars and restaurants, and it can be a challenge to visit on a modest budget. To save money, avoid the beachfront resorts and stay in cheaper hotels in San José del Cabo (budget Airbnb deals are also a viable option here). Take local buses to get around (skip taxis), and seek out the cheaper Mexican restaurants and taquerías for meals – international restaurants are always more expensive.
Is Los Cabos safe?
Yes. Los Cabos has generally avoided the drug violence that has affected other parts of Mexico. Take the usual precautions, especially at night, and keep valuables in room safes. Theft of personal items from beaches does happen – never leave anything of value unattended, even on seemingly empty stretches of sand.
Read More