Mexico › Puerto Vallarta › Best Hotels
Updated: January 11, 2023
Puerto Vallarta Hotels
Best Luxury Hotels in Puerto Vallarta: Hotel Mousai (most luxurious) • Grand Velas (best for families) • Hacienda San Angel (most romantic).
The best areas of Puerto Vallarta for travelers are: El Centro (PV's historic heart, with great restaurant and beaches), Zona Romantica (historic streets with trendy bars, nightlife, and popular Los Muertos Beach), Conchas Chinas (upscale neighborhood near attractions, but quiet at night), Mismaloya (secluded jungle and beaches), Marina Vallarta (resort area with a golf course and lots of marine attractions, beaches are just ok), North Hotel Zone (great beaches, quiet neighborhood, near attractions), and Nuevo Vallarta (exclusive, luxury, golfing and beaches).
Puerto Vallarta is home to some of the best restaurants in Mexico, with a mix of outstanding fine dining, cheap eats, local flavors, and international cuisine. Even if staying in an all-inclusive, it is worth making the trip downtown for meals at least a couple of times during your stay. Some of the top restaurants worth a special trip are Café des Artistes (best fine dining), Mariscos Cisneros (best local seafood), and Kaiser Maximilian (best international cuisine).
Puerto Vallarta is perfect for walking, with interesting attractions, such as the Malecon, the Church of Our Lady of Guadalupe, Los Muertos Beach, and nightlife all within walking distance of each other. Farther-flung attractions, like the Botanical Gardens or Zoo to the south or Nuevo Vallarta to the north, are all serviced by bus for only a few pesos.
Taxis are more efficient for longer distances, but can be expensive. Rather than running a meter, taxis rates are determined by zone. The rate for a particular destination will be based on how many zones the taxi needs to cross through to get there. Zone maps can be integrated with Google Maps on your phone.
For day trips to Punta de Mita or Sayulita, it's best to rent a car. Puerto Vallarta's rules of the road are similar to those in the U.S. Highways are well-maintained, and streets are all well-mapped (if not well-marked) and easy to follow via GPS. Two things that are different are topes and left turns. Topes (pronounced TOH-pays) are speed bumps, but there are no regulations on their height, steepness, or visibility; some are nearly impossible to see until it's too late! Drive slowly in downtown and keep an eye out for these. Standard left turns are usually OK in downtown but not on highways. To make a left, drivers will often need to use a retorno, which is a U-turn overpass. To use a retorno, drive past the road you want to make a left onto, get into the far right lane to take the retorno exit, make the left onto the overpass, and finally merge with traffic going the opposite direction. You can then make a right at the desired street or destination.
Pay in pesos whenever possible. Many hotels, restaurants, and tour operators accept payment in U.S. dollars. However, travelers will almost always overpay if using dollars, as the exchange rate for tourists favors the peso.
The 22 Best Hotels in Puerto Vallarta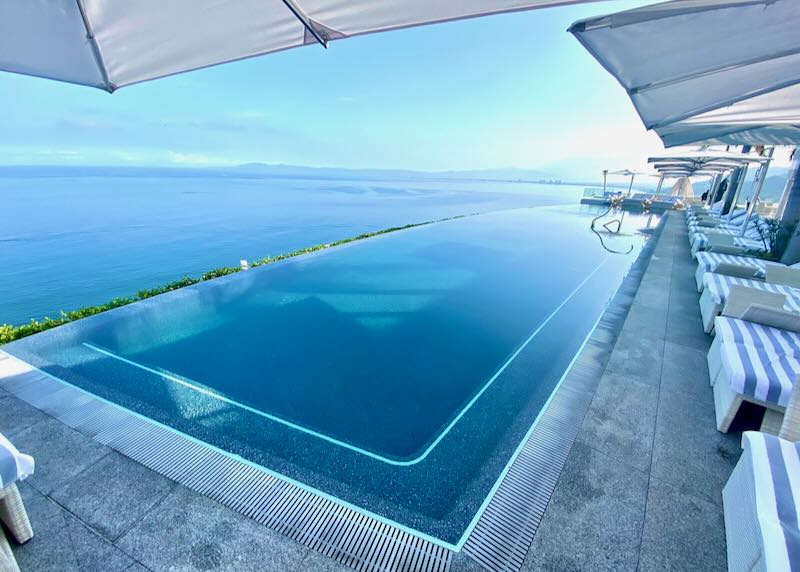 Five Diamond, adults-only hotel with a rooftop infinity pool overlooking their 85-acre jungle preserve, Garza Blanca Beach, and the Sea of Cortez. All accommodations include outdoor, tile jacuzzis on private balconies. Ultra Suites add upgraded amenities, the hotel's most expansive views, and unlimited access to the hydrotherapy circuit in their decadent spa. Expect impeccable service along with phenomenal dining and drinks on site or at their sister property, Garza Blanca. Guests may choose to reserve a suite only, or an all-inclusive package. Located just north of Mismaloya, near Los Arcos Park, the Botanical Gardens, and the Puerto Vallarta Zoo.
Hotel phone: +52 322 176 0738
Hotel website • Check prices for Hotel Mousai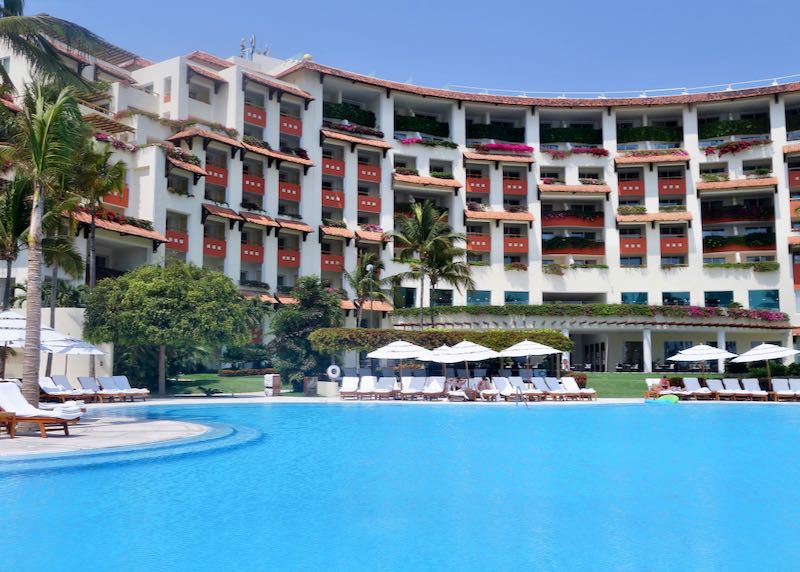 Luxurious, all-suite, all-inclusive, family-friendly resort with a multi-tier infinity pool and exceptional family amenities and services. Their enormous two-bedroom, three-bathroom family suites boast a private jacuzzi terrace, a 50 minute massage per person per day, and round-trip airport transfer. Kids' amenities for all ages include a baby concierge, kids' pool, kids' club with culture, nature, and craft activities, and a teen lounge with gaming consoles, a dance floor, and karaoke. A host of gourmet local and international restaurants satisfies even the pickiest eaters. The Grand Velas sits on the powdery white Nuevo Vallarta Beach, near Aquaventuras water park (with dolphins!) and in between two golf courses.
Hotel phone: +52 322 226 8677
Hotel website • Check prices for Grand Velas Riviera Nayarit

Four romantic, colonial-style villas house 20 total rooms, with a lush garden courtyard overlooking Guadalupe Church and the ocean. All rooms include dramatic Mexican and European antique décor, plus modern marble floors and French windows; Presidential and Royal suites add outdoor terrace jacuzzis. Three pools, a small chapel, and a gourmet restaurant are spread throughout the grounds, linked by ivy-covered terraces and garden paths. Its fine dining restaurant serves sumptuous Mexican and international dishes, with sweeping sea and city views, live mariachi nightly, and seasonal Sunday brunches. The restaurant is popular for celebrations, so reserve in advance, especially during the high season. The hotel sits amid winding cobblestone streets in El Centro, just steps from the Church, the Malecon, and the city's best dining and nightlife. Hacienda San Angel is the former home of Richard Burton.
Hotel phone: +52 322 222 2692
Hotel website • Check prices for Hacienda San Angel

Luxury, family-friendly resort with spacious suites, a two-level pool, and exclusive beachfront location. Suites are generous, up to three bedrooms, with a full kitchen, and a washer and dryer. All rooms include a jacuzzi in the master bathroom and a private balcony. Excellent on-site restaurants and bars, plus guests have access to dining options at the sister resort next door. Though this resort is very popular with families, it remains peaceful and quiet: no loud pool parties, and the bars close early, around 10:30. Villa la Estancia sits at the north end of Nuevo Vallarta, on a long, tranquil beach; just a fifteen-minute bike ride to the pueblo magico Bucerias and about thirty-minutes' drive to Old Town.
Hotel phone: +52 800 483 0088
Hotel website • Check prices for Villa La Estancia
5. Casa Velas – Marina Vallarta

Luxury, adults-only boutique hotel with a free form pool, a beach club with an infinity pool, and a holistic spa featuring hydrotherapy and ingredients grown onsite in their botanical garden. A wide range of spacious suites are available, many with private jacuzzis or plunge pools. The Presidential suites is the largest and most luxurious with four bedrooms, three and a half bathrooms, free golf, and massage for all guests. Wellness suites add in room jacuzzis, private plunge pools, a massage table, and fitness amenities. Thoughtful perks include a handbag bar and complimentary beach transfer all day. Located in Marina Vallarta, surrounded by the golf course, near sailing, diving, and marine parks.
Hotel phone: +52 322 226 8670
Hotel website • Check prices for Casa Velas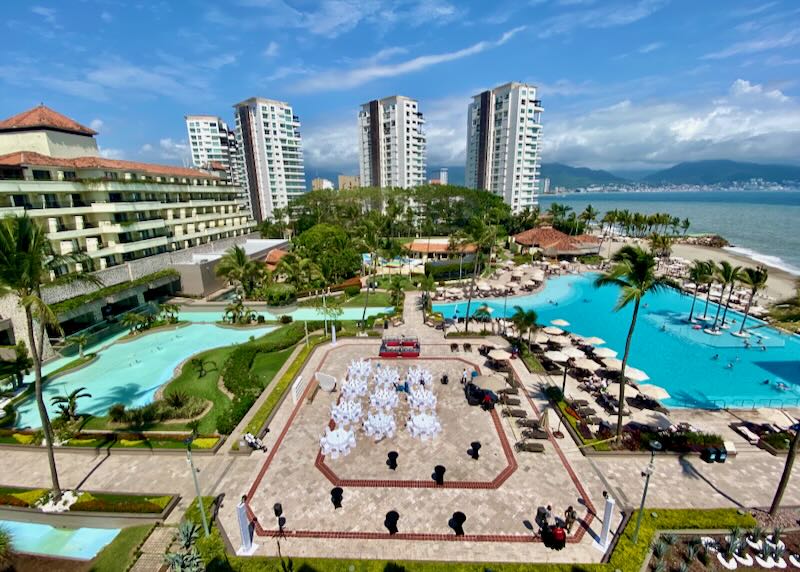 Upscale, beachfront resort with infinity, kids', and lap pools, plus Puerto Vallarta's largest spa. Family amenities include a kids' club, teen gaming area, and a sea turtle hatchery and release program (June – November). Its indulgent spa spotlights indigenous Huichol treatments, a hydrotherapy circuit, and in-pool massage. Fantastic restaurants are around every corner here, but the star is their Ceviche & Tequila Bar, offering outstanding seafood and 270 tequilas. Rooms are airy and bright, but average in size; families should opt for a larger suite or connecting rooms. This resort sits right on the Marina Beach, walking distance to the Marina Vallarta Golf Club, boat tours, and marine parks.
Hotel phone: +52 322 226 0000
Hotel website • Check prices for Marriott Resort & Spa

Sophisticated resort in a jungle mountain preserve with two free-form infinity pools, contemporary dining, and a host of nature activities. All rooms and suites feature a private terrace with a hammock, while suite types one bedroom and up include a full kitchen, washer and dryer, and one extra bathroom per bedroom. Its top-notch kids club gets little ones up close with nature through hiking, planting trees, kayaking, and more. Succulent dining, a tranquil spa, and serene tropical view of Banderas Bay rounds out the experience. Garza Blanca sits on a sugary white sand beach with a rock wall and gentle waves just north of Mismaloya, near the Botanical Gardens, Puerto Vallarta Zoo, and Los Arcos Park.
Hotel phone: +52 322 176 0718
Hotel website • Check prices for Garza Blanca Preserve Resort & Spa

Dramatic and glamorous boutique accommodations, featuring a rooftop al fresco restaurant and bar, cozy spa, and lozenge-shaped pool. This adults-only hotel is comprised of two villas connected by a bridge; the older formerly owned by Richard Burton, and the other built by him for Elizabeth Taylor – each room is named and designed after one of Taylor's films. Suites all feature indulgent baths and rain shower, plus lavish décor that blends Hollywood glitz with hacienda charm. Most include a private terrace with a whirlpool, plunge pool, or both. Its restaurant, The Iguana, is one of the top in the city, specializing on contemporary Mexican cuisine and a variety of tequilas. Located in El Centro, near Guadalupe Church, the city's best restaurants and nightlife, and the Malecon.
Hotel phone: +52 322 222 1336
Hotel website • Check prices for Casa Kimberly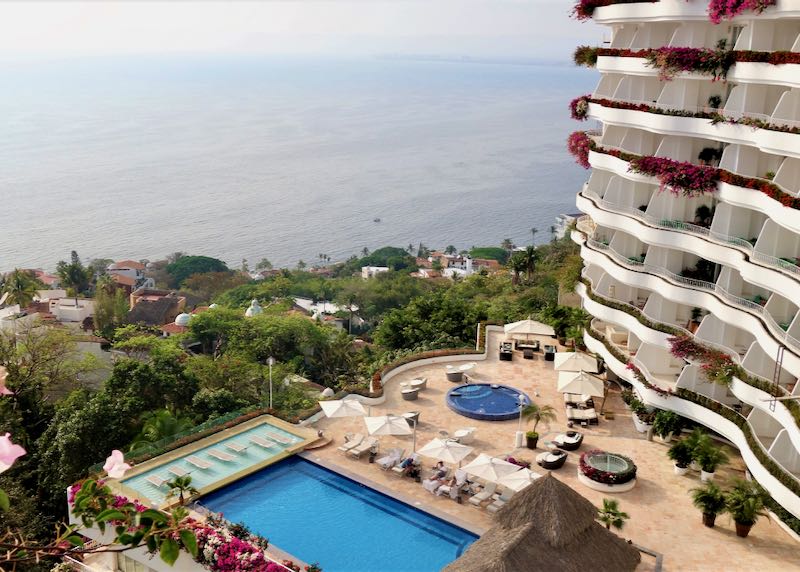 On the highest point overlooking Banderas Bay, the Grand Miramar offers panoramic views from its rooftop bar, plus three dazzling pools, a pool-sized jacuzzi, and contemporary suites. All suites include a private terrace and a kitchenette with a stovetop. Two- to four-bedroom residences include full kitchen and dining room; many have private terrace whirlpools. The resort offers five great restaurants, but the stars are Casianos, with its three- to five-course surprise dinner menu, and the Gin Joint, especially popular for sunset cocktails and tapas. From its privileged location in Conchas Chinas, the resort is walking distance to two swimmable beaches and near the nightlife and dining in Zona Romantica.
Hotel phone: +52 322 221 5120
Hotel website • Check prices for Grand Miramar

This family-friendly, all-inclusive, all-suite luxury beachfront resort showcases two free-form pools connected by a lazy river. Spacious, ocean view accommodations with up to three bedrooms, each with a full kitchen, including a stovetop and dishwasher. Its kids' club offers a third pool, plus activities such as sandcastles, painting, and Summer Camp with beach bonfires. There's an organic spa, and superb food and drinks on-site, and golf just next door. Velas Vallarta is located on Marina Vallarta Beach, walking distance to boating and marine attractions.
Hotel phone: +52 322 226 8673
Hotel website • Check prices for Velas Vallarta Suite Resort

Four-diamond, adults-only, boutique resort, with luxurious rooms and two beachfront pools. Spacious, ocean view rooms and suites are all inclusive of personal butler service; most feature a private indoor or outdoor whirlpool. Sumptuous dining onsite offers the best in Mexican cuisine, whether traditional or contemporary, plus 24 hour room service. Thoughtful amenities include a poolside "Draw Your Moment" art station, in-room pillow and aromatherapy menus, and loaner bikes and kayaks. Their indulgent spa offers hydrotherapy and an oxygen bar. Villa Premiers is well-located on Camarones Beach in El Centro, just a five minute walk to the city's best restaurants, the Malecon, and Guadalupe Church.
Hotel phone: +52 322 226 7040
Hotel website • Check prices for Villa Premiere Boutique Hotel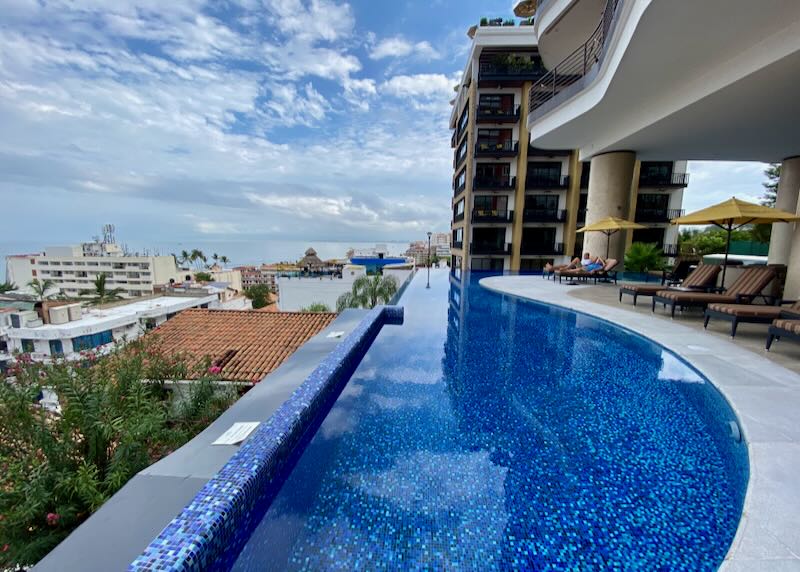 Family-friendly, stylish condo boutique with ocean views and private balconies. Each suite is uniquely designed, but all are one- or two-bedrooms with full kitchens, washer-dryer units, and private balconies; many have outdoor jacuzzis. Top-tier condos include private plunge pools, plus upgraded features such as wraparound balconies. The cozy infinity pool has swim up access to the main bar with a popular happy hour. These chic condos are located in Zona Romantica, in the heart of Puerto Vallarta's dining and nightlife district, just five minutes' walk to Los Muertos Beach and Pier.
Hotel phone: +52 322 222 3556
Hotel website • Check prices for Pinnacle Resorts 180

Romantic, adults-only, all-inclusive resort on Camarones Beach, with gorgeous pools, a full-service spa, upscale dining, and a champagne bar. Suites are intimate yet spacious, many with private terrace jacuzzis or swim up options; Presidential suite adds a private plunge pool and whirlpool bath. Its holistic spa emphasizes indigenous treatments with hydrotherapy pools. Fine dining and casual restaurants offer an array of indulgent flavors, from local Mexican recipes, to Pan-Asian and Mediterranean bites. Guests at Secrets also have full access to the nightclub, casino, and restaurants at Dreams, its sister property next door. The resort sits just south of the North Hotel Zone on a golden sand beach, about thirty minutes walking to the Malecon and all of Puerto Vallarta's nightlife.
Hotel phone: (866) 467-3273
Hotel website • Check prices for Secrets Vallarta Bay

All-inclusive, all-suite resort with outstanding services and amenities for families, plus a pool and beach club. Suites are one- to four-bedrooms, with a full kitchen and in room laundry; swim up suites and villas with full sized private pools are also available. Family amenities included in the rate are the kids' club, free nanny service, and one free tour (options include sea lions, zip lining, pub tours, and more). Add on a "Family Emotions" package for a second tour, customized family picnic, exclusive concierge, and upgraded amenities. There are several restaurants and bars onsite, serving drinks as late as 2 a.m., plus more dining just a three minute shuttle away at their beach club. This secluded hotel is north of Puerto Vallarta in the exclusive Nuevo Vallarta complex, near golf, dining, and a small marina.
Hotel phone: +52 322 226 9740
Hotel website • Check prices for Marival Distinct Luxury Residences

All-inclusive resort with a tropical vibe on a sandy, swimmable beach. The resort offers two pools (one main pool and one adults-only), ten bars and restaurants, excellent family amenities, and club level upgrades for added luxury amenities, top floor rooms, and a private lounge. Family rooms are generously sized, sleeping up to six, with a large private terrace. Presidential suites are the largest and have a separate bedroom and private terrace with a whirlpool. Fantastic little kids club with a playground, plus beach and pool activities; the teen club offers video games and foosball tables. A wide range of restaurants suiting all tastes, with Mexican, pan-Asian, and Italian options, plus great cocktails and 24 hour room service. Located in the North Hotel Zone, walking distance to La Isla Mall and the Marina.
Hotel phone: +52 322 226 2100
Hotel website • Check prices for Fiesta Americana

Family-friendly hotel with a party vibe. The Hard Rock showcases two pools, fun bars and restaurants, plus their signature music-themed activities and amenities. All rooms come equipped with a two-person jacuzzi bath and a private balcony. Spacious family suites are all two-bedrooms, though larger suites up to three bedrooms are also available. Entertainment for all includes a kids club with a pool, waterslides, and games; an all-ages club with billiards, arcade games, and music; nightly theater, and a decadent spa. Great food and phenomenal cocktails with syrups made onsite from local fruits, plus a nightclub on weekends until 3 a.m. Sound of Your Stay package includes loaner guitars, mixing stations, turntables, and records. Located in Nuevo Vallarta on a shallow, swimmable beach, perfect for boogie boarding.
Hotel phone: +52 322 226 8470
Hotel website • Check prices for Hard Rock Hotel

Exceptional family resort with two free-form pools, a full service spa, and an array of spacious accommodations. Rooms and suites begin at 54 square meters, all with balconies and free-standing bathtubs, and many with jacuzzis or plunge pools. This wellness-focused resort features a full service spa with hydrotherapy, an active kids club with beach and pool games, and tennis and basketball courts. Its long stretch of beach is nearly private, boasting a beach club with attentive service. Great dining onsite features seasonal ingredients, with Mexican and international menus. Located on the southern tip of Marina Vallarta, walking distance to the golf club, Vallarta Adventures, and a mall.
Hotel phone: +52 322 226 1100
Hotel website • Check prices for Westin Resort & Spa

Family-friendly, all-inclusive resort boasting three refreshing pools (one just for kids), kids' and teens' clubs, a nightclub, and a casino. Suites all include a freestanding bath and private balcony, some with swim up access or private terrace jacuzzis. Kids as young as three can enjoy activities at the kids club, while teens have their own space for tabletop and video games. Family entertainment includes breakdancing, fire-breathing, and karaoke, while adults can enjoy the brand new casino and nightclub until 1 a.m. Nine bars and restaurants range from casual to fine dining, with food available 24 hours at Coco Café or through room service. Adult guests have access to the spa next door at Secrets Vallarta Bay. Located just south of the North Hotel Zone on Camarones Beach, twenty minutes walking distance to La Isla Mall and thirty to the Malecon.
Hotel phone: +52 322 226 2900
Hotel website • Check prices for Dreams Vallarta Bay Resort & Spa

Family-friendly, elegant condo boutique with a rooftop infinity pool and well-appointed suites. Each condo is individually owned, so the décor differs, but all have full kitchens, washer-dryer units, and private balconies, some with whirlpools. Spacious one- to three-bedrooms units all offer striking views of the jungle-covered mountains or of Puerto Vallarta's red tiled roofs and the Sea of Cortez. Its rooftop Sky Bar offers outstanding sunset views and cocktails. Pre-arrival shopping service can be arranged to stock the fridge with personalized foods and drinks. Ideally located in Zona Romantica, the nightlife and dining hub of the city, and walking distance to Los Muertos Beach and the Malecon.
Hotel phone: +52 322 222 3556
Hotel website • Check prices for Pinnacle Resorts 220

This boutique condo hotel offers large suites (up to four bedrooms), lots of great indoor/outdoor spaces, and an excellent beachfront location. Well-equipped kitchens are featured in all suites, with a private chef included in the rate for larger, three- to four-bedroom suites. Each suite is a little different, but most include one extra bathroom per bedroom, with Sky Suites and Penthouses adding whirlpool baths and private plunge pools. There is a common area with a larger pool, plus a full kitchen, dining room, and living room for all guests to share. Perfectly situated in the nightlife hub of Zona Romantica on Los Muertos Beach with a view of the original "Boy on the Seahorse" statue (the one on the Malecon nearby is a replica).
Hotel phone: +52 322 222 3838
Hotel website • Check prices for Vallarta Shores Beach Hotel
Staying in El Centro, Old Town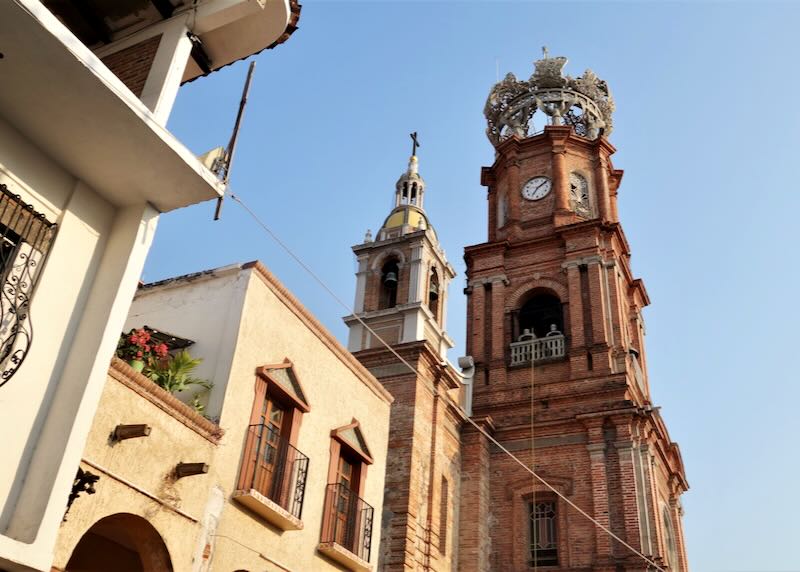 Old Town, the hub of Puerto Vallarta activity, is divided into two sections: El Centro to the north of Cuale River and Zona Romantica south of the river. El Centro is the historic heart of the city and boasts the best-known attractions, Guadalupe Church, the colonial era church that dominates the night skyline, and the Malecon, the beachfront boardwalk with statues, food stalls, music and art. This is a perfectly walkable neighborhood with cobblestone streets and sidewalks, though the latter are often taken over by cafes and taco stands. A foodie paradise; local, casual cantinas and humble tamale stands share space with five-star gourmet restaurants, serving contemporary Mexican seafood and seasonal international menus. This lively downtown area has something going on almost every night, so it can be noisy in the later hours – amazing for active vacations with fun-filled evenings, but not ideal for restful, tranquil sleep.
The Best Hotels in El Centro
The Best Restaurants in El Centro
Café des Artistes • $$$$ • Best fine dining in PV. Contemporary, seasonal menu in a romantic setting. Reservations strongly recommended.
River Café • $$-$$$ • Secluded restaurant on Cuale Island – great breakfast, romantic dinners, cozy bar.
Café de Olla • $$-$$$ • A mainstay of the city, popular for carne asada and octopus. Do try the raicilla, aka Mexican moonshine, in a margarita or a shot.
Staying in Zona Romantica, Old Town

The southern half of Old Town is the nightlife center of Puerto Vallarta, known for its numerous bars, cantinas, restaurants, and clubs. This is also the premier gay neighborhood in Puerto Vallarta, the most LGBT friendly city in Mexico. The party atmosphere begins around happy hour and goes well into the night, as late as 3 or 4 a.m., especially during the winter high season and during Pride in late spring. Still very family-friendly, tons of attractions are located here including the city's most popular beach, Los Muertos; its stunning pier has become a hangout area for locals and travelers of all ages. The city's oldest farmers market is here every Saturday until 2pm during high season, with produce, snacks, and crafts. Zona Romantica is also home to a number of art galleries, with a biweekly art walk/block party held during the winter months. Gourmet dining and trendy cocktails are available on nearly every corner near the new extension of the Malecon. Delicious local restaurants serve regional specialties just a few blocks inland, along the city's famous cobblestone streets.
The Best Hotels in Zona Romantica
The Best Restaurants in Zona Romantica
Staying in Conchas Chinas

Often called the "Beverly Hills of Puerto Vallarta," this affluent neighborhood sits just south of Old Town. Conchas Chinas stretches from the beachfront (with gorgeous little coves, sandy, shelly beaches, and dramatic rocky outcrops), zigzaging up the hill to the highest points in the city with stunning sunset views of Banderas Bay and the city lights at night. This mostly residential area is dotted with multi-million dollar villas and luxury condos, many of which are second homes of celebrities and politicians. The lower part of Conchas Chinas is walking distance to Old Town, yet remains quiet at nights, perfect for travelers who want the conveniences of the city without the late-night buzz. The upper part offers the best views but requires wheels to get to and from town. A beautiful area that feels more remote than it is. There are few restaurants and bars here; most will be closer to downtown.
The Best Hotel in Conchas Chinas
The Best Restaurants in Conchas Chinas
The Bar at Casa Karma • $$-$$$ • Cozy al fresco bar in a boutique hotel. Known for their Build Your Own Bloody Mary bar on Sunday afternoons and fantastic tapas menu.
El Set Restaurant & Bar • $$-$$$ • Mexican seafood restaurant and bar, known for their sunset views.
Restaurant La Playita • $$-$$$ • Excellent service and beautiful views. Go for the chocobanana pancakes at breakfast!
Staying in the North Hotel Zone

North of Old Town and south of the Marina, this area is known for its exceptional beaches, with long, wide stretches of soft, golden sand. It's home to a number of large resorts, as well as restaurants, nightlife, and shopping centers. Four beaches run the length of this strip, including the popular Playa del Oro. Though it's long walk into town from here, travelers can catch the bus to El Centro across from Walmart for about 8 pesos (less than one USD). This is a great area for visitors who want to an easy, fuss-free vacation, with accessibility to downtown and dining, without being in the center of it all. Walking distance to Marina Vallarta attractions and the golf club.
Best Hotels in the North Hotel Zone
Best Restaurants in the North Hotel Zone
La Leche • $$$$ • Contemporary, creative fine dining with a new menu every day. Reservations highly recommended, though there is a fantastic cocktail bar upstairs in case of a long wait.
Food Park • $$-$$$ • Eight food stalls run out of shipping containers. Great food with a wide selection cuisine from burgers to sushi to tacos, plus a bar cart and dessert cart.
La Casa de Mi Compadre • $$-$$$ • Sweet Mexican joint with the margaritas in Puerto Vallarta! The shrimp tacos are not to be missed.
Staying in Marina Vallarta

Exclusive enclave north of Puerto Vallarta, with luxury hotels, three golf courses, and most of the area's marine attractions and charters. Marina Vallarta began construction in the mid-'80s, and for a little while was the largest marina in Mexico. It is now the city's main hub for water attractions, including sailing excursions, dolphin and sea lion encounters, and two water parks. The main boardwalk has several restaurants, shops, and spas (usually much more affordable than those at the resorts). This is a great neighborhood for families and couples who want to take advantage of all the sea life, snorkeling, and boating excursions the city has to offer. Some of the beaches here are a little too rocky for swimming, but when the currents are mild, this makes for excellent snorkeling.
Best Hotels in Marina Vallarta
Best Restaurants in Marina Vallarta
Sonora Grill Prime Vallarta • $$$$ • Outstanding steakhouse with a lively, albeit very loud, atmosphere. Great seafood, plus a wide selection of Mexican wines.
Tintoque • $$$$ • Upscale seafood restaurant, with fresh, inspired dishes that change daily. Reservations recommended.
Ocho Tostadas • $$ • Well-loved by locals! Great lunch spot for ceviche, fresh snapper, marlin, and octopus.
Staying in the South Hotel Zone

This rugged jungle coastline is what put Puerto Vallarta on the map. The South Hotel Zone, especially Mismaloya village, has been the backdrop for several films, but it was 1963's The Night of the Iguana, and the ensuing love affair between Elizabeth Taylor and Richard Burton, that propelled the small fishing village into the public eye – several Hollywood elites bought second homes here after falling in love with the area's tropical beauty. This area is just south of Conchas Chinas, but its lush, mountainous terrain and unspoiled beaches make it feel much more remote than it is. Area attractions include the Botanical Gardens, with pristine hiking trails, and the Puerto Vallarta Zoo, where guests can hold baby big cats and hand feed all the animals. From Boca de Tomatlan, travelers can take a tour to Los Arcos Marine Park for snorkeling and scuba or catch a water taxi to secluded Yelapa Beach. There are not many restaurants in the main hotel area, but there are a few small, local spots just a little further south in Mismaloya and Boca de Tomatlan.
Best Hotels in the South Hotel Zone
Best Restaurants in the South Hotel Zone
Le Kliff • $$$$ • Renowned fine dining restaurant, perched on a clifftop with panoramic views of Banderas Bay. Reserve in advance. This is a popular spot, especially for romantic sunsets and celebrations.
Tony's Hideaway • $$-$$$ • Hidden gem tucked between homes in Mismaloya. Casual and relaxed, with excellent meats and seafood with true local flavor.
El Jacalito • $$-$$$ • Amazing little seafood restaurant under a palapa roof, toes in the sand.
Staying in Nuevo Vallarta (aka Riviera Nayarit)

Nuevo Vallarta is an exclusive neighborhood to the far north of Puerto Vallarta, just across the state line in Nayarit, hence it's alternate name Riviera Nayarit. This newly built development is fronted by the eight-mile-long Flamingos Beach. Flamingos is arguably the best beach in the Puerto Vallarta area, wide and flat for easy walking, soft white sand, and gentle waves for swimming and bodyboarding. Several golf courses are spread throughout the area, along with fine dining restaurants, spas, and upscale shops. The northernmost area is walking distance to Bucerias, a charming, slow-paced town with cobblestone streets, an open air market, and great beach. Nuevo Vallarta's wide, flat streets make this an excellent area for cycling and walking, though the free trolley runs the circuit of resorts, restaurants, and golf courses makes getting around even easier.
Best Hotels in Nuevo Vallarta
Best Restaurants in Nuevo Vallarta
El Dinamita • $$-$$$ • Gorgeous patio dining under lanterns. Ordering from the menu is allowed but discouraged. Tell the waiter what things you like and if you have allergies, and they recommend a customized selection according to your preferences.
Mariscos Tino's La Laguna • $$-$$$ • Fresh local seafood next to a natural lagoon, served under a palapa roof.
Etc. Beach Club • $$-$$$ • Great selection of local seafood dishes, fantastic margaritas, in a spectacular beachfront setting.
Read More