Mexico › Sayulita Hotels
Updated: February 27, 2022
Sayulita – Best Places to Stay
Best Luxury Hotels in Sayulita: Amor Boutique Hotel (most luxurious) • Hotel Villas Sayulita (best for families) • Siete Lunas (best romantic hotel in Sayulita)
The best neighborhoods in Sayulita for travelers are Downtown (main beach, restaurants, and nightlife), South End (in between two beaches, jungle locale), and North End (quiet, relaxing vibe in a residential neighborhood). Note: If you're looking at Sayulita on a map, the "South End" is actually to the west on the far side of Calle Marlin, where Calle Caracol turns into Calle Pescadores. The "North End" is to the east, just after crossing the little Sayulita River.
Sayulita has been a popular destination since it was "discovered" by surfers after the highway came through. Affectionately known as the "hippie town," its Bohemian vibe and great year-round surf attract laid-back travelers and an eclectic mix of expats and local surfheads. Travelers won't find ultra-refined, luxury resorts here; in fact, all hotels here are boutique stays. Instead, this is the spot for fuss-free, casual travel.
Getting around: The preferred mode of travel in Downtown is on foot or by golf cart. All restaurants, hotels, and the beach are fewer than 10 minutes walking from Downtown. It is not necessary to rent a car, no matter where you stay in the village. Even walking to the farthest point in the North End all the way to the far South End only takes 20 minutes. However, some of the more secluded hotels, such as Siete Lunas, are up hills. Travelers staying in these hotels or travelers with mobility issues should consider renting a golf cart. Not only are they fun to ride, but they are easier than cars for navigating around pedestrian traffic and much easier to park on the busy downtown streets.
Renting a car is not necessary for getting around in Sayulita, but it makes it easier to explore neighboring towns and areas. Rules of the road here are similar to the U.S. Highways are well-maintained, and streets are all well-mapped (if not well-marked) and easy to follow via GPS. Two things that are different are topes and left turns. Topes (pronounced TOH-pays) are speed bumps, but there are no regulations on their heights, steepness, or visibility; some are nearly impossible to see until it's too late! Drive slowly in downtown and keep an eye out for these. Standard left turns are usually OK in downtown but not on highways. To make a left, drivers will often need to use a retorno, which is a U-turn overpass. To use a retorno, drive past the road you want to make a left onto, get into the far right lane to take the retorno exit, make the left onto the overpass, and finally merge with traffic going the opposite direction. You can then make a right at the desired street or destination.
Pay in pesos whenever possible. Many hotels, restaurants, and tour operators accept payment in U.S. dollars. However, travelers will almost always overpay if using dollars, as the exchange rate for tourists favors the peso.
The 6 Best Hotels in Sayulita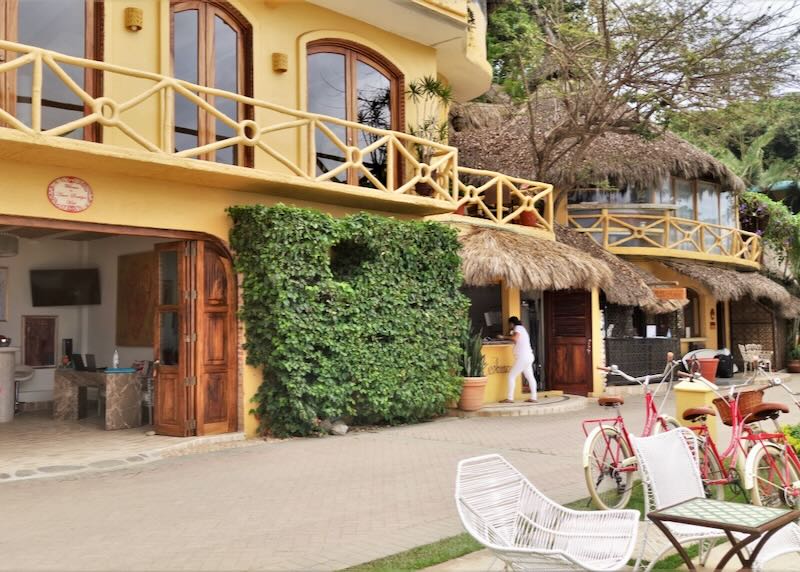 This upscale boutique hotel is the closest you'll find to a luxury resort in Sayulita. Each suite was built to accommodate the natural surroundings, so all are a little different. Its most popular is their Villa Arboles, a three-bedroom, private pool suite, built around two large trees, growing up out of the floor and through the palapa roof. Most suites are one- to three-bedrooms (the largest villa has seven) with full kitchens or kitchenettes. The hotel is built into the side of a hill in the South End, overlooking the cove and main beach with a pool and restaurant shared with its sister property Villa Amor. Many of the suites are on higher floors with stunning views but no elevator. Request a ground room floor, if mobility is limited.
Hotel phone: +52 329 291 3000
Hotel website • Check prices for Amor Boutique Hotel

An amazing family getaway! Villas Sayulita offers unique amenities kids will love, including a swimming pool, tree house, swing set, lots of animals to visit with (dogs, ducks, and chickens), and a BMX bike park with complimentary bikes and helmets. A wellness-focused hotel, they offer daily yoga, plus temazcal rituals, guided meditations, and lessons in permaculture. Each villa is different, but all have at least two beds, a full kitchen or kitchenette, and a private terrace. Their Smoothie Bar serves garden-fresh breakfast and brunch daily, with much of the produce grown onsite. Located on a quiet street in the North End, walking distance to Downtown and only 150 meters to the beach.
Hotel phone: +52 329 291 3063
Hotel website • Check prices for Hotel Villas

Ideal for romantic getaways, Siete Lunas' rooms are perched on a lush, jungle hill overlooking Sayulita Beach, offering sweeping views of the ocean and village below. This secluded boutique stay offers seven rooms, all of which feature a floor-to-ceiling wall of windows that opens up fully to a private balcony. The intimate property boasts a sea-facing pool, cocktail bar, and breakfast included in the room rate. Located on a winding back road west of Los Muertos and Sayulita Beaches, about a fifteen-minute walk into downtown. A golf cart is highly recommended for guests staying here!
Hotel phone: +52 322 294 5111
Hotel website • Check prices for Siete Lunas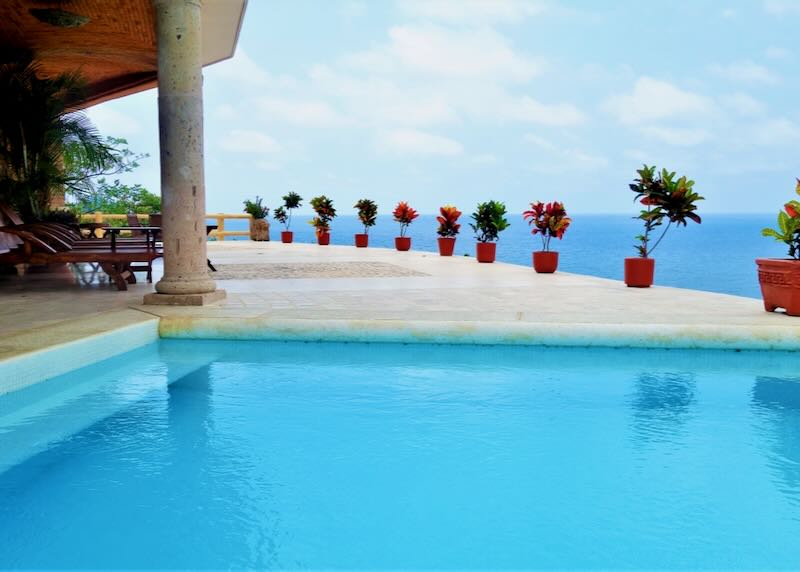 This boutique resort houses eclectic villas in a range of sizes from cozy studios to palatial five-bedroom units. All rooms boast a kitchenette and an outdoor shower, many with private plunge pools; personal chefs can be arranged. Décor is eclectic, featuring vintage Indian and Moroccan furnishings alongside modern Mexican comforts. Villa Amor shares its pool and restaurant with its sister property Amor Boutique Hotel. Overlooking Sayulita Beach, this stunning hotel is less than ten minutes on foot to downtown. Request a ground floor room for travelers with limited mobility, as the hotel has no elevator.
Hotel phone: +52 329 291 3010
Hotel website • Check prices for Villa Amor

Casablanca is the only beachfront hotel in Sayulita. This sunny boutique hotel has a heated, free-form pool, plus a palapa roof terrace just the right size for a small party, with its own Jacuzzi and barbeque. All suites include a full kitchen and private balcony; 2 bedroom suites have bunk beds in the guest room. The spacious Main House sleeps up to 10 and includes its own oceanfront private pool. This amazing little property is right next door to the Sayulita Turtle Camp, where newly hatched sea turtles are released at sunset year round. Located in the North End, Casablanca is only five minutes away from several restaurants and bars.
Hotel phone: +52 329 298 8565
Hotel website • Check prices for Casablanca
6.

Selina – Downtown/Main Beach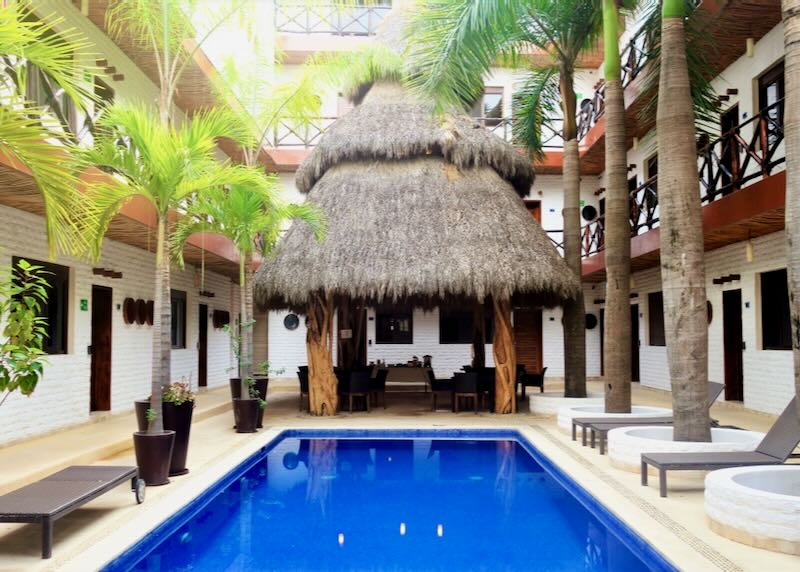 Boutique hotel with a courtyard pool, spacious rooms, and central location. Selena offers a wide variety of rooms and suites, with the largest being a three-bedroom apartment that sleeps up to seven and includes a full kitchen. This is the only downtown hotel with a pool; it's very deep as it used to be used for scuba lessons. Hot coffee and a small breakfast buffet are served poolside every day. Located only one block from the beach (free boogieboards and beach gear rental onsite), two blocks from the town square and church, near all of Sayulita's restaurants, nightlife, and street vendors.
Hotel phone: +52 329 291 3218
Hotel website • Check prices for Selina
Staying in Downtown/Main Beach Sayulita

Sayulita used to be a sleepy little surf village, but its popularity has grown in recent years. Now Downtown thrives with a range of excellent restaurants, bars with live music, and throngs of street vendors selling bright Huichol crafts all day and savory tacos as late as 3am. The Main Beach, Playa Sayulita, is equally busy, especially between 10am and sunset, when surfers and sunbathers flock to the oceanfront to catch Riviera Nayarit's best waves and rays. Most people drive golf carts rather than cars here, as it's easier to park smaller carts on the narrow streets. Stay in the Downtown/Main Beach area to be close to the action, the first to hit the waves and the last to leave the bars.
Best Hotel in Downtown/Main Beach
Selena • Hotel phone: +52 329 291 3218
Best Restaurants in Downtown/Main Beach
Los Corazones • $$-$$$ • Fantastic restaurant for fresh Mexican seafood; upscale but unpretentious.
El Itacate • $ • An itacate is a burrito wrapped in fried cheese instead of a tortilla. Heaven sent!
Restaurant Yeikame • $ • Fantastic spot offering specializing in pre-Hispanic dishes alongside Mexican classics. Popular for their chile relleno and margaritas.
Staying in South Sayulita

The South End of Sayulita is in the western part of town near two beaches, the Main Beach and Los Muertos Beach. Los Muertos Beach is named for the elaborate cemetery just inland from it, a peaceful, colorful spot well worth a trip on its own. A small road runs from downtown along the edge of the beach and above cove, narrowing into a little path as it stretches further from town. This is a popular spot for walking or cycling. The hotels and residences in the area sit just above this trail, built on the jungle hillside overlooking the main beach and town and offering sweeping sea views. The South End is only a ten-minute walk to the heart of downtown, but because it is hilly, a golf cart is recommended for travelers staying here.
Best Hotels in the South End
Best Restaurant in or near the South End
Bichos • $ • Casual spot in a garden setting, known for their fish tacos.
Staying in North Sayulita

The North End sits just east of the little Sayulita River, which is more like a creek and dry in some seasons. This is a quiet, residential neighborhood just a short walk to the Main Beach and restaurants but without all the nighttime party noise. It's more easily walkable than the South End, though its lack of hills means the views are less dramatic. This is a popular with families and for travelers visiting for yoga and meditation retreats. Because of its relaxed vibe, the Sayulita Turtle Camp has set up shop here. Open to the public, this sanctuary hatches and releases baby sea turtles at sunset all year round. Several restaurants and cafes are scattered throughout the area, but not as many bars as Downtown.
Best Hotels in the North End
Best Restaurant in the North End
North Side Café Sayulita • $ • Fantastic breakfast and brunch, known for their huevos rancheros and iced coffee made with a block of frozen espresso.
Read More