Mexico › Isla Mujeres Best Places to Stay
Updated: February 26, 2023
Isla Mujeres – Best Places to Stay
Best hotels on Playa Norte (the best beach and swimming on Isla Mujeres): Ixchel Beach Hotel • Nautibeach Beach Front Condos
The best areas of Isla Mujeres for visitors are the North End (busy and walkable, with stunning Playa Norte beach and plenty of restaurants, bars, and markets) and South End (great family attractions and quiet beaches). The middle of the island also has some nice areas, including Mar Caribe and Bahia (the western and eastern coasts, respectively, near the old airport and walking distance to downtown).
Getting to Isla Mujeres from Cancun takes only 25 minutes on the Ultramar ferry. If coming from the Cancun Airport, take a pre-paid shuttle or taxi to Puerto Juárez terminal (I've used Happy Shuttle and can recommend them. They also sell ferry tickets so you don't have to queue at the terminal). Ferries depart from here every 30 minutes from 5:00 a.m. to 11:30 p.m. There are also three ferry terminals in the Hotel Zone, though ferries here operate on a limited schedule, running hourly-ish from around 9:00 a.m. until 8:30 p.m. depending on the terminal. Fares are higher at all of the Hotel Zone ports. Children taller than 1.2 meters (3'11") pay adult rates. Children under 1 year ride free.
Getting around Isla Mujeres: The easiest and most fun way to get around on Isla Mujeres is by golf cart. There are several golf cart rental shops directly across the street from the Ultramar terminal. Travelers staying in Sac Bajo or Punta Sur should consider renting a golf cart for the duration of their stay. For guests staying in Centro or Playa Norte, a golf cart is unnecessary for daily use; almost everything is within a 5 to 10-minute walk. Rent a cart for a day to do a circle island tour of the south end attractions like Garrafon Natural Reef Park, Tortugranja (the turtle farm!), and Ixchel Temple. Travelers staying in Mar Caribe or Bahia are 20 minutes walking distance from Centro and North Beach but a little too far to easily walk to the south end.
Taxis on Isla Mujeres are all red sedans. The main taxi stand is next to the ferry terminal on the same side of the street. Taxis are not metered here. Instead, there is a list of fixed rates to various island destinations posted on the inside wall of the taxi stand. Always verify the rate before entering the taxi itself! Taxis can also be flagged down from the side of the road just about anywhere on the island. In this case, the taxis operate as rideshares and will pick up and drop off other passengers along the way. If using the taxi as a rideshare (versus calling ahead to hire a private taxi), rates are about 20 pesos per person to anywhere on the island.
Pay in pesos whenever possible. Many hotels, restaurants, and tour operators accept payment in U.S. dollars. However, travelers will almost always overpay if using dollars, as the exchange rate for tourists favors the peso.
The 13 Best Hotels on Isla Mujeres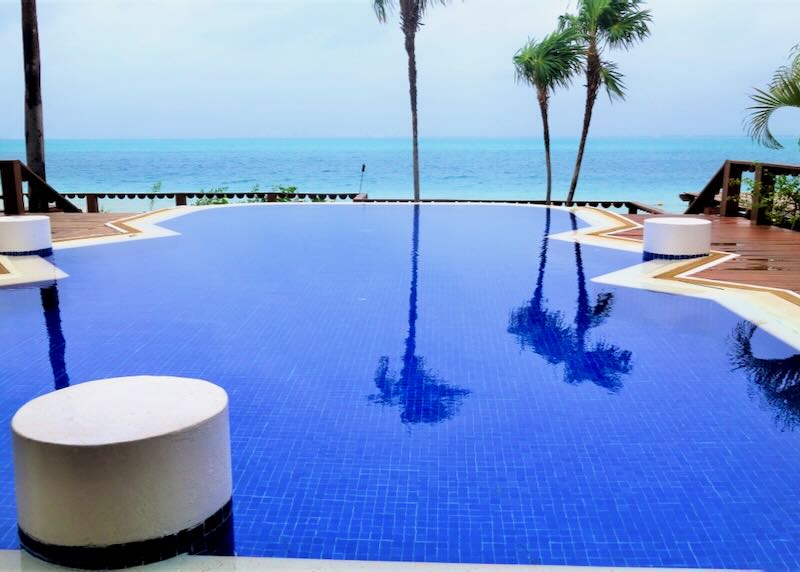 Luxurious, all-inclusive, family-friendly resort on a quiet beach. Zoëtry boasts two gorgeous pools and a huge saltwater Jacuzzi plus spacious, sea-facing suites with private whirlpools or direct pool access, the island's best restaurant, and a soothing thalasso spa with free salt water-based therapy for all guests. Unique services and activities include sunset yacht cruises, cooking classes, ceramics painting, and wine tastings. Rates are always inclusive of round-trip yacht transfer from Cancun directly to their private pier. Located in Sac Bajo, near Tortugranja and next to Dolphin Discovery (guests get free admission here).
Hotel phone: +52 998 999 2000
Hotel website • Check prices for Zoëtry Villa Rolandi

Romantic, adults-only resort specifically designed for couples on a long stretch of sandy beach with an exceptional spa, top-notch service, fantastic dining, and a swim up bar in the pool. All suites come with double-sized whirlpool tubs and private balconies; services include couples' massages, candlelit dinners on the beach, and in-room dining. Their generous resort credits program can be used toward offsite excursions, like dolphin swims, scuba or snorkel tours of MUSA, or for entry to their water park at The Grand in Cancun. Round-trip yacht transfer to and from Cancun is included in all room rates. Located at the base of Sac Bajo, a five minute walk to the turtle farm, a few local restaurants, and Hacienda Mundaca, the ruins of a retired pirate's home.
Hotel phone: +52 998 999 2020
Hotel website • Check prices for Isla Mujeres Palace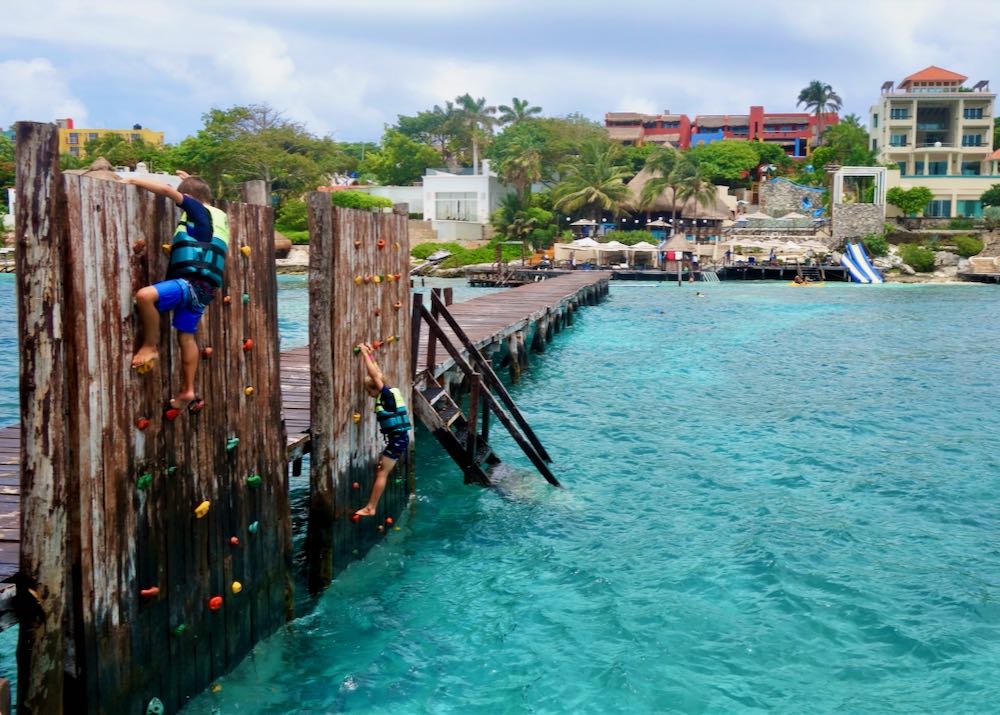 All-suite, family hotel with amazing kids' amenities, including a zipline, an infinity pool, and a pint-sized water park with another pool. The hotel's quiet suites sit on a little hill overlooking the ocean, most with private balconies or patios, some with Jacuzzis, and all with daily breakfast included. The water park offers a two-tiered pool with a swim up bar, slides that end in the ocean, a rock climbing wall, and a private pier, plus kayaks, snorkel gear, and paddleboards. The hotel sits at the south end of the island, near other family attractions including Garrafon Reef Park, the turtle farm and sanctuary at Tortugranja, and Dolphin Discovery.
Hotel phone: +52 998 888 0370
Hotel website • Check prices for Casa de los Sueños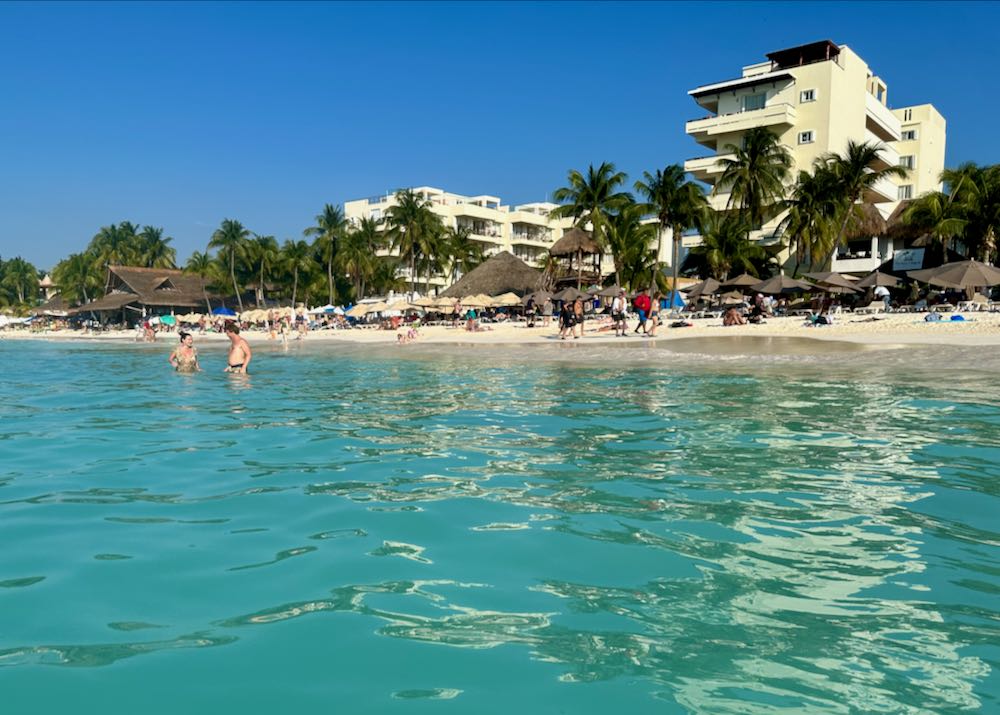 Sweet, family-friendly hotel with twin pools, complimentary beach gear, and a fantastic bar and restaurant that also offers beachside service. Staff throughout the hotel is super friendly and attentive to guests' needs. Rooms are comfortable, minimalistic, and sunny. Spring for a suite to add a balcony and kitchenette. Penthouse suites upgrade to full kitchens and private garden terraces or rooftop garden access. Situated right on Playa Norte, near Hidalgo Street shopping, dining, and nightlife.
Hotel phone: +52 998 999 2010
Hotel website • Check prices for Ixchel Beach Hotel
5. Hotel Secreto – Playa Norte, North End

This sleek, elegant, boutique hotel offers an infinity lap pool and an intimate spa. An all-suite property, each room features an enormous balcony with a queen-sized day bed, dramatic ocean view, and luxurious décor and amenities. Executive junior suites on the top floor include peekaboo glass showers, recommended especially for couples. Continental breakfast is included in the room rate and delivered daily to each room. Though children are allowed here, the vibe is more adult-oriented. Located on a tiny beach (not swimmable) at the northern edge of downtown, walking distance to Playa Norte and Hidalgo Street restaurants and shops.
Hotel phone: +52 998 877 1039
Hotel website • Check prices for Hotel Secreto

This contemporary, adults-only hotel offers a stellar beach club, two pools, and a spa. Rooms and suites are spacious with up to two bedrooms. All have a private balcony or terrace, some with jetted tubs or outdoor Jacuzzis. This is the only hotel on the island boasting suites with private plunge pools. Though they offer all-inclusive packages, the hotel is walking distance to so many great restaurants and bars; it's really best to book the room only to take advantage of the excellent local flavors nearby.
Hotel phone: +52 998 848 8470
Hotel website • Check prices for Privilege Aluxes
7. Casa Coco – Sac Bajo, South End

Upscale, family-friendly boutique hotel with an infinity pool and rooftop palapa for massage and yoga. This rustic-chic property overlooks a small, secluded beach accessible by a little pathway. Décor is all locally made Yucatan art inspired by Spanish and Italian design. All suites come with a private balcony, while the Family Suite adds a kitchenette and sofabed. This gorgeous spot is in the middle of Sac Bajo, near Tortugranja and Dolphin Discovery, but its lush grounds make it feel more remote than it is.
Hotel phone: +52 998 220 2571
Hotel website • Check prices for Casa Coco

This stylish and cozy, adults-only boutique features a rooftop sun terrace with an infinity plunge pool, Bali beds, and stunning ocean views. Their four suites have bespoke, handmade décor, such as conch shell showerheads, salvaged wood doors, and artisanal textiles. The owners live on site and take pride in offering impeccable hospitality and presentation. Complimentary bicycles and daily Italian breakfast round out the experience. Fresh, contemporary, and tranquil ambiance, fifteen minutes walking to downtown and Playa Norte.
Hotel phone: +52 984 100 5070
Hotel website • Check prices for Icaco Island Village

This brand new, boutique hotel offers bright, boho suites and a fantastic restaurant, a couple hundred meters from Playa Norte and their beach club. Standard and junior suites are amply sized and decked out in colorful Mexican textiles, all with fully equipped kitchens, small dining areas, and private terraces. Other onsite amenities include a Jacuzzi, golf carts, and a boutique shop – with a pool and spa coming soon. In the heart of the North End, steps away from downtown shopping and dining, walking distance to several beaches.
Hotel phone: +52 998 688 4154
Hotel website • Check prices for Hotel Paradise Suites

Hacienda-style boutique hotel with an infinity pool, located on a small swimmable beach with a private dock. Suites are family friendly and most include balconies. The Encantada Suite adds a soaking tub, while the Penthouse Suite has a private rooftop terrace. Décor is breezy, fresh, and locally-made, with woven lanterns, custom Mediterranean-inspired tile, and a poolside palapa roof. Daily breakfast is included in the room rate, and a well-stocked honor bar is available to guests throughout the day. Surrounded by a lush, jungle garden, this gem in Sac Bajo feels very private, while still being very accessible. Walking distance to Dolphin Discovery and a few bars and restaurants and within ten minutes ride to all of the island's attractions.
Hotel phone: +52 998 220 2571
Hotel website • Check prices for Villa Encantada

Exceptional condos with a beachfront pool, direct beach access, and all day dining and drinks at their own beach club. Apartments can be studios, one to two bedrooms, or penthouse suites with three bedrooms. All come with a full kitchen and balcony; some of the two bedroom units have bunkbeds in the guest room. Nautibeach sits on the sunny southwestern edge of Playa Norte, near the downtown beach at Playa Sol, walking distance to great beach bars and Hidalgo Street shopping.
Hotel phone: +52 998 877 0606
Hotel website • Check prices for Nautibeach Beach Front Condos

Eclectic, family-friendly boutique hotel with its own marina in a former fish processing facility. Its charming little beach has tables and chairs in the ocean, swings by the bar, a small pool, and a community kitchen with a grill for guest use. Studio, one, and two bedroom suites are decorated in a blend of authentic Mexican and hippie styles, with colorful mismatched tiles, bright textiles, and fully equipped kitchens; one (The Beach Cabana) even has a tin roof! Common areas are equally wild with rainbow colors everywhere, two shady palapas, and a jungle garden filled with local plants, iguanas, and singing birds. Located on the western coast, about twenty minutes' walk to Centro, Playa Sol, and Playa Norte, near several local restaurants and a minimart.
Hotel phone: +52 998 877 1708
Hotel website • Check prices for El Milagro Beach Hotel and Marina
13. Mia Reef – Playa Norte, North End

This all-inclusive, family-friendly resort boasts a supreme location, floating on its own little island off the coast of the main island and connected by a long wooden bridge. With almost 360° of powdery white beach and pale turquoise water, this is far and away the most breathtaking spot on Isla. Rooms and suites all offer ocean views and private balconies, some with outdoor Jacuzzis and hammocks. This is the only hotel on the island with a kids' club. It also houses a pool, spa, salon, and several restaurants and bars.
Hotel phone: +52 998 999 2050
Hotel website • Check prices for Mia Reef
Staying in the North End: Centro and Playa Norte

Centro (downtown) and its main beach Playa Norte make up the broad upper portion of Isla Mujeres. Renowned for its long stretch of soft white sand, gentle surf, and turquoise waters, Playa Norte was named one of the top ten beaches in the world by TripAdvisor in 2017. The calm, shallow waters are perfect for beginning swimmers, while tons of marine life and high visibility makes this an excellent spot for snorkeling. Several beach clubs, bars, and restaurants line the beach, interspersed with some of the island's larger hotels and condos. Just inland, visitors will find even more dining options plus street vendors and markets, especially on Hidalgo Street. Though this is the liveliest part of the island, it is much more relaxed, safer, and friendlier than nearby Cancun. Most people get around on foot or bicycle here, though golf cart and moped rentals are everywhere, and taxis are easy to flag down.
The Best Hotels in Centro and North Beach
The Best Restaurants in Centro and North Beach
Rooster Café • $$-$$$ • The island's best brunch spot, specializing in local spins on eggs benedict.
Ruben's Restaurant • $ • Casual Mexican favorites all day. Known for their chimichangas, tacos, and lobster bennies.
Abuelos • $$-$$$ • Authentic, family-run seafood restaurant; amazing ceviche, whole red snapper, and fish tacos.
Staying in the South End: Sac Bajo and Punta Sur

The South End is made up of two segments: Punta Sur, the general name for the southern one third of the island, and Sac Bajo, the small strip of beach jutting upward alongside the middle portion of the island. This area is less densely populated than the North End but has most of the island's attractions. Punta Sur, at the southernmost tip of the island, is also the easternmost point in all of Mexico, the first place in the nation to see the sunrise. The park grounds also house the ruins of Ixchel's Temple and a metal sculpture garden. Right next door to Punta Sur is Garrafon Natural Reef Park, with snorkeling, kayaking, ziplining, and more. Dolphin Discovery interactive water park and the turtle sanctuary at Tortugranja are both located just north in Sac Bajo.
Beaches in the South End tend to be quieter and smaller than those in the North End. Several hotels and restaurants can be found here, but things are a little more spread out. A golf cart or moped is recommended for getting around to each of the attractions, though taxis are fairly easy to come by in the daytime.
The Best Hotels in Sac Bajo and Punta Sur
The Best Restaurants in Sac Bajo and Punta Sur
Casa Rolandi • $$$$ • Northern Italian and Yucatan fusion fine dining with gorgeous ocean views.
Zama Beach Club • $$-$$$ • Upscale, unique seafood menu featuring local ingredients like conch and chaya, alongside more familiar flavors.
Staying in the Middle of the Island: Bahia and Mar Caribe

The middle of island is made up of one narrow strip of land, divided in half by the old airport and a lagoon. On the western side is Bahia, with a gentle coastline and secluded beaches. On the eastern half is Mar Caribe, with dramatic rocky beaches – beautiful to look at but too rough to swim. Both Bahia and Mar Caribe areas are about twenty minutes walking distance to downtown, making them very accessible to dining, beach clubs, and shopping but calm and quiet for a restful sleep. Visitors here can completely get by without renting a golf cart. Walking or cycling is easy in the day, and taxis are cheap for night travel. Staying in the middle of the island offers visitors a more authentic experience, as the island's residential neighborhoods are nearby, with several local-style restaurants and markets in its southern edge.
The Best Hotels in Bahia and Mar Caribe
The Best Restaurants in Bahia and Mar Caribe
Polo's Mango Café • $$-$$$ • Insanely great food with Mexican and American flavors. Don't miss their watermelon mimosas and stuffed poblano pepper for breakfast!
GreenVerde • $$-$$$ • Amazing and simple local food all day at this family-run restaurant.
Caribbean Brisas • $$-$$$ • Best spot for the local fish specialty tikin xic.
Read More