Mexico › Monterrey
Updated: March 2, 2022
See Also
The third-largest city in Mexico rarely attracts overseas tourists but it's one of our favorite big cities, with some excellent contemporary museums and tons of character. This is the modern, dynamic face of Mexico, where colonial churches and cantinas stand side-by-side with the tallest skyscrapers in the country.
Frequently Asked Questions about Monterrey
Where is Monterrey?
Monterrey is the capital of the northeastern Mexican state of Nuevo León, in the foothills of the Sierra Madre Oriental. Monterrey lies some 222 km (138 miles) west of the US border at Reynosa/McAllen (Texas), 225 km (140 miles) south of the US border at Laredo, Texas, and about 910 km north of Mexico City.
Non-stop flights to Monterrey take 1hr 30 minutes from Dallas, 1hr 30 minutes from Guadalajara, 1hr 35 minutes from Mexico City, 1hr 35 minutes from Houston, 2 hours 40 minutes from Tijuana, and 2 hours 45 minutes from Atlanta.
How big is Monterrey?
Monterrey has a greater metro population of over 4.5 million. The city proper covers an area of 325 square kilometers (125 square miles).
What is the history of Monterrey?
With the help of a small group of colonists, Spanish conquistador Diego de Montemayor founded Monterrey in 1596 – he also served as governor of Nuevo León during its early years. Yet the settlement remained small and insignificant well into the 19th century. Iconic Mexican brewery Cervecería Cuauthemoc was founded in 1890, and steel production began in 1900, fueling an economic boom that continues today – the city boasts Mexico's two tallest buildings, the T.Op Torre 1 (Torres Obispado) and Torre KOI in the burgeoning business district of San Pedro Garza Garcia.
How do I get to Monterrey?
Monterrey is connected to the US by numerous non-stop flights, with flights from Dallas taking just 1hr 30 minutes. Monterrey Airport is also a major domestic hub, with services to almost every major city in Mexico. Flights from Canada, Europe, and the rest of the world generally route through Mexico City or airports in the US.
Within Mexico, first-class long-distance buses are an economical and comfortable alternative to flying – buses from Monterrey to Mexico City (11–12 hours), San Luis Potosí (7hr) and Zacatecas (7hr–7hr 30min) operate hourly. Buses also shuttle back and forth to the US border at Nuevo Laredo (3hr) and Reynosa (3hr).
Monterrey's enormous Central de Autobuses (bus station) at Avenida Cristóbal Colón 855 lies 3km northwest of the central Macroplaza. Cuauhtémoc metro station is just next door, but when carrying a lot of luggage take a taxi (insist on the meter being turned on).
What are the options for Monterrey airport transportation?
Monterrey's airport lies 6km or so northeast of the city center. We recommend getting a taxi into the city to save time – taxi fares are set according to a zone system, with the center around M$330 and San Pedro Garza García M$380 (buy a ticket at the terminal before exiting). Cheaper buses do shuttle between the airport and the Central de Autobuses (see above), every hour (and take around 45 minutes) for around 100 pesos, but you'll still have to get to your hotel from there.
What about Uber in Monterrey?
Uber does operate in Monterrey (assuming phones have roaming, and the app works), but drivers are usually reluctant to pick-up from the airport due to hostility from the airport taxi union. However, an Uber can be taken back to the airport for as low as 240 pesos. Once in the city, getting an Uber should be no problem, and can be cheaper than regular taxis.
Various other ride-sharing apps operate in Monterrey, with Chinese-owned DiDi offering slightly cheaper rates, and Estonia-based Bolt another alternative, but we'd recommend sticking with Uber for first-time visitors.
Can I drive to Monterrey?
Driving down to Monterrey from the US border is relatively straightforward, and the highways are pretty good (and fast). However, the state of Nuevo León has a reputation for violent crime and drug gang activity – definitely avoid driving at night. The drive from the Texas border at Laredo takes just under 3 hours (it's about the same from the border at McAllen/Reynosa). Note that foreign vehicles need a Mexican "Temporary Importation of Vehicle Permit".
If renting a vehicle, it's much easier to do this once across the Mexican border, as taking US rental vehicles into Mexico comes with all sorts of restrictions.
Do I need a car in Monterrey?
It's relatively easy and cheap to get around Monterrey on foot, by light rail, or taxi. Driving in the city can be a challenge (it's often very congested, signage is poor, and road layout is confusing). It can be useful to have a vehicle to explore the surrounding area, though the bigger sights are all well-served by public bus or guided tours.
How do I get around Monterrey without a vehicle?
It's easy to explore most of Monterrey's city center on foot, or call an Uber or take a local taxi. If hailing taxes, be sure to use meters, which start at 8.80 pesos (10.55 pesos 10 pm–4 am) – trips anywhere in the center will rarely be more than 50 pesos.
Though the routes are somewhat limited for tourists, the speediest way to get around the city is to take the clean and efficient Metrorrey light rail system. It's simple to use and rides cost just 4.50 pesos per journey.
When is the best time to go to Monterrey?
Spring and Fall are the best times to go to Monterrey. Monterrey tends to have hot, humid summers (with September the wettest month), which can make sightseeing extremely uncomfortable – from mid-February to mid-May, and October to November, it is warm, dry, and sunny. Winters can be a little cooler (day-time temperatures rarely fall below 70°F), but also very dry.
What are the main districts/neighborhoods of Monterrey?
The traditional heart of Monterrey is the Macroplaza (officially Plaza Zaragoza, or just the "Gran Plaza"), ringed by government buildings and museums. To the east lies the Barrio Antiguo, the city's Old Town, while to the west ("Zona Rosa") and north (just "Centro") is the modern commercial and business districts. Beyond the city proper lie two sprawling suburbs that have become major business and residential districts in their own right in recent years: posh, skyscraper-heavy San Pedro Garza García to the southwest, and industrial San Nicolás de los Garza to the north.
Where should I stay in Monterrey?
First-time visitors to Monterrey should aim to stay near the Macroplaza, in the heart of the city – almost everything will be within walking distance or short taxi rides. Newer hotels and chain motels lie on the outskirts or in the "Valle" area near San Pedro Garza García, but these primarily target business travelers or those with cars – they are a long way from the main tourist sights. We like the Gamma Monterrey Gran Hotel Ancira, an Art Nouveau beauty opened in 1912. The iStay Hotel Monterrey Histórico is a cheaper, contemporary alternative.
What are the best things to do in Monterrey?
Monterrey is best known for its excellent museums. The Macroplaza itself is a Modernist, mostly green space enlivened by squawking red-crowned Amazon parrots and the city's 18th-century cathedral. The plaza is also the seventh largest plaza in the world. The main draw here is the Museo de Arte Contemporáneo (MARCO), an innovative showcase for changing exhibitions of mostly Latin American (particularly Mexican) artists. It's worth strolling the narrow streets of Barrio Antiguo just to the east, dotted with colorful adobe houses dating from the 1890s, independent galleries, and the city's best bars and clubs.
At the northern end of the Macroplaza, the elegant former state government building is now the Museo del Palacio, a high-tech museum charting the Nuevo León's transition from colony to federal state. The equally innovative Museo de Historia Mexicana chronicles Mexican national history, while the Museo del Noreste focuses on the history of northeast Mexico (including the US state of Texas). From the museums, take a tranquil boat ride along the Paseo Santa Lucía to the green swathe of Parque Fundidora, where a former steel-processing plant has been converted into another fascinating museum the Museo del Acero. The other must-sees in Monterrey include El Obispado, the bishop's palace on top of a hill to the west of downtown, the glass exhibits at the Museo del Vidrio, and venerable Cervecería Cuauhtémoc Moctezuma, where tours of the brewery and plenty of fresh beers are offered.
What are the best things to do around Monterrey?
Monterrey makes a good base to explore the surrounding area. It's a relatively easy outing to the impressive caverns of Parque Grutas de García, and the pretty historic village of Santiago, some 35km south of Monterrey. The nearby city of Saltillo makes for a fuller day-trip, packed with colonial architecture, museums, and shops selling traditional sarapes (multicolored woolen shawls). Buses shuttle between Saltillo and Monterey hourly (1 hour 30 minutes).
What are the restaurants like in Monterrey?
Restaurants in Monterrey are pretty good, with the usual range of Mexican options as well as international chains, though the focus is traditionally on meat-eaters, with regional specialties such as cabrito al pastor or cabrito asado (whole roast kid goat). The best place to try these is El Rey del Cabrito (Constitución Ote 817), while the excellent La Divina (Montemayor Sur 507) serves quality Mexican dishes conveniently close to the museums. For a treat, get a taxi to Pangea (Roble 660), showcase for the gourmet cuisine of local celebrity chef Guillermo González Beristáin.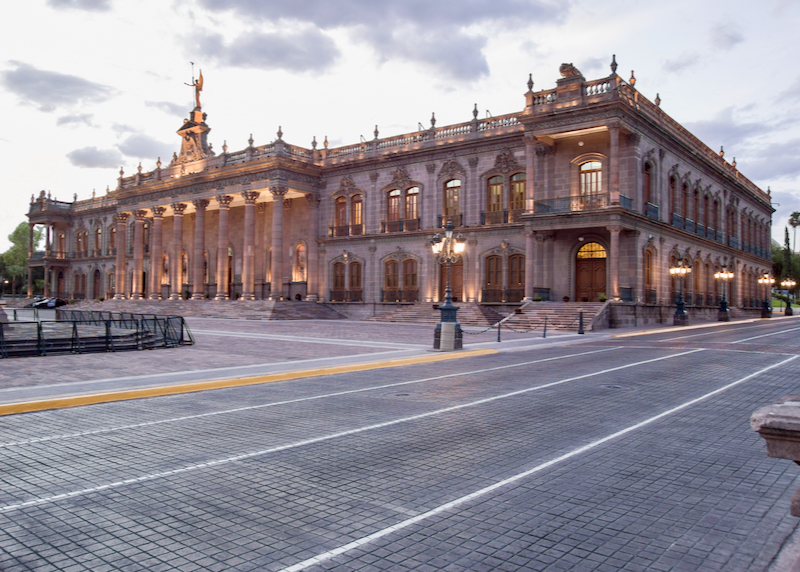 What currency is used in Monterrey?
The Mexican peso (often prefixed with a "$" sign) is the currency of Mexico – US dollars and other foreign currencies will not be accepted in Monterrey. Most major shops and restaurants in Monterrey accept credit cards, but it is a good idea to have some peso cash on hand for bus trips and small purchases like bottled water and snacks. ATMs are easy to find in the center (especially on Padre Mier).
Is Monterrey expensive?
Monterrey certainly contains luxury hotels, designer shops, and pricey bars and restaurants, but it's easy to visit the city on a modest budget. Most hotels are reasonably priced, budget Airbnb deals are also a viable option, museum entry fees are low (US$2–3) and public transport is cheap.
Is Monterrey safe?
Monterrey is safe for tourists. Monterrey is a big city, and does suffer from crime – take the usual precautions, especially at night (get hotels and restaurants to order taxis), and keep valuables in room safes.
Mexico's drug wars have also taken their toll on the city and the surrounding areas, but despite the headlines drug gangs rarely, if ever, target tourists and the main, well-policed tourist areas of Monterrey are usually safe and violence-free.
Read More