Mexico › Guadalajara
Updated: March 1, 2022
See Also
Frequently Asked Questions about Guadalajara
Where is Guadalajara?
Guadalajara is the capital of the state of Jalisco, in western Mexico. It is located in the central part of the state, in the Atemajac Valley, at an altitude of 5150 ft. (1570 meters). Eight municipalities make up its metropolitan area, which is the second-largest in the country, right after Mexico City.
How big is Guadalajara?
The population of Guadalajara is around 4,500,000 inhabitants, including its metropolitan area, distributed in an area of 1698 square miles (2734 square kilometers). Without counting the other seven municipalities, Guadalajara measures 94 square miles (151 square kilometers) and its population exceeds 1,500,000 inhabitants.
What is the history of Guadalajara?
In 1530, the Spanish Conquistador Nuño Beltrán de Guzmán decided to conquer the region of Guadalajara. Once he achieved this, he named it Guadalajara in honor of the Spanish city where he was born. The colonization process was long and complex due to the indigenous resistance and it wasn't until 1542 that the new settlement finally took hold of the place it now occupies in the Atemajac Valley. In 1560, it became the capital of Nueva Galicia, now called Jalisco.
How do I get to Guadalajara?
Guadalajara has an international airport located 10 miles (16 kilometers) away from the city center. It's the third airport with the most air traffic in the country (after Mexico City and Cancun). There are daily flights from various parts of Mexico, the United States, and Central America. Transfer time from the airport to the city center by taxi is around 35 minutes.
When is the best time to go to Guadalajara?
Guadalajara has a privileged climate. The average maximum temperature in the year is 80°F (27°C) and the minimum is 51°F (11°C). The rainy season begins in late June and ends in early October. Even though the city's tabachines and jacaranda trees aren't in full bloom in the winter, this is a good time to explore the city on foot without worrying about rain or excessive heat.
What neighborhoods should I visit in Guadalajara?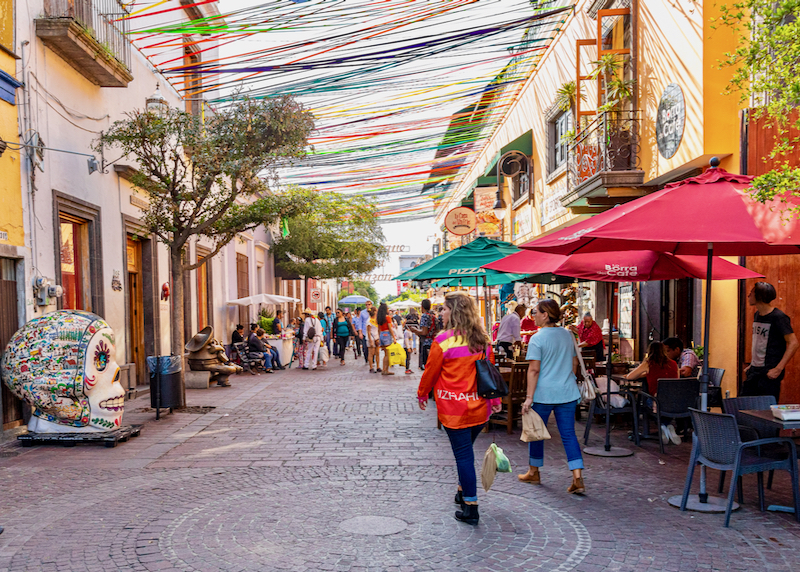 Guadalajara exemplifies tradition and modern-day life at the same time. There are neighborhoods where visitors can feel the timeless flavor of tequila and mariachi music, and others where they can breathe avant-garde through art, design, and gastronomy. 'Musts' include visiting the buildings in the historic center, the markets in Mexicaltzingo and Santa Tere, the galleries and bars in the Americana neighborhood, as well as strolling through Tonala and Tlaquepaque, two traditional neighborhoods on the outskirts of the city.
Where should I stay in Guadalajara?
The historic center of Guadalajara combines iconic buildings, good nightlife, and access routes to the rest of the city. Travelers looking for luxury and exclusivity will find that Puerta de Hierro, home to the business district, is the right choice. Host to renowned events like the International Book Fair, Expo Guadalajara —the city's main convention center— is a magnet for visitors. There are plenty of accommodation options for all budgets in its surrounding area, known as Zona Expo. The Americana neighborhood has an appealing hipster vibe where younger, or young at heart, visitors might feel right at home staying at Airbnbs.
How do I get around in Guadalajara?
Guadalajara has several main roads that cross the city. Transportation options include light rail, minibus, buses, bicycle rental, and taxis. It's best to request taxis through hotel concierges or restaurant reception staff. Transport companies also operate in the city through apps such as Uber and Cabify.
What are the best things to do in Guadalajara?
Guadalajara has many interesting buildings worth visiting but some unmissable ones are Hospicio Cabañas, Degollado Theater, and the Expiatory Temple. The town's culinary offer is impressive and Chapultepec Avenue is a good example of it. With bars lining both sides of the street, visitors can breathe in its enchanting atmosphere, even late at night. And to fully experience this thoroughly Mexican city, visitors would do well to sit in a bar in Tlaquepaque and listen to live mariachi music while sipping a jarrito with tequila.
How many days should I spend in Guadalajara?
Guadalajara is a great city in every sense, and its essence can't be absorbed in less than four days. One or two days should be allocated to go sightseeing around the historic center, another one to explore iconic places such as Tlaquepaque, and one more to discover its artistic side by popping into galleries, designer shops, and restaurants in the Americana neighborhood. Travelers wishing to visit tourist attractions in the surrounding areas, such as Tequila or Chapala, will need to allocate at least a week to the trip.
What currency is used in Guadalajara?
In Guadalajara, as in the rest of the country, the currency is the Mexican peso. In 2020 the average exchange rate has been about 20 pesos per US dollar. There are foreign currency exchange agencies in the airport but the best rate is usually offered by the bank, so it's advisable to pay with a credit card whenever possible and withdraw cash from an ATM. Carrying small bills is useful because many smaller establishments don't accept cards. The same is true for markets, taxis, and street vendors.
Should I tip in Guadalajara?
In Guadalajara, as all over Mexico, waiters' salaries are generally low, so tips are a fundamental part of the hospitality industry. The usual range is between 10 and 15%, but if service has been extraordinary, that percentage can be increased. In hotels, it's also common to leave some bills to the housekeeping staff at the end of the stay. Unlike in the United States, it is not customary to tip taxi drivers in Mexico.
Is Guadalajara expensive?
Being the second-largest city in the country, Guadalajara's prices are above those of the rest of Mexico, but also due to its size, it adapts to all budgets. As in all large cities, prices fluctuate from one area of the city to another, so it will not cost the same to buy handicrafts in Zapopan as in less touristy Juanacatlán. For travelers arriving from the United States, Europe, or Australia, it will not feel like an expensive city.
Is Guadalajara safe?
Like any great metropolis, Guadalajara is a city where crime is present. It's best to carry money in a front pocket or crossbody bag, and going into sketchy neighborhoods should be completely avoided. To travel long journeys, especially at night, it's best to call a taxi or Uber instead of walking back to the hotel or Airbnb.
What should I eat in Guadalajara?
Guadalajara has a culinary offer that will make the most demanding palates fall in love. Foodies will revel in the signature cuisine at Alcalde and D'Franck, the interesting fusions at Anita Li and Bruna, and local food staples such as tortas ahogadas (drowned sandwiches) and carnes en su jugo (meats in their juice). Karne Garibaldi, a restaurant that serves this specialty, holds the Guinness Record for the fastest service in the world.
Read More