Mexico › Best Places to Stay in Ixtapa-Zihuatanejo
Updated: February 24, 2022
See Also
Best Areas to Stay in Ixtapa-Zihuatanejo
Separated by a mere five miles of highway along a prime stretch of Mexico's Pacific Coast, Ixtapa and Zihuatanejo are as different as can be. Ixtapa is a sedate, purpose-built beach resort community dating back to the 1970s, whereas Zihuatanejo – immortalized in the Shawshank Redemption – is a former fishing village turned busy little town, with a local feel to it and a picturesque setting on the Bahía de Zihuatanejo, framed by two hilly headlands. Ixtapa is centered on a stunning white-sand beach, whereas Zihua has appealing beaches of its own that stretch around the Bahía de Zihuatanejo, and numerous good restaurants and bars to boot. Unless you're aiming for an all-inclusive vacation in Ixtapa, you'll want your own wheels, since some of the outlying beaches and attractions both in Zihua and Ixtapa are fairly spread-out.
Ixtapa has the lion's share of all-inclusive, 4 and 5-star beach resorts, whereas if you're looking for a place on a budget, then central Zihuatanejo, Lazaro Cardenas, and Playa La Madera are your best bets. Zihua's boutique, upscale hotels dot the hillsides above Playa La Ropa and Playa Las Gatas, south of central Zihua.
Flat and relatively compact, the purpose-built resort community of Ixtapa is centered on a long, white-sand beach and bookmarked at either end by a golf course. There are several quality guesthouses here, but the bulk of accommodations consists of upmarket, all-inclusive hotels that line the beach. There are a couple of natural attractions further west, and Ixtapa is connected to Zihuatanejo by frequent and cheap public buses.
Five miles south of Ixtapa by motorway, and flanked by the Lazaro Cardenas and Playa La Madera neighborhoods, Centro is the busy heart of Zihuatanejo, consisting of a compact grid of narrow streets. This is where you'll find the municipal beach and seafront promenade, the food and craft markets, the most authentic local restaurants, banks, and Zihua's sole cultural attraction: its waterfront museum.
Lazaro Cardenas is a quiet, hilly, and mostly residential neighborhood, just to the north of Centro and connected to it via a pedestrian bridge from the waterfront, right by the main pier. Several casual eateries and a smattering of midrange and budget hotels aside, the main attraction here is the quiet location that's just a short walk from Zihua's bustling center.
Linked to Centro by bridges over the narrow Rio Lerma, Playa La Madera is a mostly residential neighborhood that looks out onto a shallow, swimmable beach. It's a quiet neighborhood dotted with inexpensive hotels and numerous good restaurants. Centro is a short and easy walk away, along the waterfront, while Playa La Ropa is a 20-minute, hilly walk south along the coastal road.
From Playa La Madera, the Escénica La Ropa road climbs uphill and then skirts the bay above Playa La Ropa, a wide sweep of white sand, connected to the coastal road by a couple of streets. It's a rather spread-out, leafy neighborhood, and accommodations here run the gamut from friendly cheapies and midrange family hotels to exclusive, adults-only boutique places high up on the hillside, while restaurants range from cheap and cheerful beach shacks to sophisticated fusion places with cliff views and a smart-casual dress code. This is Zihuatanejo's most popular base for gringos, and having your own wheels helps, since it's a longish walk into town.
Adjoining the Playa La Ropa neighborhood, and located at the south end of the scenic road that loops its way south around Zihuatanejo Bay, sleepy Playa Las Gatas is a collection of tranquil, hilly streets, with boutique guesthouses and hotels looking out to sea from their lofty locations amidst a riot of lush vegetation. There are a couple of high-end restaurants here and the neighborhood is named after the sheltered beach below, reachable only by boat.
Halfway between Zihuatanejo Airport and Zihuatanejo proper, Playa Larga is a seaside community consisting of a couple of streets that look out onto the long sweep of eponymous white sand. Several inexpensive hotels and a handful of seafood eateries aside, its other attraction are some decent Pacific swells that draw surfers.
Flanked by mangrove wetlands and located at the south end of Playa Blanca, the tiny community of Barro de Potosí is just south of Zihuatanejo Airport and some 15 miles south of Zihuatanejo proper. Inexpensive beach restaurants and a few budget and midrange range hotels are found here.
Best Places to Stay in Ixtapa-Zihuatanejo
Best Neighborhood in Ixtapa-Zihuatanejo for Sightseeing & Shopping: Centro
Ixtapa and Zihua are rather short on sights. Pretty much the only cultural attraction is the Museo Arqueológico de la Costa Grande by the municipal beach in Centro. The museum gives you a decent overview of the Olmec, Tarascan, Mexica and Teotihuacan cultures of the Guerrero coast, though most displays are in Spanish only. Centro is also the best for shopping, whether you're looking for touristy, mass-produced souvenirs (Mercado de Artesanías Zihuatanejo), locally grown coffee (Café Caracol, Café Zihuatanejo), fine textiles (La Zapoteca), or traditional and contemporary masks made by artisans from all over the Guerrero state, sold at El Jumil, by the waterfront.
Best Neighborhoods in Ixtapa-Zihuatanejo for Nightlife: Centro, Ixtapa
Visitors generally don't come to Ixtapa-Zihuatanejo to party hard. Nightlife in Ixtapa consists of hotel bars, plus several sports bars and clubs that cater almost exclusively to tourists that are clustered in central Ixtapa, among the shopping malls, banks and restaurants found between the beachside Boulevard Paseo Ixtapa, and the Paseo de Las Gaviotas. If you're looking for a less generic scene and want to mingle with locals, head for central Zihuatanejo. There are several excellent bars along the waterfront and in the tiny streets branching off from the beachside paseo. Standouts include the Angustina Mezcal bar, Tasting Room Por Capricho del Rey (for craft beer), and Malagua.
Best Neighborhoods in Ixtapa-Zihuatanejo for Food and Restaurants: Centro, Playa la Madera, Playa de La Ropa, Playa Las Gatas
Centro boasts more traditional and inexpensive restaurants and eateries where you can try local specialties, such as pozole (meat-and-hominy stew) and tiritas (local take on ceviche); standouts include Restaurantes Mexicanos Any, Fonda Doña Licha and Carmelitas. It's hard to get more local than the taco stands such as La Papa Loca and the 24-hour La Flechita Roja. Playa La Madera features a good mix of local and upscale offerings, such as Patio Mexica and El Arrayan, while Playa de La Ropa and Playa Los Gatos are known for their upscale, fusion restaurants with a view, such as Espuma, La Escollera and El Suspiro.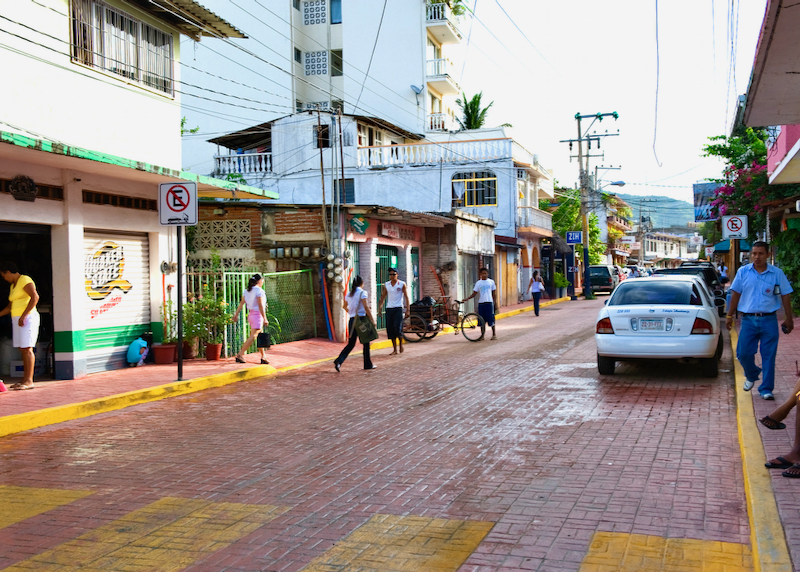 Best Neighborhoods in Ixtapa-Zihuatanejo for Families: Ixtapa, Playa de La Ropa
Ixtapa is perfect for a family vacation with younger kids, particularly if you're looking for the convenience of an all-inclusive resort. Family-friendly attractions in Ixtapa include Parque Aventura Ixtapa, with its zip lines, rope ladders and Himalayan bridges, plus the small Mundo Mágico waterpark with slides and pools. There's also a small crocodile reserve off Playa Linda, just north of central Ixtapa, where kids can spot crocs and iguanas. If you're looking for a more adventurous yet comfortable stay, and a good base for exploring Zihuatanejo, there are several family-friendly hotels in the Playa de la Ropa neighborhood. The beach is great for families, with its calm, shallow waters and water sports opportunities for older kids.
Best Neighborhoods in Ixtapa-Zihuatanejo to Stay for First Timer: Centro, Playa La Madera, Playa La Ropa
It depends if you're looking for a slice of local life, great dining or beaches. If you're keen on proximity to all three, it's hard to go wrong with basing yourself either in Centro, with its terrific restaurants and the beaches only a short drive away; Playa La Ropa, with its creative, upscale restaurants and great beach, or Playa La Madera – a halfway house between the two; its own beach is not amazing, but it's closer to the La Ropa beach than Centro, and quieter than Centro, while being only a short stroll away from its restaurants and bars.
Most Romantic Neighborhoods in Ixtapa-Zihuatanejo: Playa Las Gatas, Playa La Ropa, Lazaro Cardenas
It's hard to beat the sea and sunset views from the intimate, high-end, boutique, adults-only luxury hotels high above Playa Las Gatas and Playa La Ropa; some come with private terraces and plunge pools. Or you can opt for romance on a budget and get similar sea-and-sunset vistas from midrange digs on the hillsides of Lazaro Cardenas.
Best Neighborhood in Ixtapa-Zihuatanejo for a Local Vibe: Centro
For a local vibe, you can't beat central Zihua, with its tight grid of bustling streets, busy local markets (check out the Mercado Municipal off Avenida Benito Juárez and the smaller produce markets found off Calle Mangos that branches off Avenida Benito Juárez), and excellent local eateries and taco stands. Wandering the streets and taking in local life is a joy and it's hard to get more local than late-night bites at Zihua' legendary taco stands.
Best Neighborhoods in Ixtapa-Zihuatanejo for Water Sports: Ixtapa, Centro Playa La Ropa, Playa Las Gatas, Lazaro Cardenas
The majority of Ixtapa's beachside hotels offer a plethora of water sports, such as parasailing, and rent out sea kayaks and Hobie cats. Snorkelling gear is rented out off Isla Ixtapa's beaches, though the visibility isn't amazing. Parasailing can also be done off Playa La Ropa, which also has outfits that rent out sea kayaks and stand-up paddleboards. If you're looking for sports fishing, look no further than Zihuatanjeo Sports Fishing Charters in Ixtapa. A more wallet-friendly option is the Sociedad de Servicios Turísticos Triángulo del Sol fishing cooperative by the boat ramp in Centro that arranges fishing trips, with the price depending on your bargaining skills. There are two good scuba diving outfits along the waterfront in Lazaro Cardenas, and another one that's based on the Playa Las Gatas, where the water is calm and great for snorkeling. Surfers should head for Playa Larga, 8 miles south of Centro.
Safest Areas of Ixtapa-Zihuatanejo: Ixtapa and Zihuatanejo have a low crime rate, compared to other parts of the Pacific Coast. The main beach in Ixtapa, plus Playa La Ropa and Playa Las Gatas neighborhoods are safest, and Centro is generally safe to walk around, even late in the evening. Standard precautions apply: don't flash lots of cash, expensive jewelry or electronic gear, and avoid deserted, poorly-lit streets at night.
Unsafe Areas of Ixtapa-Zihuatanejo: While not specifically off-limits, the mostly residential neighborhoods of Zihuatanejo east of the main Avenida José Maria Morelos y Pavón see practically no visitors and you may feel rather conspicuous there. Some of the streets in Lazaro Cardenas are poorly lit at night.
Best Neighborhoods in Ixtapa-Zihuatanejo for Tourists
Ixtapa
A state-tourism-planned resort to match Cancún, Ixtapa was built in the 1970s along a long, white-sand beach, Playa de Palmar. Unlike Cancún, Ixtapa didn't take off in a huge way, but while there isn't much here in the way of a local community, it's an excellent place to stay for families with kids that are looking for creature comforts and hassle-free, all-inclusive vacations by the beach. 4- and 5-star hotels line the prime two-mile stretch of Playa de Palmar, with easy access to water sports, such as parasailing. Nearby attractions include a small water park, two excellent golf courses, a yachting marina, small crocodile sanctuary, and boat trips to Isla Ixtapa from Playa Linda, a short drive from central Ixtapa. Plus, Zihuatanejo and its beaches and restaurants are a short drive away and make for an easy day trip.
Best Hotels in Ixtapa
Centro
The heart of Zihuatanjeo is where all the action is. Downtown Zihua consists of a grid of narrow, busy streets, and this is where you'll find all the essentials: banks, large produce market, lots of inexpensive, authentic Mexican eateries, 24-hour taco stands, as well as cheap hotels, tacky t-shirt stores, and pretty much the only cultural sight in town: the archaeological museum dedicated to regional history. The municipal beach is not particularly clean; this is where fishermen clean their catch, and the pier is where you catch boats to Playa Las Gatas. But the waterfront is great for a stroll, and tacky souvenir sellers aside, there are several excellent stores near the waterfront that specialise in quality keepsakes: regionally-made masks, locally grown coffee, and hand-woven textiles. Come evening, the bars along the waterfront and in the tiny streets nearby get pretty lively.
Best Hotels in Centro
Lazaro Cardenas
Flanking the Zihuatanejo Bay to the west, and a short walk from central Zihuatanejo, Lazaro Cardenas is a quiet, hilly neighborhood with winding streets, great sea views from its smattering of midrange and budget hotels and guesthouses, and a hanful of places to eat. Two diving centres are found along the coastal Calle de la Noria, and Picante catamaran cruises depart from the headland. Some of the streets are poorly lit at night.
Best Hotels in Lazaro Cardenas
Playa La Madera
Reachable from the east end of the Paseo El Pescadór – the waterfront promenade in central Zihua – Playa La Madera is a compact, leafy neighborhood overlooking a clean stretch of sand and calm waters. On the hill above the beach there are some pricey condos, as well as some decent midrange hotels. There are several inexpensive seafood restaurants along the beach, and more sophisticated offerings along the canal-facing Calle Adelita. And if you're looking to learn to cook the Mexican way, the owner of Patio Mexica café runs excellent cooking classes.
Best Hotels in Playa La Madera
Playa La Ropa
A mile so over the headland from Playa La Madera, and reachable via the scenic, winding Escénica La Ropa road, Playa La Ropa is Zihua's best road-accessible beach – a mile-long stretch of white sand, with calm waters and casual waterfront restaurants serving a mix of local seafood and international dishes. This neighborhood is quite spread-out, with a handful of streets connecting the scenic coastal road to the beach. Near the south end of the beach, accommodations are a mix of budget and midrange hotels, with the upscale and exclusive boutique options found high above the bay, near the headland viewpoint. Along the coastal road you'll also find LOOT – a hipster café and art showroom, with a rooftop bar and occasional live concerts.
Best Hotels in Playa La Ropa
Playa Las Gatas
Named after the sheltered, popular beach cove below its cliffs, this quiet, affluent neighborhood is located at the south end of the Escénica La Ropa road that connects it to central Zihua via Playa La Ropa and Playa La Madera. There's a scattering of well-to-do houses along the hilly street here, along with a handful of Zihua's best boutique hotels, most boasting lofty sea views. The beach itself is great for snorkelling and has crystal-clear, calm waters for swimming and a restaurant. To reach the beach, you have to head all the way to Centro, to Zihuatanejo's main pier, to catch a boat out there.
Best Hotels in Playa Las Gatas
Playa Larga
A surfer magnet when the conditions are right, this tiny seaside settlement just north of Zihuatanejo Airport is a good choice if you're looking to hit the waves or ride horse on the beach. Or just come for a wallet-friendly seafood lunch on the wide, white-sand Playa Larga.
Best Hotels in Playa Larga
Barra de Potosí
Technically not part of Zihuatanejo proper, this tiny, laidback community is just south of Zihuatanejo Airport, and worth a stay if you're looking for tranquility, great seafood at a beachfront enramada (eatery), and some serious beach time along the long sweep of Playa Blanca. Even if you don't stay here, it's a worthwhile 30-minute drive from Zihua, and there are boat trips into the surrounding mangroves for keen bird watchers.
Best Hotels in Barra de Potosí
Read More