Mexico › Oaxaca › Best Places to Stay
Updated: January 20, 2023
See Also
Best Areas to Stay in Oaxaca
Stretching across a deep valley in the Sierra Madre de Oaxaca mountain range, Oaxaca is a remarkable city. Its origins go back several millennia to the Zapotec and Mistec civilizations, its historical centre with its handsome colonial architecture is among the most beautiful in Mexico, its fiestas are exuberant and its art and dining scenes are second to none. While the city as a whole is a bit of urban sprawl, most of its attractions are concentrated in the central, and very walkable neighborhoods, while outlying sights can be reached by cheap and prolific taxis.
Centro, Oaxaca's historical heart is where you'll find the overwhelming majority of Oaxaca's best hotels in all budget ranges. The upscale ones mostly fall into the boutique category (only one or two hotels can be described as "luxury" as opposed to "boutique"), and are found inside former colonial mansions and palaces that dot the streets around the Zocalo, the main square, and the Santo Domingo cathedral, several blocks further north. Good midrange and budget options can also be found in the outlying barrios of Xochimilco, Jalatlaco and Noria, on the outskirts of Oaxaca's centre.
You're likely to spend most of your time in Oaxaca's historical heart – a logical and easy-to-navigate grid of streets, lined with centuries-old architecture. Centro can roughly be divided into two halves. The blocks of streets referred to as Zocalo are centred on Oaxaca's eponymous main plaza and its imposing cathedral. This is where you'll find craft stalls, churches, numerous restaurants, markets and a couple of museums.
The other half of Centro, Santo Domingo, several blocks north of the Zocalo and north of Calle Independencia, is centred on the imposing Santo Domingo church. The cobbled streets around the church rich in attractions, from museums and art galleries to some of Oaxaca's best dining, as well as the biggest concentration of bars to suit all tastes.
North of Santo Domingo and across Hwy 190 is the compact neighborhood of Barrio de Xochimilco, Oaxaca's oldest. There's a sedate, village-like feel to it, and it's where you'll find textiles workshops, as well as traditional eateries and a handful of accommodations.
Bordering Xochimilco to the east, across the dry river bed, and also north of Hwy 190 from Centro is Reforma, a large, affluent neighborhood where you'll find international dining and boutiques, though little in the way of sights.
South of Hwy 190 and Reforma, bordered by the busy Boulevard Eduardo Vasconcelos to the east, and separated from Santo Domingo by the undulating Calzada de la Republica street that follows the dry river bed, Barrio de Jalatlaco is a small, hip and arty neighborhood, with plenty of street murals, good coffee shops, some offbeat restaurants and a good mix of budget and midrange digs. Quieter and more laidback than Santo Domingo, it's a short, 4-block walk from the Santo Domingo church.
The compact grid of streets that makes up Barrio de la Noria borders Centro to the southeast, along Calle la Noria, framed by Calle de Armenta y López to the west, Calle Gonzáles Ortega to the east, and Hwy 175 to the south. It's the quietest neighborhood in Oaxaca, being mostly residential, with colorful, single-storey houses, a few unpretentious, family-run restaurants, and inexpensive places to stay. It's a 10-15 minute walk to the Zocalo.
The Best Places to Stay in Oaxaca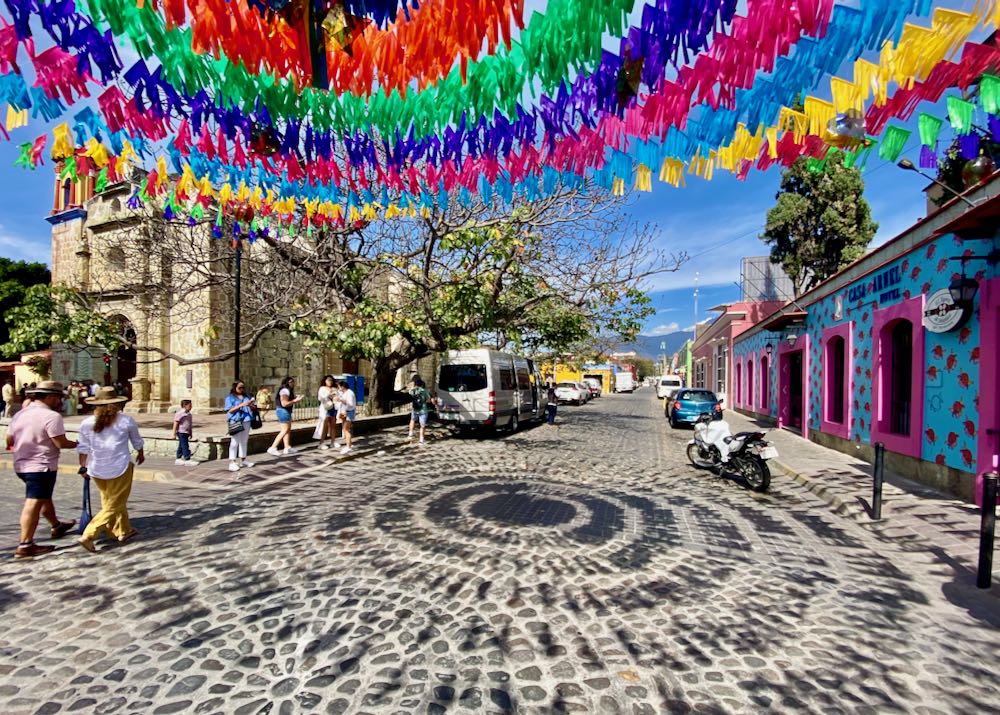 Best Neighborhoods in Oaxaca for Sightseeing: Santo Domingo, Centro

Oaxaca's entire historic core – Centro – has been a Unesco World Heritage site since 1987, so whether you base yourself near the Zocalo or in Santo Domingo, you're ideally placed to check out several excellent museums, a number of contemporary art galleries, street art, and historic churches. The heavyweight attractions are the Zocalo square itself, as well as the santo Domingo church and the adjoining Museo de las Culturas de Oaxaca – one of Mexico's finest archaeological museums. There's one other major attraction that's outside the city limits; to get out to the major Pre-Columbian archaeological site of Monte Albán, on the outskirts of Oaxaca, join a tour group of a negotiate taxi fares there and back.
Best Neighborhood in Oaxaca for Nightlife: Santo Domingo

There's a handful of bars in Reforma and around the Zocalo as well, but you can't beat Santo Domingo for the sheer variety and quality of its watering holes. There's something to suit everyone, from dedicated mezcalerias (mezcal bars) for serious connoisseurs of mezcal, and high-end cocktail bars specialising in elaborate, original drinks, to bona fide craft beer breweries and even a sports bar or two. Some stay open until the early hours of the morning.
Best Neighborhoods in Oaxaca for Food and Restaurants: Santo Domingo, Centro, Barrio de Xochimilco, Barrio de Jalatlaco
Oaxaca's dining scene is phenomenal, and you're unlikely to go hungry in any neighborhood. For the most creative fusion and Mexican fine dining, head for Santo Domingo; unmissable restaurants include Casa Oaxaca, Pitiona and Los Danzantes. The streets surrounding the Zocalo feature a mix of international offerings, hip cafes serving single origin coffees and hearty brunch, and locally renowned taco joints. You can also get super-cheap tacos and other street food at stalls on the fringes of Mercado 20 de Noviembre; if you're brave, buy a bag of dried grasshoppers with chilli and lime juice as a snack. Xochimilco is good for unpretentious local food and family-run eateries, while in Jalatlaco you'll also find some excellent typical Oaxacan food, as well as good Italian restaurants, and coffee shops.
Best Neighborhoods in Oaxaca for Families: Barrio de la Noria, Centro, Barrio de Xochimilco

While none of Oaxaca's neighborhoods specialise in family-friendly attractions, Centro is a good bet if you're looking to explore the city's main attractions, and don't want to tire out little feet by having to walk too far. Zocalo is quieter at night than Santo Domingo, and Barrio de la Noria is even better in that respect, and not too far from Centro's attractions. Barrio de Xochimilco is another good bet, being laidback and pretty quiet, though it's father away from Centro, and you'll need to take taxis to and from. Older kids may appreciate the art galleries and colorful street art around Centro, as well as the Museo de las Culturas de Oaxaca in Santo Domingo.
Best Neighborhoods in Oaxaca to Stay for First Timer: Centro, Santo Domingo
No doubt about it: you'll want to base yourself either in the Zocalo or the Santo Domingo part of Centro. Both are within easy walking distance from Oaxaca's many cultural attractions – museums, art galleries, markets, etc – so you just have to decide whether you want to be closer to the nightlife and upscale restaurants of Santo Domingo, or the more casual dining and quieter streets around Zocalo.
Most Romantic Neighborhood in Oaxaca: Santo Domingo
It's hard to beat the subtly-lit cobbled streets, beautiful architecture, luxurious boutique hotels and fine dining of Santo Domingo if you're on a romantic vacation with your other half.
Best Neighborhoods in Oaxaca for a Local Vibe: Barrio de Xochimilco, Barrio de Jalatlaco
The oldest part of Oaxaca, the former Pre-Columbian settlement of Xochimilco predates the present-day city by several millennia. Barrio de Xichimilco is a unique and attractive part of Oaxaca, with its colorful, hilly streets, low-key family restaurants serving typical Oaxacan cuisine, and textile and tin workshops. Barrio de Jalatlaco is another distinctive slice of Oaxaca; back in the day, when the dry river bed separating it from Centro was a proper river, it was considered to be a separate village. It's more trendy than Xochimilco, but also with beautiful, hilly streets, and a good mix of traditional dining and hipster cafes, as well as a proliferation of street art.
Best Neighborhoods in Oaxaca for Shopping: Barrio de Xochimilco, Reforma, Centro
It rather depends what you're looking for. Xochimilco is the place to go to check out traditional textile workshops, where fine weaving is often practised by many generation of the same family. Reforma has some international stores that you won't find elsewhere in Oaxaca, while around the Zocalo you'll find craft stalls selling clothing and souvenirs. There are also three markets taking up several blocks south of the Zocalo: Mercado Benito Juárez is particularly good for cooking ingredients you'll want to use at home, such as a bewildering collection of moles, Mercado 20 de Noviembre is a bustling food market selling fresh produce, while the Mercado de Artesanias de Oaxaca sells a mix of mass-produced souvenirs and some quality regional crafts. Several specialty coffee shops in Centro sell bags of locally grown and roasted beans, and you can buy bottles of hard-to-find mezcal from small local producers both in stores around Centro and bars such as Mezcaleria In Situ. The Oaxaca region is known for its unique ceramics, and you'll find pieces made of black clay and red clay at stalls and craft market (though for the best selection and fair prices, head for the Colectivo 1050° store in Santo Domingo).
Safest Areas of Oaxaca
Oaxaca has a relatively low crime rate for a large city, and neighborhoods frequented by visitors, such as Centro, Santo Domingo, Barrio de Xochimilco, Barrio de la Noria, Barrio de Jalatlaco and Reforma are considered generally safe. That said, opportunistic pickpocketing does happen, so be aware of that while exploring the area around the Zocalo, the markets, etc. Standard precautions apply: don't flash lots of cash, expensive jewellery or electronic gear, and avoid deserted, poorly-lit streets at night; take a taxi back to your hotel if you've stayed out till late.
Unsafe Areas of Oaxaca
Visitors are advised not to wander off into the suburbs outside central Oaxaca. While much of the crime in Oaxaca (and Mexico in general) is confined to cartel on cartel violence, occasional violent robberies do take place.
The Best Neighborhoods in Oaxaca for Tourists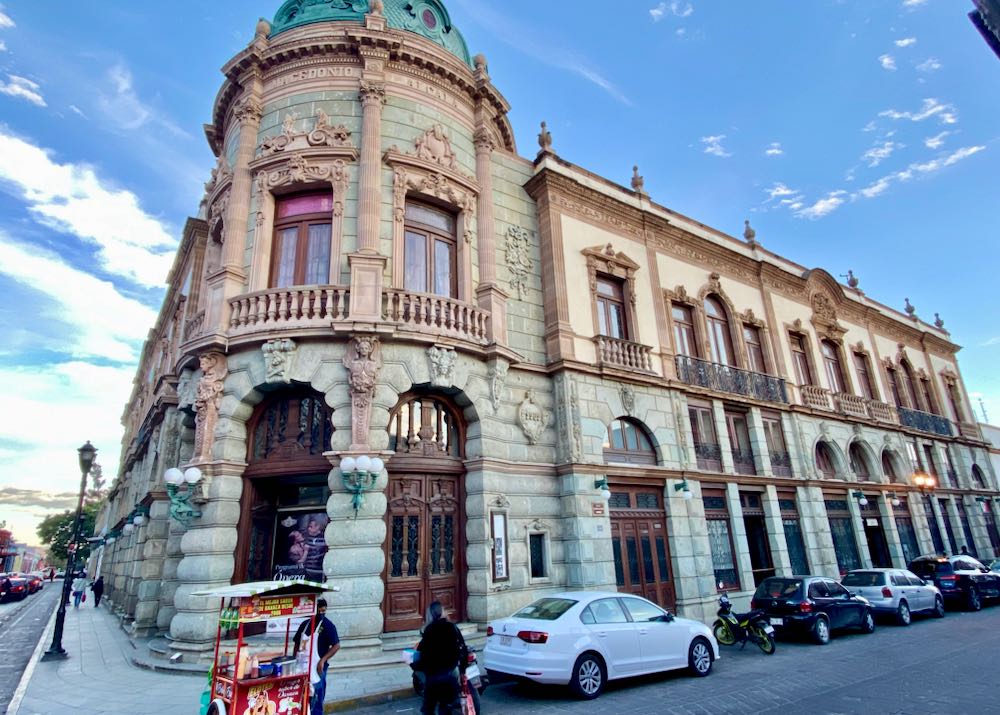 Centro
The heart of Oaxaca, a.k.a. Zocalo, is where all the action is. Downtown Oaxaca is centred on the large historic square, the Zocalo, overlooked by a massive cathedral. If it happens in Oaxaca, it happens here: fiestas, peaceful protests, craft markets, etc. The square is lined with inexpensive souvenir stalls, though if you're serious about shopping, it's worth checking out the three markets a few blocks south of the Zocalo. Centro/Zocalo is a regular grid of narrow streets (some of them pedestrianised), lined with typical, brightly-painted, one- and two-story houses. In between the Zocalo plaza and Santo Domingo you'll find several excellent museums (Museum of Regional Textiles, Museum of Pre-Hispanic Art, Contemporary Art Museum), a handful of small art galleries with local art for purchase, and a range of places to eat, from traditional to distinctly international. Some of Oaxaca's best hotels are found here, and visitors are likely to spend much of their time exploring Centro.
Best Hotels in Centro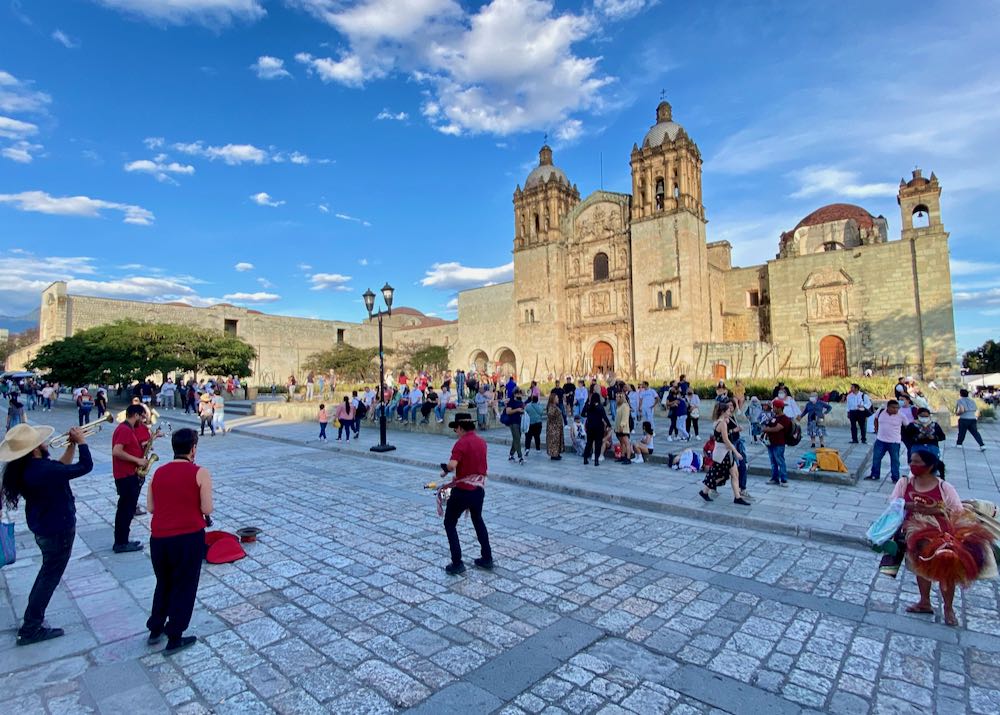 Santo Domingo
The northern half of Centro, Santo Domingo is arguably the most beautiful part of Oaxaca, with its cobbled streets and beautiful architecture. This neighborhood has the best of everything: Oaxaca's top sights (Santo Domingo Church, Museum of Oaxacan Cultures in the cloisters attached to the church, ethnobotanical garden filled with regional plants, etc), Oaxaca's best bars, Oaxaca's most celebrated restaurants and the best luxury and boutique hotels. Zocalo is a few blocks south.
Best Hotels in Santo Domingo
Barrio de la Noria
There isn't much to Barrio de la Noria, a compact residential neighborhood just south of Centro, though if you're looking for peace and quiet at night while being within an easy walk of Oaxaca's main attractions, it makes a good base. There are a few low-key restaurants here, while the Zocalo is a 10-15 minute walk away.
Best Hotels in Barrio de la Noria
Barrio de Jalatlaco
A compact, tranquil neighborhood that grew around the 18th century church of San Matías Jalatlaco, and just east of Centro, across the dry river bed, Barrio de Jalatlaco is all charming cobbled streets, colorful single-story houses, family-run restaurants serving traditional Oaxacan dishes, and some locally popular taco stands. Several hip coffee shops are a nod to the neighborhood's recent gentrification, and it's a bit of art enclave as well; you'll see plenty of colorful street murals. Apart from that, Jalatlaco is light on attractions, but is a mere 10-15 minute walk from sights in Centro and Santo Domingo.
Best Hotels in Barrio de Jalatlaco
Barrio de Xochimilco
North of Santo Domingo, across the motorway, Xochimilco was the original Prehispanic settlement that eventually grew into present-day Oaxaca. Traditional crafts still thrive here, and walking around the hilly, colorful streets, you're likely to see family-run textile workshops and artisans at work. It's a quiet and low-key neighborhood, with small, wallet-friendly eateries serving traditional fare; you can also buy fried grasshoppers and tamales at the Mercado de Pochote. There's one notable sight here: an 18th century aqueduct that rises high above the dry river bed that separated Xochimilco from Reforma to the east. Santo Domingo and its attractions are a 15-20 minute walk; you might want to take a taxi.
Best Hotels in Barrio de Xochimilco
Reforma
If much of Oaxaca has a very distinctive vibe and look, Reforma could almost be anywhere. Younger than historic Oaxaca, this large, spread-out neighborhood north of the highway from Santo Domingo lacks Centro's handsome architecture, though it does have the lion's share of international restaurants and boutiques, wine stores and other trappings of an affluent place to live. Some visitors prefer staying here, as it minimises culture shock, while others feel that it's not 'real Oaxaca'. Good dining, but no sights to speak of; sights in Santo Domingo and Centro are a short taxi ride or 15-25 minute walk away.
Best Hotels in Reforma
Read More