Mexico › Mexico City › Best Places to Stay
Updated: April 25, 2023
Our Favorite Hotels in Mexico City
• 5-star: Four Seasons
• 4-star: Zócalo Central
• 3-star: Hotel MX Reforma
• For families: Four Seasons
• For couples: Las Alcobas
Staying in Mexico City – Tips & Info
Mexico City is an endlessly amazing metropolis. Expect a thrilling visit.
The largest city in the Western Hemisphere, Mexico City has to be experienced to be believed.
This vast metropolis of over 21 million people occupies a bowl-shaped valley sitting between two Sierra Madre mountain ranges, and even at its lowest point, Mexico City will take your breath away (it's located at an altitude of 2,250m).
Built on the ruins of Tenochtitlan, the great city of the Aztecs, Mexico City can be a little bewildering, made up as it is of dozens of distinctive colonias. From the residential enclaves of the well-heeled, shiny business districts and emerging arty enclaves to traditional neighborhoods where time seems to stand still, gritty working-class barrios and crime-afflicted urban slums.
There is no place in Mexico quite like it, and you could spend a lifetime exploring it.
The good news is, the most interesting neighborhoods can be explored within days, and many attractions are confined to two or three key areas.
The city is easy enough to navigate, with an excellent metro system and inexpensive and prolific taxis.
Best Places to Stay in Mexico City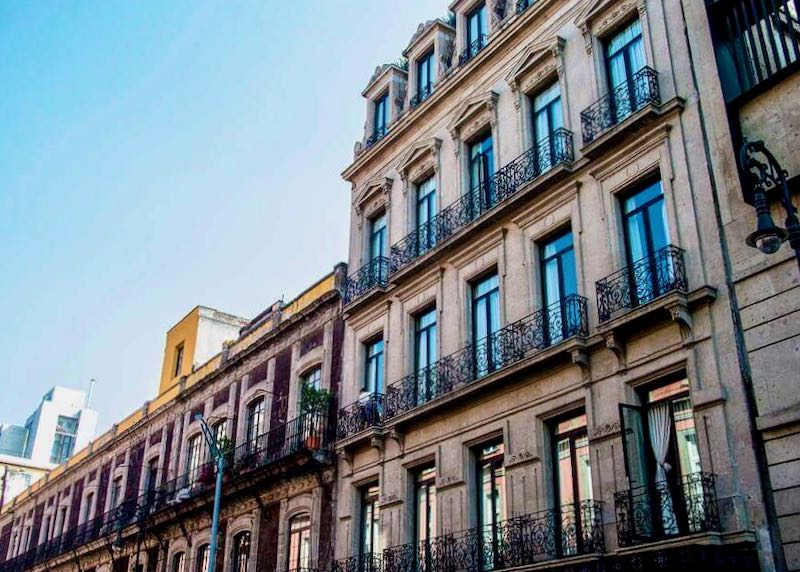 Best Areas to Stay in Mexico City
The heart of the Mexico City is the Centro Histórico, a very walkable grid of streets surrounding the Zócalo, the main square, overlooked by the Grand Cathedral and the Palacio Nacional with its government offices. Besides the handsome colonial architecture, great street food, excellent traditional Mexican restaurants and two good markets on its western fringes – the Mercado de San Juan (for food) and the Mercado Artesanías (for crafts), this neighborhood is rich in cultural attractions. One not to be missed, particularly if you're into art, include the Museo Mural Diego Rivera and the Palacio de Bellas Artes. Accommodations in the center tend to fall mostly into the budget and midrange categories.
Adjoining the Centro Histórico to the west is compact, wedge-shaped Juárez, largely residential, with a good mix of young hipster population, and traditional Mexican cantinas and businesses, as well as contemporary restaurants and cafes. Its northern part is the famous, gay-friendly Zona Rosa – one of the city's biggest nightlife districts, dotted with bars and nightclubs. Hotels are mostly mid-range, with some boutique options.
Just north of the Zona Rosa, across the busy Avenida Paseo de la Reforma, is Cuahtémoc, a triangle-shaped, skyscraper-studded neighborhood whose lifeblood is commerce and business. An outdoor art gallery and a historic mansion-museum aside, there are few sights to speak of, but the international dining scene here is excellent and the bars here are popular with office workers. Here you'll find a good concentration of international hotel chains, largely aimed at business travellers.
Adjoining Cuahtémoc to the north are two largely residential, arty neighborhoods with a very local feel: San Rafael and Santa Maria La Ribera, separated from San Rafael by the Avenida Ribera de San Cosme. Both are very walkable, and dotted with an interesting mix of fin de siècle mansions and modernist apartment buildings. Between them, the two neighborhoods have the lion's share of contemporary art galleries, and San Rafael is dotted with vintage theatres. Street food is terrific here, and accommodations consist largely of small boutique and midrange hotels.
South of Juárez, across the main Avenida Chapultepec, is Roma, a large neighborhood divided into Roma Norte and Roma Sur. Rapidly gentrifying, it's a curious mix of traditional Mexican life and youth culture, reflected both in its architecture and mix of low-key and gourmet dining and contemporary art galleries. Roma Norte in particular is easily walkable both to the Centro Histórico, to the northeast, and to the city's best museum in the Bosque de Chapultepec, just to the west, making it a popular neighborhood for tourists.
Adjoining Roma to the west is Condesa, one of Mexico City's more upscale residential neighborhoods. It's compact, quiet, walkable, has a good international dining scene, and is also close to the Bosque de Chapultepec and its stellar museums. Boutique hotels dominate its accommodations.
Bordering Condesa to the west is San Miguel Chapultepec, a small, triangle-shaped residential neighborhood with a contemporary art gallery, very low-key dining scene and just a handful of budget accommodations. Its main attraction is its proximality to the Bosque de Chapultepec, the huge urban forest it adjoins – not just Mexico City's most popular green space, but also home to the country's best anthropology museum and a handful of other, family-friendly attractions.
Just north of the Bosque de Chapultepec is Polanco, Mexico City's most exclusive neighborhood, complete with the best fine dining (including several Michelin-starred restaurants), designer boutiques, and the city's biggest concentration of 5-star hotels.
Coyoacán, far to the south of the city, is a very traditional residential neighborhood, complete with colonial architecture, cobbled streets and attractive twin plazas. It's pretty far from the city's other attractions, but great for experiencing a slice of local life. There are low-key accommodations in the form of family-run guesthouses and small boutique hotels, and equally low-key dining, as well as one massive attraction – the Frida Kahlo Museum, and one smaller one – the Leon Trotsky House-Museum.
Other neighborhoods worth mentioning include the edgy, working-class enclave of Xochimilco, also to the south of the city, with its centuries-old canals that go back to Aztec rule. Foodies may wish to check out the taco stands of Colonia Navarte, to the south of Roma Sur, and the Mercado La Merced in Merced, adjoining the Centro Histórico to the east. Finally, sketchy Colonia Doctores, just south of the Centro Histórico, is home to the lucha libre (Mexican freestyle wrestling).
Best Neighborhoods in Mexico City to Stay for First Timers: Centro Histórico, Polanco
If you want to get a real sense of the city, its history, its architecture, its culture and traditional (street) food, then the historic center is the best place to start. Plus, you'll be within easy walking distance of several heavyweight attractions and markets, and near excellent public transportation connections to other parts of the city. If you have your heart set on Mexico City's best dining (bear in mind that the Michelin-starred restaurants need to be booked weeks in advance), then glitzy Polanco is your best bet. As a bonus, Polanco is also within walking distance of the Bosque de Chapultepec and its stellar Museo Arqueológico – by far the best museum in the country, devoted to Mexico's Pre-Columbian cultures.
Best Neighborhoods in Mexico City for Sightseeing: Centro Histórico, San Miguel Chapultepec, Coyoacán, Teotihuacan, San Rafael, Santa Maria La Ribera

The Centro Histórico is studded with historical sights, as well as some of the city's most important art museums. San Miguel Chapultepec (or, more specifically, the Bosque de Chapultepec) is home to the best archaeological museum in the whole country. If you're interested in pre-Columbian history, then a day trip to the archaeological site of Teotihuacan is an absolute must; ditto: a visit to Xochimilco and its Aztec-era canals. Coyoacán in the place to head to if you're a fan of Frida Kahlo and her art, whereas if it's contemporary art that you're after, then your visit to Mexico City isn't really complete without checking out the contemporary art galleries in San Rafael and Santa Maria La Ribera.
Best Neighborhoods in Mexico City for nightlife: Juárez, Polanco, Centro Histórico, Roma, La Condesa
There is something in Mexico City to sate every taste, and it's no different when it comes to nightlife. The Zona Rosa in Juárez is famous for its LGBT-friendly nightclubs and bars; Polanco has a more exclusive clubbing scene and upscale wine and cocktail bars; Roma is the epicentre of hipster culture, with some of the most cutting-edge bars and clubs in town; La Condesa's scene is more mellow, and popular with young professionals, and ranges from craft beer pubs and whiskey bars to rooftop cocktail patios and traditional cantinas. Centro Histórico has some wonderful bars with a view, as well as dedicated mezcalerias (mezcal bars) for serious connoisseurs of mezcal.
Best Neighborhoods in Mexico City for Food and Restaurants: Centro Histórico, Polanco, Roma, La Condesa, Chapultepec, Juárez, San Rafael, Santa Maria La Ribera, Colonia Narvarte
The Centro Histórico is known for its decades-old restaurants specialising in traditional Mexican food, as well as its street food. Speaking of street food, it's a genre than both San Rafael and Santa Maria La Ribera excel at, whereas Colonia Narvarte is particularly renowned for its taco stalls. Chapultepec and Juárez are both good bets for international dining, and so are Roma, La Condesa and Polanco, with the latter particularly well known for its high-end dining and proliferation of Michelin-starred restaurants, and the former two dotted with trendy cafes.
Best Neighborhoods in Mexico City for Families: Polanco, Juárez, Cuahtemoc, La Condesa

If you're travelling with kids and looking to minimise culture shock, then Polanco is a good neighborhood to base yourself; its advantages include its proliferation of family-friendly high end hotels and an international dining scene and its proximity to the Bosque de Chapultepec with its family-friendly attractions, such as the zoo, Children's Museum and Natural History Museum. Juárez and Cuahtemoc also have the advantage of numerous international dining options, and high-end and mid-range hotels with ample facilities, and are also close to Bosque de Chapultepec, as is Condesa. While Condesa leans more towards boutique lodgings with fewer family-friendly facilities, it does have an attractive park of its own, popular with local families.
Most Romantic Neighborhoods in Mexico City: Centro Histórico, Polanco, Coyoacán
It's hard to beat the historic center, with its beautiful colonial architecture, intimate boutique hotels and white-linen traditional dining if you're on a romantic vacation. If you're looking for something more upscale, the 5-star hotels in Michelin-star dining in Polanco may be just the ticket. Or perhaps you prefer the idea of wandering the subtly-lit cobbled streets and checking out the art of Frida Kahlo in historic Coyoacán before returning to a snug boutique guesthouse.
Best Neighborhood in Mexico City for a Local Vibe: San Rafael, Santa Maria La Ribera, Roma, Coyoacán, Xochimilco
It rather depends what you're looking for. If you want to stay in a refreshingly untouristy neighborhood with terrific street food, unpretentious mom-and-pop restaurants, and an interesting mix of architecture, then both San Rafael and Santa Maria La Ribera fit the bill. If you're looking for something with more of a hipster edge, then Roma is a great place to stay, with its unique vibe, plenty going on, and a melange of traditional and contemporary Mexican culture. Coyoacán is less convenient in terms of proximity to the city center, but it's a unique neighborhood with striking colonial buildings, cobbled streets and very local dining scene. Finally Xochimilco is a place to visit rather than to stay, but its tiny alleyways and ancient canals distinguish it from dozens of neighborhoods that make up Mexico City.
Best Neighborhoods in Mexico City for Shopping: Centro Histórico, Polanco, San Rafael, Roma, Coyoacán, Cuauhtemoc
If you're looking for quality handicrafts from all over Mexico, the Mercado Artesanias la Ciutadella on the western fringes of the Centro Histórico is an excellent place to start. The nearby Mercado San Jose sells an excellent range of Mexican cooking ingredients, including those hard to find back home, while Fábrica Social works with several women's collectives across the country and sells textiles of excellent quality. For fashion by international and Mexican designers and concept shopping, look no further than the boutiques along Avenida President Masaryk in Polanco. Contemporary art for sale can be found in the small art galleries of San Rafael. In Roma, Chic by Accident is a good source of 20th century Mexican design items, while Casa de Luna in Coyoacán is a fair trade store specialising in jewellery, ceramics and textiles. Finally, FONART in Cuauhtemoc specialises in folk art from various indigenous communities across the country.
Safest Areas of Mexico City

While Mexico City may have a bit of a sketchy reputation, the neighborhoods frequented by visitors are generally safe, though it pays to be aware of your surroundings and be cautious after dark. Safest neighborhoods include Polanco, Condesa, Roma, Juárez, Zona Rosa, Coyoacán, San Rafael and Centro Histórico. That said, opportunistic pickpocketing does happen, particularly in the downtown area around the Zócalo, the markets, etc. Standard precautions apply: avoid using your easily accessible pockets for phone or valuables, don't flash lots of cash, expensive jewellery or electronic gear, and avoid deserted, poorly-lit streets at night; take a taxi back to your hotel if you've stayed out till late.
Unsafe Areas of Mexico City

As a rule of thumb, steer clear of neighborhoods to the very north or very south of Mexico City, particularly after dark. Avoid dicey Tepito, Mexico City's black market area just north of Centro, Iztapalpa, a huge southern neighborhood with high assault rates, and Ciudad Neza, a large urban sprawl to the east of the airport with high levels of poverty and violent crime. Then there are neighborhoods that are okay during the day, as long as you take standard precautions. Explore Mercado La Sonora in the Merced neighborhood adjoining Centro, but watch out for pickpockets, both there and around the Centro Histórico. If you go to Colonia Doctores' Arena México to watch a lucha libre (costumed fight), don't hang around afterwards, and take a taxi back. Avoid Tlalpan, Xochimilco and Tlatelolco after dark.
The Best Neighborhoods in Mexico City for Tourists
Staying in Centro Histórico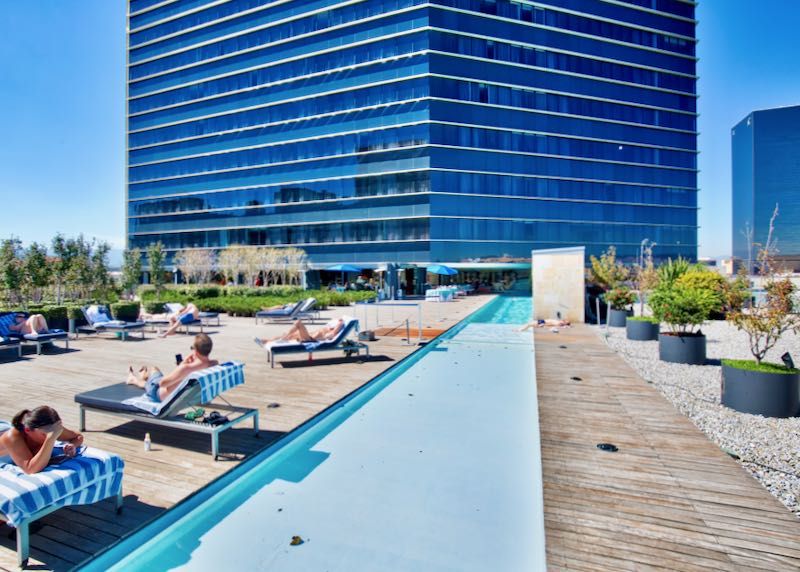 A great neighborhood for first-timers to Mexico City. Built upon the ruins of the Mexica city of Tenochtitlan, the oldest part of present-day Mexico City is the expansive Centro Histórico – the closest Mexico City comes to having a downtown. It's centered on the large, historic Zócalo square, busy with souvenir sellers and street performers. The surrounding grid of streets is lined with handsome colonial architecture dating from the 16th century onwards, a number of must-see landmarks, such as the Museo Nacional de Arte, Casa de los Azulejos, Palacio de Bellas Artes, and Templo Mayor, as well as some excellent restaurants, specialising in traditional Mexican cuisine. Good public transport connections via the Zócalo and Allende metro stations.
Best Hotels in Centro Histórico
Staying in Polanco

Mexico City's most affluent neighborhood, upscale Polanco is where you'll find the bulk of the city's luxury hotels, as well as Presidente Masaryk, the city's answer to Rodeo Drive, lined with designer boutiques. The smart, well-kept streets are also home to the city's best fine dining; this is where you'll find Michelin-starred Pujol – one of the world's top restaurants, among other stellar options. The heavyweight museums of the Bosque de Chapultepec are an easy walk south of Polanco. Polanco is the only metro stop in the neighborhood. (Along with Centro Histórico, Polanco is the best area of Mexico City for first time visitors.)
Best Hotels in Polanco
Staying in Condesa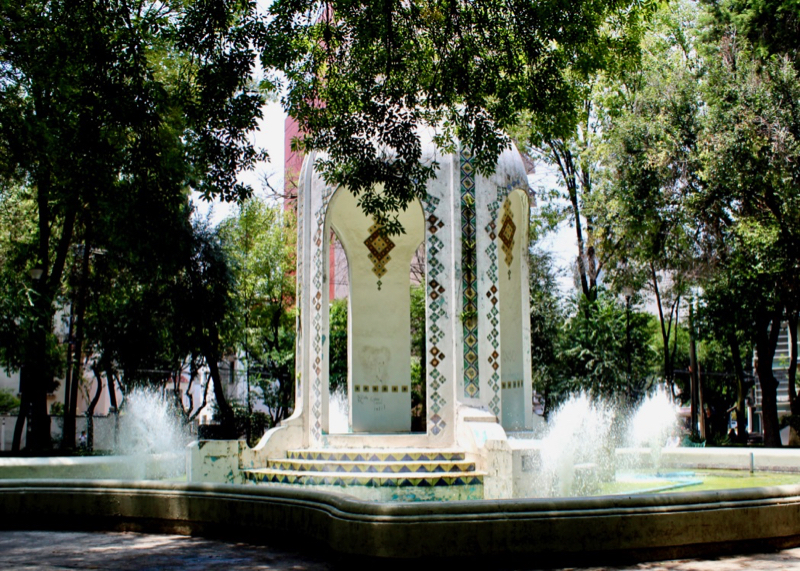 In the southwest of the city, this compact neighborhood used to be a quiet, residential, middle-class enclave. While it's still largely residential, it's rather upscale, with appealing art deco and modern buildings, and has one of the best dining scenes, with global cuisines and Mexican fine dining well represented. One of the most popular neighborhoods for tourists, as it minimizes the culture shock, it's adjoined by the vast Bosque de Chapultepec Park and has a beautiful park of its own, Parque Mexico, complete with street food vendors and promenading families. While it's light on attractions, Condesa makes a good base for exploring the city. Chapultepec and Juanacatlán are the closest metro stops.
Best Hotels in Condesa
Staying in Roma
This large neighborhood, divided into Roma Norte and Roma Sur, has also been mostly residential for most of its existence. Still gritty around the edges, a bit down-at-heel compared to neighboring Condesa, and with a reputation as a bohemian enclave, Roma has been undergoing gentrification in recent years. It's one of the most interesting parts of the city, with a mix of old-time residents and youth culture, reflected in its melange of 19th century mansions, quirky art galleries, busy markets and hip cocktail bars and specialty coffee shops. It's a walkable neighborhood, and a popular base for tourists due to its relative proximity to attractions in nearby parts of the city, plus good transport connections. Chapultepec, Sevilla and Cuahtémoc are Roma Norte's metro stops, while Roma Sur is served by Chilpacingo and Centro Médico.
Best Hotels in Roma
Staying in Juárez / Zona Rosa
This compact, triangle-shaped neighborhood was one of Mexico City's most exclusive before WWII; afterwards, many of the beautiful buildings were left in a state of genteel decay until a young, bohemian population injected some new life into the place after being forced out by rising rent prices in Roma and Condesa. The result is a neat collection of quiet, tree-lined streets dotted with fin de siècle mansions, with a small-town feel to the place and multiple generations of traditional Mexican families mixing with young hipsters amidst vintage luncheonettes, buzzy cafes and speakeasys serving cocktails. The northern fringe of Juárez is where you'll find a decent concentration of bars and nightclubs, collectively known as the Zona Rosa, as well as a few boutique hotels. Juárez is well-located for the exploration of Roma, Centro Histórico, Chapultepec, La Condesa and Cuauhtémoc on foot, and connected to the rest of the city via the Sevilla and Cuauhtémoc metro stops.
Best Hotels in Juarez / Zona Rosa
Staying in San Miguel Chapultepec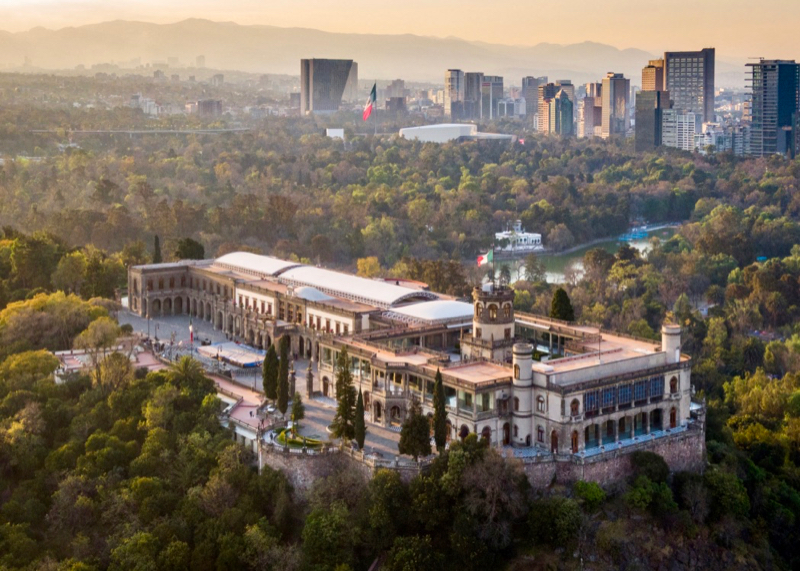 Another arty neighborhood in the making, triangle-shaped San Miguel Chapultepec sits next to the Bosque de Chapultepec, a vast urban forest with running and cycling paths. Bosque de Chapultepec is home to Mexico's City most important museums, including the show-stopping Museo National de Antropología, devoted to the wealth of Mexico's pre-Hispanic cultures, plus a zoo, a Children's Museum, and a Museum of Natural History, also popular with families. The neighborhood itself is pretty low-key, with a contemporary art gallery, a handful of unpretentious eateries and several inexpensive accommodations. Constituyentes, Tacubaya and Juanacatlán are the metro stops here.
Best Hotels in San Miguel Chapultepec
Staying in Cuauhtémoc
There's some spillover from Zona Rosa to the south, with a few bars found in this wedge-shaped neighborhood, across the main Avenida Paseo de la Reforma. Largely an office and commerce district, Cuauhtémoc benefits from a lively international dining scene, its restaurants spanning the globe and located mostly along Calle Rio Lerma and the parallel Calle Panuco.
Best Hotels in Cuauhtémoc
Staying in Coyoacán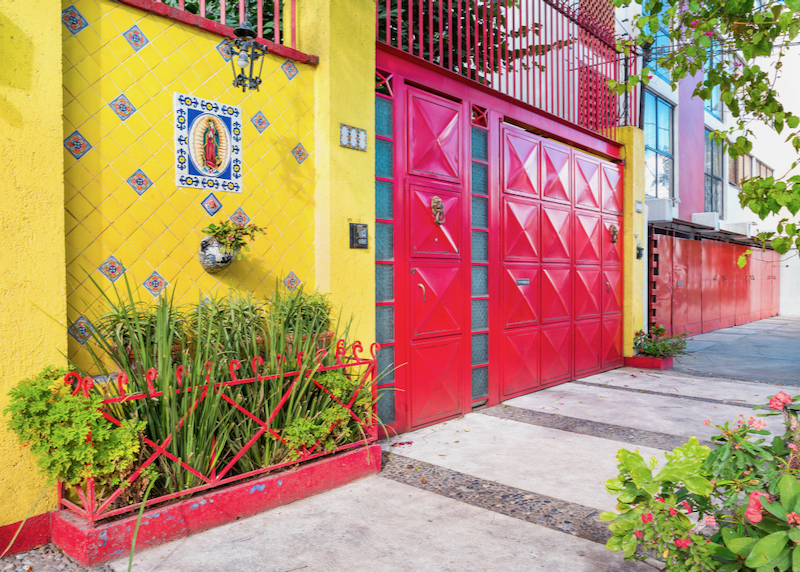 Before Mexico City expanded and incorporated outlying settlements into one big whole, Coyoacán was a colonial-era town and remains a rather quiet and traditional part of the city, far to the south. It's centred on the twin squares od Jardín Centenario and Plaza Hidalgo, popular with local families on weekends, while its cobbled streets and vintage architecture are a pleasure to explore, as is the Mercado de Coyoacán with its food stalls. The neighborhood is best known as the birthplace of Mexican painter Frida Kahlo, and her childhood-home-turned-museum attracts massive crowds of visitors. Nearby is another offbeat attraction: the Leon Trotsky House Museum where the Soviet revolutionary leader lived in exile and was assassinated by one of Stalin's assassins. Dining is a mix of traditional Mexican restaurants and stalls, and a few international options, and accommodations mostly consist of family-run guesthouses and a few boutique hotels. Coyoacán is the nearest metro stop.
Best Hotels in Coyoacán
Staying in San Rafael
If you're looking for a largely untouristy experience while being within walking distance of Centro Histórico's attractions, the artsy residential neighborhood of San Rafael has much to recommend it. The university campus gives San Rafael a youthful vibe, and the streets are dotted with vintage theatres, late 19th century houses, and small mom-and-pop restaurants. You won't find gourmet cuisine here or much of a nightlife here, but you will find lots of excellent street food, particularly around Mercado San Cosme. There are a couple of art galleries worth your time, including the contemporary art museum, Museo Experimental el Eco. Gentrification is slowly creeping in in the form of specialty coffee shops, but overall San Rafael feels like a refreshingly 'local' part of the city. San Cosme is the main metro stop.
Best Hotels in San Rafael
Staying in Santa Maria la Ribera
This compact, mostly residential neighborhood bordering San Rafael is centred on a tree-lined plaza, the Alameda, surrounded by food stalls with a loyal local following. The architecture is an interesting mix of down-at-heel, fin de siècle mansions, and modernist and art deco apartment blocks. It's an arty, up-and-coming place with a unique vibe. Low-key attractions include a geology/dinosaur museum and the National University's El Chopo Museum that showcases edgy installations by local artists. Other sights include small contemporary arts galleries and the Kiosko Morisco – a Moorish-style gazebo that hosts everything from rock gigs and poetry slams to ballroom dancing. Buenavista and San Cosme metro stops connect Santa Maria la Ribera to the rest of the city, and Centro's attractions are within walking distance.
Best Hotels in Santa Maria la Ribera
Staying in Greater Mexico City
There are several outlying neighborhoods in Mexico City that are worth a daytime visit but can be sketchy at night or not worth staying overnight in. To the northeast of Mexico City (though not technically part of the city) is the vast archaeological complex of Teotihuacan, one of the county's top Pre-Hispanic sights, complete with intact pyramids; it's well worth setting a day aside to go and see. At the very south of the city, head for Xochimilco, a gritty working-class neighborhood with a village feel and tiny alleyways, to take a flat-bottomed boat tour of the centuries-old canals, once used by the Aztecs as a means of transportation. South of Roma Sur, the residential Colonia Narvarte is known for its superb street food – particularly its taco stands. Adjacent to the southern border of the Centro Histórico, Colonia Doctores has a bit of a bad rep, but its Arena México is well worth a visit if you want to attend a lucha libre – Mexican freestyle wrestling – a unique and very local pastime. Mercado La Merced, just to the east of the Centro Histórico, is Mexico City's largest produce market for traditional food; it's also a red light district later on in the day.


See Also