Mexico › Acapulco
Updated: Febraury 28, 2022
See Also
It's hard not to love Acapulco, the grande dame of Mexican beach resorts. Set on the Pacific coast, the city lies on one of the loveliest bays in Mexico, along curves of sand backed by white tower blocks and the jungle-smothered hills of the Sierras beyond. Acapulco is best known for its wonderful beaches, watersports, and vibrant dining and nightclub scene.
Frequently Asked Questions about Acapulco
Where is Acapulco?
Acapulco is a city in Mexico, a resort, and port on the Pacific Ocean located in the state of Guerrero. Acapulco lies about 380 km south of Mexico City, and 1050 km southeast of Puerto Vallarta. Non-stop flights to Acapulco take 1 hour 15 minutes from Mexico City, 1 hour 50 minutes from Monterrey, and 3 hours 30 minutes from Tijuana.
How big is Acapulco?
Acapulco has a greater metro population of just over one million. The main city and busiest resort area stretch some 12km east to west around Acapulco Bay, curved like a giant seashell. Pristine beaches and smaller resorts fan out either side of the bay, from Pie de la Cuesta in the north to Playa Diamante to the south.
What is the history of Acapulco?
Acapulco has a long pre-Hispanic history, though little is known about the people who lived here before the Spanish (they are thought to have belonged to the Yope civilization of Tehuacalco). The conquistadors quickly established outposts here and had constructed a simple road between the port and Mexico City by 1531 (the official foundation date of the city is 1550). Acapulco flourished thereafter as a Spanish trading port, especially benefiting from the Manila Galleons that shipped precious Asian cargo across the Pacific from the Philippines – the last galleons sailed in 1815. Acapulco remained an important port once Mexico had gained independence, but its new role as holiday destination received a boost in the 1920s after a visit from Britain's Prince of Wales. By the 1950s, Acapulco had become Mexico's most fashionable international resort. Though it's lost some of its glamour in recent years, the city remains a favorite weekend and holiday destination, especially for Mexico City inhabitants.
How do I get to Acapulco?
Flying to Acapulco usually means changing planes in Mexico City; seasonal (winter) non-stop flights operate from Dallas, Houston, and Montréal, but the airport otherwise serves domestic routes only.
Within Mexico, first-class long-distance buses are an economical and comfortable alternative to flying – buses to Acapulco from Mexico City (4–5 hours) operate hourly.
What are the options for Acapulco airport transportation?
Acapulco's General Juan N. Álvarez International Airport lies along the coast, 23km southeast of the city. As always, ignore the timeshare sales staff and their offers of free rides on arrival, and make for the official transport kiosk. There are essentially just two options: a cheap shared "colectivo" shuttle bus that will drive to the Zócalo (main square) in the old center (and will drop off on route), and relatively expensive (but safe) taxis, controlled by the airport union. Taxi prices are set according to a zone system, with rates to most hotels ranging from 400 to 600 pesos. Taking the colectivo will cost 100 to 120 pesos, but can take much longer. It's worth checking in advance at the hotel, as they should also be able to arrange an airport pick-up.
Can I use Uber in Acapulco?
Uber currently does not operate in Acapulco. This may change in the future, but for now, regular taxis are the only option. Local taxi cartels have aggressively fought to keep Uber and other ride-sharing apps out of the city.
Can I drive to Acapulco?
It's possible to drive to Acapulco, but not recommended. Driving down from the US border is relatively straightforward, but the journey is relatively long and passes through some of the country's drug hotspots – driving at night is definitely a bad idea. A Mexican "Temporary Importation of Vehicle Permit" is needed. Acapulco is about 825 miles (1327 km) from Brownsville in Texas (at least 18 hours non-stop), almost 1600 miles (2575 km) from Nogales (Arizona), and almost 2000 miles (3219 km) from San Diego.
Do I need a car in Acapulco?
A car is not needed in Acapulco. Driving in the city can be a nightmare (it's often very congested, signage is poor and road layout is confusing), and it's relatively easy and cheap to get around by bus or taxi. It can be useful to have a vehicle to explore the coastline beyond the city – to Barra Vieja and Pie de la Cuesta for example – but these are also well-served by public buses. Driving rental cars is not a great idea as these are sometimes targeted by thieves, and getting into even a minor road accident can result in protracted encounters with non-English speaking police.
How do I get around Acapulco without a vehicle?
It's easy to explore the old town of Acapulco on foot, but to go any further, taxis or buses are needed. Hundreds of buses zip up and down the "Costera", the main road that runs along Acapulco Bay, and on to Playa Caleta; note that traffic is often very congested, and it can take an hour to travel the length of the bay. Most buses should be less than 10 pesos.
Taxis are also plentiful in Acapulco; it's important to fix the price before getting in. Most taxis operate on a zone system; hotels should have the current rates. All trips within the center, for example, should cost the same; trips into the next "zone" will be more. "Colectivo" taxis that can share passengers offer the cheapest rates (from just 25 pesos), but trips in private taxis start at around 100 pesos.
When is the best time to go to Acapulco?
May and June are the best time to go to Acapulco to avoid the worst of the crowds. The best weather (and the busiest season) runs from late November through to the end of April (when it's warm and dry), but many Mexican families also spend their vacations here in July and August, despite it being hurricane season. It's best to avoid Christmas and Easter when the beaches will be packed, and the Fall, when it's still usually humid and rainy.
What are the main resort areas in Acapulco?
Acapulco is a big city. The main focus is Acapulco Bay – most hotels line the "Costera" all the way from the Old Town on the west side of the bay to the mountains on the east side ("Las Brisas" or Punta Bruja) – though segments have different names, the whole bay is lined with one continuous strip of fabulous beach.
The bulging peninsula at the west end of the bay (just south of the Old Town) is known as Las Playas, home to the famous cliff-divers (at "La Quebrada") and smaller beaches such as Playa Caletilla and Playa Caleta. To the north lies the more rustic beach town of Pie de la Cuesta; to the south beyond Las Brisas lies the smaller bay of Puerto Marqués and the posher resorts of Punta Diamante and Playa Diamante. Finally, beyond here (some 30km from central Acapulco) lies the sleepy beach town of Barra Vieja.
What are the best beaches in Acapulco?
The main beach along Acapulco Bay is hard to beat – there are plenty of activities, food, and drink, but also lots of space for quieter lounging. For a party atmosphere head to the cramped but entertaining Playas Caleta and Caletilla, which are always buzzing with Mexican families and blaring music – sit at a shady beachside table and order cheap drinks from the bars behind. From here it's a short water taxi ride to Isla La Roqueta, a mostly undeveloped island where there's another clean, sandy beach great for swimming. Playa Puerto Marqués is generally calmer and better for families, without the big hotels.
For far fewer people and wilder beaches, head for Pie de la Cuesta, where horse rides along the sand are available, or just rent a deckchair and enjoy sensational sunsets. To the south, Playa de Barra Vieja is similarly undeveloped and wild.
Where should I stay in Acapulco?
First timers to Acapulco should aim for anywhere along the main bay (the "Zona Dorada" along the Costera). There are hotels in all price ranges here. There are some good options in Las Playas but it's a little cut off from the main action here, and beach options are limited. The bigger, more expensive resorts of Diamante are excellent, but are really outside the city proper – Pie de la Cuesta and Barra Vieja are even further away and staying here offers a totally different experience, only worthwhile for those seeking peace and quiet with just one or two day-trips into the city.
What are the best things to do in Acapulco?
As always, the best things to do in Acapulco are connected with the beaches; swimming, sunbathing, and various watersports. Other pleasures include dining, drinking, and clubbing – Acapulco's nightlife is famously wild. The best of Acapulco's party boats – offering sunset and moonlight cruises around the bay – is Aca Rey.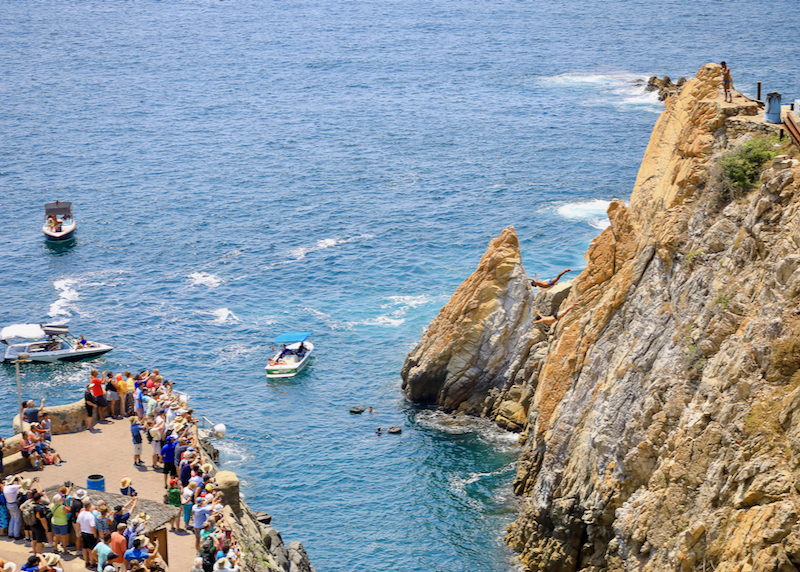 The one must-see in Acapulco is the celebrated cliff divers (clavadistas), who plunge 35 meters (115 ft) from the rocks of La Quebrada into the frothing waters below. It's especially dramatic at night when the site is floodlit (dives usually take place at 1pm, 7:30pm, 8:30pm, 9:30pm, and 10:30pm). Get there early to get the best view, or pay for a couple of drinks in the lobby bar at El Mirador Acapulco hotel, which is ideally located for watching the divers.
There's not much to see in the Old Town ("Centro Histórico"), though the Museo Histórico de Acapulco does a good job of charting the history of the city, especially the cross-Pacific trade with Asia. Art fans should visit La Casa de los Vientos (aka "Exekatlkalli" or "House of the Winds"), Diego Rivera's last home – it's where he lived with former model and partner, Dolores Olmedo Patiño, in the late 1950s. Stunning murals cover the outside walls, comprised of seashells and colored tiles. The house is now a cultural center, and usually open for tours and exhibitions.
What are the restaurants like in Acapulco?
Restaurants in Acapulco are extremely varied, ranging from classic Mexican street food to some of the best seafood and gourmet restaurants in the country. The cheapest eats can be found in the area around the Zócalo, while there's a lot more variety along the bayfront. For no-frills seafood, our favorite is local chain El Amigo Miguel (+52 744 486 2868). For something special, book a table at Restaurante Bellavista, inside Hotel Las Brisas, which offers mind-blowing views of the city as well as high-quality contemporary Mexican food. Further up the hill is Spanish restaurant Sirocco, the place to try local specialty Pescado a la Talla (whole, charred-grilled red snapper), and Zibu, the acclaimed Mex-Thai fusion restaurant from Eduardo Palazuelos.
How is the nightlife in Acapulco?
Acapulco is a big party town. Most clubs have one or two nights with an "open bar", a set price is paid to drink without limits. Clubs often change location (or at least names), but Palladium, high up on the slopes above the bay, is a local institution (the views alone are incredible). The other place to be is Baby 'O Acapulco down on the bayfront, which attracts the local upwardly mobile set. For live Mexican music, Latino rhythms, and Latin American-style dancing (salsa, merengue), it's tough to beat Mojito, further along the Costera. Clubs rarely get going till well after midnight.
What currency is used in Acapulco?
The Mexican peso (often prefixed with a "$" sign) is the currency of Mexico and Acapulco – most places will not accept US dollars. Most major shops and restaurants in Acapulco accept credit cards, but it is a good idea to have some peso cash on hand for bus trips and small purchases like bottled water and snacks. ATMs are easy to find in Acapulco, all along the bay. Banks (particularly Banamex) and casas de cambio (slightly poorer rates) are numerous along the Costera. The worst exchange rates can be found at the airport – use the ATM if possible.
Is Acapulco expensive?
Acapulco certainly contains luxury hotels, exclusive beach clubs, designer shops, and pricey bars and restaurants, but it's easy to visit Acapulco on a modest budget. This is primarily because of the sheer number of hotels on the waterfront – shop around to get bargain rates. There are plenty of cheap taco shops and Mexican diners along the bay also. All beaches are open to the public and free to visit, and buses are very cheap.
Is Acapulco safe?
It's safe for tourists. Acapulco is a big city, and does suffer from crime – take the usual precautions, especially at night (get hotels and restaurants to order taxis), and keep valuables in room safes. Theft of personal items from beaches does happen – never leave anything unattended.
Mexico's drug wars have also taken their toll on the city and the surrounding areas, but despite the headlines drug gangs rarely, if ever, target tourists, and the main, well-policed tourist areas of Acapulco are usually safe and violence-free.
Read More