Mexico › Puerto Vallarta
Updated: March 2, 2022
Puerto Vallarta Articles
Puerto Vallarta is a popular resort on the western, Pacific coast of Mexico, and one of our absolute favorite places to go in the country. Set on wide Banderas Bay – a favorite stop for migrating humpback whales – PV is best known for its wonderful beaches, tropical setting, charming old town, and vibrant watersports and nightclub scene.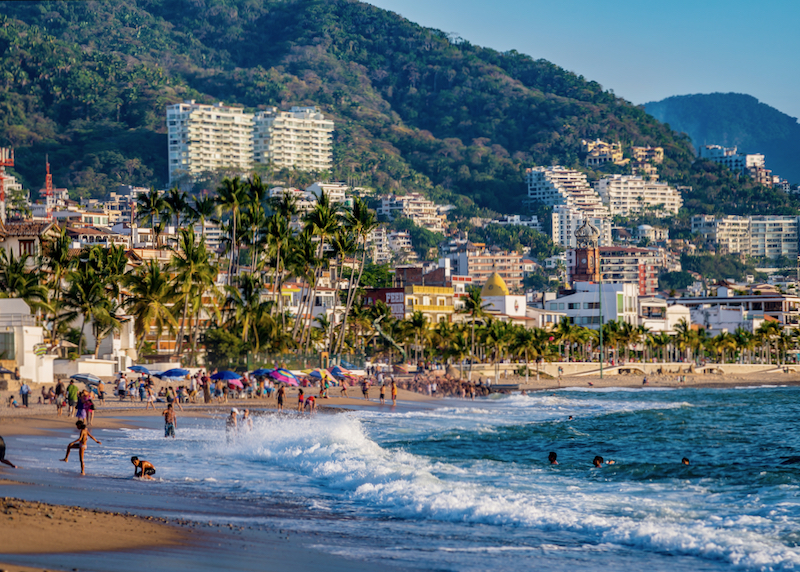 Frequently Asked Questions about Puerto Vallarta
Where is Puerto Vallarta?
Puerto Vallarta is a city in Mexico, a resort town on the Pacific Ocean located in the state of Jalisco (though its northern environs spill over into the state of Nayarit). Puerto Vallarta lies about 880 km west of Mexico City, 330 km west of Guadalajara, and 440 km south of Mazatlán. Non-stop flights to PV take 3 hours 25 minutes from San Francisco, 3 hours from Los Angeles, 2 hours 25 minutes from Houston, 2 hours 20 minutes from Phoenix, 1.5 hours from Mexico City and 40 minutes from Guadalajara.
How big is Puerto Vallarta?
Puerto Vallarta has a greater metro population of almost 380,000. The main city and busiest resort area stretch some 10km north to south at the center of vast Bahía de Banderas (Banderas Bay). Pristine beaches and smaller resorts fan out either side of this central zone – over 50km to the north, and 20km to the south by road, though the beaches continue westwards for another 30km, accessible by boat.
What is the history of Puerto Vallarta?
Puerto Vallarta was formally established in the 1850s as "Las Peñas", though there had been small settlements of fishermen and smugglers along the bay for decades before. Initially developed as a port and supply hub by the Union en Cuale mining company, the town was renamed in 1918, after Ignacio L. Vallarta, former governor of Jalisco. It was a relatively sleepy place until the 1960s when the town was developed as an international resort by the Mexican government. Transportation links were improved, and tourism got a boost from John Huston's The Night of the Iguana, starring Richard Burton, which was filmed in 1963 in Mismaloya, 10km south of central PV (Huston lived here until his death in 1987).
How do I get to Puerto Vallarta?
Puerto Vallarta is connected to the US and Canada by numerous non-stop flights; trips take anywhere from 2 hours 25 minutes to 8 hours, depending on the destination. Most domestic flights link PV with Guadalajara and Mexico City.
Within Mexico, first-class long-distance buses are an economical and comfortable alternative to flying – buses to Guadalajara (6 hours) and Mexico City (14 hours) operate hourly. PV's Terminal de Autobuses (bus station) is around 12km north of the Old Town, off the main highway. Upon arrival, it's best to take a taxi to the hotel – these follow a fixed-rate system, with the current rates displayed at the exit, but always confirm the cost before getting in.
What are the options for PV airport transportation?
Puerto Vallarta's airport lies 10km north of the Old Town on the coastal highway (Hwy-200). Travelers with luggage should just get a taxi. Uber is available in PV, and presuming your mobile phone works in Mexico and has roaming, Uber rates tend to be 50 to 75 percent cheaper than the official airport taxis. However, Uber drivers are not allowed to pick-up from the airport (though they can drop off). Instead, depart the terminal, walk towards the highway and turn left – Uber cars can stop below the pedestrian bridge here. Cheap (less than US$1 in pesos) but crowded buses also run up and down the highway here, but these are only recommended for visitors with little luggage. Buses going south are marked "Olas Altas" or "Centro"; for destinations to the north, cross the footbridge and look for buses marked "Punta de Mita". The other side of the footbridge is also where to pick up local taxis – these will be around 30 percent cheaper than airport taxis but fix the price before getting in.
If none of that appeals, splash out on an official airport taxi. Pay for these at kiosks outside the terminal – rates are tied to a zone system: US$17 (roughly 380 pesos) for Marina Vallarta; US$18 (400 pesos) for the Old Town/Zona Romántica; US$25 (550 pesos) for Nuevo Vallarta; and US$30 (670 pesos) for Mismaloya and Bucerías. All the major car rental firms have desks at the airport.
When is the best time to go to Puerto Vallarta?
Puerto Vallarta is at its best mid-April to June and October. April through June has the best weather; May and June have the best hotel deals, and October/November has the best water for snorkeling and diving. The rainy season usually runs late June into October.
What are the main resort areas in Puerto Vallarta?
The city of Puerto Vallarta itself remains the main focus of resorts on the Bay of Banderas, with the Old Town in the center marking a convenient break between north and south. To the north, the "Zona Hotelera" fronts a long swath of beach up to the upscale Marina Vallarta development, while to the south lies the "Zona Romántica" and Playa de los Muertos, the most fun city beach. Beyond these built-up city beaches, the bay features several other resort areas with good links to central PV. North of Marina Vallarta, over the state line in what is dubbed the "Riviera Nayarit", the bay curves for 30km to upscale Punta de Mita via Nuevo Vallarta and Bucerías. To the south, the coast road passes a series of enticing coves and beaches ending at Mismaloya – from here, small water taxis zip along the coast to Yelapa, stopping at remote beaches along the way.
What are the best beaches in Puerto Vallarta?
Our favorite beaches in Puerto Vallarta are Playa Caballo, a short water taxi ride from Boca de Tomatlán, with a tranquil setting, great sand, palm trees, and wonderful swimming; and Playa Colomitos, which has a real "hidden beach" feel (also accessible by boat or jungle trail). Playa de los Muertos in town has the deserved reputation for partying and a vibrant nightlife, as well as a growing LGBT scene. Playa Conchas Chinas and Playa Palito Verde are perfect for beach lovers looking for a quieter, more relaxed experience. For watersports, take a water taxi to Las Caletas or Las Ánimas.
Do I need a car in Puerto Vallarta?
Unless exploring along the edges of Banderas Bay, a car is not necessary in Puerto Vallarta. The city beaches are all easily accessible on foot or by taxi; the beaches to the south along the highway are easy to reach by cheap, regular buses from the Old Town, as well as by taxi. Beyond Boca de Tomátlan, travel is only by water taxi anyway.
The beaches to the north are strung out along 50km of coastline, so a car can save time here if the intent is to visit several. Cheap, local buses trundle up and down the coast all the way to Punta de Mita, but they can be frustratingly slow, and taxi rates are expensive for trips from PV beyond Nuevo Vallarta.
How do water taxis work in Puerto Vallarta?
Beaches south of Boca de Tomátlan can only be accessed by boat (or stiff hikes through the jungle). Water Taxis from Boca run to Las Ánimas (around 50 pesos; 10min) and Yelapa (around 80 pesos; 30min), but always check current schedules at the dock. More expensive water taxis depart Playa de los Muertos in the Zona Romántica, usually hourly in high season, for the same destinations. Private boats are also available, but these cost a lot more.
Buses to Mismaloya (20–25min) and Boca de Tomátlan (another 10min) depart from the Zona Romántica every 10–15min.
Where to change money in Puerto Vallarta?
Try to use ATMs to withdraw peso cash in PV (check with the bank before leaving to confirm it's possible to use a debit card and how much they will charge – using credit cards can incur interest and fees). Otherwise, banks and cash exchange booths in the city tend to give better rates than anything at the airport.
Where should I stay in Puerto Vallarta?
For most travelers, the best places to stay in Puerto Vallarta are along the two main city beach areas – the Zona Hotelera and the Zona Romántica – for a good mix of sunbathing, dining, nightlife, and exploring, with a wide range of hotel prices from luxury to budget. These areas are well-connected to each other by bus or taxi, and within the areas themselves, everything is just a short walk away. Travelers looking to get away from the crowds may enjoy the more remote Mismaloya or Yelapa, or quieter strips near Nuevo Vallarta and Bucerías.
What are the best things to do in Puerto Vallarta?
The best things to do in Puerto Vallarta are connected with the beaches; swimming, surfing, sunbathing, and various watersports. Other pleasures include dining, drinking, and shopping – particularly the growing number of art galleries – in the Old Town, admiring the views and statues on the Malecón, visiting the main church, the Templo de Nuestra Señora de Guadalupe, perusing the Mercado Municipal del Cuale, aka the Flea Market, and paying homage to John Huston's statue and the small museum on the Isla Río Cuale, in the middle of the river that divides the Old Town and the Zona Romántica. Boats depart Mismaloya for snorkeling to Los Arcos, a group of tiny islets surrounded by an underwater reserve, and everyone should take a water taxi to visit the remote beaches south of Boca de Tomatlán. For a break from all things saltwater, take a taxi or bus to the tranquil Vallarta Botanical Gardens in the hills above Boca de Tomatlán or take a zipline ride with Los Veranos Canopy Tour or Canopy River.
Taking a guided tour is a great way to get to know the region beyond the city and the beaches. Some of our favorite PV tours include the cruises operated by Puerto Vallarta Tours and Vallarta Adventures, while Chico's Dive Shop operates excellent snorkeling and dive trips to the nearby underwater reserve.
What are the restaurants like in Puerto Vallarta?
The restaurants in Puerto Vallarta are extremely varied and international. Along the main beaches and in the Old Town are classic beach bar/restaurants such as Daíquiri Dicks with its "Pescado Vallarta" (whole grilled fish served on a stick), and Joe Jack's Fish Shack, as well as gourmet restaurants such as Chef Thierry Blouet's French-styled Café des Artistes, and Mediterranean specialist Trio. Further inland are no-frills taco stands popular with locals that are not to be missed.
What currency is used in Puerto Vallarta?
The Mexican peso (often prefixed with a "$" sign) is the currency of Mexico, though many hotels in Puerto Vallarta will quote rates in US dollars. Most major shops and restaurants in PV accept credit cards, but it is a good idea to have some peso cash on hand for bus trips and small purchases like bottled water and snacks. ATMs are easy to find in PV and along the bay. Note that although US dollars (cash) are accepted in some shops, taxis, and restaurants, change will usually be given in pesos at a poor exchange rate – it's best to use pesos.
Is Puerto Vallarta expensive?
Puerto Vallarta certainly contains luxury hotels, exclusive beach clubs, designer shops, and pricey bars and restaurants, but it's easy to visit PV on a modest budget. To save cash, simply choose hotels and local restaurants that are not directly on the water. All beaches are open to the public and free to visit, buses and water taxis are very cheap, and budget Airbnb deals are also a viable option all along the bay.
Is Puerto Vallarta safe?
Yes. Puerto Vallarta has generally avoided the drug violence that has affected other parts of Mexico. Take the usual precautions, especially at night, and keep valuables in room safes. Theft of personal items from beaches does happen – never leave anything of value unattended, even on seemingly empty stretches of sand.
Read More