Mexico › Puerto Vallarta › Best Places to Stay
Updated: January 11, 2023
See Also
Best Areas to Stay in Puerto Vallarta
Stretching for miles along the Bahía de Banderas and surrounded by mountains covered in lush greenery, Puerto Vallarta (or just 'Vallarta' to locals) is one of Mexico's most vibrant beach destinations along the Pacific coast. Vallarta's been attracting tourists since the 60s, when Hollywood royalty starred in Tennessee Williams' Night of the Iguana at a nearby cove. Today, millions of vacationers come every year to sun themselves on the string of attractive white-sand beaches, take in the fantastic dining scene, peruse the local art in quirky galleries and stores, and to wander the attractive malecón (beach promenade) and the cobbled streets of the historic center. More active travelers seek out adventure activities such as boat trips, horseback rides, scuba diving, and day trips to the interior. When the sun goes down, the pumping nightlife reminds you why Vallarta is the LGBT capital of Mexico. While Vallarta is rather spread out, the proliferation of local transport and taxis makes it easy to get around, and the central neighborhoods are very walkable.
Puerto Vallarta stretches for around 10 miles along the coast, from the international airport in the north to hilly Amapas at the very south of the town. In the southern part of the city, El Centro is Vallarta's historic heart, consisting of a compact grid of narrow streets and centuries-old plazas, with colorful architecture and some hilly cobbled lanes. It's fringed by the malecón (waterfront promenade) and is known for its waterfront bars and restaurants, art galleries, and craft markets, and is extremely popular with visitors.
Just south of El Centro, across the Rio Cuale is the Zona Romántica, another historic neighborhood with cobbled streets and traditional shops. The streets closest to the beach have a hipster vibe about them and are dotted with craft beer breweries, bars, and restaurants, while the streets east of Calle Insurgentes have a more local feel to them. Zona Romántica is home to the Playa Los Muertos, one of Vallarta's most popular beaches, lined with (mostly) midrange hotels, and the bustling nightlife makes this neighborhood a favourite with LGBT travelers.
South of the Zona Romántica and overlooking the southern end of Playa Los Muertos, Vallarta becomes a narrow squiggle of quiet, hilly streets known as Amapas, peppered with luxury villas and a handful of decent hotels. Even farther south is Conchas Chinas, a spread-out, affluent residential neighborhood with villas high up on the hillside.
In the northern half of the city, stretching between the north end of the malecón in El Centro and the sporting complex at the southern end of the Zona Hotelera, the largely residential neighborhood of 5 de Diciembre is quieter than Centro or the Zona Romántica, but easily walkable to the former and a short hop on a bus from the latter. It features the same Old-World architecture as Centro as well as some of the best taco stands in Vallarta, great bars and restaurants, and quality craft stores.
The Zona Hotelera is a rather spread-out neighborhood that straddles both banks of the River Pitillal and consists of a long stretch of beach dotted with hotels, many of them all-inclusive. At the name suggests, this is a popular part of town for visitors. There are a handful of restaurants here, but the dining scene is otherwise limited to hotel dining.
Near the international airport at the very north of the city and just north of the Zona Hotelera is the Marina Vallarta – one of Vallarta's most upscale neighborhoods that encircles the yacht marina. It's the newest part of the city, with a brand new cruise ship terminal, plenty of luxury accommodations, and an international dining scene.
Farther north, beyond the airport, Nuevo Vallarta is home to Vallarta's second cruise ship terminal, a clean yacht marina that attracts wildlife, 2 golf courses, and a mix of beachfront hotels and luxury condos.
Best Places to Stay in Puerto Vallarta
Where to Stay in Puerto Vallarta for…
Best Neighborhoods in Puerto Vallarta for Sightseeing/Activities: El Centro, Zona Romántica, Zona Hotelera, Marina Vallarta
Puerto Vallarta is not huge on sights, though its landmark Nuestra Señora de Guadelupe church in El Centro is worth a look, and if you're interested in regional history, it's worth checking out the Museo del Cuale. El Centro's most popular sight is the malecón, the renovated, pedestrianized waterfront promenade compete with sculptures; at the north end, you're likely to catch a daily performance by some Voladores de Papantla ("Aztec bungee jumping" probably describes it best!). Vallarta is mostly known for its beaches and outdoor pursuits – world-class golfing in Marina Vallarta, deep-sea fishing (arranged dockside in Marina Vallarta or through hotels and agencies), plus all manner of watersports (snorkeling, whale-watching, scuba diving, deep-sea fishing, waterskiing, windsurfing, sailing, and parasailing) that you can arrange on the beach in the Zona Hotelera or Zona Romántica or through your hotel. Finally, the Zona Romántica pier is the departure point for popular cruises (daytime, sunset, and evening), the most popular going to Yelapa and Las Ánimas beaches, or else Islas Marietas); some are family-oriented, whereas others are adults-only and include bottomless cocktails in the price.
Best Neighborhoods in Puerto Vallarta for Nightlife: Zona Romántica, El Centro, Marina Vallarta
Vallarta's Zona Romántica is internationally renowned for its nightlife and its LGBT+ nightclubs and bars in particular that attract a young crowd of locals and visitors alike. Aside from clubbing, this is also the part of town where you'll find Vallarta's excellent craft beer breweries and brewpubs such as Los Muertos Brewing and Panchöfurter. In El Centro, there's a string of bars either overlooking or near the malecón, ranging from sports bars (The Redneck Sombrero, Murphy's Irish Pub) to bona fide cocktail bars (El Colibiri) and even dedicated mezcalerias (bars specializing in mezcal) such as Bar Morelos. Finally, the Marina Vallarta has a handful of cocktail and sports bars overlooking the marina, popular with international yachties and well-heeled locals.
Best Neighborhood in Puerto Vallarta for Food and Restaurants: El Centro, 5 de Diciembre, Zona Hotelera, Marina Vallarta, Zona Romántica
You're likely to eat well wherever you stay in Vallarta. In the north of the city, Marina Vallarta boasts an international dining scene with standout options including Sonora Prime and Portobello. While the Zona Hotelera's dining scene is largely limited to hotel restaurants, there are 2 Michelin-starred restaurants in the neighborhood as well: La Leche and Icu. Just north of Vallarta's center, 5 de Diciembre particularly stands out for its legendary taco stands (Pepe's Taco, El Carboncito, Mariscos La Tia) and mid-range traditional restaurants (La Traviata, Meño's Place). El Centro has a good mix of speciality coffee shops (Puerto Café), hole-in-the-wall taco joints (El Banquito) and a wide range of Mexican and international cafes and restaurants in all budget ranges: Café des Artistes, Chez Elena, and Planeta Vegetariano are all excellent choices. Finally, the Zona Romántica has probably the most diverse dining in Vallarta, ranging from independent coffee shops (A Page in the Sun) and locally famous taco stands that each do one or two things really, really well (Pancho's Takos, Tacos de Birria Chanfay, Marisma Fish Taco) to traditional Mexican restaurants (Mole de Jovita, Red Cabbage Café) and international joints (La Palapa, Joe Jack's Fish Shack).
Best Neighborhood in Puerto Vallarta for Families: Zona Hotelera, El Centro, Zona Romántica, Marina Vallarta
If you're looking for a beach holiday with all the conveniences and facilities of an upmarket or midrange, all-inclusive, family-friendly oceanfront hotel with a choice of water sports, then the accommodations of the Zona Hotelera overlooking either the Playa del Oro or Playa del Holi are a good bet. The high-end beach hotels of Marina Vallarta are another good option. Zona Romántica also makes a good base if you have older kids and enjoy exploring on foot; a number of family-friendly hotels sit right on the excellent Playa de Los Muertos, which is also the jumping-off point for a variety of boat trips. Finally, El Centro is good for travelers on a budget and the waterfront promenade with its street performers and sculptures is popular with families.
Best Neighborhood in Puerto Vallarta to Stay for First Timer: El Centro, Zona Romántica
We recommend either El Centro or the Zona Romántica. The former is the most atmospheric part of Vallarta and very walkable, with an excellent mix of dining, quality shopping, an attractive waterfront promenade and a super-central location. The Zona Romántica is also part of Vallarta's historical center and makes up for what it lacks in atmosphere with an excellent beach, several watersports, a thriving nightlife scene, and a diverse dining scene. And since the 2 neighborhoods are next door to each other, you can easily stay in one and visit the attractions of the other on foot.

Boat tours and water taxis to southern beaches depart from the Los Muertos pier in the Zona Romántica.

Most Romantic Neighborhood in Puerto Vallarta: El Centro, Amapas
Its name notwithstanding, the Zona Romántica is actually not Vallarta's most romantic neighborhood (though it does retain some of its historic cobbled streets and is a popular part of the city with vacationing couples). El Centro is much more atmospheric, with its narrow cobbled streets, leafy plaza overlooked by a landmark church, handsome colonial buildings, and a sensitively revamped waterfront promenade that's subtly lit in the evenings. Some of the city's best boutique hotels occupy the houses and mansions that are drowning in greenery on the hilly streets several blocks inland from the malecón, though if you're after greater luxury and even loftier views, then Amapas is a better bet. The upside (or downside) is that Amapas is much more secluded.
Best Neighborhood in Puerto Vallarta for a Local Vibe: 5 de Diciembre
Just north of El Centro, easily walkable, and well-connected to Vallarta's areas of interest by public transport, 5 de Diciembre has a low-key, bohemian vibe. It's quieter than the historic center but still boasts a clutch of good, low-key bars and restaurants, and its tight grid of streets is lined with colorful, one-story buildings. The taco stands here are among the best in the city, but accommodations are limited to several inexpensive beachfront hotels and a handful of family-run guesthouses.
Best Neighborhood in Puerto Vallarta for Shopping: El Centro, Zona Romántica
Mexico produces an astounding range of regional handicrafts, from exquisite ceramics and vibrant artwork to intricate jewelry and fine textiles, and in Puerto Vallarta you'll see a lot of psychedelic Huichol beadwork and yarn art of varying quality, as well as arts and crafts from farther afield. El Centro has around a dozen galleries where you can buy high-quality art; standouts include Galeria Colectika (psychedelic Huichol beadwork and yarn art), metalwork from Chiapas and ceramics from Oaxaca and Chihuahua, Galeria de Ollas (one-of-a-kind ceramics from Mata Ortiz in Chihuahua), Peyote People (Huichol beadwork, silver jewelry, Day of the Dead figurines, and Oaxacan wood carvings), and Caballito de Mar (hand-woven textiles from Oaxaca, Michoacán, and Chihuahua, hand-painted folk art masks, Oaxacan black clay ceramics, silver jewelry). In the Zona Romántica, look out for Tierra Huichol (Huichol beadwork of superb quality, plus skeletal figures from Michoacán), Mundo de Azulejos (locally-produced, colorful Talavera tilework), and the Manyana lifestyle store (Mexican-made ceramics, stylish linen wear, funky glasses, Mollusc Hemp t-shirts). If you're looking for cheap souvenirs such as mass-produced crafts and spring break T-shirts with cheesy slogans, head for the Mercado Isla Río Cuale on an island in the river that separates El Centro from the Zona Romántica.
Safest Areas of Puerto Vallarta
Puerto Vallarta has a low crime rate and all neighborhoods popular with tourists such as El Centro, Zona Romántica, Dorada, Olas Altas, Playa Norte, Sábalo, etc, tend to be fine to walk around. Zona Hotelera and Marina Vallarta are safe, particularly during the day. Standard precautions apply: don't flash lots of cash, expensive jewelry, or electronic gear, and avoid deserted, poorly-lit streets at night; take a taxi back to your hotel if you're not within easy walking distance and the streets are deserted. Also, watch out for opportunistic pickpocketing in crowded areas.
Unsafe Areas of Puerto Vallarta
There are no specific neighborhoods in Vallarta that visitors should actively avoid. Of course, use common sense late at night, on unlit and quiet streets. Do not buy or sell drugs no matter how small the amount or innocuous the setting.
The Best Areas in Puerto Vallarta for Tourists
Stretching from the Rio Cuale in the south to the northern end of the palm tree-dotted malecón (oceanfront walk), El Centro is Vallarta's downtown – a busy, relatively compact, walkable neighborhood where you'll find everything from a diverse clutch of restaurants to art galleries, shops, nightclubs, and the historic plaza with a landmark church. The further you get from the sea, the hillier the streets get, with the profusion of vegetation hiding intimate boutique hotels and high-end restaurants. Refurbished and beautified in recent years, the malecón features contemporary sculptures, creations made of sand, street musicians, and other performers. Towards the north end, the Voladores de Papantla perform a breathtaking spectacle involving a very tall pole and costumed dancers launching themselves from the top, precariously attached with a rope tied to one foot. If you're in search of Mexican arts and crafts of superb quality, El Centro has the lion's share of galleries and shops, and during high season, the galleries put on a free weekly Art Walk. Cheaper souvenirs are found at the big market next to the Rio Cuale, as well as on the island market in the river. El Centro is quite a busy, noisy neighborhood that attracts both younger locals and visitors with its nightlife, but there are quieter pockets with inexpensive accommodations that appeal to families who enjoy being close to the action.
Bordered by the Rio Cuale to the north and east, and the cliffs of Amapas to the south, the Zona Romántica is one of Vallarta's most popular neighborhoods for visitors and justifiably so. It's part of the historic center, so you get some cobbled street charm alongside two great beaches (Olas Altas and Los Muertos), a thriving night scene year-round (since the Zona Romántica is popular with locals and expats as well as spring breakers and LGBT visitors), a varied dining scene, and accommodations to suit all budgets. The sail-shaped Los Muertos pier is the departure point for all manner of boat cruises and the beachfront hotels offer several water sports. The western half of the neighborhood is trendy and dotted with boutiques, art galleries, craft beer bars, and clubs, whereas the blocks between Hwy 200 and the Rio Cuale are much more of a local scene with bustling produce markets, locally famous taco stands, and busy local businesses.
Just south of the Zona Romántica, Vallarta tapers to a point and the Playa de Los Muertos gives way to jungle-covered cliffs and quiet, affluent, mostly residential neighborhoods of Amapas and, farther south, Conchas Chinas. Amapas is a mix of beachfront and hillside villas, and several beachfront hotels – all within an easy (if hilly) stroll from the attractions of the Zona Romántica. Conchas Chinas, dubbed the "Beverly Hills of Puerto Vallarta" is even more exclusive; accommodations here tend to be luxury villas for rent, plus several luxury hotels, with fantastic views of the coast from their lofty heights. South of Conchas Chinas, a string of hotels and villas dots the coast for miles, right up to the Playa Mismaloya, the beach and fishing village which featured in the movie The Night of the Iguana that originally put Vallarta on the map.
A compact grid of streets hemmed in between the Playa Camarones and the busy Av. Libramiento thoroughfare, the neighborhood of 5 de Diciembre sits between El Centro and the Zona Hotelera. This up-and-coming neighborhood has a bohemian vibe to it and comprises Vallarta's famous Old-World architecture – narrow cobbled streets and brightly painted one and two-story houses, and the hillier parts of 5 de Diciembre offer fantastic views of the coast. It's quieter and less touristy than El Centro and the Zona Romántica, yet still close enough on foot to enjoy the best that the historical center has to offer. There's a decent beach here, as well as terrific street food and a lively fish market with food stalls. The handful of accommodations comprises several midrange beach hotels as well as intimate AirBnb options.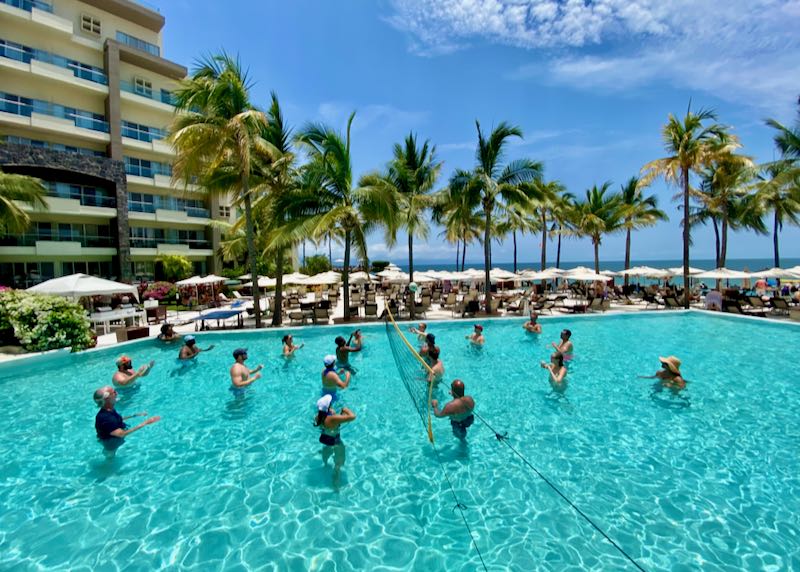 Stretching along five golden sand beaches between 5 de Diciembre and the Marina Vallarta, the Zona Hotelera is a spread-out neighborhood with the lion's share of beach hotels in Vallarta. Created in the mid-20th century in order to attract beach tourism to Vallarta while preserving the colonial architecture of the historic center, the hotels and condos of the Zona Hotelera offer fantasic views over Banderas Bay. Superb beaches and water sports aside, the Zona Hotelera also features two of Vallarta's Michelin-starred restaurants, though on the whole, much of the neighborhood dining scene is limited to hotel restaurants.
At the very north of the city, and just south of to the international airport, Marina Vallarta is one of the city's fanciest neighborhoods. Besides the cruise ship terminal and a large yacht marina, there's a state-of-the-art 18-hole golf course, two excellent beaches, high-end beach hotels, and a slew of international restaurants and bars. North of the airport, Nuevo Vallarta is the city's fastest-growing neighborhood popular with well-heeled expats. There's another cruise ship terminal here, 2 world-class golf courses, luxury condos, a clutch of midrange beach hotels, and arguably Mexico's cleanest marina, where you can spot wildlife like pelicans, herons, and the occasional crocodile. Water sports are a big attraction in Nuevo Vallarta, with scuba diving, paddle boarding, surfing, kayaking, and kite surfing instruction and equipment available. The downside is that Nuevo Vallarta is quite far from the historic center and Vallarta's cultural attractions; while Marina Vallarta is well-served by public transport, for Nuevo Vallarta you need your own wheels.
Read More