Mexico › La Paz
Updated: February 28, 2023
Best Hotels in La Paz
• Seven Crown
• Posada De Las Flores
• Hotel Catedral La Paz
• Costa Baja Resort & Spa
• Seven Crown Malecón
Laid-back La Paz is often overlooked by visitors in favor of the resorts of Los Cabos, but it's one of our favorite small Mexican cities. Its waterfront malecón is one of the country's most attractive, the surrounding beaches are sensational, nearby Isla Espíritu Santo is rich in marine life, and the local restaurants – especially the fish taco stalls – are surprisingly good.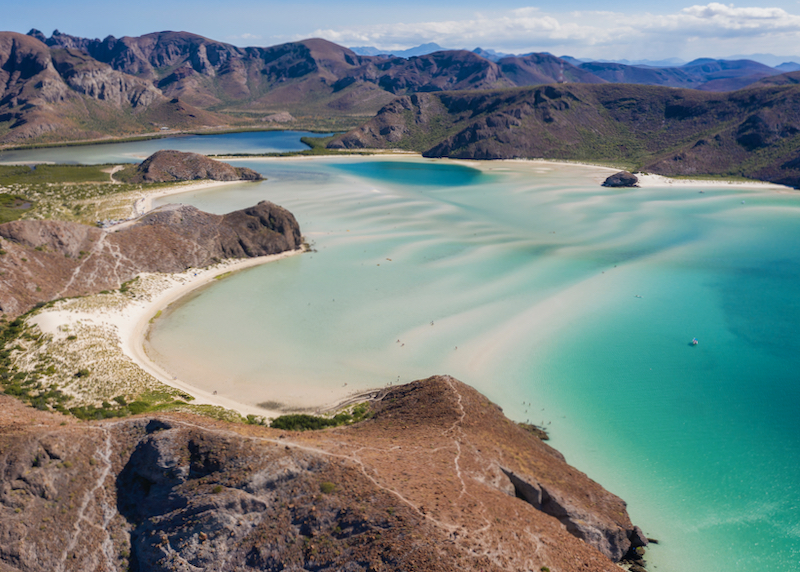 Frequently Asked Questions about La Paz
Where is La Paz?
La Paz – not to be confused with the capital of Bolivia – is the capital of the Mexican state of Baja California Sur, facing the Sea of Cortez (Gulf of California). La Paz lies about 1470 km south of Tijuana and the US border, 150 km north of Cabo San Lucas, and over 1600 km northwest of Mexico City. Non-stop flights to La Paz take 1 hour 45 minutes from Tijuana, and 2 hours from Mexico City.
How big is La Paz?
La Paz has a greater metro population of just under 300,000 people. The city stretches for some 11km along the Bay of La Paz, part of the Sea of Cortez (Gulf of California).
What is the history of La Paz?
Originally the home of the indigenous Pericú people, the Spanish had little success colonizing the area around La Paz. Jesuit priests Juan de Ugarte and Jaime Bravo established a mission here in 1720, but it was abandoned 28 years later. La Paz didn't really develop as a city until Mexico became independent, becoming the de facto capital of southern Baja in 1833. It grew rapidly thereafter, thanks to nearby silver mines, and a major pearl-fishing industry. American troops occupied the town in 1847 during the Mexican–American War, and in 1853 it was again invaded, this time by the US "filibuster" William Walker in one of his many attempts to create a Central American kingdom (he was quickly expelled by the Mexicans).
John Steinbeck sailed to La Paz in 1940, a trip he recorded in The Log from the Sea of Cortez (he also based his novel The Pearl here), but by this time the pearl trade had almost completely collapsed, most likely due to disease among the oysters. Since the 1960s La Paz has flourished again as capital of the Baja California Sur, and also because of recreational fishing, pioneered by the likes of John Wayne and Bing Crosby.
How do I get to La Paz?
La Paz has a small airport with flights to major cities in Mexico, as well as seasonal (winter) flights to Dallas and Phoenix. From southern California, it's easiest to fly non-stop from Tijuana, just across the border – from Europe and the rest of the world most flights route through Mexico City. From the airport taxis charge around 300 pesos into the city center – there's not much alternative to this.
La Paz is also a short (2hr 30 minutes) bus or car ride from the resorts of Los Cabos, making it a popular day-trip.
Because of its relatively remote location, getting here overland can be very time-consuming. First-class long-distance buses run down the Baja peninsula from Tijuana (at least 24 hours), though these can be infrequent. Car ferries from Mazatlán can save time if driving from central Mexico. See Baja Ferries.
Can I use Uber in La Paz?
Uber does operate in La Paz (assuming phones have roaming, and the app works), but drivers are usually reluctant to pick-up from the airport due to hostility from the airport taxi union. However, it's possible to get an Uber back to the airport for as low as 100 pesos. Once in the city, getting an Uber should be no problem, and can be cheaper than regular taxis.
Can I drive to La Paz?
It is possible to drive to La Paz. Driving down from the US border is relatively straightforward, and plenty of Americans and Canadians take their own vehicles – the main highway is good, virtually empty outside the towns, and is fairly safe (though driving at night should be avoided). There are many Mexican army checkpoints along the way, but tourists are usually waved through without problems. It's important to fill up whenever a gas station is seen however and plan accordingly. The drive from Tijuana is over 1480 km (920 miles) and takes around 21 hours non-stop – most folks break the journey into two or three days. Another plus: foreign vehicles do not need a Mexican "Temporary Importation of Vehicle Permit", as long as they stay on the Baja peninsula.
If renting a vehicle, it's much easier to do this once across the Mexican border, as taking US rental vehicles into Mexico comes with all sorts of restrictions.
Do I need a car in La Paz?
It is not necessary to rent a car in La Paz. It's relatively easy and cheap to get around on foot, by bus or taxi. It can be useful to have a vehicle to explore the coastline beyond the city – to Playa Balandra and Playa Tecolote for example – but these beaches are also served by public bus and taxi/Uber. Rental cars are easily arranged through the hotel or at the rental company offices along the waterfront.
How do I get around La Paz without a vehicle?
Most of the center of La Paz can be explored on foot, or call an Uber or take a local taxi. There are taxi stands on the malecón (bayfront) in front of Seven Crown hotel and next to the cathedral on the plaza. Set the fee before getting in – most trips in the city should be 50 to 80 pesos. Local buses charge a flat fare of 10 pesos but are unlikely to be needed.
When is the best time to go to La Paz?
La Paz beaches are at their best from November through May when there's great weather (and whale-shark watching). La Paz experiences broiling hot summers that are best avoided – also skip Christmas and Easter, to avoid the crowds of local tourists.
What are the best beaches in La Paz?
The best beaches of La Paz are a short ride north of the city center but are definitely worth the effort. Our favorite is Playa de Balandra (27km north of La Paz). It's a superb option for families, featuring a sheltered, shallow bay (no more than waist deep) and warm water for swimming and snorkeling. Rent kayaks and shelter under small palapas (palm shelters) set on the beach.
Playa de Tecolote, another 2km north from Balandra, offers fine sands and excellent snorkeling right off the beach. Unlike Balandra, this is a long, straight strip, facing Isla del Espíritu Santo and the open Sea of Cortez. There are also lots of places to eat and drink here, with a party atmosphere at weekends.
Take the bus to both beaches from the main terminal on La Paz bayfront; it costs around 50 pesos and departs on the hour between 10 am and 5 pm (on the way back the last bus leaves the beaches around 6:30 pm). Taxis also shuttle back and forth from the beaches, though Uber is a little cheaper – around 150 pesos each way to Baladra and a little more to Tecolote. The best beach within hiking (or at least biking) distance of the city center is Playa El Coromuel (4km north of the center). It's a small but beautiful beach with a long pier, palapas, a few places to eat, and even a giant water slide.
Where should I stay in La Paz?
First timers to La Paz should aim for anywhere along the waterfront malecón, close to the action and well located to enjoy the city's celebrated sunsets. There are hotels in all price ranges here. We like the modern Seven Crown, which has a fabulous rooftop bar and chic rooms. For something special try the Posada De Las Flores.
What are the best things to do in La Paz?
Other than checking out the nearby beaches, La Paz makes a good base for exploring the rich marine life in the Sea Cortez. We recommend taking a boat trip out to uninhabited Isla Espíritu Santo; snorkeling trips off the island usually encounter sea lions, dolphins, manta rays, and, depending on the time of year, fin whales – between November and March its possible to swim with whale sharks. Recommended operators include Baja Outdoor Activities, Funbaja, and the Cortez Club at La Concha Beach Resort, especially for diving.
On land, spend some time strolling the bayside malecón, one of the most attractive in Mexico, with sensational views of the mountains across the water, especially at sunset. The city's simple cathedral, the Catedral de Nuestra Señora de la Paz, lies on Plaza Jardín Velasco (aka Plaza Constitución), three blocks inland. Nearby, the Museo Regional de Antropología e Historia is the best place to learn about the region's history.
What are the restaurants like in La Paz?
Eating – especially seafood –is excellent in La Paz. Cheap Mexican street food and fresh fruit juice is sold at Mercado Francisco Madero on Revolución de 1910 (at Degollado), while the popular stand known as Taquería Hermanos González (Lerdo de Tejada, at Madero) serves some of the best fried fish and shrimp tacos in Baja California. Other favorites for fish tacos and seafood include Bismark-Cito on Obregón (at Hidalgo y Costilla), and Mc-Fisher at Morelos y Pavón 965. The best place for coffee is hip contemporary café Doce Cuarenta at Madero 1240, while La Fuente (on the bayfront) serves fabulous home-made ice cream.
What currency is used in La Paz?
The Mexican peso (often prefixed with a "$" sign) is the currency of Mexico and La Paz – most places will not accept US dollars. Most major shops and restaurants in La Paz accept credit cards, but it is a good idea to have some peso cash on hand for bus trips and small purchases like bottled water and snacks. Most banks and ATMs are on 16 de Septiembre near the waterfront and generally give better exchange rates than casas de cambio.
Is La Paz expensive?
La Paz in not really expensive. Hotels are generally good value, even near the waterfront – shop around to get bargain rates. There are plenty of cheap taco shops and Mexican diners along the bay also. All beaches are open to the public and free to visit, and transportation is relatively cheap.
Is La Paz safe?
Yes. La Paz has generally avoided the drug violence that has affected other parts of Mexico. Take the usual precautions, especially at night, and keep valuables in room safes. Theft of personal items from beaches does happen – never leave anything of value unattended, even on seemingly empty stretches of sand.
Read More