Mexico › Los Cabos › Best Places to Stay
Updated: August 28, 2023
My Favorite Hotels
• Cabo San Lucas: Hacienda • Casa Dorada
• San Jose del Cabo: Viceroy • Cabo Surf
• Corridor: Esperanza
• For Families: Casa Dorada • Cabo Surf
• For Couples: Esperanza
Staying in Los Cabos – Tips & Info
Stretching for 20 miles from Cabo San Lucas to San José del Cabo, the Los Cabos Corridor is a stretch of coastline that's still spectacular in places, though much of it has now been built up with all-inclusive resorts and golf courses. This entire area (including both Cabo San Lucas and San José del Cabo) is commonly referred to as Los Cabos.
At the east end of the Los Cabos Corridor, San José de Cabo is Cabo San Lucas' quieter, classier twin, with an attractive historic center, fantastic dining scene, and some excellent hotels lining the white-sand beaches of the Zona Hotelera.
If heading north take the quieter coastal road. It's some 60 miles from San José del Cabo to Cabo Pulmo, a tiny village that's the gateway to the world-class marine park of the same name. The scuba diving and snorkeling is the best in Baja.
Northwest of Cabo Pulmo, the coastal road rejoins the Carretera Transpeninsular and passes through the appealing little town of Los Barriles, some 65 miles south of La Paz. It's one of Baja Sur's top spots for windsurfing and kitesurfing.
Rules of the road are similar to the U.S. Highways are well-maintained, and streets are well-mapped (though often not well-marked) and easy to follow via GPS. Two things that are different are topes and left turns. Topes (pronounced TOH-pays) are speed bumps, but there are no regulations on their height, steepness, or visibility; some are nearly impossible to see until it's too late. Standard left turns are usually OK in downtown but not on highways. To make a left, drivers will often need to use a retorno, which is a U-turn overpass. To use a retorno, drive past the road you want to make a left onto, get into the far right lane to take the retorno exit, make the left onto the overpass, and finally merge with traffic going the opposite direction. You can then make a right at the desired street or destination.
Best Hotel for Families: Casa Dorada (Cabo San Lucas)
Best Hotel for Couples: Esperanza Resort (Los Cabos Corridor)
Best Places to Stay in Los Cabos
Staying in Baja California
Framed by the Pacific Ocean and the Sea of Cortéz, and dotted with cordon cacti and boojum trees, the southern tip of Baja California is a place of considerable natural beauty. Arid landscapes aside, it's been well and truly discovered by winter sun seekers, water sports enthusiasts, and spring breakers: Cabo San Lucas is renowned throughout Mexico for its spring break but sports fishing, scuba diving, and wind surfing off Baja's southern shores is also world-class. Add some spectacular white-sand beaches, old-world colonial towns, breezy fishing villages, popular resorts, and a generous collection of hotels to suit every budget, and it's easy to see why Baja California Sur is an all-round superb destination.
If you're driving south from California via the Carretera Transpeninsular – the scenic highway that stretches the length of Baja – you will invariably pass through La Paz, the largest town in Baja Sur. A former colonial settlement with a beautiful historic center, waterfront malecón, and some excellent bars and restaurants, it warrants more than just a pit stop to fill up on gas. It makes a good base for visiting attractions in the surrounding area, too.
Facing Isla Ceralvo, a short detour southeast of La Paz along Route 286, La Ventana is a one-street village that draws kitesurfers from around the world between November and March with its steady winds. Other draws include scuba diving and wildlife watching.
If you drive the clockwise loop south of La Paz along the Carretera Transpeninsular, the first place you reach along the west coast is Todos Santos, Baja Sur's most picturesque little town, some 50 miles farther south. Its cobblestone streets are dotted with galleries, good restaurants, and appealing adobe architecture, while the beaches and the surf breaks appeal to outdoor enthusiasts.
Continue south along the Carretera Transpeninsular for another 47 miles and you'll get to Baja Sur's premier party town, Cabo San Lucas. Here you can party all night at the raucous bars and clubs, hop on a cruise to the arching stone cliffs at Land's End, sun yourself on one of the white-sand beaches, or partake in a huge array of water sports: banana boating, parasailing, and diving. Just up the corridor is the hip and trendy town of San José del Cabo.
See Also
The Best of Los Cabos & Baja
Best Places for Sightseeing: Todos Santos, San José del Cabo, Cabo San Lucas, La Paz
Let's face it: few visitors come to Baja Sur primarily for sightseeing. But if you're into colonial architecture, then the towns of San José del Cabo, Todos Santos, and La Paz all have plenty to offer: adobe houses, appealing centuries-old churches, and narrow cobbled streets that are a joy to wander. And while Cabo San Lucas may lack the colonial charm of its neighbor towns, it features Baja Sur's biggest natural attraction: the natural stone arch at Land's End, walkable from town and very popular at sunset.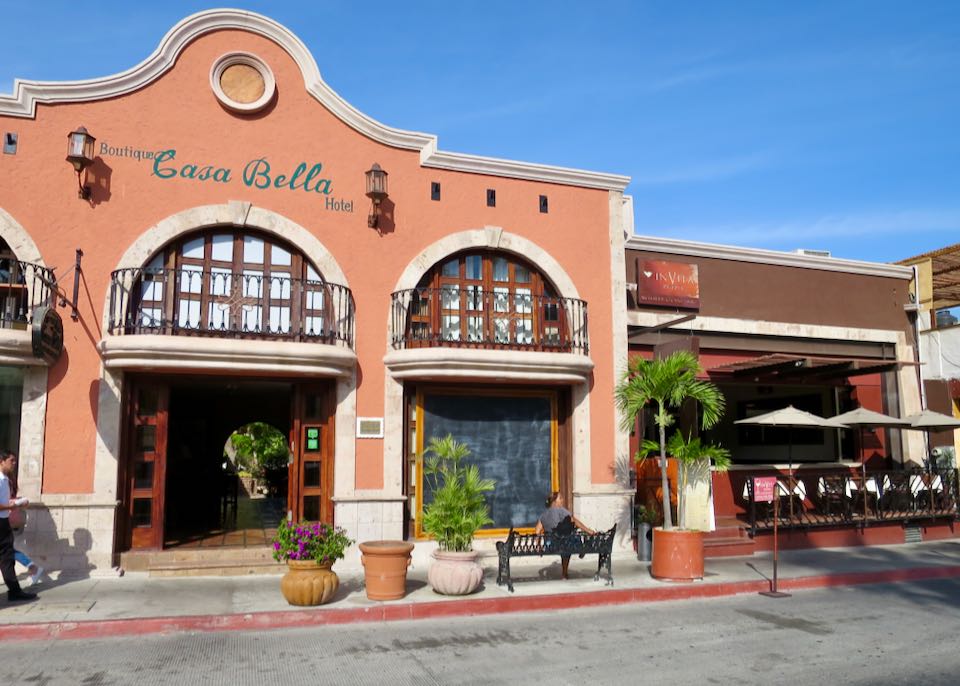 Best Place for Nightlife: Cabo San Lucas
Cabo San Lucas is Baja Sur's undisputed party town, with bottomless margaritas fuelling the revelry all day (and all night) long. The nightlife kicks up a notch when the spring breakers get into town, with dancing on table tops, jello shooters, and tequila conga lines. Some of the most popular bars and nightspots include the legendary El Squid Roe, Cabo Wabo, The Giggling Marlin, and the Happy Ending Cantina, with many of the watering holes clustered near the marina.
Best Places for Food and Restaurants: Cabo San Lucas, Todos Santos, San José del Cabo
Baja Sur has come a long way as a foodie destination in recent years, with dining hotspots being Todos Santos, Cabo San Lucas, and San José del Cabo. In all 3 locations, you'll find anything from Mexican standards and taco stands to superb fusion and international dining. Standout restaurants include Sur Beach House and Baja Cantina in Cabo San Lucas, Flora's Field Kitchen and La Lupita Taco & Mezcal in San José del Cabo, and Hierbabuena and Carnitas Machin Pescadero in Todos Santos.
Best Places for Families: Cabo San Lucas, Los Cabos Corridor
Cabo San Lucas may be a party town, but it also has some excellent beaches on the its outskirts and a large number of family-friendly hotels. Hence, if traveling with kids, then all-inclusive options with kids' clubs, plenty of water sports on offer, and other activities are an excellent bet. Los Cabos Corridor also features numerous high-end all-inclusive hotels, many with plenty to keep kids occupied and white-sand beaches out front.
Best Places to Stay for First Timers: Cabo San Lucas, Todos Santos, San José Los Cabos, Los Cabos Corridor
First-time visitors to Cabo can't go wrong with these 3 destinations. If you wish to combine a raucous nightlife with some quality beach time, then Cabo San Lucas would naturally be your first choice. If you're looking for a hassle-free location away from Cabo San Lucas' crowds but close enough to enjoy the nightlife and with access to world-class golfing, then Los Cabo Corridor is a good bet. Finally, if you're after a more local vibe and excellent dining while staying within easy driving distance from Land's End, then either Todos Santos or San José del Cabo make excellent bases.
Best Honeymoon Destinations: Los Cabos Corridor, Todos Santos, Cabo Pulmo
It entirely depends on what you want from your honeymoon. If you're looking for an exclusive, adults-only, high-end hotel with a world-class spa and private beach access, then there are several excellent options along the Los Cabos Corridor (Esperanza Resort and The Cape are particular standouts). If appealing colonial architecture and romantic dinners are more your thing, then Todos Santos is an excellent place to stay. And if you want to get away from the crowds and enjoy sunset strolls along wind-swept beaches, then you could do worse than tiny Cabo Pulmo.
Best Places for a Local Vibe: San José del Cabo, Todos Santos
Baja Sur has been well and truly discovered by visitors, and crowds of sun-seekers converge on the likes of Cabo San Lucas, particularly during the winter months and during spring break. However, both Todos Santos, and San José del Cabo have managed to retain a relatively low-key charm and feel like proper Mexican towns.
Best Places for Water Sports: La Ventana, Los Barriles, Todos Santos, Cabo Pulmo, Cabo San Lucas
Cabo Pulmo is a world-class diving destination, with excellent access to the only Pacific reef in the Sea of Cortez. Visibility is best in October and November, and sightings include whale sharks. La Ventana and Los Barriles both attract windsurfers and kitesurfers; conditions are best between November and March. El Pescadero, a small village just south of Todos Santos, is a surfing hotspot. As for sea kayaking, banana boating, parasailing, and other activities, hotels in Cabo San Lucas, Los Cabos Corridor, Todos Santos, and other vacation hotspots can organize those. Cabo San Lucas is also renowned for its deep-see fishing charters.
Best Places for Wildlife Watching: La Paz, Todos Santos, Cabo San Lucas
Baja California is particularly well-known for whale watching, with grey whales regularly sighted from December to April. While the 3 best spots to see whales – Laguna San Ignacio, Laguna Ojo de Liebre, and Bahía Magdalena – are all located farther north than Baja Sur's holiday towns, numerous boat operators in Cabo San Lucas, La Paz, and Todos Los Santos organize day trips to the whale watching hotspots. Sea lions and dolphins are frequently spotted en route.
Safest Areas: Baja California Sur is generally safe for visitors, particularly compared to other parts of Mexico. Tourist hotspots such as Todos Santos, San José del Cabo, La Paz, etc. are generally safe to walk around at any time of day, though standard precautions apply.
Unsafe Areas: There are no specifically unsafe places in Baja California Sur, though driving outside the towns at night is generally not recommended. Bag snatching and pickpocketing does occasionally happen in the likes of La Paz and Cabo San Lucas, so be on guard. Alcohol-related misbehavior is fairly common in Cabo San Lucas.
The Best Places in Baja California for Tourists
Staying in Cabo San Lucas
Sitting between a desert hinterland and a rugged cape after which it takes its name, Cabo San Lucas was a sleepy tuna canning village until tourism exploded in the 1980s. Now it feels more like part of the United States, with 'snowbirds' spending the winter here in their second homes, a popular cruise ship port, and spring breakers flocking here for the tequila-fuelled nightlife. Besides the natural stone arch at Land's End, Cabo San Lucas is known for its beaches lined with luxury resorts, lively bars, and pretty much all water sports, including some excellent scuba diving.
Best Hotels in Cabo San Lucas
Staying in Los Cabos Corridor
The twenty-mile stretch of coastal highway between Cabo San Lucas and San José del Cabo is lined with exclusive luxury resorts and features several golf courses. The former natural beauty of the area has been rather blighted by the uncontrolled development, but there are still some wonderful beaches here (though access to many can be tricky unless you're staying at one of the beachfront resorts), including Playa El Médano near Cabo San Lucas and Playa Palmilla near San José del Cabo. Of the beaches, Bahía Santa María is best for snorkeling and diving, Bahía Chileno is great for families, while Costa Azul is the best surfing beach in the area.
Best Hotels in Los Cabos Corridor
Staying in San José del Cabo
The quieter antidote to Cabo San Lucas, San José del Cabo is a former Jesuit mission turned port and agricultural center, centered on the attractive Plaza Mijares and dotted with some eye-catching 19th-century buildings. From the main square, Bulevar Mijares leads to the Zona Hotelera, where the majority of the town's beach resorts are located. San José's highlights include high-end boutiques and art galleries, an excellent dining scene, and a more low-key vibe than Cabo.
Best Hotels in San José del Cabo
Staying in Todos Santos
Halfway between La Paz and Cabo San Lucas, Todos Santos is a beautiful colonial town with sensitively restored, centuries-old architecture. Its population is a lively mix of Mexicans and artistically-inclined expats, reflected in the relatively low-key vibe and a clutch of offbeat art galleries. Palm-fringed Plaza Todos Santos aside, attractions include the local cultural center and the white-sand beaches, though they tend to be better for surfing than for swimming. Todos Santos also features an excellent dining scene and some fine boutique hotels.
Best Hotels in Todos Santos
Staying in Cabo Pulmo
One of the highlights of the East Cape – some 80 miles of wild coastline, including some stunning, unpeopled beaches – is Cabo Pulmo, an off-the-grid village that's the gateway to the Cabo Pulmo National Marine Park, renowned for its Pacific reef and excellent scuba diving. There is good snorkeling at Playa Los Arbolites near the village, but for even better marine life, head for the Playa Los Frailes cove, some 20 minutes' drive south of the village.
Best Hotel in Cabo Pulmo
Staying in Los Barriles
The East Cape's largest town, Los Barriles is renowned in windsurfing and kitesurfing circles (conditions are best for experienced surfers rather than beginners). There's a low-key hotel scene and some decent local dining, ranging from taco joints to gourmet restaurants. Sport-fishing is another big attraction here.
Best Hotels near Los Barriles
Staying in La Ventana
A worthwhile detour to the east coast from La Paz, La Ventana is a blink-and-you-miss-it village. One of several windsurfing and kitesurfing hotspots in Baja Sur, it attracts visitors from all over the world between November and March.
Best Hotels in La Ventana
Staying in La Paz
The largest town in Baja California, La Paz boasts an attractive colonial center and a particularly attractive malecón (seafront promenade). It's a busy working town, but there are enough attractions to keep visitors busy for a few days, from the cultural center and Museum of Anthropology to the string of beaches stretching to the port of Pichilingue, the best of which is Playa de Balandra, with calm, shallow waters suitable for kids. La Paz is also a jumping-off point for wildlife watching trips, from all-day whale watching to half-day trips to the nearby Isla Espírutu Santo, where one can spot manta rays, sea lions, and occasional whale sharks.
Best Hotels in La Paz
Read More