Mexico › Baja California Beaches
Updated: March 3, 2022
See Also
Baja California Beaches – Tips & Info
When to Visit Baja California: Baja's beaches are at their best from November through May when there's great weather (and whale-watching Jan–Feb). Much of the peninsula shuts down during the broiling hot summers, though Los Cabos tends to be an all-year destination. Skip Christmas, Easter, and Spring Break (Feb/March) to avoid the crowds.
Los Cabos has the most development and most luxurious resorts, and some of the best beaches overall; the top beaches for quiet and solitude are along the Bahía Concepción, and Cabo Pulmo. The best beaches for surfing are around Todos Santos and Playa Acapulquito. The best beach for families is Playa Balandra near La Paz. The best beach for partying is El Médano in Cabo San Lucas.
Arrival: Other than Tijuana on the US border, Baja's biggest international gateway is Los Cabos International Airport, 19 km north of downtown San José del Cabo, and a further 32 km from Cabo San Lucas. All the major car rental companies have desks here; otherwise, reserve a taxi or shared minibus in advance with Transportistas Josefinos, Cabo Transfers, or Los Cabos Airport Shuttle. Airport taxis are very expensive and will charge US dollars – local buses are a cheaper alternative. Buses also link the airport with La Paz (via Los Barriles, or via Cabo San Lucas and Todos Santos).
Car rental is relatively straightforward and cheap in Baja California – beyond the congested roads of La Paz and Los Cabos, highways are generally empty and easy to navigate. Many beaches are hard to access without a vehicle, though buses do run up and down the Baja peninsula.
Time Zones: The state of Baja California (the northern half of the peninsula) follows Pacific Time (GMT-8) while Baja California Sur is one-hour ahead on Mountain Standard Time (GMT-7).
Cash is King: Most locally run beach restaurants and bars take cash only – take a wad of pesos to be safe (some places will accept US dollars but invariably at bad exchange rates). You'll need cash to rent beach chairs and umbrellas.
The 18 Best Beaches in Baja California
All along the Baja coast, you'll find turquoise waters and white-sand beaches, but Bahía Concepción, La Paz, and the remote settlements on the East Cape are the standouts. In complete contrast, right at the end of the peninsula, the booming resort of Los Cabos offers its own raucous blend of boutique hotels, watersports, gourmet restaurants, and nightlife.
Our favorite is Playa El Requesón, on the Bahía Concepción. A magical setting on the edge of the desert, with wonderfully calm and warm water. Playa del Rosarito and Playa El Médano have a deserved reputation for partying and a vibrant nightlife. While El Saltito and Cabo Pulmo are great for beach lovers looking for a quieter, more relaxed experience. Plenty of shallow, calm beaches will appeal to families: Playa de Balandra and Playa el Chileno are the best.
1. Playa El Requesón, Bahía Concepción (43 km south of Mulegé)

A dazzling sandbar poking into the pristine, calm waters of Bahía Concepción. Perfect for kayaking and swimming (it's warm and shallow). Camp on the beach (around 150 pesos) or stay in the nearest town, Mulegé. No freshwater (pit toilets only), but locals often swing by selling water, snacks, and fresh seafood. Note that parts of the beach are submerged at high tide, and it is popular with the RV crowd. Best accessed with your own transport.
2. Playa de Balandra (27 km north of La Paz)

Superb option for families, featuring a sheltered, shallow bay (no more than waist deep) and warm water for swimming and snorkeling. No facilities and few vendors, though you can rent kayaks and shelter under small palapas set on the beach. Can get very busy at weekends. Stay in La Paz and take the local bus (45min), or drive (it's a 2hr 30min drive from Cabo San Lucas).
3. Playa el Chileno (15 km northeast of Cabo San Lucas)
Best of the family-friendly beaches between Cabo San Lucas and San José del Cabo. There are toilets here (the only beach on this stretch that has them) and a shop that rents watersports equipment. Excellent for swimming, diving, and snorkeling, but gets very busy in high season and at weekends. Local buses regularly run down the highway between Cabo and San José – the beach is just off the road.
Recommended Hotel: Chileno Bay Resort & Residences (luxury)
4. Playa Santispac, Bahía Concepción (21 km south of Mulegé)

Gorgeous beach on the Bahía Concepción, just off the main highway, with calm water and heaps of soft white sand. Attracts the usual cluster of winter RVs (Dec-March), but there's plenty of space to camp (under palapas) plus basic toilets, showers, and simple food options (Ana's Restaurant plus local mobile vendors). You can also rent kayaks and snorkeling gear. Vehicles charged around US$10 for parking/camping per night.
5. Playa del Amor (Lovers' Beach), Cabo San Lucas
This small wedge of sand near the tip of the Baja peninsula is incredibly picturesque, accessible only by boat from the Cabo marina or Playa El Médano. You can swim at Playa del Amor (facing the bay), but the beach on the Pacific side of the point – known as Playa Divorcio – experiences dangerous riptides. There's excellent snorkeling at nearby Pelican Rock.
Recommended Hotels: Hotel Tesoro (mid-range) • Casa Bella (boutique) • Hotel Maria Elena (budget)
6. Bahía Santa María, (12 km northeast of Cabo San Lucas)
Snorkel over reefs (rays and turtles hang out here) at both ends of this enchanting horseshoe cove, and swim at the warm, protected beach in the center. There's a parking lot a short walk from the beach (signposted from the Cabo–San José highway).
Recommended Hotel: Montage (luxury)
7. Playa El Médano, Cabo San Lucas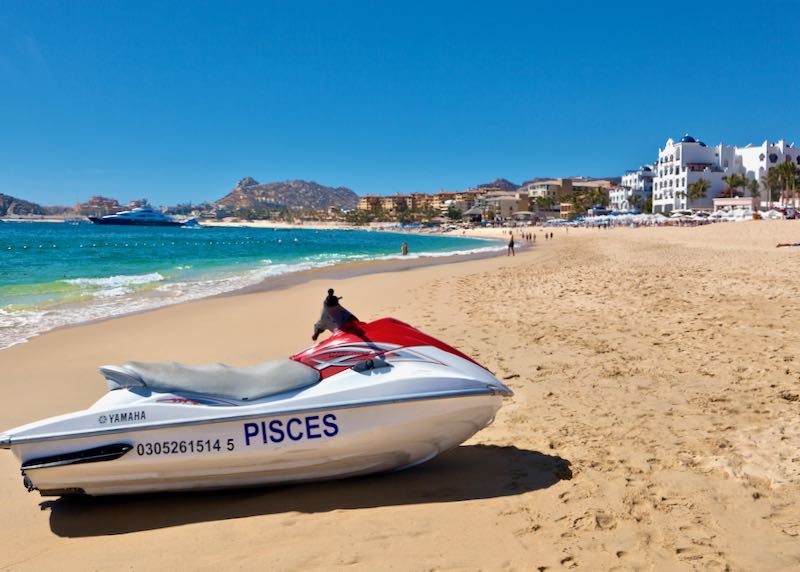 Cabo's premier swimming beach is the place to party. The main strip is heaving with beach bars, vendors, jet skis, and sunbathers. It's an entertaining scene, but note that the main beach is over 3 km long, and usually deserted at either end. Baja Watersports organizes activities.
Recommended Hotels: ME Cabo (luxury) • Bahia Hotel & Beach House (boutique) • Riu Palace (luxury)
8. El Saltito (30 km northeast of La Paz)

Remote wilderness beach for travelers who like a little adventure. Getting here involves a bumpy ride on dirt roads that can become impassable when wet. There are no facilities and very few people. Good for strong swimmers only, with a steep drop-off and riptides, but with a stunning desert backdrop and wide swaths of virtually empty sand. Some people camp here, but independent transport is required – La Paz is the nearest main town.
9. Playa El Coyote Bahía Concepción (28 km south of Mulegé)
Popular bone-white beach (6.5 km south of Santispac), facing an idyllic crescent bay with crystal-clear water and gliding pelicans. Expect a small charge for camping and/or use of the beach palapas. The southern end is the best spot for swimming, while the northern end catches the best sunrises. Pit toilets only and no freshwater, but locals sell drinks and seafood.
10. Beaches of Cabo Pulmo, (60 km northwest of San José del Cabo)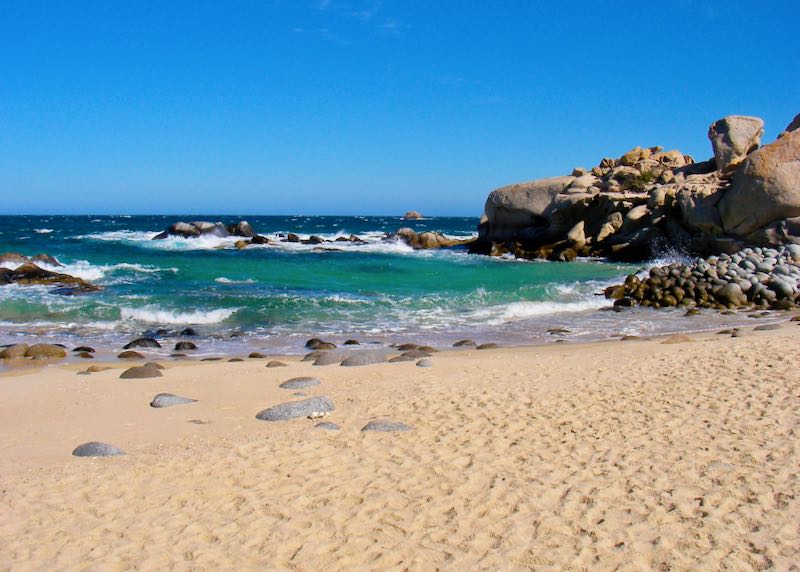 The pristine beaches of the protected Cabo Pulmo National Marine Park, offer a wilder experience with a rare hard coral reef just offshore. Playa Los Arbolites (entry around 40 pesos) is ideal for snorkeling, with a huge variety of marine life, plus palapas, toilets, and showers (and snorkel rentals). About five minutes further south by car is Playa Los Frailes (free, no facilities), a picturesque cove with equally sensational snorkeling. There is no public transport to Cabo Pulmo – rent a car in Cabo or La Paz.
Recommended Hotels: Cabo Pulmo Beach Resort (budget) • Bungalows Cabo Pulmo (budget)
11. Playa Los Cerritos, El Pescadero (12 km south from Todos Santos)
Wonderful, wide sandy beach justly popular with surfers and whale-watchers – whales are often visible from the shore. Rarely busy, despite being known for jaw-dropping sunsets. Mario's Surf School rents surfboards and offers lessons. Rent a car in Cabo San Lucas (1 hr drive), or stay in the village.
Recommended Hotels: Cerritos Surf Town Beach Hotel & Spa (mid-range) • Olas de Cerritos (mid-range) • Cerritos Beach Hotel (mid-range/luxury)
12. Playa Acapulquito (5 km south of San José del Cabo)
Tiny but beautiful sandy beach just south of San José's hotel zone. AKA Old Man's, this is an ideal surfing beach for beginners, while just around the headland lies the celebrated Zippers and La Roca breaks, with some of the best surfing in the region. Swimming is best during the late winter and early spring (the waves get bigger in the summer).
Recommended Hotels: Cabo Surf Hotel (luxury) • Hotel Casa Costa Azul (mid-range)
13. Playa San Felipe

San Felipe is a remote town on the Sea of Cortez, best known for sportfishing and off-road motorsports, but it also has a long, crescent beach and warm, emerald waters – it's the best place to swim in northern Baja. It's also known for its fish tacos and shellfish cocktails. Note that the upper reaches of the Sea of Cortez experience the world's third-largest tides. There's no airport – it's a 2 hr 30 min bus ride or drive from the US border.
Recommended Hotels: Stella del Mar (mid-range) • Sandollar Condotels (mid-range) • Hotel San Borja (budget)
14. Playa de Tecolote (29 km north of La Paz)

Fine sands and excellent snorkeling right off the beach, just another 2 km north from Balandra. Unlike Balandra, this is a long, straight strip, facing Isla del Espíritu Santo and the open Sea of Cortez. There are also lots of places to eat and drink here, with a party atmosphere at weekends. Stay in La Paz and take the local bus (45 min) or drive (it's a 2 hr 30 min drive from Cabo San Lucas).
15. Playa Palmilla, (7 km south of San José del Cabo)
Clean, safe 1.5 km-long beach close to San José's hotel zone, though there are decent point and reef breaks when the surf's up here (summer). It's also popular for standup paddleboarding and whale-watching. Access the beach by following signs to the One & Only Palmilla resort and take the only dirt-road cut-off to the left.
Recommended Hotels: One&Only Palmilla (luxury) • Villas Del Mar (luxury)
16. Playa del Rosarito

The beaches of northern Baja are generally inferior to the south, but Rosarito deserves a shout out for its proximity to the US border (25 km) and great party atmosphere. It's a wide swath of well-maintained and clean sand, lined with bars, hotels, and restaurants. With big Pacific swells, it's also a popular surf location.
Recommended Hotels: Rosarito Beach Hotel (mid-range) • Rosarito Inn (mid-range) • Del Mar Inn Rosarito (budget)
17. Los Barriles

Low-key resort town with wide, often empty sandy beaches. It's primarily a sportfishing and windsurfing/kiteboarding (winter) hub, some 66 km north of Los Cabos airport, but the clear waters are also perfect for swimming and kayaking.
Recommended Hotels: Martin Verdugo's Beach Club (mid-range) • Hotel Palmas De Cortez (mid-range)
18. Playa Hotelera (San José del Cabo)
The long, wide strip of sand that makes up the waterfront and hotel zone of San José del Cabo is rarely crowded – despite the line of hotels, there's plenty of space for walks, fishing, sun-bathing, and horseback riding. However, it's not good for swimming: there's a steep drop-off, rip-tides, and lots of surf (in summer). Some of the hotels will allow non-guests to use their pools and facilities if you purchase a day-pass.
Recommended Hotels: Cabo Azul Resort (luxury) • Hyatt Place (luxury) • Posada Real (budget–mid-range)
Read More