Mexico › Best Places to Stay in Puerto Escondido
Updated: January 19, 2023
See Also
Where should I stay in Puerto Escondido?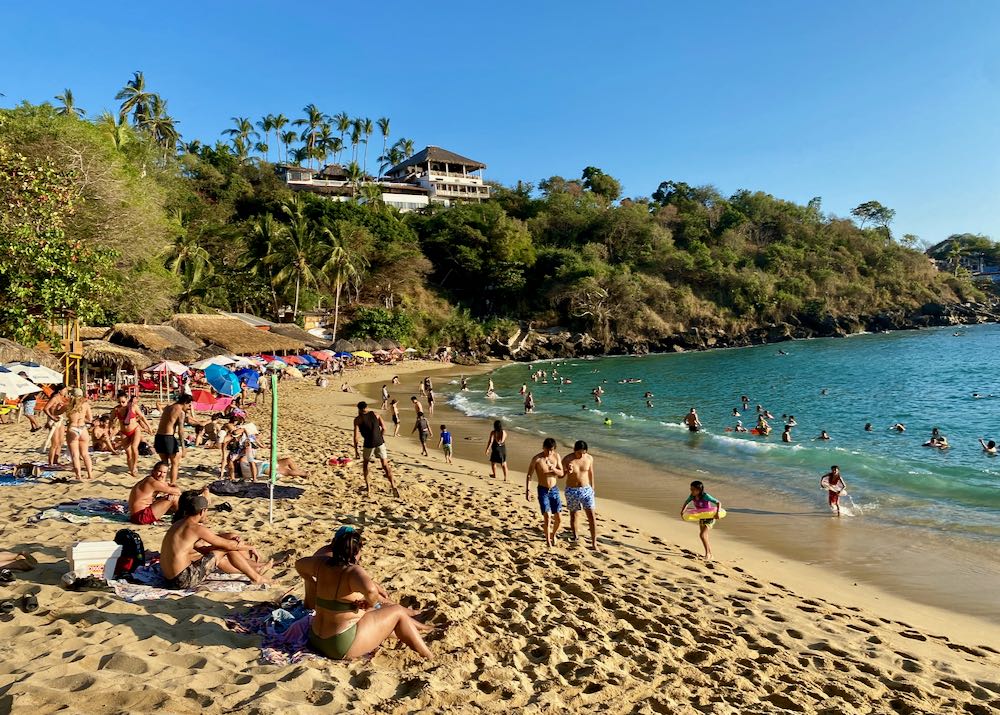 The main areas to stay include the tourist areas of Puerto Escondido itself (along the beach, Playa Principal or around El Adoquín); along the main surf zone at Playa Zicatela; more rustic La Punta, 3km further south at the far end of Zicatela; and the more residential area of Rinconada, west of the city center, closer to the smaller beaches hemmed in by cliffs. We prefer the tranquility and beaches of Rinconada, but surfers will want to stay closer to the action in Zicatela.
Our favorite hotels include the Hotel Paraíso Escondido at Unión 10, with fine views and great facilities, and the budget Paziflora Hostel at Primera Sur 309, run by an incredibly friendly family.
In Zicatela we like the charming and family-friendly Hotel Santa Fe, across the road from the beach, Hotel Casa Dan at Jacarandas 14, which has spacious rooms with kitchens, and Hotel Tabachin del Puerto at Del Morro 4, featuring a series of beautifully furnished self-catering apartments.
In and around Rinconada our favorite hotel is the luxurious Villas Carrizalillo (our favorite hotel in the Puerto Escondido area), perched above a glorious beach. The quirky boutique Quinta Lili (closed for refurbishment until summer 2023) at Cangrejos 104, is a close second.
Staying in Puerto Escondido – Tips & Info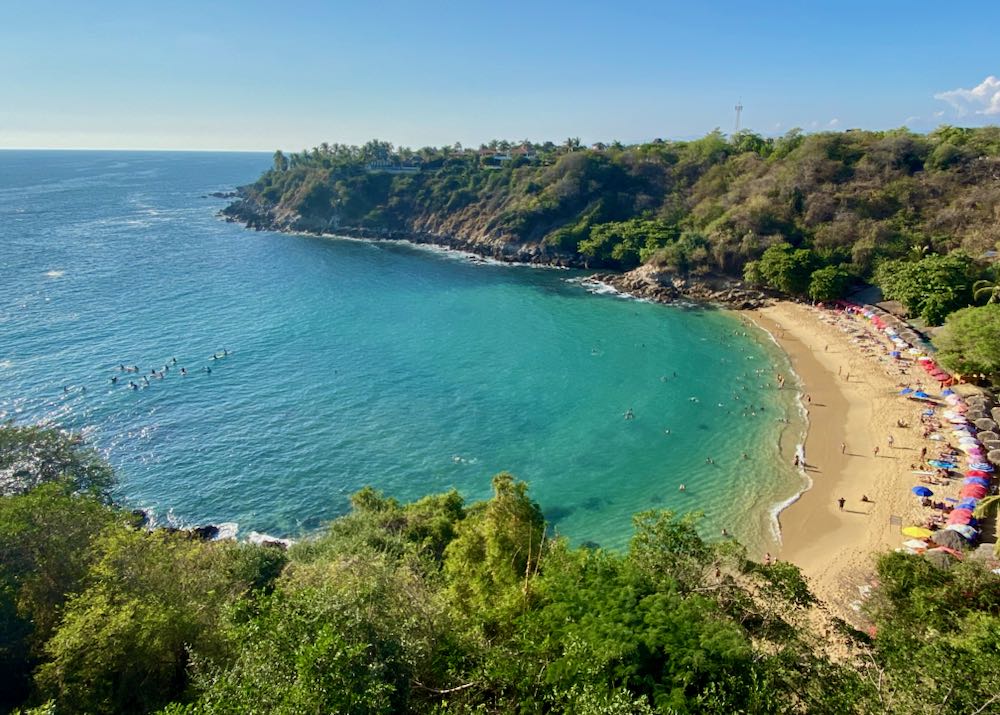 Puerto Escondido is a laid-back resort town on the Pacific coast of Mexico, and one of our absolute favorite places to go in the country. Puerto Escondido is best known for its wonderful beaches, tropical setting, surf scene (it's the home of the "Mexican Pipeline"), and scuba diving.
Where is Puerto Escondido?
Puerto Escondido is a small resort city and port in the southeastern Mexican state of Oaxaca, facing the Pacific Ocean. Puerto Escondido lies about 250 km south of Oaxaca City, 380 km southeast of Acapulco, and around 650 km southeast of Mexico City. Non-stop flights to Puerto Escondido take 1 hour 35 minutes from Guadalajara, 1 hour 15 minutes from Mexico City and just 30 minutes from Oaxaca City.
How big is Puerto Escondido?
Puerto Escondido has a population of around 45,000. The city center is quite small, with the primary tourist area focused on a small bay ("Bahía Principal") and the adjacent strip along Avenida Alfonso Pérez Gasga (known simply as "El Adoquín"). The main business district ("Centro") is clustered around Hwy-200 just to the north.
What is the history of Puerto Escondido?
Puerto Escondido is a relatively recent creation, though indigenous peoples such as the Mixtecs have populated the surrounding country for thousands of years. A small fishing community existed by the late 19th century, but the town didn't start developing properly until the 1930s. It wasn't until the 1960s that Highway 200 was completed, linking Escondido with the outside world by road for the first time (the highway ran along the coast of Oaxaca to Acapulco). In the 1970s Puerto Escondido started to develop as a low-key surfer and backpacker resort, and the population jumped from a few hundred to several thousand. Today the tourist facilities are far more developed, though Puerto Escondido remains relatively rustic and laid-back compared to big resorts such as Cancún, Acapulco and Los Cabos.
How do I get to Puerto Escondido?
Puerto Escondido is connected to Oaxaca City, Mexico City and Guadalajara by non-stop flights; flights from elsewhere usually route through Mexico City. The daily flights from Oaxaca on Aerotucán, or with the plane piloted by the experienced Captain Vega (+52 954 588 0062), can save a lot of time, but are small Cessna aircraft, and a 15kg luggage limit is strictly enforced on Aerotucán ("Aero Vega" is cheaper and allows a little more, but you must call the Captain by phone to confirm flights). Puerto Escondido Airport lies around 4km northwest of Bahía Principal. Take a shared taxi (around 50 pesos) to the city center.
Until the new highway is complete in 2024, reducing the trip to just 2 hours 30 minutes, traveling by road between Oaxaca City and Puerto Escondido will remain time-consuming and stomach-churning (it's very windy). Small minibuses ("camionetas") operated hourly during the day by Transportes Villa del Pacifico, usually take 7 hours, but are cramped, stuffy and only stop once or twice for food and bathroom breaks. First–class ADO/OCC buses are bigger and much more comfortable, and have bathrooms, but take at least 10 hours – most travellers take the night bus to save a night's hotel cost. The modern ADO/OCC bus terminal is right on the Carretera Costera (Hwy-200), a short walk from El Adoquín – taxis also wait outside. Other buses run to and from the Terminal Turística on Avenida Oaxaca, near the airport (take a taxi from here). Buses from Acapulco take around 8 hours – it's at least 18 hours from Mexico City. Buses also regularly run along the Oaxacan coast (2 hours 30 minutes to Huatulco).
What about Uber?
Uber does not operate in Puerto Escondido.
Can I drive to Puerto Escondido?
Yes, though it's not recommended currently. Plenty of Americans and Canadians used to drive along the entire Pacific coast of Mexico from California to Guatemala, stopping in at Puerto Escondido, but parts of the route can be quite dangerous today, thanks to drug cartels and highway robberies (especially at night). Driving solely to Puerto Escondido isn't worth the effort – it's 960 miles (1545 km) south of Brownsville (Texas), and the roads across the mountains of Oaxaca can be tough to navigate for first-timers.
Do I need a car in Puerto Escondido?
Not really. It's relatively easy and cheap to get around on foot, by bus or taxi. It can be useful to have a vehicle to explore the coastline beyond the city – to Mazunte and Zipolite for example – but these resorts are also served by public bus and taxi. Fix taxi prices before getting in – most trips in town should be 35 to 40 pesos, with 50 to 60 pesos for longer trips to La Punta or Playa Bacocho. You can also take a lancha (small motor boat) from Playa Principal to the nearby beaches from around 100 pesos per person.
When is the best time to go to Puerto Escondido?
Puerto Escondido is at its best December to April, when the weather is hot and dry. It tends to be rainy and very humid June to October, with hurricanes possible through the summer into November – however, the peak surf season runs from May to early September. Hotel prices go up during surf competitions (the main one is normally in November) and during Mexican holidays, especially Christmas and Easter.
What are the best beaches in Puerto Escondido?
One of our favorites is Playa Zicatela, south of the city center – it's one of the best in Mexico for surfing, but it's also a huge swathe of fine sand (it rarely feels crowded), backed by great beach bars and palapa restaurants. Learner surfers should head for La Punta at the far southern end of the beach, which has slower waves. For swimming, head to the smaller beaches west of the city center, sheltered in a series of rocky coves. Our absolute favorite is Playa Carrizalillo (2km from Playa Principal), a beautiful gold-sand beach on a tiny, calm bay. It's only accessible via a steep, 170-step staircase. A close second are the beaches on nearby Bahía Puerto Ángelito, a gorgeous bay with similarly warm, calm waters. Puerto Angelito itself is more sheltered and family-oriented, with Playa Manzanillo, on the other side of a rocky outcrop, slightly less crowded. Puerto Angelito can be accessed directly by car/taxi, while Manzanillo is a short walk from the road – both beaches can be reached after 20 minutes walk from Playa Principal, and feature plenty of bars and restaurants.
For more seclusion head further west to Playa Bacocho or Playa Punta Colorada, both huge stretches of sand that are rarely busy. Currents and waves can be strong here, so swimming isn't safe, though bodyboarding and surfing is possible.
The main city beach, Playa Principal is too busy with families, boats and fishermen most of the time, but can be fun in the evenings – nearby Playa Marinero, just across Laguna Agua Dulce (and separated from Zicatela by the Mirador Romance de Verano, a rocky outcrop also known as "El Morro"), is a better place to lounge on the sands.
What are the best things to do in Puerto Escondido?
The best things to do in Puerto Escondido are connected with the beaches; swimming, surfing, sunbathing, diving and various watersports. There's not much else to do here other than browsing the shops for surf and beach gear, and Mexican handicrafts. Ecoadventures is a recommended operator that offers paddle-boarding, kayaking and bioluminescence boat tours of nearby Laguna Manialtepec, as well as dolphin watching and the chance to take part in the release of baby sea turtles from local beaches. Robert's Ecotours offers a similar line up. For scuba diving contact Deep Blue Dive or Aventura Submarina which has an office at Alfonso Pérez Gasga 609 on the main drag.
Surfers should check out locally-run website Central Surf TV, Puerto Surf and the Oasis Spanish & Surf School, which offers surfing lessons and Spanish classes. Skydive Puerto Escondido offers incredible parachute jumps right over Puerto Escondido's beaches. Puerto Food Tours is a fun way to see the city, with walking tours focused on local food and snacks.
What are the restaurants like?
Extremely varied, international and cheap. Along all the main beaches are beach bars and restaurants, with especially fresh seafood. One of our favorites for breakfast (and Mexican staples for dinner) is El Cafecito on Playa Zicatela. A block inland, Dan's Café Deluxe (Jacaranda 14) is equally good for breakfast and serves incredible fish tacos for lunch. We love Sativa, right on the beach at Playa Zicatela, for its contemporary Mexican menu, vegetarian choices, and seafood. For solid Italian food (pizza, pastas), La Galería is a good choice, in the city center at Alfonso Pérez Gasga 601. The best place for a splurge is Espadín, over looking Playa Carrizalillo, with modern Mexican food, and sensational views of the bay and the sunset.
What currency is used in Puerto Escondido?
The Mexican peso (often pre-fixed with a "$" sign) is the currency of Mexico and used in Puerto Escondido – businesses are unlikely to accept US dollars unless it's an emergency. Most major shops and restaurants in Puerto Escondido now accept credit cards, but it is a good idea to have some pesos on hand for buses, taxis, and small purchases like bottled water and snacks. We recommend using ATMs attached to banks in the commercial center of town, rather than at standalone ATMs in bus stations and the like – these can be hacked by credit card fraudsters.
Is Puerto Escondido expensive?
No. Much of Puerto Escondido remains set up for budget travelers, and there is a wide range of low-cost hotels and rentals (airbnb also operates here). Food and transport is cheap – and all the beaches are open to the public and free.
Is Puerto Escondido safe?
Yes. Puerto Escondido has generally avoided the drug violence that has affected other parts of Mexico. Take the usual precautions, especially at night, and keep your valuables in room safes. Theft of personal items from beaches does happen – never leave anything of value unattended, even on seemingly empty stretches of sand.
Read More