Mexico Travel Guide › Best Areas to Stay in Cancun
Updated: July 28, 2021
See Also
The Best Areas to Stay in Cancún
Once a tiny fishing village with a population of 3 in 1970, Cancún is now the most popular beach destination in Mexico. And for good reason. Cancún boasts year-round warm weather; 22 km of white sand beach in its hotel zone alone; sunrise sea views over the Caribbean; a stunning location on the Mesoamerican Reef for snorkeling and diving; seemingly unlimited entertainment from theme parks, to nightclubs, to golfing; as well as a central location for visiting Maya ruins, colonial villages, and tropical islands.

This bustling oceanfront city offers accommodations of all types and in all price ranges. The majority of resorts are luxury and mid-range all-inclusive properties, though there are plenty of luxury, mid-range, and budget hotels and resorts that operate on a European-plan (room only, no food included), and self-catering apartment hotels.

Most of the best hotels in Cancún and best family hotels in Cancún are located in the aptly named Hotel Zone, though many others are in Riviera Cancún, Playa Mujeres, and El Centro.

The Hotel Zone or Zona Hotelera is where the majority of accommodations are. Running most of the length of Boulevard Kukulkan, the 22-km-long Hotel Zone is a strip of high-rise hotels, resorts, nightclubs, shops, and restaurants. Shaped like a number "7," the Hotel Zone can be roughly divided into three areas: the North Hotel Zone (the top, horizontal part of the "7") has the softest sand and gentlest surf and is near great dining and nightlife, the Middle Hotel Zone (the upper half of the vertical part of the "7") offers great beaches, family-friendly attractions, and Cancun's best nightlife, while the South Hotel Zone (the bottom half of the 7) is the most peaceful area with the quietest beaches and only a handful of restaurants and attractions.

From the North Hotel Zone, follow Boulevard Kukulkan westward to get to El Centro, AKA Downtown Cancún, the best place in Cancún for a local vibe, fantastic dining, the large Mercado 28 outdoor market, and plenty of budget-friendly hotels and hostels. North along the coast is Playa Mujeres, the newest development in Cancún with pristine beaches, a remote feel, and calm waters with waves blocked by the island of Isla Mujeres due east. Heading south from the Hotel Zone leads to Riviera Cancún, a long stretch of coastline where Cancún's largest resorts are found, boasting white sand beaches, eco-adventure parks, and cenotes (natural swimming holes) peppering the mangrove jungles.
The Best Places to Stay in Cancún
Best Areas in Cancún for…
Best Neighborhoods in Cancún for First Timers: North, Middle, and South Hotel Zone
Anywhere in the Hotel Zone makes a great home base for first-timers to Cancún. This 22-km-long stretch of beach offers a little of everything for any kind of traveler. This is where to find the bulk of Cancún's restaurants, nightlife, attractions, and shopping, though most resorts here are like their own mini-cities with dining, nightclubs, enormous pools, and even a few with water parks – a lot of guests never leave their resorts. Within the Hotel Zone, the Middle is the busiest, with nightclubs, an aquarium, water sports centers, and a handful of malls. The North has gentler waves, softer sand, excellent nightlife, and easy access to the local flavor of El Centro. The South is the quietest stretch with less crowded beaches and close proximity to the Maya ruins of El Rey.

Best Neighborhoods in Cancún for Sightseeing: Middle Hotel Zone, El Centro
For local sightseeing, including the aquarium, the Maya museum, the San Miguelito and El Rey ruins, and snorkel and scuba tours, staying in the Middle Hotel Zone is the best, as everything is easily accessible on foot or by a short bus ride. Even for visiting Isla Mujeres, ferries leave the Middle Hotel Zone for the island more frequently here than from the port at Playa Mujeres. For visiting local markets, seeing lucha libre (Mexican wrestling), or for self-guided tours of farther-flung destinations, like the Chichén Itzá ruins, colonial Valladolid, contemporary Playa del Carmen, or bohemian Tulum, staying in El Centro is best for easy access to bus routes connecting downtown Cancún to the most visited Yucatecan destinations. However, if visiting Chichén Itzá or Vallodolid on a guided tour, most tour operators offer free or cheap pickup from anywhere in Hotel Zone, so where exactly you stay in that case is less important.

Best Neighborhoods in Cancún for Partying and Nightlife: Middle Hotel Zone, El Centro
Though many resorts have their own nightclubs onsite, Cancun's main party zone is found in the Middle Hotel Zone at its juncture with the North Hotel Zone (the bend in the "7"), known as Punta Cancún or Uptown. This 500-meter strip is lined on both sides of the road with lively bars and nightclubs including popular chains like Coco Bongo, Señor Frog's, Mandala, and La Vaquita. Most clubs here are multi-level mega-parties with live music and DJs, some with acrobats, gogo dancers, showgirls, and more. These clubs get incredibly crowded, especially during American and Canadian Spring Break times, usually from mid-March to mid-April. The largest club here, The City, has a capacity of 5000. Though there will be a few locals at the Punta Cancún area clubs, most of the partiers will be tourists. For a more local vibe, a wider range of music styles, and better cocktails, visit the casual bars and smaller dance clubs in El Centro, including Antique, Mambocafe, Amarula, Han Club, or Kaan Brewpub.

Best Neighborhoods in Cancún for Food and Restaurants: El Centro, Middle Hotel Zone
The best restaurants in Cancún are mostly found in El Centro. Cancún's busy downtown core is filled with a number of outstanding dining options, from local Yucatecan fare to authentic Mexican favorites to fine French dining at a fraction of what you'll pay in the Hotel Zone. And though the hotel zone is packed with overpriced, Americanized versions of Mexican foods, there are still a fair number of high-quality restaurants outside of the resorts, mostly in the Middle Hotel Zone between La Isla Mall and Aquaworld water sports center.

Best Neighborhoods in Cancún for Families: North and Middle Hotel Zone, Riviera Cancún
Cancún is a very family-friendly destination with a variety of activities to keep children of all ages entertained; most resorts here have kids' clubs and excellent pools, many with water slides or small water parks on site. Families with younger children just learning to swim should consider the North Hotel Zone; due to its geographic location, the beach here is partially protected from the winds, making for gentler waves and easier swimming. The Middle Hotel Zone is great for families with older kids and teens with its easy access to local attractions, water sports centers, snorkeling tours, and shopping malls. Riviera Cancún is great for active families; here you'll find the largest resorts with the most kid-friendly amenities plus close proximity to adventure parks, Croco Cun Zoo, and a handful of cenotes at the south end near Puerto Morelos.

Most Romantic Neighborhoods in Cancún: South Hotel Zone, Riviera Cancún, Playa Mujeres
Cancun is a top destination for honeymoons, weddings, and romantic getaways. Its long, white sand beaches are ideal for sunset strolls and toes-in-the-sand dining. Several luxury hotels are entirely adults-only and many others have adults-only wings and pools, or rooms and suites with private pools. The top romantic destinations are the South Hotel Zone, a quiet stretch of beach with easy access to Cancúns biggest attractions; Playa Mujeres, the newest development just north of the Hotel Zone with the most contemporary hotels, pristine beaches, and gentle surf; and Riviera Cancún, the most remote and natural area of Cancún with protected mangrove jungles, a botanical garden, and the most relaxing beaches.

Best Neighborhoods in Cancún for a Local Vibe: El Centro, Riviera Cancún
There are no residential areas in the Hotel Zone. All of the locals live in El Centro, which is where you'll find the most authentic restaurants, nightlife, outdoor markets, and affordable shopping. The south end of Riviera Cancún as another great spot for a local feel, especially near the small village of Puerto Morelos. Though tourism has changed this village, there still remains plenty of good, cheap restaurants and local bars, especially in the inland pueblo away from the beachfront resorts and dolphinarium.

Safest Areas of Cancún
As a whole Cancún is a fairly safe city, and the safest parts are the beaches where the vast majority of resorts are located. Almost all resorts have gated entries staffed with guards around the clock; each hotel also employs guards to patrol their beaches. When outside the resorts, standard precautions apply as they do in all major tourist destinations: watch your bags, purses, and wallets; if clubbing, keep an eye on your drink; and stick to the main, well-lit roads when walking at night, preferably with a friend or group.

Unsafe Areas of Cancún
Cancún is among Mexico's safest cities. But crime does happen, especially in El Centro north of Avenida Chichén Itzá. If you are heading downtown for dinner, it's best to take a taxi to and from to avoid walking long distances in the dark to avoid petty crimes.
The Best Neighborhoods in Cancún for Tourists
The North Hotel Zone makes up the top of the "7" between El Centro and the Middle Hotel Zone. Unlike the rest of the Hotel Zone or Riviera Cancún, the beach here is partially shielded from hurricane winds by Isla Mujeres and the horn of Punta Cancún. Its unique geography give it three perks: the gentlest waves in Cancún, the least amount of seaweed in the Hotel Zone, and the softest sand (this is the original Cancún sand; the other beaches here lost their sand in a major storm and had to truck in replacement sand). The North is a great spot for a mix of relaxation, exploration, and nightlife with its sunny beach, proximity to local life in El Centro, and easy access to the nightlife in Punta Cancún (AKA Uptown, the bend in the "7"). If opting for a European-plan hotel, this area offers a good selection of dining and bars within a short walk or easy bus ride.
The Middle is the busiest stretch of the Hotel Zone, with Uptown at its northernmost tip, jam-packed with nightclubs, bars, upscale restaurants, and casual cantinas. Heading southward leads past a string of beaches, restaurants, malls, and water sports centers to finish up with two sets of ruins at its southernmost end: San Miguelito (at the Maya museum) and El Rey (where the South Hotel Zone begins). The sand is slightly coarser and the waves are bigger at this beach than in the North, but it is still very swimmable. Despite its lively atmosphere, sea turtles have made this strip of beach their nesting site, returning every year to lay eggs nightly from May through October. The babies hatch from July through December and make their way to the ocean under the moonlight.

Best Hotels: Le Blanc Spa Resort • Ritz-Carlton • Live Aqua Beach Resort • Hard Rock Hotel
Best Mid-Range Hotel: Flamingo Resort
The South begins with the archaeological site of the Maya ruins at El Rey and continues southwest to end at Punta Nizuc. This area is the best spot in the Hotel Zone for a quiet getaway while still offering easy access to local attractions and a handful of excelent restaurants. The beach is similar to that of the Middle (white sand, sea turtles, and moderate surf). The South is the best part of the Hotel Zone for snorkeling, especially at the far end near Punta Nizuc, where the reef is being revived by one of the three galleries of MUSA, the underwater sculpture museum designed to encourage coral growth.

Best Hotels: Nizuc Resort & Spa • Sun Palace
Best Mid-range Hotel: Condominios Brisas
The newest resort development, Playa Mujeres sits north of Cancún's established Hotel Zone, immediately west of the island Isla Mujeres. A contemporary, leisure retreat, this area is almost entirely made up of large, all-inclusive resorts and golf courses. On the main beach, there is a dolphinarium as well as scuba and sailing excursions leaving from the marina. The Punta Sam ferry to Isla Mujeres is here, offering several trips throughout the day. Since the area is so new and designed around the all-inclusives, there are few dining options outside of the resorts. The beaches here have soft sand and gentle waves as Isla Mujeres shields Playa Mujeres from the strongest winds, but seaweed tends to collect here (the hotels are excellent at keeping it at bay with twice daily sweepers).

Best Mid-range Hotel: Hotel Del Sol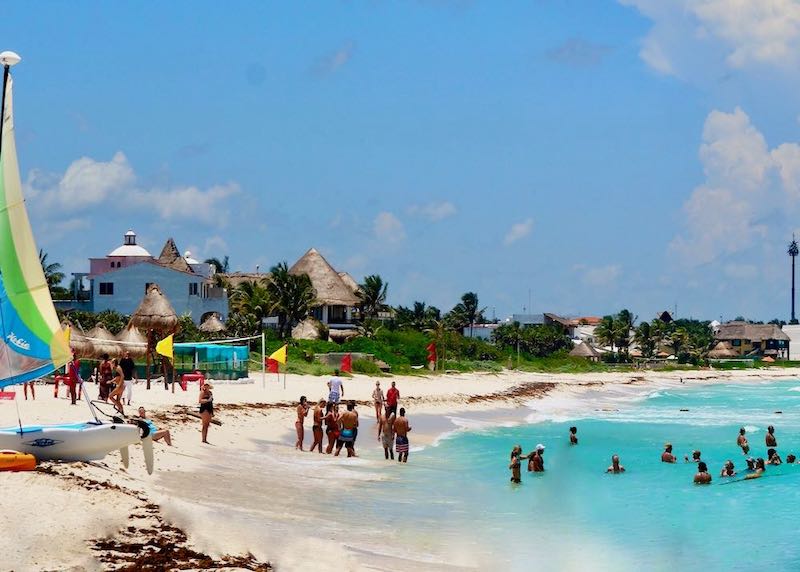 Part of the larger Riviera Maya, Riviera Cancún extends from Punta Nizuc (the end of the South Hotel Zone) south to the seaport village of Puerto Morelos. This area is where to find some of Cancún's largest all-inclusive resorts, several adventure parks, freshwater cenotes, the Croco Cun Zoo, and botanical gardens. Beaches here are a mix of mostly white sand with rocky patches and moderate waves toned down by the Mesoamerican Reef which runs the entire length of the Riviera down to Guatamala. The sandy beach areas offer great swimming and body surfing, while the rocky and coral-heavy areas offer spectacular snorkeling and diving with a huge variety of colorful fish.

Best Hotels: The Grand at Moon Palace • Grand Residences Riviera • Azul Beach Resort Riviera • Moon Palace
Best Mid-range Hotel: Casa del Puerto by MIJ
El Centro is the best spot in Cancún for living like a local, with outstanding restaurants, hole in the wall taco shops, vibrant nightclubs, trendy cocktail bars, shopping malls, and outdoor markets – all at a fraction of the prices you'll pay anywhere else in the city. There are a couple of luxury resorts on the beach near Puerto Cancún, but most of El Centro's lodging is made up of mid-range, boutique, and budget hotels and hostels. This is an excellent home base for adventurous travelers who plan on exploring the Yucatan beyond just hitting the beaches and clubs. The ADO bus station here offers routes to Playa del Carmen, Tulum, and even Chichén Itzá, while the Puerto Juárez ferry terminal connects El Centro to Isla Mujeres.

Best Hotels: Dreams Vista Cancun Golf & Spa Resort • Gamma Centro • Krystal Urban Centro
Best Mid-range Hotel: Eco-Hotel El Rey del Caribe
Read More