Mexico › Best Areas to Stay in Playa del Carmen
Updated: January 8, 2023
See Also
Staying in Playa del Carmen – The Basics
In conversation, Playa del Carmen usually gets shortened to "Playa," which translates to "beach" but means the whole city and surrounding area.
Playa del Carmen is located in Yucatan Peninsula, which includes three states: Yucatán, Campeche, and Quintana Roo. The Yucatán offers an abundance of things to explore including nearby islands, cenotes, Mayan ruins, theme parks, and colonial towns such as Valladolid. The state of Yucatán is where you will find the famous ruins of Chichen Itza and Ek Balam; the Tulum and Coba ruins are in the same state as Playa del Carmen and Cancun: Quintana Roo.
The best areas for travelers in the Playa del Carmen area are Downtown (including the neighborhoods El Centro, Quinta Avenida, and Playacar – known for nightlife, shopping, dining), North Playa del Carmen (a 30-minute walk to Downtown but much quieter and with a better beach), Mayakoba (luxury resort complex in the jungle, easy access to Downtown), South Riviera Maya (includes the cenotes, jungle, and beaches between Playa and Tulum), and North Riviera Maya (the beaches and attractions on the way to Cancun – some of the largest luxury resorts in Mexico are here).
The beach is wide and mostly sandy for the full stretch of the Playa del Carmen area, from the north end to the south end of the Riviera Maya, though the section that passes by the town itself is narrower than most and more crowded. From the Mayakoba area to the South Riviera Maya (near the town of Akumal) the waves are gentlest, as the strongest waves are broken by Cozumel island.
Pay in pesos. Almost every restaurant, shop, and taxi accepts US dollars, but the exchange rate always favors the peso. If you pay in dollars, you will overpay.
Getting to Playa is easiest by driving, but if you're staying in downtown or only plan on leaving the resort for tours, it's probably not worth the price to rent a car. Instead, travelers should take the ADO bus or pre-book a shuttle. I recommend Private Transportation Riviera Maya; a round trip shuttle for a family of four from the Cancun Airport to downtown Playa del Carmen runs about 100 USD and takes about 50 minutes each way. The ADO bus is definitely the cheapest option. Tickets are about 210 pesos (10 USD) each for adults and 105 pesos (5 USD) for children ages 5 to 12. The same round-trip rate for a family of four would be about 60 USD and would take 1 hour 15 minutes each way. Buses leave roughly every 30 minutes. Tickets are sold for particular time slots, so it's best to buy them at the airport rather than booking ahead online, in case of unexpected delays. Taxis are the most expensive option, running about 1600 pesos (70 USD) one-way for a group of four from the airport to the city of Playa del Carmen; make that 3200 pesos (140 USD) for a round-trip taxi.
Playa del Carmen is small and easily walkable; most hotels, restaurants, and shops sit within a 3 km section of town. There is no Uber, but taxis in the city are affordable and easy to find at designated taxi stands or by flagging one down on the street. Taxis in Playa do not use meters; fixed rates in pesos are printed on a chart that drivers carry with them. Drivers accept US dollars (change is given in pesos), but rates are much lower if paid in pesos, as drivers do not use a currency converter and will just make up a number that is always higher than the actual exchange rate.
Best Places to Stay in Playa del Carmen
What are the Best Areas to Stay in Playa del Carmen?
Playa del Carmen is a bustling, beach city on Mexico's Caribbean Sea in the Yucatan Peninsula. The town is located in the state of Quintana Roo in the Riviera Maya area, halfway between Cancun and Tulum (about 37 miles away from both towns) and across the sea from the island of Cozumel. Playa Del Carmen is warm and tropical year-round. It is also one of the safest resort towns in Mexico.
The Best Places for First-Timers to Playa del Carmen are Downtown, North Playa, Mayakoba, North Riviera Maya, or South Riviera Maya. Those with early morning flights out of Cozumel should stay in Downtown close to the port for Cozumel ferries. For travelers departing early from Cancun, stay in North Riviera Maya, much closer to the Cancun airport.
Best Place for Great Beaches: The beaches in the entire Playa del Carmen area are phenomenal: long, white stretches of powdery white sand and fairly gentle waves due to its location behind the Mesoamerican Reef, which stretches from Cancun all the way down to Guatemala. The waves are even more gentle from the beaches of Mayakoba south past North Playa, Downtown, and midway into South Riviera Maya due to their location behind the island of Cozumel. Downtown has the narrowest, noisiest, most crowded stretch, leaving the best beaches at Mayakoba, North Playa, and South Riviera Maya.
Best Places for Families: For wide beaches, calm waters, family-friendly accommodations, wonderful restaurants for picky eaters, and plenty of all-day activities, choose a resort in Mayakoba or in South Riviera Maya. North Riviera Maya is another great option with amazing resorts, activities, and dining, but keep in mind that the waves are a little rougher, so it's more suited to families with older kids or for stronger swimmers.
Best Places for Living Like a Local: Thanks to Playa's travel boom that began in the mid-90s, there is not a whole lot of authenticity to be found in the resort-heavy, beach areas farther up and down the coast. That said, the best spot to experience local life is in Downtown, especially at Punta Esmeralda Beach, where local families swim and fill up on fresh grilled shrimp, and 10 Avenida Norte and 30 Avenida Norte, where the locals shop and eat. Restaurants here serve local seafood, modern and traditional Mexican fare, Yucatecan and Mayan cuisine.
Best Places for Dining and Nightlife: Downtown has almost all of Playa's nightclubs and bars and many of the area's best restaurants within a short walk from the beach and any hotel here. North Playa del Carmen offers good walkability or easy taxi access (depending on the resort) to the same fantastic dining and exciting nightlife but sits far enough away that you can't hear the club music or partygoers when it's time to sleep.
Best Places for Shopping: The main shopping zone in Playa del Carmen is on Quinta Avenida (5th Avenue) in Downtown. Quinta Avenida is about 5 km long stretching from the Playacar neighborhood through El Centro (the main town) to the beginning of the resort area in North Playa del Carmen. Most of the shops are along the south and central parts of the street, between Los Fundadores Park and the intersection with Calle 54 Norte. North Playa del Carmen is also easily accessible to the Downtown shopping district on foot or by a short taxi.
Best Places for Short Trips: Downtown and Mayakoba offer the most things to do in concentrated areas ideal for short vacations. Downtown is entirely walkable to the city's best dining, shopping, nightlife, and the beach, plus the ferry to Cozumel and the ADO bus to Cancun or Tulum. Mayakoba is a little world unto itself, a patch of jungle with a gorgeous beach and several resorts, shopping, and dining areas connected by a boat taxi, bicycle trails, or walking. Set in the jungle, you'll find native animals and plants all over, especially coati, iguanas, and tropical birds.
Staying in Downtown
Once a small fishing village, Playa's popularity exploded in the '90s when the ferry to Cozumel began service here. Hundreds of hotels, restaurants, and nightclubs have sprung up over the years, and the population has grown to 10 times its previous size. Despite its growth, the town remains one of the safest in the Riviera Maya and all of Mexico. The city of Playa del Carmen includes the areas El Centro (the bustling heart of the city), Quinta Avenida (shopping, dining, and nightlife street), Playacar (a family-friendly, gated resort area), and about 7 km of beach. I'll be referring to these areas collectively as Downtown.
Downtown is where the bulk of Playa del Carmen's hotels are, ranging from cheap to luxurious, in town or beachfront, all-inclusive or European-plan, and including adults-only and family-friendly properties. The entire coastal length from the south end of Playacar to the north end of Downtown (at Punta Esmeralda Beach) is about 7 km. No matter where you stay in Downtown, the beach is just a short walk away, as are restaurants, bars, clubs, shops, fishing charters, and tour operators. Downtown is great for travelers on a budget (with more a la carte resorts, boutique hotels, and guest houses that other nearby areas) and for those who want to have plenty of things to do but prefer not to rent a car (everything is within walking distance).
Downtown, especially El Centro, is known for its lively atmosphere along the shopping street Quinta Avenida (5th Avenue), the nightclub zone at Calle 12 Norte (North 12th Street), and along the busy beachfront. Quinta Avenida runs for 4 kilometers, beginning at Paseo del Carmen mall in the southwest and ending at Punta Esmeralda at its northwest end. The few kilometers are pedestrian-only with malls, street vendors, great restaurants, and friendly bars. The newest and flashiest part of the town is here, near the Quinta Alegria Mall. The beachfront is home to several beach clubs, the best among them being Mamita's Beach Club and Coralina Daylight Club with music, cocktails, and snacks all day. Venturing northeast of the ferry port, you'll find the city's best nightlife at Calle 12 Norte, from small trendy bars to enormous dance clubs such as Coco Bongo, Mandala, and the best one, Diablito Cha Cha Cha. There are a few hotels near 12th Street, but the noise from the clubs goes all night; this is not the place to stay for light sleepers. The Playacar area is a gated beach community at the southwest end of the city with a golf course, large all-inclusive resorts, and wider, cleaner, quieter beach than in El Centro. This is the most family-friendly area in Playa, and most resorts here have multiple pools, kids' clubs, playgrounds, and activities throughout the day.
The Best Hotels in Downtown
The Best Restaurants in Downtown Playa del Carmen
Staying in North Playa del Carmen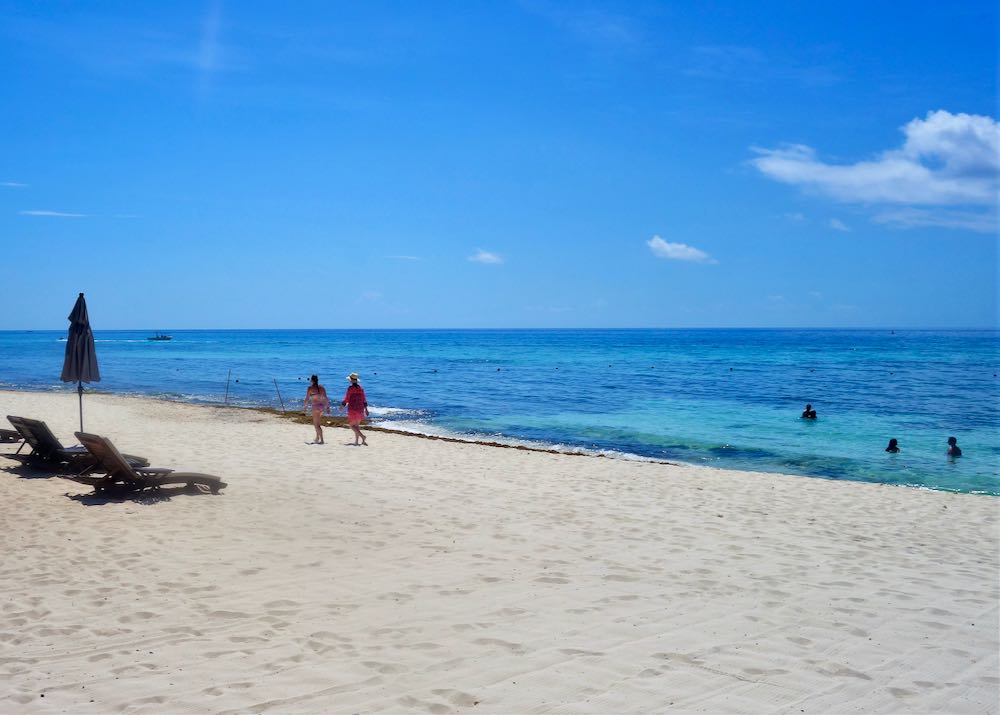 North of Punta Esmeralda and before Mayakoba is a string of all-inclusive luxury hotels, upscale residences, and high-end restaurants along the white sand of Xcalacoco Beach. There are a few small neighborhoods inland from the beach, but the North Playa area is far less populous than downtown and much quieter throughout the day and at night. Though it feels more secluded, North Playa is still conveniently located near downtown, which is reachable via a lovely 20 to 30-minute stroll south along the beach or by a 10-minute drive. This is a perfect area for a quintessential beach vacation, spent enjoying the sea, pool, and resort amenities but offering the flexibility of making an impromptu trip to Downtown to take in the city's best nightlife, dining, and shopping.
The Best Hotels in North Playa del Carmen
The Best Restaurants in North Playa del Carmen
Asados Patzcúaro • $$-$$$ • Awesome hole-in-the-wall for fantastic barbecued meats and more.
XG Sabor Extra • $$-$$$ • Family-run breakfast and lunch spot for authentic flavors, popular with locals.
Staying in Mayakoba
To the northeast side of North Playa is the ultra-luxury resort collection of Mayakoba. Its paradisiacal landscape is based on the area's natural ecosystem, with a jungle, mangrove wetlands, cenotes, lagoons, and a white sand beach – all connected by a complimentary water taxi system and footpaths. The jungle and all resorts in it are home to native animals, including coati, iguanas, monkeys, and topical birds.
This is an ultra-luxury resort complex just outside of Playa del Carmen's north end. Its design incorporates the natural geography of the area, with cenotes, lagoons, and a sandy beach, and is home to a variety of native animals, including coati, iguanas, spider monkeys, and tropical birds. Though Mayakoba offers plenty of tranquility, there are also endless activities including several kilometers of bike trails (most resorts offer free bicycles), water sports, a dive center, yacht charters, the PGA golf course El Camaleón, and El Pueblito Village, an entertainment space designed after a traditional Mexican city square with a cooking school, farmers market, restaurants, and a chapel.
The Best Hotels in Mayakoba
The Best Restaurants near Mayakoba
Koba Restaurant • $$$ • Mexican and American casual favorites at the El Camaleón golf course.
Cocina de Autor • $$$$ • Creative, contemporary Mexican-Caribbean fine dining in the Grand Velas Resort. Open from 6:30 p.m. to 9:45 p.m. Children allowed until 7:00; adults-only after that. Reservations required. Elegant casual dress code.
Staying in North Riviera Maya
North Riviera Maya, the stretch of coastline between Playa and Cancun, is home to some of Mexico's largest all-inclusive resorts as well as some smaller, European-plan resorts. Though all beaches in Mexico are free to enter and open to the public, most beaches at resorts in North Riviera Maya are not walkable to any towns or other resorts, making them seem like private beaches. There are two small towns here, Puerto Morelos and Punta Maroma, which have busier, public beaches, though nowhere near as crowded as beaches in the city of Playa del Carmen. Puerto Morelos is home to the botanical garden, Jardín Botanico Dr. Alfredo Barrera Marín and Croco Cun Zoo, an interactive, crocodile-centric, conservation center. Punta Maroma has a quieter beach and dolphin encounters at Maroma Adventures.
The Best Hotels in North Riviera Maya
The Best Restaurants in North Riviera Maya
DK • $$-$$$ • Amazing restaurant in a shipping container. Their signature menu item is lionfish, prepared as tacos, burgers, or Thai style.
La Sirena • $$-$$$ • Mediterranean and Mexican flavors with balcony seating, live music, and a dancefloor.
Doña Triny's • $ • Down home, Mexican kitchen with authentic flavors, open all day.
Staying in South Riviera Maya
South Riviera Maya, running between Playa del Carmen and Tulum, offers more nature and serenity than other nearby areas (though resorts here tend to be large, all-inclusives). Here you'll find kilometers-long stretches of uninterrupted, powdery sand beaches, flanked by the jungle interior to the west and with Cozumel Island to the east softening the ocean waves. The main town between here is Puerto Aventuras, which boasts a few great restaurants, resorts, and a Dolphin Discovery park. The biggest attractions here are the adventure parks, including Xel-Ha, Xcaret, and Río Secreto. But the real gems of South Riviera Maya are the cenotes, natural sinkholes with crystal-clear, fresh water and excellent swimming, diving, and snorkeling – some open to the sun and others inside caves connected to underground river systems. The best cenotes here include Dos Ojos (a 5-cenote system, some open and some closed, connected to Sac Actun, the longest underground river system and 2nd largest cave system in the world – guide required), Jardin del Eden (large, open-air jungle cenote with diving platforms and underwater caves), and Cenote Azul (open-air cenote with one main pool and several smaller pools branching off). For more info on cenotes, check out our cenote map.
The Best Hotels in South Riviera Maya
The Best Restaurants in South Riviera Maya
The Traveler's Table • $$$ • Adults-only, communal, fine dining experience with a sparkling wine reception, 5-course guided tasting menu, 5 boutique Mexican wine pairings, a tequila and mezcal tasting, and a cocktail class. Round trip transportation included. Reservations required.
La Buena Vida • $$ • Beach bar and restaurant with a Mexican-international food menu and great signaute cocktails (try the Maya Kiss, with the local spirit Xtabentun). Open for lunch and dinner year-round and for breakfast daily except from August through October.
Imelda's Ecocina • $ • The most authentic restaurant in Akumal, tucked on a side street in the pueblo not the beach. Imelda's serves Mayan-Yucatecan dishes for breakfast and lunch daily, and dinner a few nights a week by reservation.
Read More