Mexico › Tulum › When to Go
Updated: March 23, 2022
See Also
When is the Best Time to Visit Tulum?
The best time to visit Tulum, Mexico, depends on your preferences for weather, activities, and crowd levels. Generally, the most popular time to visit Tulum is during the dry season, which runs from November to April. The weather during these months is typically sunny and warm, with temperatures ranging from 75°F (24°C) to 85°F (29°C).
The peak tourist season in Tulum is from December to March, coinciding with winter breaks and holidays in North America and Europe. During this time, you can expect higher prices for accommodations, more crowded beaches, and a lively atmosphere. If you don't mind the crowds and are looking for the best weather conditions, this is a great time to visit.
The shoulder season from April to early June can also be an excellent time to visit Tulum. During this period, the weather remains warm and pleasant, but the crowds start to thin out, and accommodation prices are generally lower. This is a good time to enjoy the beaches, attractions, and activities without the peak-season crowds.
The low season, which runs from June to October, coincides with the rainy season and hurricane season in the region. Although there is a higher chance of rain and storms, you can still enjoy warm weather and fewer crowds. Prices for accommodations and activities are usually lower during this time, making it a more budget-friendly option.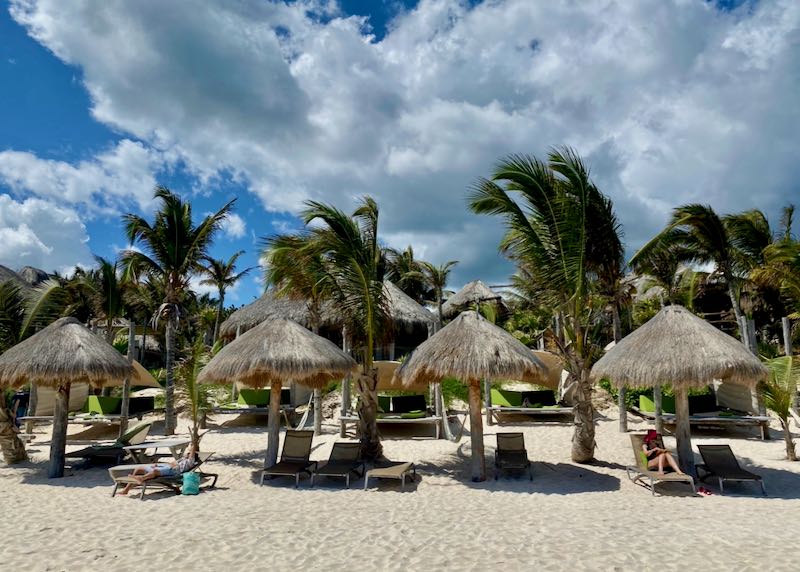 The Best Time for Good Weather: Late November through April has the sunniest weather with the least amount of rain, along with warm daytime temperatures with comfortable, occasionally cool nights. Expect some rain for visits from May until October, with June, September, and October being the wettest months. Even during the rainy seasons, storms usually last only an hour or two, then the sunny skies return – it's rare to have two or three days of continual rain without any sun. May and August are the hottest months, with August feeling especially hot due to high humidity. Ocean temperatures are comfortable for swimming all year long but are warmest from July through October. Hurricanes are not common, but if they're going to hit, it will most likely happen in September and October.
The Best Time for Great Deals: Room rates will be at their lowest in the off-season, from June through October, especially during September and October, Tulum's two rainiest months. Though humidity is high every day and rain is likely on half of the days, storms typically only last an hour or two, then it's back to sun and warmth. October typically sees the biggest lull in tourism, so be advised that many shops and tour operators take advantage of this break and close for a few weeks during this time. April through June, post-high-season and pre-hurricane season, also sees occasional good deals, though prices tend to vary more widely. The best hotels in Tulum should be booked 4 to 6 months in advance.
The Best Time for Avoiding Crowds: Crowds are at their smallest in late summer/early fall, especially during September and October, when rain, heat, and humidity are at their peaks. June through August sees gradually thinning crowds, while October is the least crowded month, especially earlier in the first half. Though fewer tourists means less crowded attractions, this also means that many smaller tour operators and restaurants close for their own vacations. The major attractions will still be open, though, and the beaches will be quieter. Plan accordingly, and you can have a great, relaxing time.
The Best Time for Sightseeing (Ruins and Jungles): November to April are the best months to explore the area's wonderful historical, cultural, and natural attractions. These months tend to be dry and warm, but not too hot in the day. Humidity and heat are highest during the rainy season from May to October, with May and August being the hottest months, and June through September the most humid. This isn't a problem when you're on the beach and refreshed by ocean breezes, but inland sightseeing at Coba, Chichen Itza, and Sian Ka'an can feel overwhelming in the sticky heat. If you visit during the summer months, bring plenty of water and plan an afternoon cenote swim to cool off.
The Best Time for Swimming, Snorkeling & Diving: Oceans, reefs, and cenotes are truly wonderful all year round, though there are some fluctuations in conditions. Water temperatures are at their lowest in January and February and at their highest from July through October. September and October tend to have more rainy days, though, so July and August are the better of these four months for swimming. For diving and snorkeling, visibility is not great in the warmer, rainier months but rather during the drier months from November through May, especially during the months of January through March. For snorkeling with whale sharks in particular, visit in late May; the water is warm, visibility is good, and the first whale sharks have arrived.
Best Time for Whale Sharks and Sea Turtles: Tulum is one of the most reliable spots for seeing these two endangered animals. Whale sharks begin to arrive in May and are plentiful by June. From June through August, whale shark tours have almost 100% chance of locating these gentle giants, usually several at a time in one location. Whale sharks begin to leave the area in September and are almost all gone by the end of the month. Adult sea turtles begin nesting on the beaches in May, especially toward the end of the month and finish laying in October. The baby sea turtles begin hatching and heading seaward in July, continuing their nightly treks through December. The best time to see all three groups (whale sharks, nesting turtles, and baby turtles) is in July and August when all are fully present and active.
The Best Time for Honeymoons: Tulum is most beautiful from November through May, with ideal beach conditions and clear skies throughout these drier months, the perfect honeymoon mix. Early November and May offer the best mix of good weather, low-ish crowds, and good room rates for honeymooners celebrating on a bit of a budget. January through March has the best weather, with the most number of sunny days, and near-perfect beach conditions, but rates are higher and crowds are thicker.
The Best Time for Nightlife: December and January land in the peak travel season and are the best months for nightlife. Bars and clubs are all hopping, some open as late as 4:00 a.m. Dancers and partiers are in a celebratory mood, but without the craziness that spring break brings in March.
Tulum Festivals and Events
The Best Recurring Parties in Tulum
Tulum in January
Tulum in February
El Día de Candelaria/Tamale Day: Candlemas falls 40 days after Christmas, on February 2nd, and is a celebration of the Presentation of Jesus at the Temple. It is also the midway point between the winter solstice and spring equinox. On this day, people dress up figurines of the baby Jesus and take them to the church to be blessed, along with candles. This is followed by a meal of tamales, hence its other name, with family and friends. Celebrations in Veracruz and huge, with parades and more, but in Tulum, this is a more intimate holiday.
Carnaval: Exact dates vary, but celebrations take place the whole week before Ash Wednesday, with the biggest parties the night before. Carnaval is celebrated in different parts of the Riviera Maya on different days, with the biggest celebration on Cozumel and usually the final party in Tulum. Expect parades, live music, wild costumes, lots of food and booze, and dancing in the streets.
Tulum in March
Alborada Maya: A fusion of Maya and Catholic celebrations unique to Tulum. Events mostly take place at the Mayan Ceremonial Center as well as the Church of Tulum. Maya priests perform ceremonies of thanksgiving for harvests, while pilgrimages, prayers, ceremonies, and music all blend in honor of the saints.
Tres Cruces: March 7-14. This holiday is unique to the Cruzo'ob, the Cult of the Talking Cross, a small faction of indigenous Maya from Quintana Roo, who practice a religion that blends Maya and Catholic faiths and is rooted in the Caste War of the mid-1800s. The ceremonial center is near the Tulum Ruins, and its saints and entry are protected by a guard, who permits visitors to enter barefoot, with bare heads, in silence, and by candlelight. This holiday is in honor of the three original talking crosses, crosses being both pre-Hispanic and Catholic imagery, who spoke words of encouragement to the Maya people in their uprising against the Spanish.
Wine and Food Festival, Cancun-Riviera Maya: Five-day celebration of food and wine, with renowned chefs and sommeliers from Mexico and the U.S. Events include dinners, taco competitions, beach parties, golfing, and more.
Spring Equinox at Chichen Itza: Occurring annually on March 20, the first day of spring, when the afternoon light hits the pyramid temple of El Castillo just right, it reveals a representation of Kukulkan. The feathered serpent god seems to appear and climb down the side. This amazing event happens twice yearly at the spring and autumn equinoxes, amazing visitors with the astronomical and mathematical prowess of the ancient Maya peoples. It is usually very crowded on the equinoxes and tons of fun. If you prefer to avoid the crowds, you may still see the effect two days before or after the actual equinox.
Tulum in April
El Día del Niño (Children's Day): A holiday filled with fun, gifts, and special activities just for kids. Though not an official holiday, many schools don't hold classes this day. Zoos, amusement parks, and attractions often offer special discounts on April 30. Travelers can also participate by handing out toys or candy to street kids.
Tulum in May
Festival de Cultura del Caribe: Celebration of Maya, Mexican, and Caribbean culture through food, music, dance, literature, film, and more. The eight-day celebration takes place in a variety of venues throughout the city and features a variety of local and international acts.
Cinco de Mayo: Not actually a holiday here and only really celebrated in Puebla. Many bars will run drink specials, though!
Sacred Mayan Journey/Travesia Sagrada: Annual recreation of a thousand-year-old pilgrimage from Xcaret to Cozumel in worship of the fertility goddess Ixchel. Roughly 300 men and women row canoes across the ocean beginning at dawn and making their return journey the following dawn. Rituals, music, and dance begin and end the event. A feast awaits the rowers in Cozumel, but the biggest celebration is in Xcaret upon their return.
Tulum in June
Fête de la Musique: French-based music festival taking place in 100 countries at once. Taking place in Playa del Carmen, this event celebrates the first day of summer, June 21, with food, dance, cultural activities, and more. Proceeds benefit a local charity.
Tulum in July
Festival del Triciclo/Tricycle Festival: Playa del Carmen's celebration of the tricycle, the crucially important vehicle traditionally used by fishermen to haul their catch, by street vendors to carry their wares, and by travelers transporting their luggage. The festival begins with a parade of wildly decorated tricycles down 5th Avenue to Parque Fundadores. Once at the park, prizes will be awarded to the best-decorated trikes, followed by live music and bites from food trucks and restaurants alike.
Tulum in August
ZoukMX: Ten-day music and dance festival in Playa del Carmen on the beach and in the jungle. This event begins with several teacher workshops, followed by days and nights on end of dancing to zouk, a fast tempo, Caribbean dance music.
Assumption of the Virgin Mary – Celebrated nationwide in mid-August, there are special masses held throughout the country, including Cancun. Though some cities will host processions, Cancun typically does not.
Tulum in September
El Grito and Independence Day: Celebrations begin in the afternoon on September 15 in the main square downtown with mariachi music, dancing, and carnival rides. Street vendors and restaurants serve all kinds of goodies, especially pozole and mole. Tequila and mezcal are the major drinks here. At 11 pm, the grito, or cry for independence, is called with bells ringing and fireworks. The country's biggest party begins immediately after and goes well into the night.
Autumn Equinox at Chichen Itza: Occurring annually on September 22, the first day of fall, when the late afternoon light hits the pyramid temple of El Castillo just right, it reveals a shadow image of the feathered serpent god Kukulkan, just as it does in spring. However, September is the rainiest month of the year, and sometimes the cloud coverage prevents Kukulkan from making an appearance. Additionally, with daylight savings time, the event occurs after the park is closed for the evening. Some years, the park stays open late to accommodate the event, but other times, they close at the usual schedule. Check the weather and check the park's officially posted hours before planning a trip out. It's a long drive!
Tulum in October
Turtle Festival/Festival de la Tortuga Marina: A free, three-day event celebrating the sea turtle, with various events taking place in Tulum, Akumal, and Xcacel. The family-friendly festival centers on educating and encouraging sea turtle conservation. Activities include a turtle hatchling release, Maya ceremony, cookout, sandcastle competition, music, carnival, and more.
Día de las Brujas (Halloween): Though not traditionally celebrated in Mexico, Halloween has been catching on in the past few years. Smaller parties take place in Tulum and Puerto Morelos on October 31st, but Playa del Carmen has the biggest celebration, especially along 5th Avenue with costumes and trick or treating.
Tulum in November
Day of the Dead: November 1-2. Known as Hanal Pixan in Yucatan Maya. This is actually two holidays rolled into one, Día de Todos Santos (All Saints Day) and Día de los Muertos (Day of the Dead, All Souls Day). On All Saints Day, Mexicans honor deceased children, leaving offerings to them on custom-designed altars in cemeteries or in their homes, with sugar skulls, toys, and treats. Day of the Dead is similar but for the souls of deceased adults. People decorate altars in their homes or in cemeteries, some keeping vigils and others leaving offerings, usually tequila, cigarettes, and the deceased's favorite foods. Candles and trails of marigold petals are led from the altars to light the way for the spirit's return. Unlike Oaxaca, Mexico City, and the tourist zone of Cancun, celebrations in Tulum are more low-key, without the big parades and fanfare. Though travelers can visit the cemeteries to see the altars, those are usually smaller and more intimate for families. The competition altars in Downtown are more elaborately designed, free to visit, and are usually more festive in the evening. For more of a family-friendly celebration, visit Xcaret Eco Park from October 30-November 2 for their special event with food, dancing, music, and performances.
Riviera Maya Jazz Festival: Free, three-day music festival, attracting major acts and anywhere from 9,000 to 15,000 attendees a night. The stage sets up on the beach near Mamita's, with music beginning in the afternoon until late in the evening. Arrive early if you plan on sitting down; the area near the stage allows attendees to bring beach blankets and chairs. The back of the crowd is standing room only.
Tulum Food, Spirits, and Wine Festival: Four-day event featuring highly awarded local and international chefs and mixologists as they fuse their knowledge and talent with local spices, produce, and gastronomical traditions. Events range from street food to elegant dinner parties, along with tequila, wine, and mezcal tastings. Proceeds benefit a local charity.
Mayakoba Golf Championship: An official, PGA tour with over 100 pro-golfers competing for a huge prize in four rounds over the course of one week. The event takes place in Mayakoba at the El Camaleón golf course just north of Playa del Carmen. Some of the proceeds benefit local charities.
Tulum in December
Antorchas Guadalupanas and Día de la Virgen de Guadalupe: One of the most important Mexican Catholic holidays, December 12 celebrates the appearance of the Virgin Mary to an indigenous convert, Juan Diego. The holiday begins its celebration with a series of relay race pilgrimages, the Antorchas Guadalupanas, where runners take turns carrying a torch. The runners reach their destination in Downtown Tulum on December 12, and the main festival begins, with mass, food, music, dancing, and flowers. Though celebrated throughout the Riviera Maya, Tulum has the largest celebration.
Dos Equis Winter Beach: Three-day music, fashion, and entertainment festival, featuring internationally renowned DJs, beachfront catwalks debuting swimsuit and beachwear collections, and dance parties at Papaya Playa.
Christmas: Christmas Eve sees family and friends celebrating throughout town, often with a late night mass, followed by a midnight feast with mole, ham, and more. Christmas Day is much quieter, with most families celebrating at home.
Día de Los Santos Inocentes/Day of the Holy Innocents: December 28. This is basically a Mexican April Fool's Day. Originally meant to commemorate the deaths of the Holy Innocents, the children slaughtered by King Herod in an attempt to kill the baby Jesus, the holiday has evolved into a day of pranks. Once someone is fooled, it is customary to say to them, "Innocent little dove that you let yourself be deceived." This is also a day where people are known to borrow items and never return them.
Zamna Festival: From late December through mid-January, this EDM music festival is actually a loose collection of different DJ sets every couple of nights, with a different lineup and venue each night. Tickets are sold individually for each set.
Read More