Mexico › Tulum › Best Cenotes
Updated: March 8, 2022
See Also
What is a Cenote?
Cenotes are limestone sinkholes filled with fresh water, formed when bedrock collapses and exposes groundwater below. Most of the Yucatan's 6000 cenotes are small, underground, and inaccessible, though a notable number are large enough to swim, snorkel, or dive in. Many are crystal blue and open to the air, while others are accessible by stairs leading down into caverns and are connected to large underground river systems. If you do only one thing during your time in Tulum visit a cenote.
Tulum Cenotes: Tips & Advice
Most cenotes have a charge of 80 to 150 pesos to enter and offer lockers, restrooms, and snack bars. Just take a towel, taxi money, and snorkel-mask (optional), and you'll have an amazing time at any of these cenotes.
Getting to cenotes by bike is easy from Tulum. Pedaling 10 to 30 minutes north from the pueblo along Avenida Coba takes you past Cenote Zacil-Ha, Cenote Car Wash, and Gran Cenote to name a few. Cycling 20 minutes west along the main road through the pueblo Carretera Cancun-Tulum (aka Carretera Cancun-Chetumal) leads to Cenotes Cristal y Escondido; 15 more minutes leads to Kaan Luum Lagoon. Heading east along the same road leads to Caleta and Cenote Tankah in 15 minutes and Casa Cenote in 30 minutes. If you're staying in the beach zone, visit Virgin Cenote at Clan-Destino restaurant in the heart of the Middle Beach Zone, offering free entrance to the cenote for patrons. These are all open-air cenotes, cheap to enter, no guide required.
Some of the farther-flung cenotes (some of which are part of underground cave systems) are easily accessible by driving or taxi. These include Cenote Dos Ojos, Cenote Sac Actun, Jardin del Eden, Cenote Azul, Yal Ku Lagoon, and the Cobá cenotes Choo-Ha, Multum-Ha, and Tamcach-Ha. Taxis in Tulum do not use meters; instead, they charge a flat rate based on what zone they travel through. There is no Uber in Tulum. Reaching most of these should cost between 400 and 600 pesos. It is best to have the driver wait for you at the cenote to take you back, rather than standing on the highway trying to flag one down. The open-air cenotes and Cobá underground cenotes are cheap to enter and don't require a guide. The cavern cenotes Dos Ojos, Sac Actun, and others listed in the article below will require a guide and gear, and cost 400 to 600 pesos to enter.
Do not wear sunscreen. Cenotes are fragile environments interconnected by underground river systems. The chemical agents in sunscreens, even the biodegradable types, can cause irreparable damage to the already threatened ecosystems here. Many cenotes have showers near the entrances, where guests are required to rinse before entering the water.
You can easily visit cenotes on your own, but if you don't want to worry about arranging transportation, I highly recommend this cenote and snorkeling tour with hotel pickup and drop off.
Tulum's Best Cenotes – Video
Tulum Cenotes and Lagoons
1. Cenotes Dos Ojos • Tankah, northeast of Tulum • $$$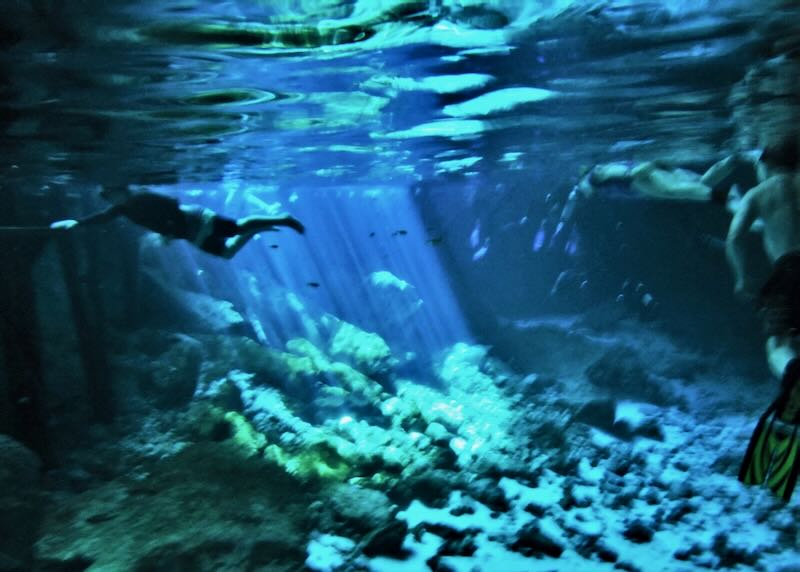 Dos Ojos (Two Eyes) is the most impressive cenote group in Tulum, named for its two largest cenotes, the Blue Eye (a sparkling, open-air cenote) and the Black Eye (a pitch-dark cavern with stalactites and stalagmites; you'll need a guide and a flashlight to see this one). Dos Ojos is a flooded cave system with 5 cenotes total and connecting with Sac Actun (more info on Sac Actun below). Public access is available for its 2 open-air cenotes for 350 pesos (definitely on the high end for cenote rates), while its 3 cave cenotes require a guide (rates vary, but it's worth the price). Experienced divers can also set up scuba tours through parts of Dos Ojos inaccessible to swimmers and snorkelers. • Map
2. Cenote Zacil Ha • Avenida Coba, northwest of Tulum • $

Popular with local families, Zacil Ha is a small, open-air cenote with a zip line, diving platform, and 2 pools. The cenote is only about 3 meters deep, but the zip line is what keeps people coming back (it's just 10 pesos a zip). There is a small, affordable snack bar on site, but most local families bring their own picnic. At 80 pesos to enter, this is among the cheapest cenotes to visit. • Map

Enormous, open-air cenote in the jungle with emerald-sapphire water. Jardin del Eden has a cliff at one end topped with a diving platform, and toward the center is a group of flat rocks just beneath the surface of the water (formerly the roof when the cenote was inside a cave), where people tend to sit and hang out. Visibility is excellent and many people bring their masks to snorkel (though there is not much aquatic life to see here), while divers visit to explore the cenote's deep underwater caves. There are restrooms, life jacket rentals, and a small snack bar here. Entry is 200 pesos. • Map
4. Cenotes Cristal y Escondido • West of the Pueblo • $

Though very close to the Tulum pueblo, these two open-air cenotes with lovely, clear waters are off the tourist radar, so they tend to be pretty quiet. Cenote Cristal is the busier of the two, with a round shape, a diving platform, and a few little hangout spots built around. Across the street, Cenote Escondido is a long, skinny strip of water teeming with fish and with a rope swing at one end. Both cenotes are connected by an underwater tunnel, though you'll need scuba gear to swim its length. 120 pesos includes entry to both cenotes. Enter and pay at Cristal; park at either cenote. Don't confuse Cenote Cristal with Cenote Cristalino. Though Cenote Cristallino in Xpu Ha is beautiful, the operators have made life jackets mandatory, which takes the fun out of swimming there. • Map
5. Cenote Azul • Xpu Ha, northeast of Tulum • $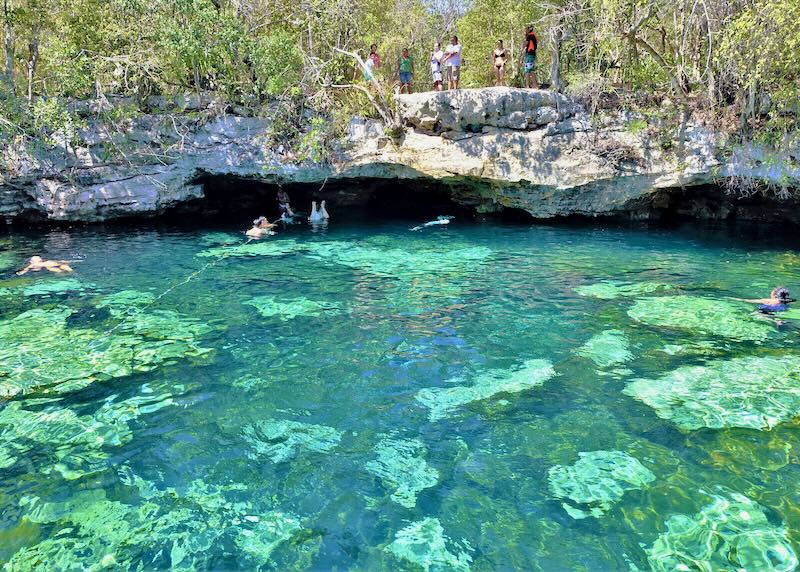 Cenote Azul is a collection of open-air pools all connected by a network of walkways with a few diving platforms spread throughout. The main cenote is the deepest, though there are a few deep pools mixed with mostly shallow pools radiating out from the central area. This is a popular cenote for families, as there are plenty of shallow areas for younger kids to enjoy. The cenote is shaded by jungle and rocky shelves over the water, letting in dappled sunlight for most of the day. Several flat, partially submerged rocks offer a perfect spot to chill in the water while tiny fish nibble your feet. There is a small store with snacks and drinks for sale. 120 pesos to enter. • Map
6. Casa Cenote (formerly Cenote Manatí) • Tankah, northeast of Tulum • $

This busy cenote is a popular spot for swimming, snorkeling, and scuba lessons. What makes Casa Cenote so special is its mix of freshwater and saltwater, its lazy-river current (the vast majority of cenotes don't have a current at all), and its abundance of wildlife. Coati, birds, and butterflies visit its banks, while tropical fish and blue crabs flock around the mangrove roots. Panchito, a solitary little crocodile, lives near the back of the cenote; he's never bitten anyone in all his years living there, but still, be sure to give him a wide berth. 120 pesos to enter, no guide required. There is a security checkpoint after you turn off the highway on the road Fraccionamiento Tankah leading to Casa Cenote. Tell the guards you are headed to Casa Cenote, and they will let you pass. There are not many services here other than porta-potties and life jacket rentals, but there are a handful of good restaurants in the area (the best is Chamico's, about 2.5 km north along the beach). • Map
7. Cenotes Choo-Ha, Tamcach-Ha, and Multum-Ha • Cobá, northwest of Tulum • $

On the same patch of land about 6 km from the Cobá ruins are three underground cenotes, each with unique features. Choo-Ha is the most "cavey" filled with stalagmites and stalactites and shallow, jewel blue water. Tamcach-Ha is the largest, deepest, and most popular with 2 diving platforms set at 5 and 10 meters high. Multum-Ha, the quietest of the three, is an almost perfect dome with hanging vines coming down through a small hole in its top. Life jackets, showers, and restrooms are available. The cenotes cost 100 pesos each to enter. • Choo-Ha Map • Tamcach-Ha Map • Multum-Ha Map
8. Yal Ku Lagoon and Cenote • Akumal, northeast of Tulum • $$

Yal Ku is a large park with a cenote that flows into a lagoon that flows into the sea. This the best snorkel spot in the whole of Riviera Maya (aside from the coral reef) due to its mix of fresh and saltwater. Snorkelers will find tons of wildlife here with the small colorful fish (angelfish, parrotfish, and more) mostly near the cenote and mangroves and the larger fish, barracudas, rays, and sea turtles near the ocean end of the lagoon. There are two companies sharing control of Yal Ku with two different entrances. The blue and white entrance (cenote end) is the best for snorkelers, as they do not require life jackets, but there are few facilities here and almost no shade. The pink entrance (ocean end) offers palapa rentals, a snack bar, and cabins, but life jackets are mandatory, even for certified divers. Once in the lagoon, you can swim to any part of Yal Ku, no matter where you came in. Both companies charge 280 pesos to enter and both have snorkel masks available to rent. • Map

Two underground cenotes, one with a hole in the top letting in sunbeams and dramatic hanging vines, the other low lit (even pitch black in parts) with impressive stalagmites and stalactites. Chaak Tun is available to visit only as a 2-hour snorkeling tour package, beginning with a shaman's blessing and ending with a Maya meal and tequila with a little hiking and over an hour spent in the water. Tours in English and Spanish begin every 30 minutes from 8:00 a.m. to 2:30 p.m.; come early or at the tail end of the day to avoid the tourist crowds that flock here on day trips from Cozumel. The 550 pesos admission includes an enthusiastic guide, all gear, a wetsuit, and food. • Map
10. Kaan Luum Lagoon and Cenote • West of Tulum • $

Kaan Luum is the only spot on this list that is still more popular with locals than travelers (though that is fast changing). This family-friendly lagoon is ideal for young swimmers with most of it shallower than 1.5 meters. Its pale jade water abruptly turns dark blue where a deep cenote begins. The cenote is also marked off with a rope and buoys; only scuba divers are allowed in. Facilities include a large palapa (where locals picnic), a pier and group of small palapas (where everyone hangs out), 2 overwater swingsets, and an outhouse. 100 pesos to enter; to discourage drones, they charge an extra 150 to bring one in. • Map

This hidden gem offers the best of both worlds: an open-air cenote in the jungle and a caleta (small cove) on the beach. The caleta is a nearly circular cove at the edge of a sandy beach with saltwater waves washing in and freshwater heading out to sea from an underground river system; the clash of waters is fun for stronger swimmers. Walking inland along a jungle path leads to a shallow, round cenote ringed with palm trees. The cenote is fairly rocky, better for lounging than swimming. Entry to both is through the beach club at Caleta Tankah Hotel. 150 pesos includes access to the restaurant (good drinks, so-so food) and restrooms there. • Map

An open-air cenote with crystal clear water, a diving platform, great visibility, and underwater caves popular for diving. This is one of the quieter, less crowded cenotes, known for its natural beauty and tranquility. Its nickname comes from its history as a pit stop for taxis traveling between Tulum and Cobá, who used to wash their cars here. Like Casa Cenote, there is a current (though not as strong) and a small, elusive crocodile living here (just a little baby – for now). Facilities include restrooms, showers, lockers, and snorkel gear. Cenote Car Wash is the cheapest cenote near Tulum, only 50 pesos to enter (200 pesos for divers). • Map
13. Cenotes Sac Actun • Tankah, northeast of Tulum • $$$

Cenote Sac Actun is part of Sistema Sac Actun, the longest underwater cave system in the world. Archaeologists have found remains of a mastodon here, as well as a skull and partial skeleton of a teenage girl dating back 13,000 years – the oldest skeleton ever found in the Americas. Located near and connecting with Dos Ojos, Cenotes Sac Actun offer a similar feel with its flooded caverns studded with stalagmites and stalactites, but unlike Dos Ojos, Sac Actun's cenotes are all underground. A guide is necessary here, but advanced reservations are not. 600 pesos includes entrance and guided tour. • Map
Map of Cenotes Near Tulum

Hotels on Map: Jashita • Una Vida • Mezzanine • Ahau
Read More