Mexico › Tulum › How to Get from Cancun to Tulum
Updated: March 1, 2022
How to get from the Cancun International Airport to Tulum?
The Cancun Airport Transportation Company is the best way to get to Tulum from the Cancun airport. Drivers will meet you at the arrivals area of the airport with a sign. They'll offer you free water and drinks for the 90-minute drive to Tulum (I've even been given beer – though this will depend on the driver). It's a well-run service and the only way to go. They'll drop you at any hotel on the Tulum beach or in the town center.
Cancun To Tulum Map
Cancun Airport to Tulum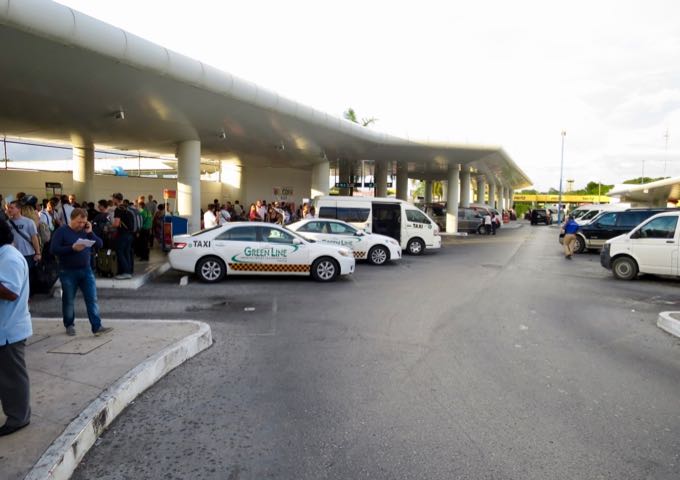 More Tips for Getting Around Cancun
Uber operates out of Cancun, and it is not illegal, despite all the warnings you'll see painted on taxi cab windows. Aside from busing, Uber is by far the cheapest way to get around; unlike Cancun taxis, rates are based on mileage and time. Uber is creating serious competition in the area, and the taxi union is not having it. There have been multiple incidents of taxi drivers violently attacking Uber drivers, so Uber drivers are understandably very cautious. To hire an Uber in Cancun, there are a few rules to follow to keep the process safe for the driver. First, move to an area where there are no taxis in sight, then call your ride on the app; if you are surrounded by taxis when the driver arrives, they will cancel the ride. Once your car is on its way, stop looking at your phone; only check it occasionally in case the driver calls or texts you. When the car arrives, greet your driver by name. Treat them like an old friend; at least one person from your group needs to sit in the front passenger seat. The driver may request a high five or a hug; oblige them. It needs to look like your buddy is giving you a lift. At the end of the ride, if you choose to tip, be discreet and don't flash your cash.
If you prefer to take a taxi, you will find them waiting in front of every resort, attraction, and shopping center along the Hotel Zone. Taxis in Cancun do not use meters; the charged rate is entirely up to the driver, and always too high. The Cancun Hotel Zone is the most expensive place to catch a taxi to or from in all of Mexico. Always settle on a price before you get in the taxi, and do not hesitate to haggle. Tipping is not customary for taxis unless the driver helps you with your luggage. Pay in pesos whenever possible. Though drivers accept US dollars, rates are much lower if you pay in pesos, as drivers do not use a currency converter and will just make up a number that is always higher than the exchange rate. One way to save a little cash for a downtown trip is to take the bus from the hotel into downtown, then hail a taxi to your final destination. (You can do the same thing on the way back.) Taxi rates in Downtown are typically much lower than in the Hotel Zone, and you can easily save $10-$15 each way ($20-$30 round trip) by taking the bus partway.
Finally, if you opt to rent a car to explore on your own, you'll find that driving is very easy. Rules of the road are similar to the U.S. Highways are well-maintained, and streets are well-mapped and easy to follow via GPS. Two things that are different are topes and left turns. Topes (pronounced TOH-pays) are speed bumps, but there are no regulations on their height, steepness, or visibility; some are nearly impossible to see until it's too late. Drive slowly in downtown, and keep an eye out for these. Standard left turns are usually OK in downtown but not on highways. To make a left, drivers will often need to use a retorno, which is a U-turn overpass. To use a retorno, drive past the road you want to make a left onto, get into the far right lane to take the retorno exit, make the left onto the overpass, and finally merge with traffic going the opposite direction. You can then make a right at the desired street or destination.
Read More