Mexico › Playa del Carmen Kid-Friendly Hotels
Updated: January 8, 2023
See Also
Playa del Carmen Family Hotels – Tips and Recommendations
Booking.com – The best website for finding family hotels in Playa del Carmen.
The best areas for travelers in the Playa del Carmen area are Downtown (including the neighborhoods El Centro, Quinta Avenida, and Playacar – known for nightlife, shopping, dining), North Playa del Carmen (a 30-minute walk to Downtown but much quieter and with a better beach), Mayakoba (luxury resort complex in the jungle, easy access to Downtown), South Riviera Maya (includes the cenotes, jungle, and beaches between Playa and Tulum), and North Riviera Maya (the beaches and attractions on the way to Cancun – some of the largest luxury resorts in Mexico are here).
For a more authentic vacation, stay in Downtown Playa del Carmen. The Playacar neighborhood in Downtown is the most family-friendly area in the city of Playa del Carmen. Playacar is a gated beach community at the southwest end of the city with a golf course, large all-inclusive resorts, and a wide, clean, quiet beach. Most resorts here have multiple pools, kids' clubs, playgrounds, and activities throughout the day. Playacar is within a short walk of the city's best restaurants, attractions, shopping, the ferry to Cozumel, and the ADO bus to Cancun and Tulum.
The best beaches for beginning swimmers are from the Mayakoba area to the South Riviera Maya (near the town of Akumal). The sea is gentlest here, as the strongest waves are blocked by Cozumel Island just 18 kilometers off the coast. The beach is wide and mostly sandy for the full stretch of the Playa del Carmen area, from the north to the south end of the Riviera Maya, though the section that passes by Downtown is narrower and more crowded.
The best all-inclusive for families in Playa del Carmen is the Hotel Xcaret Mexico (just south of the Playacar area in South Riviera Maya).
The 13 Best Hotels for Families in the Playa del Carmen Area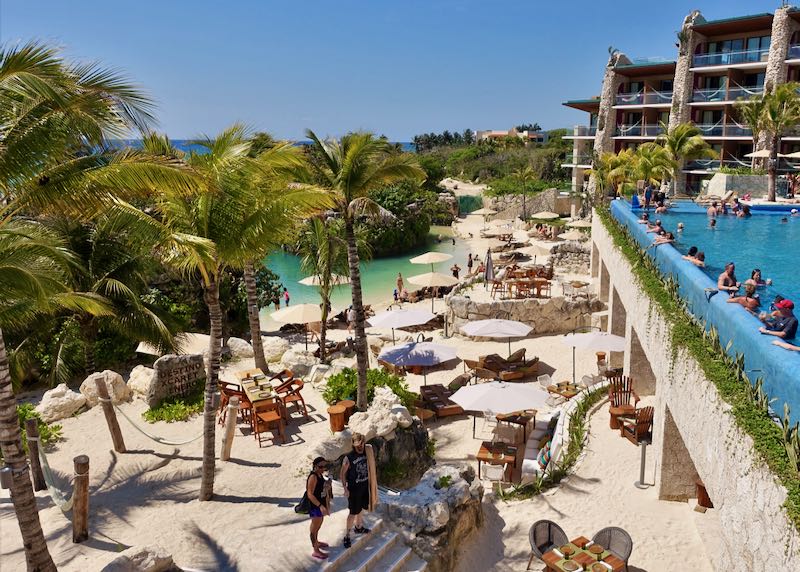 All-inclusive, family-friendly resort owned by Xcaret Adventure Parks and including unlimited access and transportation to all 10 of their parks and tours with every booking. The parks include ziplining, snorkeling, ATVs, underground rivers, and more. The resort itself boasts 6 pools, a huge lazy river, kids' and teens' clubs, and a sandy, swimmable beach. Hotel Xcaret offers spacious suites for up to 5, all with hammocks on their private balconies, some with swim-out access to a shared pool. Great location in South Riviera Maya just 5 km from Playa del Carmen's restaurants, nightlife, shopping, and the ferry to Cozumel.
Hotel phone: +52 984 206 4805
Hotel website • Check prices for Hotel Xcaret Mexico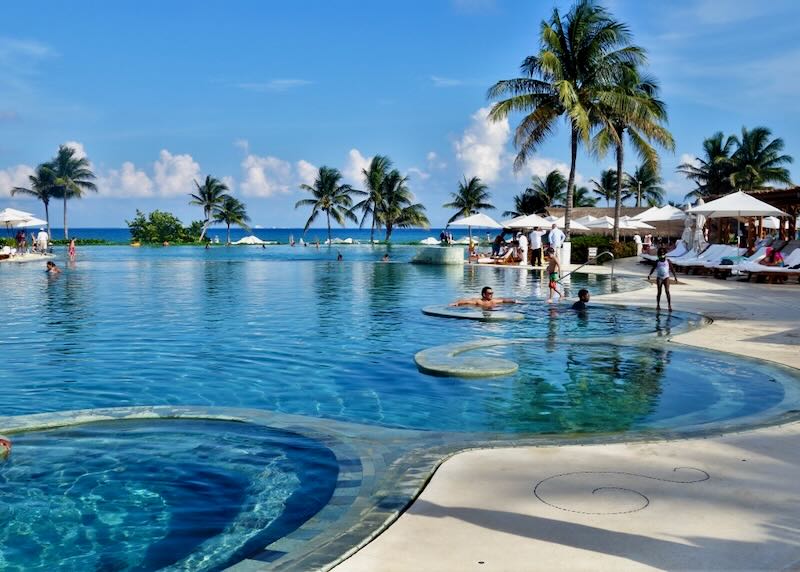 All-inclusive resort with three pools, kids' and teens' clubs, incredible restaurants, and a spa. Nature View Suites for a family of 4. Zen Suites for families of 5 or 6. Their kids' club is open until 11:00 p.m. with activities and crafts all day; the teens' club is open until midnight, with a dancefloor, karaoke, and video games. Rooms and suites all include whirlpool tubs and private terraces, some with plunge pools. Located at the edge of an unspoiled beach with soft sand and gentle waves just south of the Mayakoba resort complex.
Hotel phone: +52 322 226 8689
Hotel website • Check prices for Grand Velas Riviera Maya

Music-themed beachfront resort with 5 pools (some adults-only, some for kids and families), a natural lagoon with native fish, and the largest spa in the Riviera Maya. Family perks include kids' and teens' clubs, a rock climbing wall, their signature music amenities (loaner guitars, instrument and DJ lessons, band camp, etc), and a huge skate/bike/gymnastics center. 9 restaurants and 8 bars serve a huge range of cuisines all day, along with 24-hours room service. A wide range of rooms and suites all feature private balconies, hammocks, and indoor or outdoor jacuzzis; the largest sleep up to 6. Wonderful location near the golf course, marina, and Dolphin Discovery at Puerto Aventuras in South Riviera Maya.
Hotel phone: +52 984 875 1100
Hotel website • Check prices for Hard Rock Hotel
4. Paradisus – North Playa del Carmen

All-inclusive resort on a gorgeous beach with a coral reef, three pools, a baby club (ages 1-4), and a kids club (ages 5-12). Suites range from junior up to two-bedroom connecting units; the Family Concierge upgrade adds a private terrace with a Jacuzzi, kids' minibar items, a gaming console, a private restaurant, and club lounge access. This resort is only fifteen minutes' drive or twenty-five minutes' walk to downtown Playa del Carmen.
Hotel phone: +52 984 877 3900
Hotel website • Check prices for Paradisus

All-villa boutique, where each boasts its own private pool, an outdoor whirlpool tub, and a terrace. The resort has two shared pools, a Thai spa, an active kids club, and boat service to the beach. The food here suits all tastes, with strong Mexican and Thai influences plus great options for picky eaters. Set in the exclusive Mayakoba resort and golf complex on a sun-drenched beach in a mangrove jungle.
Hotel phone: +52 800 953 0565
Hotel website • Check prices for Banyan Tree

Beachfront resort with five pools, great kids' amenities, and amazing food. Rooms and suites all include soaking tubs and private terraces; oceanfront and beachfront rooms feature butler service. Most suites are one-bedroom units, but connecting options are available for families needing extra space. Residences have up to four bedrooms with full kitchens. The kids club offers cooking classes and crafts, while their adventure camp keeps tweens active with kayaking and beach sports.
Hotel phone: +52 984 206 3000
Hotel website • Check prices for Fairmont

Elegant boutique hotel on a gentle beach with two pools, generous suite options, a Maya-inspired spa. Suites and villas for up to nine can include soaking tubs, plunge pools, or full-sized pools. Babysitting and family activities are offered onsite. Restaurants feature fresh, local, seasonal ingredients in a range of cuisines. Located in South Riviera Maya (Xpu Ha), halfway between Playa del Carmen and Tulum.
Hotel phone: +52 984 873 4830
Hotel website • Check prices for Hotel Esencia
8. Andaz – Mayakoba

Stylish, luxury hotel in the exclusive Mayakoba beach resort with a golf course and lagoons. Andaz offers 2 pools, a holistic spa, and is set on a stunning white beach. Rooms and suites are all spacious, with free minibar items (sans alcohol) and private balconies; suites add private outdoor plunge pools. Food is outstanding at their 4 regional Mexican/international restaurants; guests can add a meal plan or book a room only. Family-friendly amenities include a kids club for ages 4 to 12, babysitting, and free bikes.
Hotel phone: +52 984 149 1234
Hotel website • Check prices for Andaz
9. Playacar Palace – Downtown Playa del Carmen

All-inclusive, downtown resort with expansive rooms and suites, exceptional restaurants, and a huge pool overlooking the sugary sand beach near the Cozumel ferry. Family amenities include a kids club for ages four to twelve and free bicycle tours. Guests have signing privileges at all Palace properties, with free transfer to the water park at The Grand at Moon Palace. Their stellar resort credit program can be used toward dolphin encounters, excursions, and more.
Hotel phone: +52 984 873 4960
Hotel website • Check prices for Playacar Palace

Beachfront resort with nine pools, a host of restaurants, and a spa. This resort is made up of four hotels, with White Sand being the best for families, being closest to the water park and kids' clubs (one each for babies, kids, and teens). Upgraded suites can add whirlpool tubs, private pools, or connecting rooms. Located in South Riviera Maya, near Akumal.
Hotel phone: +52 984 877 2100
Hotel website • Check prices for Grand Palladium White Sand

Downtown Playa del Carmen beach resort (steps from a wide range of restaurants, shops, and bars) with two pools, a kids club, and a teens' arcade. Their large rooms include balconies; suites add soaking tubs; options include swim ups or private plunge pools. Babysitting and kids club access are available for a fee, while the teens' arcade is open for all. Upgrade to Club Level to add daily breakfast, snacks, an open bar, and evening apps.
Hotel phone: +52 984 875 1234
Hotel website • Check prices for Grand Hyatt Resort

Bohemian-style, beachfront resort with four pools, superior restaurants, and a variety of accommodations, including fun treehouse rooms or penthouse suites. Some suites add private plunge pools, outdoor showers, full kitchens, and butler service. Be advised that their nature-centric vibe means no TVs in most rooms. Located on the active main beach in downtown Playa.
Hotel phone: +52 984 873 0611
Hotel website • Check prices for Mahekal Beach Front Resort & Spa

Cozy, boutique hotel with all junior suites and two pools on a kid-friendly beach with kayaks. Rooms all include a private terrace with a hammock and whirlpool. The beach is as calm as a pool, with a coral reef for snorkeling and barriers to block the waves. Located in South Riviera Maya, right next door to a marina and Dolphin Discovery aquatic center.
Hotel phone: +52 984 875 1950
Hotel website • Check prices for Puerto Aventuras Hotel & Beach Club
Read More