Mexico › Mazatlán › Best Places to Stay
Updated: January 7, 2023
See Also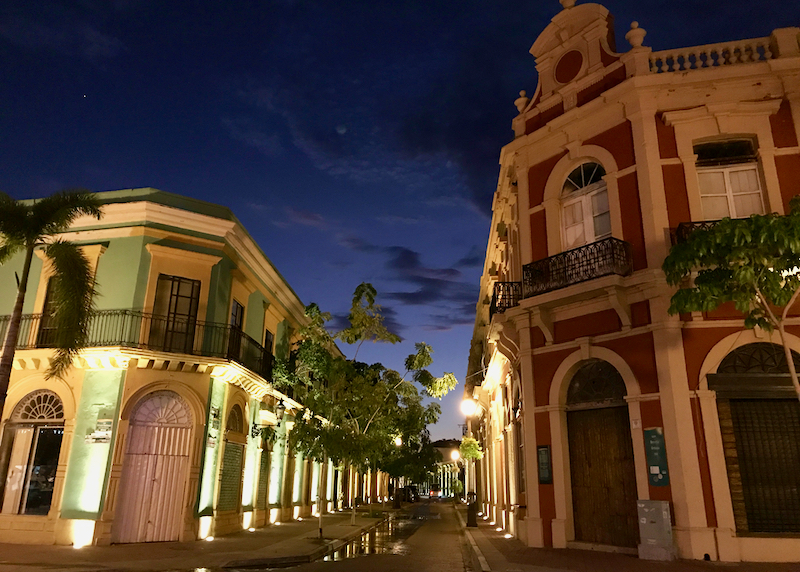 The Best Areas to Stay in Mazatlán
Sitting on the Pacific Coast in the state of Sinaloa, Mazatlán is both a historic port city, with a sensitively-restored colonial old town, and one Mexico's top beach resort destinations, with a ten-mile-long white-sand beach. A sleepy fishing village until the early 19th century, Mazatlán was then transformed into Mexico's busiest international port. Then, when the port's fortunes waned, tourism took over. By the 1970s, Zona Dorada resorts were attracting visitors from the U.S. and beyond, and in recent years, the city has benefitted from its proximity to other popular Pacific Coast destinations, such as Puerto Vallarta and Sayulita, further south, with many tourists travelling between the three. While Mazatlán is rather spread-out, stretching for miles along the coast, most neighborhoods along the coast are well-served by the frequent "Sábalo-Centro" buses and taxis, and most of its attractions are concentrated in the Centro Histórico and the Zona Dorada.
Mazatlán stretches for around 13 miles along the coast. The southern part of the city, consisting of a peninsula sticking out into the sea, is occupied mainly by the walkable Centro Histórico, Mazatlán's historical heart – a walkable and easy-to-navigate grid of narrow streets. This is where you'll find the majority of the city's best boutique and budget hotels inside former colonial mansions that line the streets around the cathedral square, as well as a good mix of restaurants, food markets, craft stores, and two worthwhile museums.
Adjoining the Centro from the west are three compact neighborhoods, fringed by the malecón (seafront walk): Olas Altas, encompassing the most popular and busiest part of the malecón, Loma Linda, centred on the hill that looms over the waterfront, and Los Pinos, further north. Loma Linda and Los Pinos are both largely residential neighborhoods, with some boutique hotel options, whereas Olas Altas boasts seafront restaurants and bars and several inexpensive accommodations.
Flanking Centro to the south, across the Avenida Miguel Alemán, is Playas Sur, another residential neighborhood that's somewhat removed from the bustle of Centro but still within easy walking distance. Its west side comprises some hilly streets with beautiful views of the coast, while its south end is taken up by the ferry terminal. Jutting off to the southwest is El Faro, a rocky outcrop topped by a lighthouse.
Avenida Gutiérrez Nájera is the official northern border of Centro Histórico, where it meets a clutch of small neighborhoods collectively referred to as Playa Norte, after the 3-mile sweep of sand that takes you all the way up to the promontory that marks the border with the Zona Dorada. The beach is lined with palapas (inexpensive seafood restaurants) and a few wallet-friendly beach hotels. Further inland, the southern half of Playa Norte is mostly residential, but in the northern half you'll find the main bus station, aquarium, baseball stadium, the Grán Plaza shopping mall and the Parque Central.
Separating Playa Norte from the Zona Dorada to the northwest is Avenida Rafael Buelna, lined with some excellent taquerias that comes alive in the evenings. The relatively compact Zona Dorada is where you'll find a dense concentration of beach hotels lining the golden-sand beach, and international restaurants catering largely to an American clientele, all within a block or two from the beach. There's a lively nightlife scene too, also catering to gringos.
The Zona Dorada is bordered to the north by the El Cid golf course that separates it from Sábalo, also with a fine sweep of beach, good range of restaurants and with numerous all-inclusive and midrange beach hotels. It's quieter than the Zona Dorada, with more condominiums, but also well-connected to the Centro Histórico by regular buses.
Just north of Sábalo is the Mazatlán Marina, filled with yachts, beyond which, another white-sand beach stretches for three miles, flanking the spread-out neighborhood of Nuevo Mazatlán. It's the newest part of the city, with department stores, strip malls, a golf course, condominiums, a few high-end hotels, plus international restaurants. It's not easily walkable and you ideally need your own wheels here.
Best Best Places To Stay in Mazatlán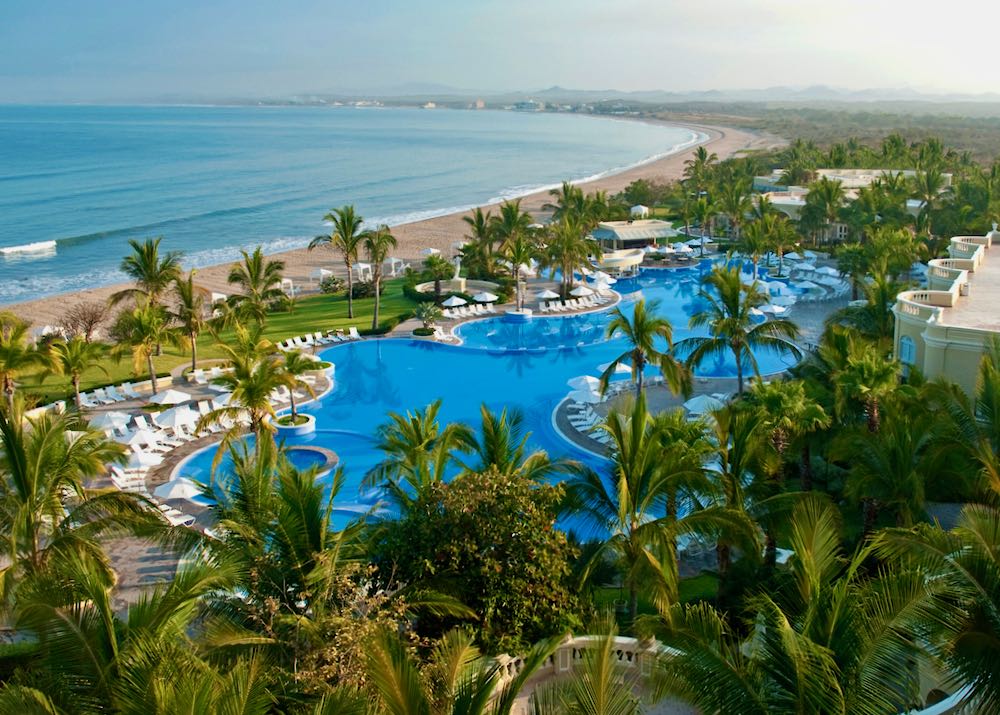 Best Luxury Hotels in Mazatlán
Pueblo Bonito Emerald Bay • The Inn at Mazatlán Resort & Spa • El Cid Marina Beach Hotel
Best Boutique Hotels in Mazatlán
Casa de Leyendas • Las 7 Maravilas
Best Cheap Hotels in Mazatlán
Hotel La Siesta • Villa Serena Centro Histórico • Hotel Raices de Mar
Best Neighborhood in Mazatlán for Sightseeing: Centro Histórico, Loma Linda, Playas Sur

Mazatlán is better known for its beaches than its cultural heritage. That said, exploring the streets and markets of the city's historical core – the Centro Histórico – plus the waterfront promenade in Olas Altas, is a great way to take Mazatlán's pulse. The Centro Histórico has two excellent museums: the Museo Arqueológico, which focuses on pre-Hispanic Sinaloan civilisations, and the Museo del Arte, that stages changing exhibitions of contemporary art. Just up from Olas Altas, in Loma Linda there's a rocky outcrop where you can watch the local clavadistas (cliff divers) plunge into the sea from high diving platforms twice daily (tip generously), particularly when coachloads of tourists roll up from the Zona Dorada. Finally, it's well worth doing an early morning hike up El Faro – the hill topped with a lighthouse at the southern end of Playas Sur – for great views of the city; it's safe and many locals do it as their early morning exercise.
Best Neighborhood in Mazatlán for Nightlife: Zona Dorada, Sábalo, Olas Altas, Centro Histórico

The Zona Dorada is the undisputed epicentre or Mazatlán's nightlife. There are sports bars, bars attached to hotels with never-ending happy hour and oyster shooters, expat-owned resto-bars (such as Veintiocho) with live music, beer gardens, and raucous nightclubs, popular with visiting gringos and young locals alike. Nearby Sábalo's scene is more sedate – mostly hotel bars and some open-air cocktail bars. Further south, Olas Altas might be tiny, but in the evenings, the malecón is really hopping, with a couple of vintage bars with busy outdoor seating serving pints of Pacifico beer, michelada-style (with lime and clamato juice and chilli powder on the rim). Next door, the Centro Histórico features the city's oldest and best craft beer brewery, Cervecería Tres Islas, as well as several excellent cocktail bars, all within several blocks of the Plazuela Machado (square surrounded by restaurants and bars).
Best Neighborhood in Mazatlán for Food and Restaurants: Centro Histórico, Zona Dorada, Playa Norte, Sábalo
The Centro Histórico has excellent coffee shops and some of the city's most varied dining to suit any budget: from fusion and fine dining restaurants (Nao Kitchen Bar, Aljibe the San Pedro, Pedro y Lola, Hector's Bistro) around or near the Plazuela Machado, to inexpensive, traditional, family-run restaurants (Cenaduria Chayito), taco stands (Tacos Jose, Tacos El Veneno, Taqueria Playa Sur), plus food markets with food stalls around the edges, the largest being the Mercado Pino Suarez, a block north of the cathedral square. Dining along Playa Norte tends to focus on inexpensive beachside eateries that specialise in seafood; El Muchacho Alegre and Mariscos Puerto Azul are good bets. Zona Dorada offers good fusion and international dining (Rico's Café, Yokiro Sushi, Restaurant Panama), as well as stellar family-run restaurants and taco stalls along Avenida Rafael Buelna, on the border between the Zona Dorada and Playa Norte (Mi Ranchito Los Osuna, Taqueria Martin, Tacos Alejandro). Sábalo's offerings fall into the international or seafood categories (Angelo's, La Costa Marinera, Cenaduria Chayito, Los Arcos).
Best Neighborhood in Mazatlán for Families: Zona Dorada, Sábalo, Nuevo Mazatlán

If you're looking for all the conveniences and facilities of an upmarket, all-inclusive, family-friendly beach hotel, close to international dining and with plenty of beach activities, then either the Zona Dorada or Sábalo are your best bets, especially since it gives you the flexibility of easy day trips into the Centro Histórico. If you prefer to stay in one place, in an even quieter location, and don't mind being quite far away from the city's cultural attractions, then all-inclusive beach hotels in Nuevo Mazatlán are a good choice.
Best Neighborhood in Mazatlán to Stay for First Timer: Centro Histórico, Zona Dorada
It rather depends on what you're after. If you have a beach holiday in mind, then the Zona Dorada, with its fine white-sand beach, waterfront hotels offering water sports and proximity to excellent international restaurants, is your best bet. That said, the Zona Dorada feels like a beach resort place that could be anywhere; if you're after a real sense of history, wonderful atmosphere in the evenings, varied dining – from high-end restaurants to some of Mazatlán's best street food, and museums, then look no further than the Centro Histórico. Staying in one doesn't mean missing out on the other, given the excellent transport connections.
Most Romantic Neighborhood in Mazatlán: Centro Histórico
The city's historic heart, with its cobbled streets, mood lighting in the evenings, and appealing colonial buildings – some in a state of genteel decay, others beautifully restored – is undoubtedly the most atmospheric part of Mazatlán. Add some boutique hotels and al fresco dining at some of the city's most imaginative restaurants, and you've got a recipe for a great romantic vacation.
Best Neighborhood in Mazatlán for a Local Vibe: Playas Sur, Los Pinos, Centro Histórico
Playas Sur, being mostly residential, is a great way to experience Mazatlán from a local's perspective, particularly if you stay near the coast, where colourful houses line the hilly streets. Los Pinos, adjacent to the Centro Histórico, is a good place to base yourself if you want to be within easy walking distance of the historical center while staying in a quiet and local part of town, and watching the fishermen with their catch on the Playa Los Punitos or the southern end of Playa Norte. In the Centro Histórico, while the streets around the Plazuela Machado are pretty touristy, just a few blocks away, it's a bustle of unvarnished local life, with its bustling streets, mom-and-pop tortilla shops, taco stands and produce markets.
Best Neighborhood in Mazatlán for Shopping: Centro Histórico, Zona Dorada, Playa Norte
It depends on what you're after. The Centro Histórico is best for quality Mexican crafts from the Sinaloa region and beyond. Check out Casa Etnika for Huichol beadwork and psychedelic weavings and tiny, brightly painted papier-mâché skeletons, copper-wire and wool jewelry, bold contemporary art, and colorful weavings; Nidart Gallery for handmade leather masks, plus sculptures and ceramics; La Querencia for striking ceramics, painted wood objects, sculptures and jewelry; and Gandarva Bazaar for colorful Mexican masks, dolls made from gourds, handmade Mexican journals, and reproduction Chinesco (an early-1st-millennium culture in Nayarit) ceramics. In souvenir stores in the Zona Dorada, keep an eye out for locally produced mango liquour, made at the Onilikan distillery just out of town, while Playa Norte features the city's largest shopping mall, Gran Plaza, complete with local and international boutiques.
Safest Areas of Mazatlán

Mazatlán has a low crime rate for a Mexican city, and neighborhoods frequented by visitors, such as the Centro Histórico, Zona Dorada, Olas Altas, Playa Norte, Sábalo, etc, tend to be fine to walk around, particularly during the day. That said, opportunistic pickpocketing does happen, so be aware of that while exploring the markets, or if in the near vicinity of the city's bus station. Standard precautions apply: don't flash lots of cash, expensive jewellery or electronic gear, and avoid deserted, poorly-lit streets at night; take a taxi back to your hotel if you've stayed out till late. Unsafe Areas of Mazatlán
Visitors are advised to take taxis/pulmonias at night if staying outside the Zona Dorada, Sábalo, and the few blocks in the Centro Histórico in the near vicinity of the Plazuela Machado, because opportunistic muggings do occasionally take place.
The Best Neighborhoods in Mazatlán for Tourists
Staying in Centro Histórico
In the south part of Mazatlán, the city's historic heart is undoubtedly the most characterful and interesting part to explore or stay in, particularly if a beach holiday is not a deal-breaker. It's centred on two main plazas: the cathedral square, and Plazuela Machado, a little farther south, surrounded by restaurants and bars. The neighborhood is quite a large one, but its logical grid of streets is easily walkable and this is where you'll find the city's beautiful (and in some cases dilapidated) colonial architecture, including the Angela Peralta Theater and the mansions that currently house intimate boutique hotels. Whether you're looking to visit the Archeological Museum, to sit and people-watch over coffee, immerse yourself in the bustling produce markets, or sample its extensive dining scene, from daring fusion to some of the city's best taco stands, Centro Histórico is the place for you.
Best Hotels in Centro Historico
Staying in Olas Altas/Loma Linda/Los Pinos
Ajoining the Centro Histórico to the west, these three compact neighborhoods run along the malecón (seafront walk). Olas Altas is southernmost of the three, encompassing the busiest and most popular stretch of the waterfront, with a handful of excellent bars and restaurants overlooking the beach (okay for swimming when calm, otherwise popular with surfers) and several hotels, ranging from cheap to boutique. Just to the north of Olas Altas is Loma Linda, a residential neighborhood centred on the eponymous hill. Next to the hill is diving spot where you can watch the city's cliff divers do their thing. Sandwiched between the sea, the northern part of Centro and Loma Linda is Los Pinos, another quiet residential neighborhood with a small beach, Playa Los Pinitos.
Best Hotels in Olas Altas/Loma Linda/Los Pinos
Staying in Playa Sur
Just south of the Centro Histórico and Olas Altas, and easily walkable from the dining scene and attractions of both, Playa Sur is a quiet, somewhat gentrifying, residential neighborhood offering an authentic slice of Mexican life. Accommodations are limited to just a few options, while the dining scene consists of a handful of seafood restaurants near the cruise ship port at the southern end of Playa Sur, and a few taquerias (taco stands) along Avenida Miguel Alemán that marks the informal border with the Centro Histórico to the north. Attraction-wise, the port makes a handy jumping-off point for trips to Isla Piedra (not really an island), with a decent sandy beach and lots of beachside palapas (inexpensive seafood restaurant) – a favourite with local families on weekends. It's also well worth climbing up El Faro, the hill topped with lighthouse, for expansive views of the city.
Best Hotels in Playa Sur
Staying in Playa Norte
Collectively referred to as "Playa Norte" after the city's longest stretch of beach that runs alongside it, the busy neighborhoods that make up the central part of Mazatlán is where you'll find offices, banks, hardware stores, the city's bus station. The northern half of Playa Norte is home to the baseball stadium, Gran Plaza mall, a string of newly built beach hotels (mostly midrange), and Central Park – an ambitious project and the city's largest green space, complete with new aquarium, bike paths and picnic areas. Considerably less touristy than the Zona Dorada or the Centro Histórico, it's within walking distance of both. While the beach is better for sunbathing than swimming (it gets hit by some big waves), there's good casual seafood dining along the waterfront, and the fishermen haul in their catch at the south end of the beach.
Best Hotels in Playa Norte
Staying in Zona Dorada
Stretching between the rocky Punta Camaron that marks the north end of Playa Norte, and the El Cid golf course, the Zona Dorada is Mazatlán's most popular beachside neighhourhood. Its compact and walkable size, proximity to the beach, proliferation of restaurants and bars to suit all tastes and excellent transport connections attract a range of visitors, from sun-seeking families to spring breakers. Parts of the Zona Dorada can be quite loud, with late-night parties, but the location and the prime slice of beach is hard to beat.
Best Hotels in Zona Dorada
Staying in Sábalo
Sandwiched between the El Cid golf course to the east, Zona Dorada to the south and the yacht marina to the north, this compact, oceanfront neighborhood is a mix of condos, midrange and 5-star beach hotels, with some excellent restaurants and excellent beach access. It's much quieter than the Zona Dorada, but an easy ride (or longish walk) away from the Zona Dorada's nightlife, and well connected to the rest of the city by frequent public bus. (Those travelling in the rainy season may wish to note that the coastal road connecting Sábalo to the rest of the city sometimes floods during heavy rains).
Best Hotels in Sábalo
Staying in Marina/Nuevo Mazatlán
At the very north of the city, just north of the yacht marina that separates the Zona Dorada from Nuevo Mazatlán, is the newest part of the city and one of Mazatlán's upmarket neighborhoods, spread out along miles of golden-sand beach. It comprises a dozen or so hotels, ranging from 3-star beach joints to 5-star all-inclusives, beachside palapas (seafood restaurants), strip malls, the Marina Mazatlan golf course and a waterpark, popular with tourists and local families. Nuevo Mazatlán is pretty far from the Centro Histórico and not well-served by public transport, so having your own car is a boon.
Best Hotels in Marina/Nuevo Mazatlán
Read More